Page 2
California
Mexico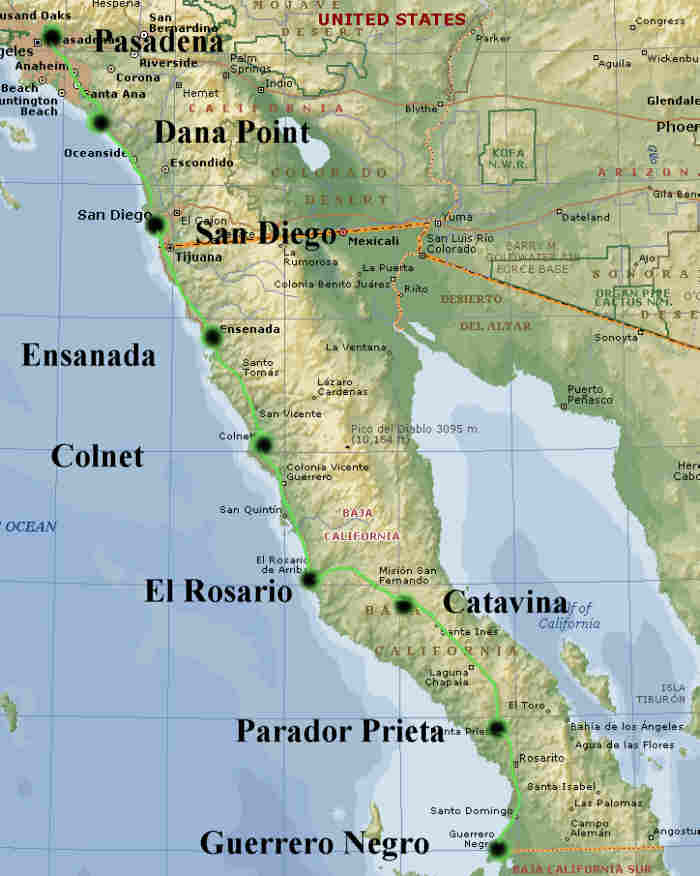 ---
Day 4 Jan 4, 2000
Notes from Alice
This is wonderful! I am having a great time and so far the pedaling is not too hard. This was day 4 and we are in Ensenada at the Estero Beach Resort. The campground is beautiful and the food delicious. We are having dinner. There is a mariachi band playing and singing.. Today we had warm sunshine for the first time. I don't have warm enough clothes for the evenings and the nights so I've been going to bed with my arm and leg warmers on. Nearly everyone brought too much stuff to fit into the gear truck lockers. Some have mailed stuff back home. Others are just going to abandon it. At least one person has quit the ride already, she was a large person so I am not surprised. There have been lots of falls and some broken bones and road rashes. I am lucky, nothing has happened to me not even a flat tire. Yesterday the record was 7 flats in one day on the same bike. I haven't heard about today. I don't know when I will get to writing an email for the web site, maybe on the rest day that is coming up in 3 or 4 days. When I am in my tent I just want to lie down and snuggle into the soft warm sleeping bag.
Adios! Alice Russell
DAY 8 Jan. 8, 2000
Catavina, Baja California, Mexico
Hola! This is our first layover day after 7 days of hard riding for a total of 773.5 kms. The distance we rode increased each day and the road became increasingly worse. Still I thought it was fun. I may be the only one of the 247 riders who has not had a flat tire but my shifting doesn't work at all well and the chain falls off frequently.
We started our ride in the Tournament of Roses Parade and while that was thrilling it was not really fun. We had to be up and ready at 4:00 am to be transported to an area near the parade where our bicycles would be unloaded. Even with that early start we ended up in a great rush to cycle to the parade staging area. We froze as we stood there and waited and waited. Finally we were told to start. We pedaled behind the police motorcycles, but we were 15 minutes too early, too early to be televised. We were disappointed about that as we all had family and friends at home who were watching to see us. The best part about the parade was when the Stealth bomber flew over us as we pedaled. It was huge, black and silent.
For two days we pedaled down the California coast and enjoyed good roads, beautiful ocean views, tranquil bicycle paths, and good coffee and food. Then we crossed the Mexican border through Tijuana for our first day of riding in a foreign country. Cycling in Mexico is a very different experience. The roads are narrow and without shoulders but with plenty of potholes and very rough surfaces. There are many big trucks and busses because this is Mex 1, the main highway on the west side of Baja.
We have been made to feel very welcome by the people who wave and call to us as we ride. Everywhere we have camped the women of the community have done their best to prepare hearty, delicious meals for us. In Rosarito we stayed at the beautiful Rosarito Beach Hotel and were entertained by Mexican folk dancers. The next night, in Ensenada we camped at the Estero Beach Resort in a beautiful grassy area with palm trees and a beach. That night at dinner we were entertained by a mariachi band. In Colonet the ladies had decorated the hall with colorful balloons and streamers and welcome signs written in red glitter.
The weather has been colder than anyone expected. We awoke in El Rosario to find our tents covered with ice. That day breakfast was finally served but it was very late making it impossible for more than 100 riders to reach the next destination, Catavina. They and their bicycles had to be picked up and transported by bus, truck, or van to Catavina. It took hours to collect everyone. Many people are very discouraged and ready to quit. I pedaled as hard as I could and made it in but it was already dark when I finally arrived. It had been a very hilly ride on rough roads and with a headwind. It was our seventh day of riding without a rest and many people were too tired to do it.
Because there are nearly 250 of us we have to spend a lot of time standing in lines for meals, showers, and the bicycle mechanics. The daylight hours are short because it is winter which doesn't allow time for slower riders to tarry. Many riders including me have no time to relax or to write. It is dark and cold by the time our tents are up and dinner is over. The only way to keep warm is inside a sleeping bag. By 6:30 we are in bed. We have not been able to find postcards or stamps or telephones that work.
Most of us are wearing all our clothes in layers to stay warm in the early mornings and evenings. It must be entertaining for motorists to see us cycling in the morning. We set out wearing our warmest cycling clothes but after the first big climb everyone stops and removes at least one layer of clothing. Another hill or two means another stop to remove more clothes. Our bike bags bulge with our extra clothes and our food. We carry enough food and water for the day plus tools for bicycle repair, a first-aid kit and a camera. Our bikes are heavy.
The people on this trip are wonderful. Everyone is friendly, supportive and helpful sharing goods and skills. Most of us are having a great time. I am looking forward to becoming a faster rider so that I can stop more often to take photos and enjoy the local people, and have free time at the end of the day. I will correspond as I have time and can find working telephones to send e-mails. I am having a great time and enjoying the delicious Mexican food and the desert scenery of Baja.
Adios! Alice Russell
Day 10 Jan 10, 2000
Hi! We have all been surprised by how sparsely populated the northern half of Baja is. The few long distance telephones that we came across were satellite phones and wouldn't work with the pocketmail device. I have also been surprised by how little time and energy I have available to correspond. We get up in the dark and go to bed again as soon as it is dark because it is so very dark and cold. Our camp sites are often remote offering a spectacular view of the stars but little else. Just yesterday we crossed into the Mountain time zone which may mean more daylight in the evening. We are now in Baja Sur and it is already warmer. I'd rather be warm! I was to be pedaling 90 miles today from here, Guerrero Negro to San Ignacio, but stayed behind to go on a whale watching trip this morning. We saw lots including babies. I will take the bus to catch up with the group.
Yum! The food has been awesome and so have the quantities that I have consumed. Just now I have feasted on a mountain of guacamole, a bowl of fresh salsa with just the right amount of chilies and cilantro, a basket of still hot deep fried tortilla chips, and a cold Corona Extra. Ecstasy!
Adios! Alice Russell
---
California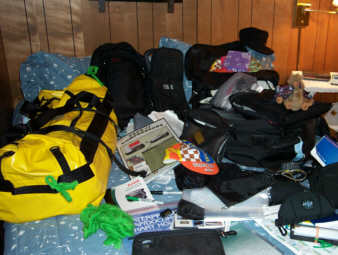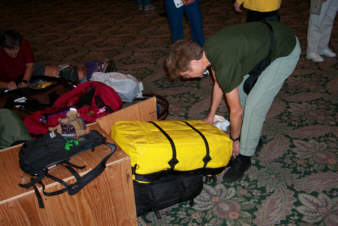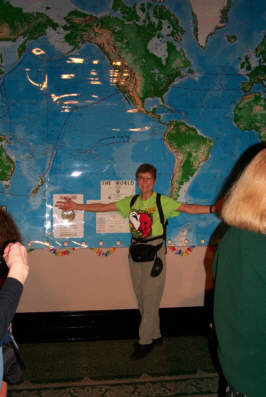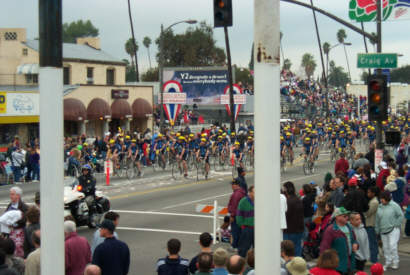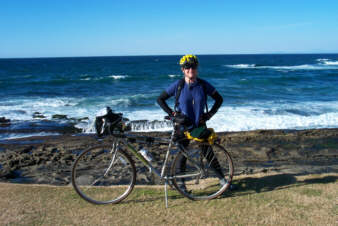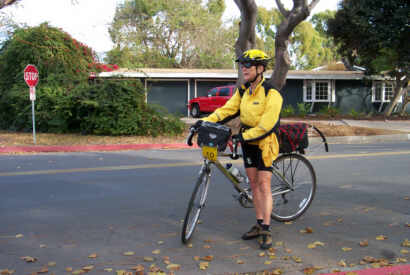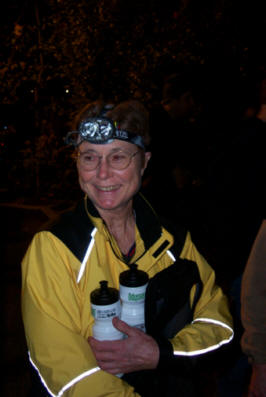 ---
Previous Page (Page 1) Next Page (Page 3)