Page 7
Costa Rica

Panama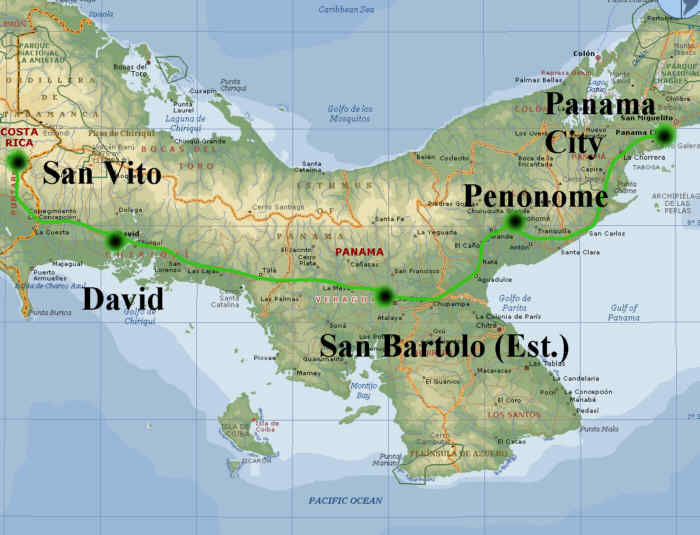 ---
Day 24
San Vito, Costa Rica to David, Panama
1/24/2000
This was the day we had to leave Costa Rica and I wished we could stay longer because it is so beautiful.
The DRG had warned that there would be climbing for the first 17 km. And was there! The steepest roads any of us have ever seen are in Costa Rica and one of them was our route for the trip out of San Vito. It was too steep for me and I cycled when I could but I had to walk my bike up several of the steeper inclines as did most everyone. I found it difficult even to push my bike up the worst hills. But all the struggle was rewarded by the awesome scenery. We climbed high and could see forever, even to the valley and ocean below. Everywhere was green, lush, beautiful. Flowers bloomed and were breathtaking in their bright colors and variety. Lush jungle-like growth crowded us at one point and the cicadas' chorus made our ears ring. There were colorful butterflies fluttering about and birds too. I loved it. This was what I had hoped bicycling around the world would be.
Finally reaching the summit I began the descent. It was warm and sunny so I didn't have to worry about being cold, but I did wonder whether my brakes would hold. Luckily they did. No one zoomed down that mountain. The hairpin curves were too sharp and the road surface too rough for high speeds. Anyway the scenery was so awesome that we wanted to linger on the way down to enjoy it all as long as possible. We constantly applied the brakes, on and off, on and off keeping our speed under control. I stopped a couple of times to rest my hands which ached from the effort to brake the bicycle. One woman was walking down with her bike because her hands had become too tired to brake any longer. As I rode I noticed several people by the roadside fixing flats when finally one shouted, "Watch your rims, the heat is blowing the tubes." I stopped then to touch the rims of my wheels and sure enough they were burning hot. That was just a good excuse to stay on the mountain and enjoy the scenery a while longer.
That was the best part of the day and perhaps of the entire trip. Once off the hill, we pedaled across flat land toward the border town of Paso Canoas. It was very humid and hot. Finally at about 57 kms I reached Paso Canoas. What an ugly place! I have to wonder why it is that border towns are often a mess. There was nothing attractive there at all. Litter was everywhere while the rest of Costa Rica had been clean. There were dozens of big trucks, cars and busses waiting to make the crossing into Panama as well as we 250 plus cyclists and support crew. There was nowhere to go to get out of the sun, the dirt and the dust. Sweat streamed down our faces. Flies buzzed. Money changers offered to exchange Costa Rican bills for U.S. dollars at a rip-off rate. I tried to spend the last of my Costa Rican money, buying 2 bananas and 2 oranges but fruit is so inexpensive that it came to only a few cents. I was feeling under the weather with my new cold and sore throat and hoped the fruit would help that as well as slake my thirst. Then I noticed a TK&A van in the line of vehicles and approached, asking for a ride if they had space. They did so my bike and I got on board. I was having an argument with myself about sagging. It is very hard for me to give up on any project and I certainly didn't want to be a wimp. But I was so tired I could hardly walk, I ached in every joint, and I was a bit dizzy, not a good way to be on a bicycle. So I sagged. Literally. But we were delayed at the border for hours. There were too many people and vehicles wanting to cross and the system was overwhelmed. We had to stand first in one line than another, buying a stamp here , having it taken away there, handing in passports, having them returned. There were no directions posted or apparent system. It was chaotic. To make things worse, the officials closed up shop for the lunch hour while we sweltered, streaming with perspiration, still standing in lines. One of the riders waiting in line near me pointed out that the locals weren't sweating. And sure enough, they weren't! Why is that we wondered?
Well of course, as with all borders we eventually got through, and back in the van for the crossing we were directed to drive through a carwash of insecticide. Fumigated and thrilled to be underway at last, windows opened to relieve the heat, we drove toward David, Panama. The countryside was green as in Costa Rica but flatter. The vegetation was similar too, sugar cane, coconut palms, papaya trees. Before long we came to a military checkpoint where some cyclists were being detained and we were told to pull over too. Soon there were quite a lot of us gathered there. Luckily we had Costa Rican drivers who were able to eventually convince the military police that we should be allowed to proceed. Happy to be on the way again we drove to David without further incident.
We were to camp at the soccer stadium but feeling poorly I decided to try to book a room for the night in the hotel where we would be having our meals, the Gran Hotel Nacional. Enroute there I met another rider, Susan, who had just booked a double room and offered to share it with me. The hotel smelled of mothballs but it was elegant, clean, and cool. We were served the most delicious meal of our trip for dinner that evening. The presentation was beautiful as well.
DAY 25
Jan. 25, 2000
David, Panama
to San Bartolo
Hola! I had expected to find that many people here would speak English because of the American presence in the Panama Canal Zone, but in David at least they don't. How I wish I could speak Spanish! People are so disappointed when I can't answer questions to tell them about this trip. The currency here though is easy to understand, they use American dollars and coins.
Today I should be pedaling 160 kms to San Bartolo but instead I am in bed in the Gran Hotel Nacional in David. What happened? In a word, exhaustion. As a result I have caught a cold and sore throat. And if I have to be stuck somewhere this hotel is a nice place for it. It was very hard for me to stay behind. I wanted to pedal every one of the 20,000 miles, but after only 3 weeks I can see that that is unrealistic for me and probably for every one of us. Even the experienced touring cyclists say they have never ridden so many miles over such difficult terrain and weather in so few days. This trip is tough, very tough. But it is fun, at least for some of us, me included. We had a long, hot, humid, delay at the Panamanian border yesterday, but one rider said, "I love this! What an experience we are having!" And he meant it. I am sure though that others would have had very different opinions. As for me, it was too familiar to be unique and fun but it wasn't frustrating either because it was to be expected. We have some folks who had never been outside the U.S. and at least one who had never been on a plane until the flight to Burbank. They must be excited by everything.
But let me back up. We had 2 layover days in San Jose and I hope I finally succeeded in sending the notes I wrote there by e-mail. It took many attempts to make a good and lasting telephone connection. Those days were great but then we started riding again. What a difficult journey TK&A has planned for us! I do not have either the time or energy at the end of a cycling day to write. Maybe I can catch up now.
In the morning of Day 25, when I should have hopped on my bike and cycled to San Bartolo, I decided to stay behind the group, to stay in that cool comfortable hotel another night to rest and recuperate. I hoped that with plenty of rest I could increase my chances of a quick recovery from the cold and sore throat and in fact that is just what happened. I slept the day away except for the time spent hand washing everything, even my Camelbak (I took Lawrence the camel off first), and I draped my tent over the furniture to dry it.
In the evening I joined 5 other cyclists who had also stayed behind to rest for a barbecue dinner around the pool. It was excellent, a delicious green salad, a big fluffy baked potato and a beef tenderloin steak of Panamanian beef. We had never eaten better than in the recently refurbished Gran Hotel Nacional. And I have five new friends who have asked me to be a part of their "family".
Adios, Alice
DAY 26
Jan. 26, 2000
San Bartolo
to Penonome
In the morning, Day 26, the six of us went by two taxi pickup trucks with all of our bikes and belongings to the bus station. We had asked the hotel to phone for reservations so were able to buy tickets to our destination, Penonome, Panama and to load all of our gear onto the bus. I enjoyed the advantages of being part of the "family". We could help each other, we women watched our belongings while the men took the wheels off the bikes and loaded bikes and baggage onto the bus. It was quite a challenge as other travelers had lots of stuff as well.
Finally we were shown our seats and the bus left 20 minutes early. It was a comfortable bus, clean, quiet, air conditioned, and American movies with subtitles in Spanish played on a TV screen. At noon the bus stopped for a 20 minute lunch break. By the time we realized what was going on we were last off the bus and last in the lunch line so we opted for snacks from an adjacent small shop instead. We arrived in Penomone in good time and took taxis to the camp site on a soccer field. We all got busy putting up our tents and even had time before dinner to walk to a nearby shop for cold drinks and snacks. Other cyclists were there doing laundry at a tiny outdoor laundromat. Getting clothes washed is an ongoing problem but this was one laundromat I could miss having already washed everything in David the previous day. Others had too but their story did not have a happy ending.
Before I forget, let me tell the rest of the laundry story. I was spared because I had stayed in the hotel instead of camping at the soccer stadium so I didn't hear of the laundry opportunity. It was just too good to be true! A local man came to the campsite offering to do laundry and return it the next morning. Everyone rushed to get their bags of dirty laundry feeling very pleased I am sure to be spared that time-consuming chore. But early the next morning when he returned the laundry, it was clean and dry as promised, but it was also all mixed up! Some people may have had their names on some pieces but there were hundreds of pieces and they all looked a lot alike. At first they tried to sort it but in the end the whole lot was just dumped onto the ground and everyone searched for their own things.
DAY 27
Jan. 27, 2000
Penonome
to Panama City
The ride from Penonome to Panama City on Day 27 was long, hot and unrewarding. There was no interesting scenery and the road conditions and traffic were at times appalling. No one enjoyed that ride but the end of it was spectacular. We needed to cross the great Pan-American bridge to reach the city. So in a convenient spot before the beginning of the bridge we riders were flagged down and made to wait. When enough riders had accumulated to warrant it, one lane of traffic to the bridge was closed and we were given a police escort on that lane across the bridge. It was an uphill ride as the bridge is a high arch and the view in all directions was spectacular. But we could not linger to enjoy it. Once off the bridge the police left us to make our own way through the city to the Costa del Sol Hotel where we have stayed two nights.
As I write this I should be in the air on the way to Chile, but instead I am still in the Costa del Sol in Panama City. What happened? That is another story! Adios, Alice
DAY 28
Jan. 28, 2000
Panama City
I pedaled across the great Bridge of the Americas and into Panama City during the rush hour the afternoon of Day 27. Now that I think about what I did, I realize I must be getting better at riding in traffic. I didn't do anything stupid to scare myself even once! Luckily I was in a group and could just follow the herd so I didn't have to refer to my DRG for directions. Once at the hotel I tried to check in but my roommates had already arrived and they had all 3 keys. Since I didn't know where they were and I couldn't get into my room I stood in line to see the travel agent instead. I wanted to book a tour for the next day, a layover day. The only tour available was an afternoon trip to see the Panama Canal and the Old City so I took it. I was to be glad that I did. Eventually I got into my room, had a shower in cold water, ate dinner, lingered late talking over dessert, and went to bed. The dining area of our hotel was on the top floor and open so it offered a good view of the city.
The next morning I worked on e-mail for awhile, hand washed a few clothes and went for a walk in the blocks near the hotel. As in Costa Rica, American business is here. I ate lunch at McDonald's but I could have chosen Burger King, Subway, KFC, or Dairy Queen. McDonald's was the closest. In Costa Rica I had decided to boycott McDonald's because I learned that they have caused rainforests to be destroyed to create pastureland for beef cattle. But there I was hungry and in a McDonald's. I ordered a fish burger but I can't recommend it.
Our 1:30 tour eventually started at 2:00 when Jose, our guide arrived. He was young, personable, knowledgeable and entertaining. It was a most enjoyable afternoon. We were all appropriately awed by the Canal and watched a huge freighter move through the Miraflores Locks. The freighter moves on its own power but appears to be pulled by engines called mules. The ship is attached to the mules by cables. The mules guide the ship so it doesn't touch the sides of the canal. On average a ship takes 8 to 10 hours to transit the Canal. But the ships have to line up and wait a turn to pass so including anchorage time, they may be in Canal waters for 24 hours. That is much faster than a trip south around the continent of South America would be. It is expensive to use the Canal. The ship we watched had to pay $116,000 but that is a bargain compared to the cost of going around the continent. The Canal is now run entirely by Panamanians and they are proud of that. A study is being made to see whether it would be feasible to dig another channel beside the existing one.
We climbed back onto the bus for the city part of the tour. It was fascinating. As our guide pointed out, when most people think of Panama they think only of the Canal, but there is more to Panama City than that, with much more to come in the near future. Panama has an Old City where the first Panama City was, all in ruins now but one can see that it was grand. In its time that old city was one of the great cities of the world. There is a colonial section that is currently being restored to it's former grandeur. The mayor lives there in a beautiful home. It will become an area of expensive homes, hotels, restaurants and theaters. Then there is modern Panama City with towering skyscrapers and many many banks. Banks appear to be a major business here. An entirely new section of city is being built, the City of the Millennium, and it will be awesome. There are many other exciting plans in progress, but you should come see for yourself. In another 5 years Panama City will be the Hong Kong of the West. That's my prediction anyway.
Adios, Alice
---
Costa Rica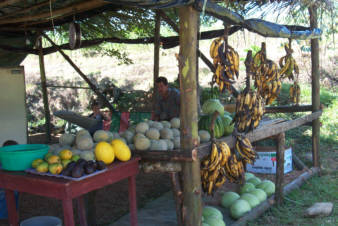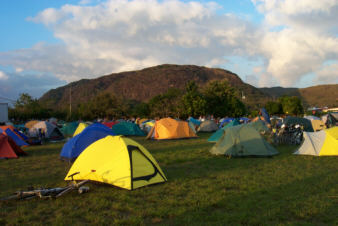 ---
Panama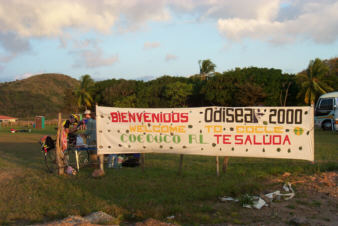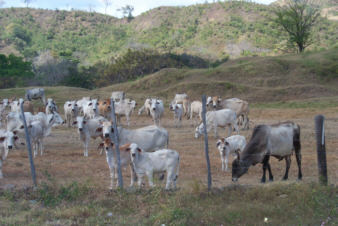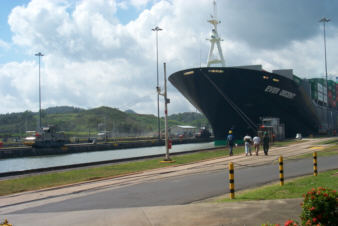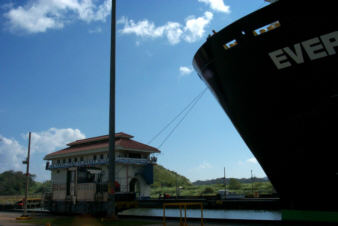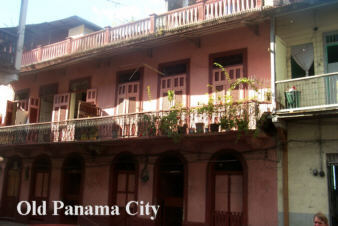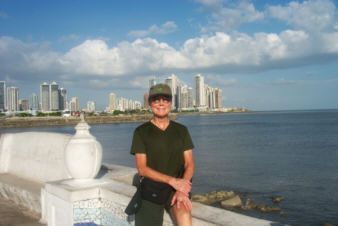 ---

Odyssey Riders and Staff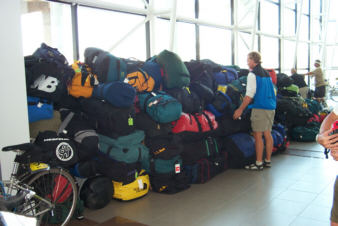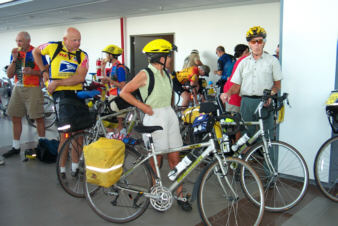 ---
Previous Page (Page 6) Next Page (Page 8)