Page 35
France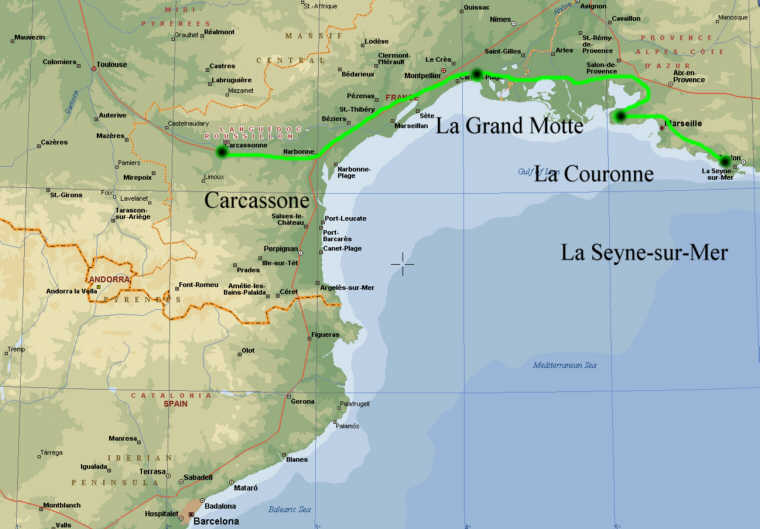 ---
DAY 110
Sanary-sur-Mer to Les Tamaris (near La Couronne)
We are camped at a gorgeous spot on the Mediterranean in the Le Mas campground and the sun is shining! How good can it get! Today the wind blew at gale force and blew at least one cyclist, Sharon, right off her bike. Others got off and walked to avoid that experience. There was a warning sign to motorists about the violent wind for that stretch of the road. Apparently it is normal there, but unfortunately today there was a very strong headwind for the entire ride. The hills were many and steep, one descent was a 30% grade!
The course took us right through Marseille, which is a very big city, skyscrapers and everything, and it sits at the edge of the sea, with hundreds of yachts and sailboats almost on the streets. It really is spectacular. The climbing took us up to the pine forests where the hillsides were terraced and the pine trees were planted in neat rows. The views from the tops of the climbs were spectacular. The Mediterranean is three different shades of green and blue, depending on depth I suppose. It was a great day again for the wind surfers who flew across the water with their colorful sails.
But I wasn't flying or even cycling, but sagging again. I felt worse when I awoke this morning than I had the day before. Luckily I felt so crummy that I didn't even want to cycle. I don't know about tomorrow. The countryside is beautiful and the DRG says 'some excellent bird watching'. I much prefer that kind of day to the traffic and rotaries we've had lately, but maybe it just means remote and there won't be any special birds at all. I will see how I feel in the morning.
Guess what is for dinner! Spaghetti! We have had pasta every night in France, but that is probably because it is relatively inexpensive, not because it is a French specialty. The wind continued to blow at gale force which was good because everyone's laundry dried in no time. We went to sleep with the sounds of the waves breaking on the beach and the wind raging through the trees.
Au Revior! Alice
DAY 111
La Couronne to La Grande Motte
Wow! All this sunshine is getting boring! Just kidding. This was a super day for a ride, no hills, little wind, and sunshine. This was the day bird watching was promised and sure enough we drove many miles through marshland where there were interesting birds to watch, including flamingoes. I had to watch the birds while whizzing by in a sag van however, but this will be my last day to sag. I am feeling better, not well, but better. If that continues until morning I will ride tomorrow. Yeah!
We don't know how it is decided which riders sag in which vans. Yesterday I rode in a van with the three massage volunteers, Kim, who was driving, Rochelle and Randy. Their mission for the day was to help any riders in need enroute, and to get to the day's campsite early, in time to set up for massages and to do whatever else might be asked of them like setting up showers. These 3 volunteers spend 7 or 8 hours on the road and then when they get to camp they have to help with the setup and do massages for 2 hours. That's a lot to ask of volunteers.
Today I started the day in Jeff's van and finished in Michael's. Both Jeff and Michael are volunteers and excel at driving the sag vans but if they also have other responsibilities I haven't seen them at it. I think we saggers transferred out of Jeff's van to Michael's because it was Jeff's turn to stay late on the road assisting riders. Sometimes it is well after dark and even after midnight before every rider is accounted for and safely into camp. Some of the volunteers have to stay on the road no matter how late it gets and they may well miss having dinner because of it. All of the volunteers deserve great credit for what they do, and they do it with a smile too.
Today's route was flat and included vineyards, orchards, marshes, and saltpans. The Petite Camargue region is proud of its agricultural traditions (I read), which include raising beautiful white horses of which I saw many today, and bulls with big horns. I read that there is a contest in which a man dressed in white, called a razeteur in French, pits his strength against that of a bull. I was pleased to read that in this French version of a bullfight the bull is not injured or killed. Men riding white horses who herd the bulls to the arena and back to pasture are called bull guardians or gardian in French. (Our campground is "Camping Lou Gardians".) We went past one very interesting looking medieval city I'd like to visit (and could have if I had been on my bike), Aignes Mortes. The entire city wall appears to be intact, quite a marvelous and imposing sight. But all I got was tantalizing glimpse through the city's gate. Oh, the things one has to give up when sagging!
The other unusual event today was taking a ferry across le Grand Rhine, so narrow it should be easy enough to build a bridge. The ferry ride took only minutes and cost 25 francs, free for bikes.
Did I mention the rotaries? Day before yesterday there were 33, yesterday 20, today there were only 13. That's better. Fewer rotaries mean fewer cities and less traffic.
Tomorrow is 175.2 kms! (Are we there yet?)
Au Revoir, Alice
DAY 112
La Grande Motte to Carcassonne
This was another gorgeous day for a bike ride. We knew it was to be a long ride, 175 km., but we were still surprised when we picked up the DRG's in the morning, 7 pages of directions, a new record! I didn't care how many pages there were, it was just great to be on my bike again. I made an effort to get started early and tried to ride at a good pace, stopping only when uncertain of the directions. Part of the time I tagged along at the end, the tail end, of a group and that was helpful in some of the really remote areas. It was a remarkable route. We rode along beaches enjoying the sea breezes with their fishy scent, through orchards and vineyards where cheerful birds were singing, this way and that in villages with their picturesque squares, over cobblestone bridges, along the canals where we could watch the boats drifting serenely with people and dogs on board or in passage through locks. It was without a doubt the most interesting route yet, worth doing again, but in two days not one. TK&A had to have done an amazing amount of research to have found all those tiny lanes and byways.
Even though I stopped only twice for snacks of peanuts, apples, and cookies, not stopping for even a single photo, I still did not finish the ride, but only just over half, quitting at Checkpoint at 100 kms. or so. I am just too slow. It was an easy ride but I was averaging only about 20 kph, I had already ridden more than 5 hours and would almost certainly need another 5 to finish. Other riders there who were quitting convinced me I would be foolish to continue because I would have to be sagged eventually anyway and I would be very late into camp. I knew they were right and I was already tired so I gave in. Probably the hardest thing about this trip for me is realizing and accepting my own limitations. My body is not as ambitious as my mind! "Better to have tried and failed than to not have tried at all." (Who said that?) Many people found other ways to get to Carcassonne, put off by the many miles, and I feel sorry for them because they missed the best ride of Odyssey 2000 to date.
Our campground is Camping de la Cite, a perfect tenting campground with grass for thousands of tents and hedges providing wind breaks and privacy. It is within walking distance of both the old city and the modern Carcassonne. I picked the perfect spot for my tent, under a big cottonwood tree and next to a hedge with white daisies in the grass, but the fluffy cotton blows into my tent when I unzip the door. Tomorrow is a layover day. I am feeling much better and having fun.
Au Revoir, Alice
---
France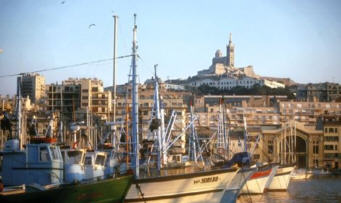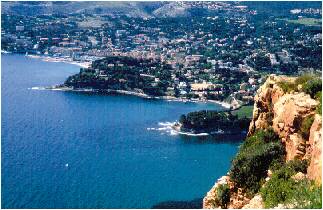 Marseille
---

Odyssey Riders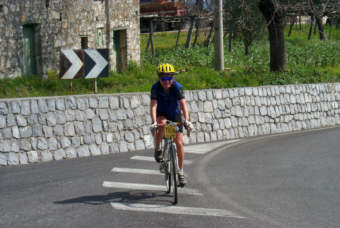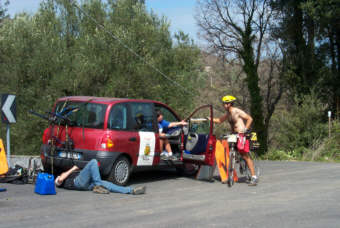 ---
Previous Page (Page 34) Next Page (Page 36)