Page 34
France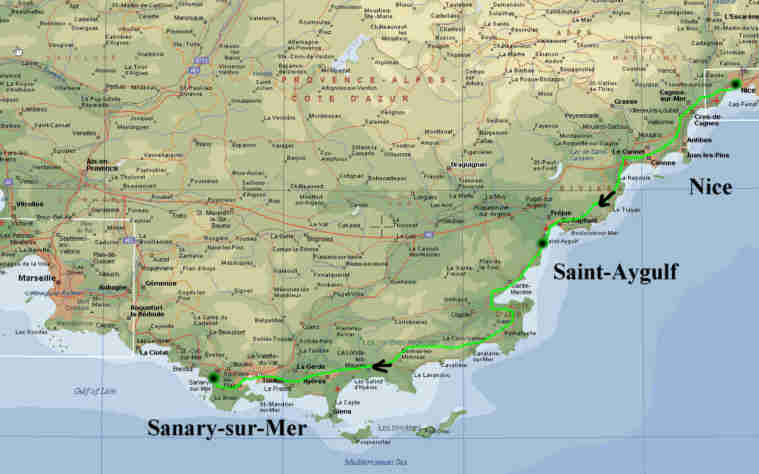 ---
DAY 108
Nice to Saint-Aygulf
We had another rainy day! Can you believe it? It was pouring rain when we left the hotel and the downpour continued all day until the last hour or so of the ride. My clean bike is dirty again, and my raincoat newly rewaterproofed isn't. It should have been a gorgeous ride along some of the most beautiful coastline in the world I am sure. There were red rock cliffs to the right and red rocks going into the sea on the left. The surf crashed against them with a thunderlike sound. What I could see through the rain was beautiful. Green and red and blue. Vegetation, rocks and sea. We rode along the French Riviera, from Nice through Cannes, Miramar, St. Raphael and other places in between. The road was at the level of the sea, just beside the sea, unlike in Italy where the road was high on the cliffs above the sea. All of these French Riviera cities look just alike. If you dropped into one from the air you wouldn't know which one it was.
Bill S. of Seattle and I had been riding together, I was following him because my eyes were tearing so much that I couldn't read the DRG and there were a lot of turns, when we spotted other riders having coffee at a covered sidewalk cafe. We stopped for coffee too. The cappuccinos were sumptuous; topped with whipped cream and sprinkled with chocolate. When it was time to go we tarried to chat with a man from Switzerland who loves to cycle and then we were on our way again, back in the pouring rain. 7 or 8 kms. down the road Bill suddenly realized his Ziploc bag containing his money and credit card was missing. He stopped and searched but it wasn't with him. So back we went as fast as we could with hopes high but fearing the worst. Finally arriving back at the cafe, Bill immediately spotted his bag of money. It had fallen out of his coat into the gutter where he had stood talking to the Swiss man. We think the rain saved the day. The bag was so wet it was impossible to see what was inside, it looked like garbage that had blown against the curb. Whew!
Our campsite, Camping les Prairies de la Mer, is huge, hundreds of people are here, and it is in a beautiful location on the sea. By the time I reached it the rain had stopped and the sun was out. The ground is very soggy and muddy but at least we could pitch our tents in sunshine and dry our rain clothes too. We scored a first here, we were each given a coupon for a free drink at the bar. I am trying to enjoy a glass of rose' wine but I feel poorly tonight. Still have the dreadful Odyssey cold and cough. Out the glass walls of the bar we can watch the activity on the beach. People have been wind surfing, sailing and building sand castles. An amazing number of tourists are here preseason to take advantage of the lower rates, the traffic today was heavy and slow. I don't want to be here during the high season.
The French are nuts about dogs. They take them everywhere, to crowded pedestrian malls, into restaurants and shops, to the beach. Considering how many dogs there are the sidewalks are cleaner than one would expect. Poodles might be the favorite but an enormous dog nearly the size of a pony is popular too. In Italy boxers were the favorite and cats were everywhere. I have yet to see a cat here. In some countries cats and dogs were the most common roadkill, but in Italy and France it is hedgehogs. The poor things are nocturnal and get hit during their nightly search for food.
My roommate in Nice, Jane H. of Seattle, has stayed behind to stay warm and dry and to rest. She and Linda and Charmaine will take a train to Barcelona and rejoin us there. Jane has the Odyssey cold which is long lasting and very hard to shake. If we ever ride into warm weather maybe we'll all get well. I can't wait!
Au Revoir, Alice
DAY 109
Saint-Aygulf (Port Grimaud) to Sanary-sur-Mer
What is this! Sunshine! Blue skies! A beautiful day for a bike ride. We are still on the French Riviera and I am in the sag wagon which is really the pits on such a day. Last night I was totally miserable, so much so that I gave up waiting for dinner. It was late to get started and the line was very slow. I was cold and hurt all over so I just gave up, had a snack in my tent and went to bed. When I awoke this morning I had the sore throat again so here I am resting in the sag wagon. My thought is that I can get well if I rest, but I just had 2 days of rest in Nice so perhaps something is wrong with my theory. Some people have sagged for weeks to get over the cold. I had a bit of a nap in the sag wagon and I bought medicines in a pharmacy. I am hoping for a miraculous recovery.
The route has been beautiful, along the coast most of the time with no cities and their traffic to spoil the day. The second half has been harder with steep hills, a strong headwind, and a big city, Toulon, to get through. All day the harbors have been jammed with hundreds of sailboats and yachts. People have been playing on the beaches and windsurfers in wet suits have been whizzing across the water in the strong wind.
At noon we had a 15-minute stop in a small town to get some food. I wanted a post office so I walked the length of the town only to find that the post office had closed, closed from 12 to 2 every weekday. Nice lunch hour, huh? The walk used 10 minutes of my 15. I bought an apple, an orange, and strawberries from a fruit and vegetable shop and that was my lunch. The grocery store where I had hoped to shop and the service station where we had parked had also closed for the lunch hour. Little fruit and vegetable shops are interspersed among other shops on almost every block of a town or city. They are colorful and I think they must encourage people to 'think fruit' when hungry for a snack. Of course the bakeries and candy stores probably outnumber the fruit shops and they are very attractive too.
This is a good campground with a swimming pool and a bar but no restaurant. To have dinner we were taken by bus to a large tourist restaurant where we again had pasta. We have been served pasta every day but one that we have been in France! I am surprised at that. And every dinner but one has been all white. In Nice we had pasta, rice, and white fish; pasta, rice and chicken; and pasta, rice and roast pork, (the other white meat). Neither the pasta nor the rice was served with sauce, butter, oil, or cheese. Aren't the French famous for their sauces? There was a nice lemon sauce served with the fish but there was not enough for the rice and pasta too. Tonight we had pasta and chicken with Parmesan cheese available to sprinkle on the pasta. Last night, the dinner I didn't eat, was rice again cooked with seafood and tomato sauce so for once it wasn't white. The French do make awesome French fries. I ordered them for lunch yesterday and they were perfect, cut from fresh potatoes and served piping hot and a bit crispy. There was an enormous bowl of them, at least two pounds of potatoes, enough to share.
Au Revoir! Alice
---
France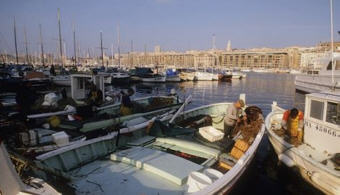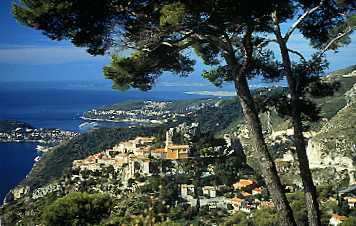 French Riviera Scenes
---

Odyssey Riders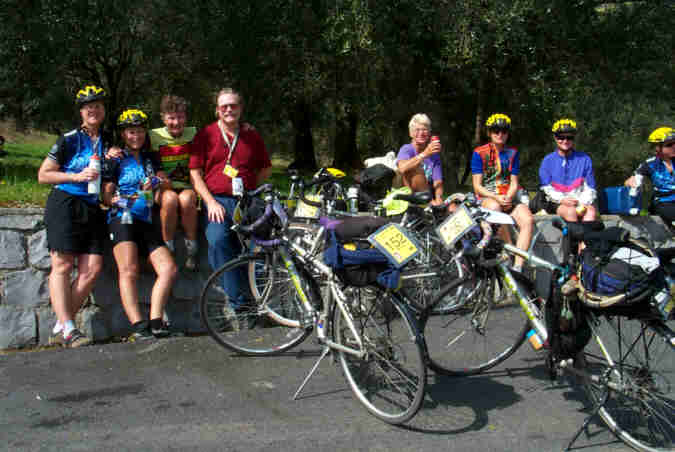 ---
Previous Page (Page 33) Next Page (Page 35)