Page 33
Italy

France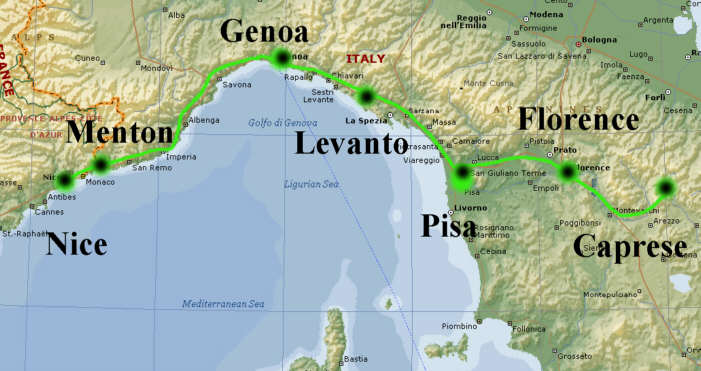 ---
DAYS 100-101
Caprese Michelangelo to Firenze (Florence)
Florence Layover Day
I couldn't stand being in Michelangelo's birthplace without having a look at his home so even though I knew it would give me a late start that's what I did. It was only slightly off route at the very top of a hill, covering the entire hilltop and built of stones and mortar, big and square and solid like all the old homes in the area, but it was perhaps grander than most; there were several other stone buildings and even a big bell in a stone belfry. I could not go inside the home or museum because it was before opening hours but I enjoyed seeing the home and the great view the family would have had from their hilltop. There were statues, copies probably, in the gardens around the home and other buildings.
Then I was on my way. Just as on Day 99 there was frost on the ground and the long descents were cold and painful for me. My fingers ached unbearably and I became so cold and stiff all over I could hardly move my legs to pedal at the bottom of a hill. I was really miserable. Obviously I needed warmer clothes. I own them but they aren't with me, sacrificed because of our limited locker space. None of us ever guessed we'd be riding in such cold weather. On Day 99 when we rode to San Marino and then to Michelangelo's birthplace the frosty morning became a comfortable sunny spring day. Only the first descent was way too cold. But on this day, Day 100, it was cloudy and there was little warmth in the air. All the descents were too cold right to the end of the day. There was a lot of climbing mixed with the descents which meant stopping yet again to remove layers of clothes. Stopping is a problem because it takes too much time. Climbing is hard work which creates a lot of heat. You can keep pedaling if you can stand to be so hot and sweaty but then your clothes will be sweat soaked and make you cold on a descent. It is better to stop and remove the outer layer of clothing before becoming overheated. In an effort to save time I would sometimes start a descent without stopping to add clothes, trying to stick it out, hoping I could get to the bottom before being frozen solid, but I ususally couldn't take it and would have to stop to add warmer clothes before reaching the bottom.
The other problem with Day 100 was that it was Sunday. The little alimentari and gelateria shops that we depend on for food and snacks are closed on Sundays. I was lucky to find a bakery open where I bought a slice of delicious red and yellow peppers pizza and a slice of a jam tart. Those who didn't see that bakery had a long and hungry ride. I was longing for oranges all day long but could not buy them because it was Sunday.
It would seem that all of Italy is hills, lots and lots of hills. We climbed so high that we climbed above Spring, to bare trees and bare rock mountain tops. It was cold, wintery and stark. At lower elevations there were forests, wheat fields, and vineyards. Fruit trees were in bloom, other trees are just getting leaves, and tulips, daffodils, lilacs, forsythia, quince and pansies were in bloom. It was beautiful. People without gardens decorated their balconies and porches with potted flowers and even potted lemon and orange trees. Even though the trees are small they are loaded with bright yellow and orange fruit.
The ride into Florence was fun because they have the very nice custom of closing the city to traffic until six in the evening on Sundays. We could actually look around and enjoy the sights. Our campground, The Parco Communali di Campeggio, was a wonderful surprise. It was on a hillside above the river, with a marvelous view of the River Arno and city of Florence. I couldn't believe my eyes! That has to be one of the most fortunately situated campgrounds in the world.
The second pleasant surprise was our dining arrangement. We had dinner both nights in the Palazza Borghese. Napoleon's sister needed a place to entertain so this palace was built for her use. It is lavishly decorated with paintings on every inch of the walls and ceilings. There were huge crystal chandeliers, and drapes and furniture in red velvet and rich brocades. It was all very grand.
I walked for hours through the streets of Florence, already crowded with tourists even though it isn't yet the season. The buildings are old, well maintained and painted in beautiful colors, shades of pink and cream and gold. Many of the streets are narrow and cobblestone, the shops in that area were tiny and filled with very beautiful and expensive goods. There were magnificent displays of enormous decorated chocolate eggs and fanciful chocolate animals for Easter. One gets the impression that everyone in
Florence is wealthy. I visited the Duomo and tried to take pictures but it is too big to fit into the camera. I walked across the quaint old covered bridge over the River Arno. The bridge is lined with small shops on both sides with glittering displays of gold, silver and diamond jewelry. One store's display was all pink and red with coral jewelry. There were tempting bakeries and gelaterias on every street. Lunch for me was a huge cookie crunchy with whole almonds, sultanas, and bits of orange, and frosted with dark chocolate. I thought Florence a lovely and romantic city.
I found a bicycle shop and bought a pair of 'windstopper' gloves. Dozens of Odyssey riders were there, most shopping for Italian jerseys. We have many look-alikes in our group now. We have to look twice to recognize someone.
We see dozens of Italians riding every day. They all seem to be tall and thin and ride like the wind on their lightweight road bikes. Some wear helmets but many do not. When we arrived in Florence it was a Sunday afternoon, the streets were closed for cars and the cyclists were out enjoying a stress free ride about the city. There were families riding together, older children pedaling their own bikes, small children perching on a child's seat either in front of or behind a parent. None of these people were wearing helmets. We found that astonishing.
Ciao! Alice
DAY 102
Firenze (Florence) to Pisa
This could have been a great ride through flat farming country with big old colorful farmhouses, castles, and flowering trees if only it had been a sunny day. But it was raining on and off, pouring rain at times. Riding in the rain is fun as long as you are warm but it is more work because it demands more concentration and very careful cycling. Rain also spoils picture taking. Some people were soaked but my rain clothes kept me reasonably dry and I stayed warm. I enjoyed the ride, riding behind Allison because she is a good navigator and we expected it to be complicated to get out of Florence. The cold morning wind in my eyes makes them tear and when that happens I can't blink away the tears fast enough to be able to read the DRG. As it turned out it was complicated and we stopped a number of times to agree on a direction. Lillian and Dot rode with us.
A couple of hours into the ride we stopped for cappuccino and sweet rolls. This is becoming a very enjoyable habit. Those who don't drink coffee order tea or hot chocolate. The hot chocolate is thick enough to eat with a spoon and tastes like chocolate pudding. It is very different than American style hot chocolate.
I was delighted with Pisa at first sight because it looks so much like Florence. The River Arno runs through it too and the large grand old buildings are colorful and elegant. Every roof in Italy (I think) is of red tile, which unifies a town or city and increases the charm. But there was no time for sightseeing, we made a beeline for the campground in the pouring rain and found everyone huddled there indoors drinking hot chocolate courtesy of TK&A. The campground was nearly awash from the downpour and the mud was inches deep around the gear trucks. We were not happy at the thought of camping and many people were scrambling to get hotel rooms. I was in a state of indecision when Judy and Jane offered to share their room. I would have to sleep on the floor but I was welcome. Now how could I turn down such an opportunity? I did think about it for awhile but the rain was pouring down so it was really a no-brainer. My tent might have kept me reasonably dry, but wet clothes never dry inside a tent. I would have a soggy pile of clothes to wear again in the morning. Not an appealing idea. So I waded in the mud to the gear truck and extracted the things I needed while trying to keep them out of the mud and rain then waited with the others for a taxi. Many were waiting for taxis all over Pisa it seemed, it happens every time it rains we were told, so it was quite a delay. Finally it was our turn and a six of us left in two taxis for the Hotel Albergo Ariston. Bobbi had arranged everything. She is a strong rider and had ridden into camp early in the afternoon. When she saw how soggy it was she rode into Pisa to book a hotel room. She booked two for good measure so she had one to give to Judy and Jane. She planned to share her room with Arthur and John, two British riders.
When the taxi turned the last corner to our hotel I gasped in surprise. Right there before us was the Leaning Tower of Pisa, just yards from our hotel, and my how it leans! I had seen it in 1977 but I was totally unprepared for what I saw now. That tower is really leaning. A number of things are being done to try to save it but I have to wonder if its days aren't numbered. A steel mesh girdle encircles it about halfway to the top and attached to it are thick guylines that disappear over the nearby rooftops anchored to the ground somehow somewhere. At the base of the tower on the high side are stacked huge concrete blocks. On both sides large pipes with big screws in them angle into the ground toward the base of the tower. We were told they are used to inject concrete into the ground to try to stabilize the earth under the tower. In the square with the tower are four or five other buildings that are also beautiful and complement and enhance the beauty of the tower. We had time to visit only the Cathedral.The Leaning Tower of Pisa is an awesome spectacle and not to be missed on a trip to Italy in my opinion.
The double room that I was to share with Jane and Judy was so small that there wasn't space enough for me even on the floor. But Bobbi's room had two twin beds and a king size bed so bless her heart, she suggested I share with her instead. We had the big bed and John and Arthur the twin beds. We all had quantities of wet clothes that we wanted to dry and began draping them everywhere. John had a long clothesline and Bobbi had one too. John enjoyed using his ingenuity to string enough clothesline to share. Soon we were in a forest of wet clothes. By morning everything of mine was dry except for my new windstopper gloves.
Bobbi, John, Arthur and I went out for dinner together and enjoyed some delicious Italian food and a fine red wine. We stayed out late and when we returned to the hotel Arthur and Bobbi worked on e-mail while I tried to sleep. It was a short night. These unplanned impromptu events that throw us together occasionally are fun and give me a chance to get to know new people. With more than 200 people on this trip I will need many more impromptu sharing opportunities.
Ciao! Alice
DAY 103
Pisa to Levanto
This day started way too early after our late night out. We groggily gathered our now dry clothing and went by cab to the campground but not before I took one last lingering look at the Leaning Tower of Pisa. I stowed my things in my locker and joined the breakfast line. Breakfast in Italy is usually very thinly sliced ham and/or salami, processed cheese slices still individually wrapped, and sliced French bread. There is always jam and if we are lucky butter for the rolls. We always have juice and sometimes cornflakes. The coffee if there is any is only lukewarm but the milk is always hot. Cornflakes do not keep their crunch in hot milk.
I was keeping an eye out for Allison because I wanted to follow her out of Pisa. The DRG was 5 pages long, the longest yet, and I thought two heads would be better than one or at least hers would be better than mine. She somewhat reluctantly but graciously agreed to let me ride with her and before we could leave we were joined by Bill-of-Seattle whose odometer was not functioning properly so he couldn't go alone. Usually Allison would try to ride faster than either of us hence her hesitation to be our leader. Almost from the beginning we were confused and we weren't the only ones. There was a lot of stop and go while we studied the DRG and surveyed the scene for any evidence of a street name or clue to our next move. Eventually Bobbi joined us and then we had two leaders which resulted in even more stops and discussions. In the end we decided to forget the DRG and just go by any road in the right general direction. This resulted in a hill climb and from its heights we could look back at Pisa and see a tiny leaning tower. It didn't appear to be leaning so much from that distance. Our improvised route led us through a very long and noisy tunnel which we would have avoided if we could have found the correct way out of Pisa.
In the end, of the four of us, only Bill and Bobbi finished the ride. It was long, 148 km., with many endless, very steep climbs. We had lost a lot of time getting out of Pisa. Allison wasn't in top shape because of a cold. So what was my excuse? First of all, that ride was so hard I would have been lucky to finish it in two days. But just by chance, about 4:00, Allison noticed a bulge on my front tire. That meant the tire could pop at any time, which could be dangerous at high speed or on a downhill. What to do? I still had nearly 50 km. to ride. It was all uphill and at my snail-like uphill speed I would need 6 or 7 hours, more hours than were left in the day. Even if I could stop a sag wagon and it happened to have a tire I could buy, by the time I changed it and rode on I would have no hope of making it to camp. In the end I went cautiously ahead only a few more kilometers until I found Judy-of-the-killer-bees stopped at a wide place in the road enjoying a good view of the Mediterranean Sea while she waited for a sag. I decided to give up there and wait with her. It was about 4:00 and in no time a sag wagon stopped. Even by car on that narrow one lane, switchbacking steep road, it was a long long way. We didn't arrive in camp until 6 pm. The further we drove the angrier I became. I thought this was a totally unreasonable day and pitied the riders we passed who were struggling up a never-ending hill. Many were eventually sagged and arrived hours later, some who made it on their own were angry but to my amazement there were others who had really enjoyed the challenge of the day. They are made of different stuff than I am.
Levanto, our destination, was a delightful little town. Everywhere there was evidence of the residents' pride in their town. The houses were colorful and decorated with hand painted designs. Potted flowers and trees were everywhere. There was even a castle in the town. It was totally charming and I am going back some day.
Unfortunately on this day another rider, James "Spot" McDonald, had a serious accident. Spot is a fast and strong rider, one of the few who has ridden every kilometer. It happened just past Montemagno enroute to Camaiori. The DRG said, 'Great view and fast, curvy descent ahead'. Apparently Spot was going fast and cutting corners on the curves because he slammed into a car on a curve. When I came upon the accident only minutes after it happened the car was still in place and so was Spot. The car was definitely on its side of the road. Spot had crashed into the car hitting it with his left leg and smashing the windshield with his head. The front wheel and fork of his bike were badly bent. Spot lay in the road face down and another rider, Jacque, sat beside him to comfort him. He was covered with a pile of jackets to try to keep him warm. Traffic was stopped on both sides of the accident and the ambulance had just arrived. The attendants worked to prepare to move Spot who had never lost consciousness and was in great pain. Eventually he was in the ambulance and on the way to hospital. Things could be worse, he has a cracked vertebra and his left leg is broken in at least two places, also some damage to the knee. His friends say that he is tough and will be back on his bike, cast and all, in just a couple of weeks. We are all relieved that he will be fine and will be able to ride again some day.
We are having too many accidents. Maybe we are trying too hard, or maybe we are making mistakes due to fatigue. I am hoping we will all slow down and ride safely.
Ciao! Alice
DAY 104
Levanto to Genova
I didn't want to leave Levanto. I wanted to explore and take pictures and buy a new tire. I wanted to take an excursion by train to Cinque Terre for a day or two. These are charming old villages that can be reached only by train or on foot or by sea. There is no road. So I began to hatch a plan. I decided I would stay over for two days, then take the train on Saturday to Menton where the group would be having a layover day. In the morning then I packed my bike bags differently than I normally would. I had my bike cleaning equipment in case of spare time, my dirty clothes in case of an opportunity, my passport, my prescriptions, my nightgown. That would turn out to be very fortunate.
At breakfast I couldn't find anyone who would join me in my escapade. It's much harder to do a train without someone to help you get your bike on and off or to watch your stuff if need be. So I changed my plan. Other people were going to cycle to the Levanto train station, stopping at two bike shops on the way, then would ride their bikes from the train station in Genova to the campground. I decided to join them because what they were doing would meet some of my needs; I could get a tire and have help at the train station. I wouldn't get to see more of Levanto or visit the Cinque Terre but I could go back someday.
As it turned out the bike stores were small and only one was open. I did not get the tire. (My front tire has a bulge that could result in a blowout which could be scarey and dangerous.) But it held for the 18 km. ride from the Genova train station to the La Vesima Camping Caravan Park. The traffic was heavy, the multitudinous motor scooters a hazard, but we made it safely. I still didn't have a new tire but my old one had held.
At the campground we were given a 500 lira coin for a 3 minute shower and we were told the gear trucks had been delayed due to unforseen circumstances. They should arrive at 5:00. Meanwhile we were invited to go to the campground's snack bar and enjoy a free tea or coffee, courtesy of TK&A. That's what we did. It was cold out and rain threatened. Five o'clock came and went and we were told it would now be seven o'clock when the trucks would arrive. The people who had cycled were stuck with only their sweaty dirty cycling clothes. People started to speculate about what could be wrong, were the trucks stuck in a tunnel? Rumors flew and beer and wine flowed. Now nearly everyone had arrived at camp and there was room indoors for only half of us. The others stood in the cold waiting for dinner. Biker Al was wailing because her Pocketmail device was in the gear truck back in Levanto. I offered her the use of mine because it is so important to her to get each day's news out and I know she has a zillion readers following her adventures. But she declined. Finally we learned that the gear trucks were delayed because of insurance problems and that they would not be coming that night at all. Dinner started about that time and people were distracted for awhile. The line was long and slow so I chose to use the time to work on e-mail and be among the last to eat. I gained some time but didn't get much food. There just wasn't enough to go around and the cooks struggled to boil pasta and rice to have something hot to offer.
About 8:00 p.m. Karen-Ann of TK&A appeared and explained that the problem with the insurance would prevent the trucks from leaving Levanto until new insurance was in effect. She told us that busses had been ordered and soon would be taking us to two hotels in Genova. It was nearly 10:00 when my roommate, Linda, and I had checked into our room at the Sheraton, a nice place to be stuck for a night!
Ciao! Alice
DAY 105
Genova,Italy to Menton, France
At seven o'clock a bus was back to cart us to the campground for breakfast. We had left our bikes there for the night. The early birds who had returned to camp on the six o'clock bus had eaten nearly all the food so it was slim pickings again for me and the other latecomers.
Yesterday my bike had begun to behave very peculiarly while cycling through Genova so after breakfast I stood in the mechanic's line. He said the problem was that the headset was loose and he tightened it using two wrenches. This was the second time in a week that the headset had needed tightening so it is something I had better watch closely. By the time Dave, the mechanic, had finished it was after nine o'clock, too late I decided to start a 144 km. day with a bum tire.
I decided my best option was to stay put at the campground and sag. During the wait I bummed a ride to the next little town in search of a new tire but without success. I tried sending e-mail and finally succeeded with the fourth telephone. Then carrying my wheel I walked the 1.5 km. back to the campground. Nothing had changed there, just riders chatting or napping while waiting for a sag. Eventually a van returned and took half of the people, but not me. Lunch time came around but there was no food at the campground so several riders walked to the next little town and returned by taxi with pizza to share. At 3:30 a van driven by Michael appeared. It was my turn to go. Arthur, Lillian, Anita, and Jane were the other passengers. We put our stuff in the van and bikes on the rack and were on our way. It was slow going because it was one little coastal town after another, stop and go. At about 80 km. we found Elbert, our oldest rider at 79, waiting by the side of the road for a sag. Luckily we had room for one more, and fortunately for us, Elbert had been shopping to spend the last of his liras and had cookies to share.
We finally reached Checkpoint at about 90 kms. and it was there that we learned that the gear trucks would not be coming tonight, that our destination had been changed from Menton to Nice, and that we would be in hotels for the next two nights. Once we reached Menton we unloaded the van, put our bikes in line to be loaded onto a moving van, received hotel assignments and climbed aboard a bus. Tim Kneeland of TK&A came on board the bus to explain the problem. It has to do with insurance for our gear locker trucks. No one could be found to insure U.S. registered vehicles in Europe, not even Lloyds of London, because of unlimited liability laws in the U.S. The insurance companies apparently fear that in the event a claim should be made that the sky would be the limit. Anyway that is what I understood him to say. It's very unfortunate that this problem was not researched before the trip but maybe it is one of those 'live and learn' things. The solution to our problem is drastic, the trucks and trailers have to be sent back to the U.S. TK&A have to buy new trucks to use here. They will not be locker trucks so we will be back to having everyone's things heaped together. That has many drawbacks.
Today the men left behind with the trucks have had to cut the padlocks off every locker, not an easy task. They have had to empty every locker, perhaps putting the loose items into plastic garbage bags, and all that baggage will arrive some time in the morning. I am hoping they look in the very back of my locker because I have many things I need and all my extra cash stowed there. My locker is on the lowest level so that those things will be missed unless someone bends over and puts his head into the locker Oh dear! What a worry!
It is amazing how upbeat TK&A have remained during this crisis even though it is costing a fortune. It is even more amazing that the riders as far as I know have remained uncritical through this, giving TK&A a break for the first time.
Alice
DAYS 106-107
Layover Days, Nice, France
This has been just what the doctor would have ordered; three nights in a hotel room, two full days of rest. All of the sick riders must be feeling better for this rest. I have been happy to have the rest and to do a few things that needed doing but I hadn't had the time or opportunity. I spent much of Saturday, our first layover day, walking in Nice, (what a beautiful city) looking for bike shops and a new tire. I could not find a tire of the right size so have had to buy a TK&A tire. My other big project for the first day was scrubbing the grease out of my rain jacket and when it was as clean as new, I rewaterproofed it. I am very pleased to have that job done!
On the second layover day, Sunday, I walked to the waterfront, only a block from our hotel to watch the Nice Semimarathon because twenty Odyssey riders were running. They ran along the waterfront on a beautiful street called Promenade des Anglais. I managed to take pictures of a few of them, I hope they'll be on the web page some day. The runners were Eric Stiemerling, Jim Trout, Joe Reichlin, Rod Jones, Rod Crase, Bill Huseman, Bill Sokolik, Shar Anderson, Bob Beede, Barb Schwartz, Cammy Clark, Kim McGonigle, Shirley Soth, Kathy Foster, Liz LaBorne, Gesa Kirsh, Tony, Al Tarkington, Katie White, and Jacque Lindskoog. We're proud of them and amazed they could find the energy to do it. Several of these people have participated in other marathons along the way. Many riders did a bike race in South Africa too.
Then I went to the Ibis Hotel where about half the riders are staying to buy a tire from TK&A and to get my bike which was stored there. I rode back to my hotel, the Mercure California, with the tire around my neck and spent most of the afternoon changing the tire and thoroughly cleaning the bike.
The original plan was for us at the Mercure Hotel to go to the Ibis Hotel sometime during the first morning to get our bikes and ride them back to our hotel. We also needed to search through the hundreds of bags that had been in the lockers of the gear trucks in Levanto but had arrived during the night, find our own, and put them on a van which would deliver them to our hotel, then get our bikes and ride them back. One of the volunteers, Shirley, came into the dining room while we were having breakfast and told us that 30 of us had to get our helmets and leave immediately because the vans were double parked, ready to shuttle us to the other hotel. Just at that time a tremendous thunder, lightning and rain storm crashed down on Nice. It was a dandy! Because of that we were shuttled over to get our luggage and shuttled back with it, leaving the bikes for the time being. The streets were flooded with water, our feet would have been under water if we had had to pedal. The storm was over in a couple of hours and there were blue skies and sun for the rest of the day.
Au Revoir! Alice
---
Italy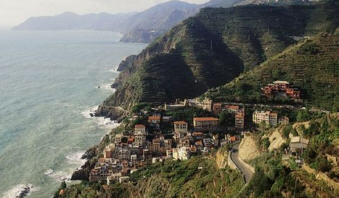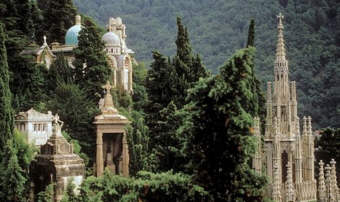 Italian Riviera, the Ligurian coast Staglieno Necropolis, Near Genoa
---

Odyssey 2000 Riders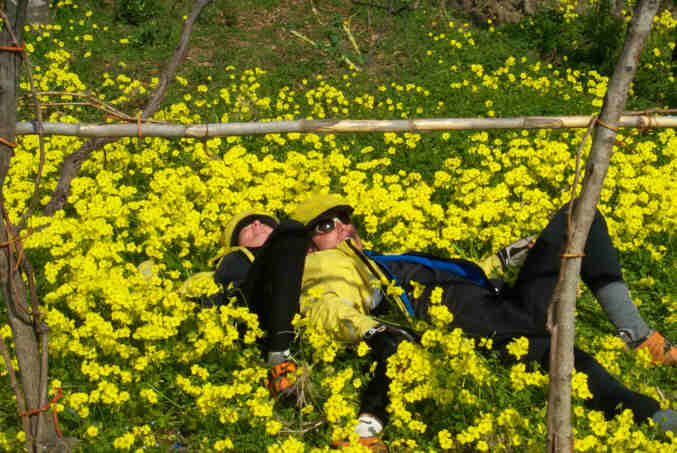 ---
Previous Page (Page 32) Next Page (Page 34)