Page 32
Italy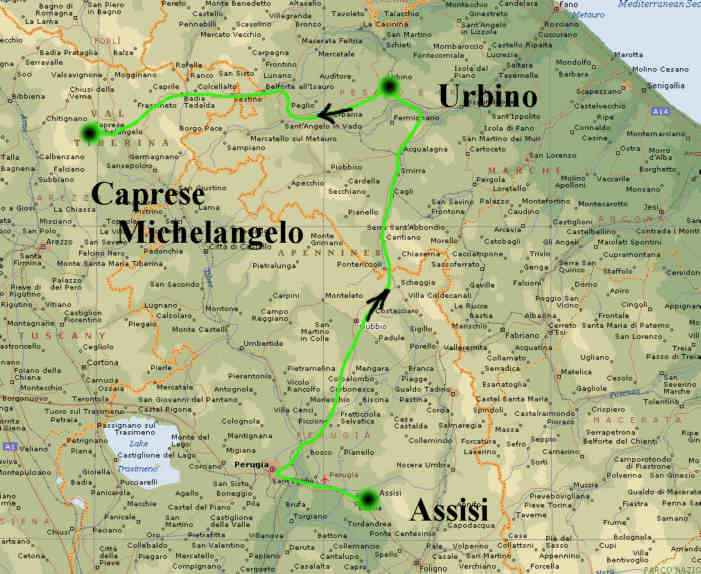 ---
DAY 98
Assisi to Urbino
At last I was back on my bike! It was fun too for awhile. The cycling was tough because there were hills and a strong cold headwind. The hilly countryside was scenic and there was evidence of spring: daffodils, tulips, blossoming fruit trees, but the cold wind felt like winter. We passed fields of wheat already several inches high and vineyards that have not begun to sprout. I stopped to take only one picture because it was just too cold to be standing still. In the picture are two snow covered mountains which I thought appropriate for such a cold day. I finished the ride but it was hard for me.
We are staying in a nice hotel in Urbino, birthplace of Raphael, but I am too tired to go see the old walled town where he was born. It must be unique because no vehicles are allowed, only cyclists and pedestrians. Thatís one of the dilemnas of Odyssey, if we do the miles we are too tired or it is too late to do the sightseeing. Itís too bad too because the old city is only a mile or so from our hotel. The hotel runs a shuttle service every hour.
Instead of going sightseeing I am in bed, waiting for my roommate, Judy, to return from dinner so that I can go to sleep. I wish she had taken the key. But the key situation is complicated. Not only is there only one key per room, but in some hotels at least and including this one, the card on the key chain has to be inserted into a slot in the wall to make the lights come on. If you remove the card the lights go out in a couple of minutes. This is an ingenious way to save electricity but complicates sharing a key.
After having a hotel in Assisi for 2 nights it is surprising that we have one tonight as well. Maybe there are no campgrounds near. Whatever the reason I am grateful that I didnít have to pitch my tent.
I am not looking forward to tomorrowís ride. The DRG always gives a short description of the next dayís ride. About tomorrow it says: Ď132.3 kms. to the birthplace of Michelangelo. Tough, gorgeous day. Much hillier than yesterday. Keep spinning and looking around.í Woe is me!
Ciao! Alice
DAY 99
Urbino to Caprese Michelangelo
The DRG was right; it was a very tough day. We didnít go by the most direct route, but took a big detour to the Republica of San Marino, which added hills and kilometers to our day. Only 105 riders tried it, all the others found other ways to get to our dayís destination or went directly to Florence to gain more time for sightseeing there. I havenít heard how many finished the ride but those who did are amazing. I gave up at Checkpoint because I was too tired to do any more climbing. There was 9000 feet of climbing and since I am so slow going uphill there werenít enough hours in the day for me to finish. But even if weíd had enough daylight I couldnít have done it I am sure. Biker Al did though but she was not a happy camper. She and her riding companions wanted to SAG, but there were too many others trying to SAG. They kept going and finally pedaled into camp before they could be given a lift. Biker Al says she is tough and she is. Anyone who finished that ride is very tough, or young. She said she wouldnít even be able to walk the next day but she rode and finished.
Thereís a technique to sagging that the savvy riders employ. If you SAG at Checkpoint your number goes on a list and you will be taken to camp from Checkpoint in that order. You will have to wait but your wait begins earlier in the day than if you keep riding until you drop. If you keep going past Checkpoint trying to squeeze out a few more kilometers, you are not on a list. The riders who give up farthest from camp are picked up first. Those who are closer to camp are left until last. Picking up all these riders can take hours because of a limited number of vehicles and drivers. If you are able you can keep pedaling and raise your fist every time a SAG vehicle comes by. If not, you sit by the side of the road and wait. The waiting can be for hours, until after dark and even after dinner on a bad day. (This would a hilly long day when too many riders canít finish.) There you are tired, cold, hungry, itís dark and you havenít eaten or showered or pitched your tent. Sometimes there is no food left. Of course all the better camping spots have been taken. The showers may be shut off. Itís the pits. It happened to me only once, on the Hill of Death, but it happens to some folks over and over. It seems like you are penalized for trying to do your best.
So I sagged, got to camp and even though I hadnít pedaled all the way, I was tired, too tired to care about finding Michelangeloís home. I pitched my tent, showered, and walked to dinner. It was a served meal which is always a much more enjoyable experience for us than a self-serve line. The line is always too long and some people are pigs, letís face it, so that those near the end of the line will have little left to eat and for sure no dessert. But in Caprese Michelangelo it was a sit down dinner and everyone relaxed. The dinner began with spaghetti, a huge heaping bowl of spaghetti. I was sure that wouldnít be the end of the meal so I didnít eat all of mine. The waiters came around with seconds and lots of riders went for it. Then they came with another type of pasta, which I declined, but most had a heaping bowlful of that too. Those dishes were collected and we were served roast beef and french fries, followed by tossed salad, and finally pudding with chocolate sauce for dessert. It was a feast!
Ciao! Alice
---
Italy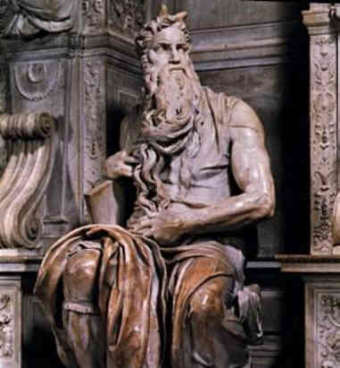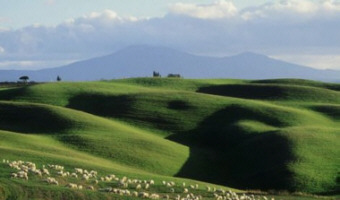 Michelangelo's Moses Toscana Countryside
---
Previous Page (Page 31) Next Page (Page 33)