Page 31
Italy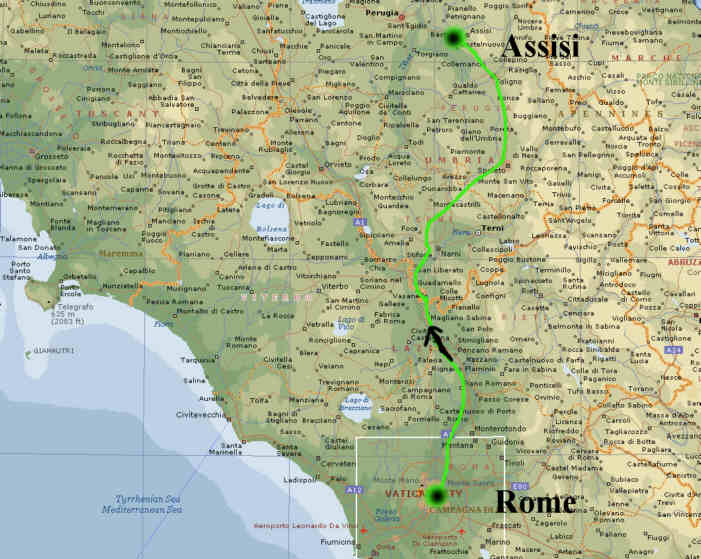 ---
DAY 96
Rome to Assisi
I extended my time in Rome by half a day in order to squeeze in a visit to the Sistine Chapel. The paintings on the ceiling had been cleaned since I was there more than 20 years ago. They are more beautiful than ever. This time I noticed gilded areas that I hadnít remembered were there. The Vatican museums are enormous and I did not take time to visit any of the thousands of rooms.
I returned to my hotel just in time for the 11:00 check out, then wheeled my bike and bags the few blocks to the Terminal to wait for my train. I was taking the 2:00 train to Assisi to join the other riders who were cycling the 101 miles from Rome to Assisi that day.
This was another beautiful day for a bicycle ride and the countryside was picturesque. There was a castle on every hilltop or so it seemed every time I took a break from writing e-mail and had a look through the windows of the train.
Many riders were already in Assisi by the time I arrived and most had enjoyed the ride. The weather was great, not too many hills, and there was a tailwind! Elizabeth had reason to celebrate, she had completed the ride, her first century (100 miles). She says it is her last as well, however. (I remember saying that after my first century but it does get easier.) Unfortunately there have been more falls. On the ride into Rome Dalia fell and broke a collarbone. Today, on the ride out of Rome, Tim Moe fell and broke the socket part of the hip where the leg bone, the femur, fits. Those are the two most common breaks in bike accidents I am told, the collarbone and the hip. We need more protective equipment than helmets. Tim will have to return to the states to recuperate, Dalia is still with us but not riding. Unless I have lost count, this is our fourth broken hip and second broken collarbone. There have also been at least one broken arm and one broken thumb, a few cracked ribs, and bruises and road rashes too numerous to count.
We were assigned four to a tiny room with bunk beds at the Hotel Cenacolo Francescano. My roommates were nice people but sick, Allison has had her cold for weeks and weeks and Patricia was just getting started with hers. I didnít want to spend two nights with any more germs than my own and when I thought about how much I appreciate a room of my own, I took a walk and found a room in the Hotel Moderne across the street from the train station.
Supper and the gear trucks were both late, both arriving finally about the same time. We had a hearty and tasty dinner of potato soup, bread, cold sliced beef, sliced Parmesan cheese, sliced onions and tomatoes, fried eggplant, corn, green salad, dessert and fruit. I have noticed that we have been served corn at every dinner and there was always corn among the other vegetables at my favorite restaurant in the Terminal. I hadnít realized that corn was a favorite vegetable in Italy. I have noticed that the Italians eat their bread without butter, pour olive oil and vinegar onto their salads and other vegetables, and usually finish a meal with fresh fruit like apples and pears.
After dinner I got my bag out of the locker and pulled it down the street to my hotel. My room was clean and adequate but the shower water wasnít quite warm so that was disappointing. I was surprised to see a TV high in the corner, I hadnít noticed it until I was in bed. I tried every channel but all were in Italian.
Ciao! Alice
DAY 97
Layover Day in Assisi
We arenít in Assisi exactly but on the plain below it in a city called Santa Maria degli Angeli. Assisi sits stacked on the top of a hill a few kilometers away. There are hotels there but probably none big enough for all of us.
Layover day found everyone doing the same things: laundry, post office, bike maintenance and sightseeing. I began with the laundry and the post office. There are no Laundromats so I took my clothes to a dry cleaner and requested washing. So far none of these establishments in Italy have had dryers. They hang the things to get them dry. Some riders have had bad luck, getting their clothes back still wet. After remembering this, I returned later, thinking I would make it clear that I wanted drying as well as washing, but they were closed for the afternoon. The good news is that when I eventually picked up my clothes at 6:00 all but one piece were dry.
Lunch was a slice of artichoke pizza and a pasta salad, both delicious. Then I caught a bus to ride the few kilometers up the hill to Assisi. Iím not Catholic but I thought I should go have a look at it as long as I was so close. There are important churches there and lots of tall buildings, everything made of brick and stone, massive and substantial. I walked to and through the Basilica of St. Francis, which is two churches built one above the other on the top of a hill. They were built one right after the other in the 13th century and decorated by the greatest painters of the 13th and 14th centuries. The tomb of St. Francis is in a crypt there. That was the extent of my visit because it began to rain hard for which I was not prepared. I took shelter, enjoying a cappuccino, and buying a Pinocchio pin for my cap. When the rain had eased I hurried to the bus stop where I found other riders sheltering and waiting.
It remains a mystery to me why we had this layover day only one riding day after 2 layover days in Rome. It might have been saved for one of those times when we have 10 or 11 consecutive riding days. But it is a pleasant place to have had a day to rest. I even had time for a little nap.
Ciao! Alice
---
Italy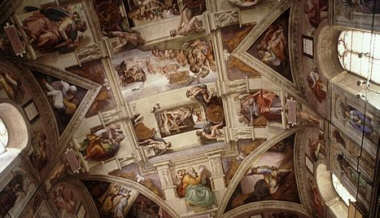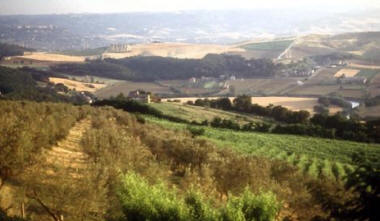 Sistine Chapel, Countryside near Assisi
---
Previous Page (Page 30) Next Page (Page 32)