Page 37

France
Spain

to Gibraltar (U.K.)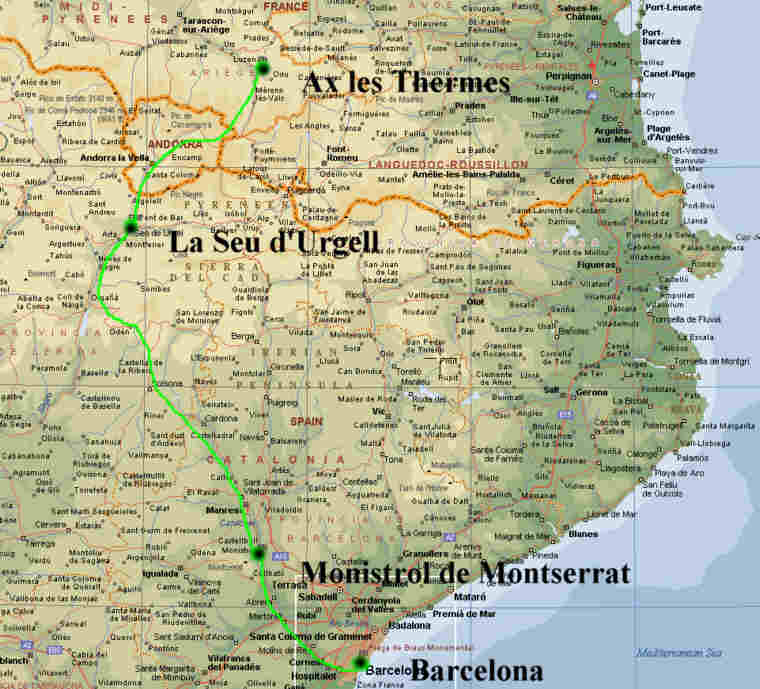 ---
DAY 115
Ax les Thermes, France to La Seu d'Urgell, Spain (via Andorra)
I had spent the night in a hotel so I was warm and dry and so was my tent which I had draped all over the room for the night. I packed and lugged my two bags downstairs which required 2 trips up and down the 4 flights of stairs, leaving the bike and bike bags in the room. I would come back for them later. My plan was to take my bags to the campsite by taxi, load them into my locker and return to the hotel in the same taxi to fetch my bike and bike bags. I would then begin the dayís ride from there. But there was no taxi to be had, none on the streets and no answer when I called, maybe because it was early, not 6:00 yet. So I hauled my bags back into the hotel, left them in the lobby, and walked to the Casino for breakfast. (I am not sure what casino means in French but it doesnít mean a gambling place.) At breakfast I saw one of the riders, Ron Morlino, who is on the ride with his grown children, Julie and Trueheart. I knew Ron had a rental car so I asked him if he was going back to the campsite after breakfast and whether I could have a ride. Of course he said yes, sweet man that he is, and he not only took my bags and me but my bike as well. What a break for me!
I climbed for hours, the weather was cold early on but not wet, it was hard work, but the work kept me warm. It was Monday, the day after Easter, which is apparently a holiday in France for very few shops were open. The only opportunity for my customary midmorning coffee and a sweet roll (now that I am in Europe) was a smoky bar, not an agreeable option for me. But I had plenty of snacks in my bike bag so I did not go hungry.
When I finally reached a place called Pas de la Casa I thought I was at the summit. But I soon learned that Pas de la Casa wasnít the pass or the summit like I had hoped it was. There was still 5 km. more climbing to reach the summit! Pas de la Casa is just over the Andorran border and is a duty free shopping mecca for the French and Spanish and for tourists. I walked up and down the very steep streets of Pas de la Casa, pushing my bike, and saw that the shops had expensive merchandise for sale like cameras, watches, jewelry, leather goods, perfume, pistols and other weapons. The streets were crowded with cars and there were throngs of shoppers on the sidewalks gawking at all the displays. I wanted a souvenir hat pin but there were none to be found. I was ready for lunch but couldnít find a place to buy food or eat and watch my bike at the same time. I had an uneasy feeling about leaving it unguarded there.
I got back on my bike and began climbing. I was now on the mountains that once had been so distant. The scenery was gorgeous and there was snow everywhere except the road. The sun was shining and it wasnít cold. When I reached the ski area, Estadi DíEslalom, I stopped to take a picture of my bike in the snow among the skiers. I met another rider, Alan, there who offered to share his packed lunch. We sat on the deck in the sun under the NO PICNIC sign and enjoyed our sandwiches of cheese, salami, and crunchy fresh red peppers. The skiers obeyed the rules and were eating baskets of fries and sandwiches purchased from the restaurant. It was a sunny, warm spot for lunch despite the fact that we were surrounded by snow. After lunch, I began to climb again, up, up, up until finally after 35 km. of climbing, I crested the Pyrenees at Port díEnvalira. The altitude was 7702 feet. I stopped there for a photograph with the altitude sign and to put on all my warm clothes for the descent. Then it was down down down. The DRG said, ĎNice long fast curvy outstanding 7% and 8% descent ahead.í Actually the descent was marked at 9% and 10% part of the time and it was awesome, almost making all that climbing worthwhile.
In every Andorran community I kept an eye out for a souvenir shop where I could buy a hat pin but I was riding through ghost towns, every shop shut for the siesta time. Eventually though I did get the hat pin and rode across the border into Spain. No formalities at the border, the customs official just waved me through. Cars though were detained and searched for duty free goods. Along the way to the border I had noticed empty packages discarded on the streets. Apparently people had opened their purchases and thrown the boxes out the car window in an effort to avoid paying duty at the border.
Once across the border it was only 10 km. to the campground, Camping Envalira. It was on a rushing river, there were green grass and dandelions about a foot high which we flattened when we pitched our tents. That night the rushing river muffled all the usual nighttime noises of coughing and snoring.
Adios! Alice
DAY 116
La Seu d'Urgell to Monistrol de Montserrat
When we first saw the unmistakeable craggy profile of Montserrat, looking tiny in the far distance, we didnít realize weíd actually be riding up one side and down the other side before the day was over. It was a 147 km. (91 mile) day, and hilly, but it was do-able because although there was plenty of climbing there were also many downhill miles. The weather was fine and the countryside was beautiful. Red poppies grow wild along the highways and in the fields and are a bright and beautiful accent against the green grass and other vegetation. Blue, pink, yellow and white wild flowers grow in profusion beside the roads along with the red poppies.
It was all uphill to the top of Montserrat but the views were wonderful. Montserrat is the religious center of Catalonia and people flock there to worship Mary. A monastery, museum, hotels and shops have been built at the top of the mountain. The fast riders had a chance to make a visit to the monastery and museum but when I reached the turnoff it was too late in the day. The steep, curving descent to our campground in Monistrol de Montserrat was fast and fun.
We were camping at the dirt soccer field in Monistrol de Montserrat, the city at the bottom of the mountain, but it wasnít raining and it was a gravely sort of dirt so it was fine. I only had time to get my tent up and wash my face before making a dash to dinner. The dinner was at a hotel 1.5 km. from camp but I had the good fortune to be offered a ride in the last TK&A van going there. I appreciated that stroke of good luck. After dinner I walked back looking for a telephone so that I could call my mother and send email. The phones in France were fine but the phones in Spain have been frustrating to use. I usually have to try many times to send e-mail and use many pesetas before finally getting a good connection.
Adios! Alice
DAY 117
Monistrol de Montserrat to Barcelona
For once we did not get up in the dark. We were camped at a soccer field and because the big floodlights had been left on all night it was as light as day at 5 a.m. when it should have been dark. I found it easier to get up and get going than usual. We were riding to the coast; Barcelona is a port city on the Mediterranean Sea. On the way we rode through what was obviously an important wine producing region for there were miles and miles of grape fields and big showrooms where wines could be sampled and purchased. Our Checkpoint was in the parking area of the Canals and Munne Cava, a grand building on which no expense had been spared, making it obvious that there must be good money to be made in wine production. Of course I couldnít sample the wines because I had to ride my bike, but I did go inside to have a look. Some riders were purchasing wine and arranging to have it delivered to our campground in Barcelona. One couple had 18 bottles delivered! That astonished me because of the storage problem but they said they had space enough in their two lockers to accomodate the 18 bottles. Wow! Thereís not space in mine for even one bottle. Even though I knew Barcelona was on the coast it was still a surprise to crest a hill and see the Mediterranean before me. The ride along the coast was the hardest part of the day because of a strong headwind combined with hills. It was the fourth hilly day and my legs knew it.
There were several glitches in the DRG apparently because a number of us got lost more than once. I was lost three times! That means I got to put on some extra miles, climb more hills, and ask local people for help in getting back on course. We were staying at Camping La Ballena Alegre (The Happy Whale), it was on the beach and only 10 minutes by bus to the city center. TK&A had rented enough beds for everyone in Ďchaletsí and trailers, with 4 or 5 riders assigned to each. Or we had the option of camping. When I saw how tiny our crackerbox of a chalet was I chose to camp and set my tent up outside the chalet. The chalet had 2 tiny bedrooms, a very small kitchen and a bathroom. Three people had to sleep in the bedroom that had a double bed and a bunkbed because the second bedroom had only one bed. It reminded me too much of the cramped and miserable night on the ferry. I would have far more space and fresh air in my tent.
The campground had a little market where one could buy food and other supplies so that was a convenience but the small laundry was overwhelmed. I could not have my laundry done there. The meals we were served in the campgroundís cafeteria were marginal and worse than the quality was the attitude. There was no butter, no one could have two of anything, and we were scolded for trying or asking. There was no coffee at breakfast in the morning and when someone inquired why, was told that there were too many of us! That problem was rectified for the second breakfast by supplying hot water and individual packets of Nescafe.
The no-coffee issue is sure to come up again, especially in Asia. Most of the riders are Americans and they take it for granted that coffee is an integral part of a breakfast. And they like it hot, but it is almost sure to be lukewarm at best. The milk that is provided to be mixed with the coffee for those who like cafe au lait or white coffee as it is sometimes called, is nearly always piping hot. That brings up the cereal issue. Americans have the custom of pouring cold milk onto their cornflakes or similar cereals but the only milk available for us is the hot milk. Now I donít know what the Europeans pour on their cereal at home, but I do know that hot milk is weird on cornflakes and makes them instantly mushy. But if thatís the way it is, so be it. Just eat it or chose not to have cereal, thatís what I figure.
One day not so long ago one rider sitting beside me at breakfast just sat staring at her food. When that had gone on too long to be a blessing on the food I asked her if there was a problem. She replied, ďI think I am going to be angryĒ, then went on to explain that her coffee was in a bowl (because there were no cups) and it was cold, and hot milk was in her cornflakes. She then picked up her bread and cheese, stuffed them into the bowl of sugar cubes and left the room. I wanted to laugh because it seemed funny to watch an adult have a fit over such little things, but so many are the stresses and so tired are the riders, that coffee in a bowl was just the last straw for her and not a bit funny, not at that moment anyway. Actually she was lucky that day to have her cereal in a bowl. We often have our cereal in a cup or a glass, even a stemmed wine glass if that is all that is available. If there are no spoons we eat it with a fork.
Back to The Happy Whale campground, I went to bed right after dinner and a shower, worn out by four days of hard cycling. I was already in my tent snuggled into my sleeping bag when I was treated to a spectacular thunder and lightning storm, followed of course by tons of rain. On and off during the night I checked the corners for leaks but there were none! Apparently I have finally learned how to stake my tent properly.
Adios! Alice
DAY 118
Barcelona Layover Day
We had a day to spend in Barcelona and of course I wanted to see it all. But there was The Laundry Problem. When we found that most of us could not have our laundry done at the campground (because there was only one dryer) some people had washed their clothes by hand and hung them out. But for that to be successful you need good weather and what we had was an overcast day and on and off rain. I didnít want a ton of wet laundry going sour thank you very much, so I decided to cart my laundry to Barcelona and find a place there to do it. I caught the bus that comes by the campground every half hour or so and was soon in Barcelona. I didnít expect to find a laundry in the high rent area of town near the Placa de Catalunya where I had disembarked or along the fashionable La Rambla where tourists and locals alike gather to stroll, eat, and shop so I popped into a hotel and asked directions to a laundry. I was told that they are not the custom but there was one on a small street in a remote area. The map I had was poor and with few street names but he marked the general area and I set out to find it. I walked for hours asking directions over and over and when I finally found it it was closed! The afternoon closing time was 2:00, it was just 2:00 then. The laundry should reopen at 4:00. Two hours to wait! But by this time I was determined to get my laundry done, reminding myself of Biker Al and how she becomes obsessed with her laundry, so I sat on a nearby bench and worked on my pocketmail device for the two hours. The laundry did reopen promptly at 4:00 and I could put my clothes into a machine immediately. The lady there would put them into the dryer for me so I was free to go sightseeing for 2 hours or more, I just had to make sure that I returned before the 8:00 closing time. I had seen enough of the back streets of Florence and the underprivileged who live there, I wanted to go back to where everything was pretty and right with the world, back to the La Rambla street and to the waterfront. I was concerned about finding my way back to the laundry later so I drew a map as I walked complete with street names and arrows pointing the way to turn.
I walked to the port and tried to take a picture of the grand monument to Christopher Colombus that stands in a rotary there, but the light was wrong from every side and the pictures were disappointing. I walked up the La Rambla gawking at everything and savoring the beauty of Barcelonaís old buildings, street lamps, sculptures and fountains. La Rambla is a very wide street that runs downhill to the waterfront ending in the rotary with the Columbus monument. There are wide sidewalks in front of the shops, restaurants, and hotels and 2 narrow one way streets, one one each side for auto traffic. In the center of La Rambla is a wide, brick paved pedestrian mall, planted with rows of trees and adorned with ornate lamps. Vendors selling souvenirs, newspapers and postcards have set up shop there. There are colorful stalls selling gorgeous cut flowers and elaborate bouquets. There are vendors with cages stacked high of many kinds of birds: chickens, parakeets, quail, canaries, parrots and many I did not recognize. I watched as two terrified squawking fat brown hens were stuffed into one shopperís basket and tied into place so they couldnít escape. There are entertainers on the street who work for whatever people are moved to to give them. In short, one could easily spend a whole day on La Rambla and have an enjoyable time.
I treated myself to a coffee and a gorgeous slice of chocolate mousse in a Moka shop and succeeding in stifling the urge to order a second piece. I bought a souvenier Spain pin for my cap and I wandered through the narrow streets of the Gothic quarter getting myself thoroughly lost until at last I stumbled upon the grand Gothic Cathedral, too big to fit into a picture and poor lighting, but I tried anyway.
Finally finding my way back to La Rambla I was tired and hungry and running out of time. I had noticed several restaurants during the day named Pans, the Spanish equivalent of Subway I think, so I stopped in one of those for a sandwich. It was delicious, a foot long in a French bread roll, and filled with fried pork filets and onions, and dressed with a dijon mustard sauce. Much tastier than anything in a Subway restaurant and the most delicious food Iíve had in Spain.
Then I hurried back to the laundry, getting lost only once, and arriving in time to collect my clean, dry clothes. By this time I was really very tired and willing to give up trying to see everything. I found my way to the bus stop and returned to the campground, totally exhausted and only wanting to go to bed.
Adios! Alice
DAY 119
Barcelona Layover Day, plus Gibraltar departure
Right after breakfast I attended a class given by one of the massage therapists, Randy, on how to stretch with your bicycle, thinking that knowing just what to do would surely encourage me to make stretching a priority. Randy explained that as we cycle our muscles grow stronger but that that also shortens them. Stretching returns the muscles to their proper length, maintains their flexibility and improves posture. I had already noticed those problems with myself so I paid attention and even stayed for the second session of the class to get a double dose of instruction and practice. I have to say that I felt better after stretching, I always do, but I havenít succeeded in making it a habit or a priority. Iíll keep trying.
This was the day we had to pack and leave for Gibraltar, but we wouldnít be leaving until evening. That meant that as soon as we were ready for the trip, we would have the afternoon free. At the stretching class I had made plans to go with Beth back to Barcelona for a few hours, so I hurried to get ready for the trip. I took down my tent, I packed everything into my gear locker but kept out what I would need for the bus trip to Gibraltar, and I delivered my bike with handlebars turned and pedals removed to the big van in which all the bicycles would be hauled to Gibraltar.
Then I met Beth and soon we were on the bus whizzing into Barcelona. We both wanted to see some of Gaudiís work as I hadnít seen any and she hadnít seen enough. We were headed for Parc Guell, a special residential site the architect Gaudi was commissioned to design and build by Count Guell. Seventy homes were originally planned but in the end only two were built. They are fanciful and colorful, like gingerbread houses with piles of frosting embedded with colorful tile mosaics for the roofs and with delightful chimneys the like of which I had never seen. What an incredible imagination Gaudi had! There also should have been a market, a church, and other public services and what stopped the project I donít know. But what is there is outstanding, singular, playful, colorful and fanciful. There are two wonderful water fountains, sculptures of dragons finished with tile mosaics. There are stone garden walls and a stone viaduct that are like beautiful sculptures themselves, there is nothing about them that is ordinary or that I have ever seen anywhere else in the world. I could hardly believe my eyes! Why does everything need to be so rectangular, vertical or horizontal, I asked myself. Gaudiís work is much more interesting and very importantly, it is fun and full of joy. Perhaps the finest structure in the Park is a magnificent circular and curved mosaic-tiled bench that encircles what was intended to be the town square. I tried but I could not capture the bench or the essence of Gaudi in my photographs. At Park Guell the home where Gaudi lived the last years of his life serves as a museum where one can see photographs of Gaudi and learn a little about the man and his life. The house is furnished with furniture that he designed. We couldnít sit on it to see whether it was comfortable, but it was beautiful and unique. While we were at the Park a group of young schoolchildren arrived, and squealing with delight at what they saw, sat down and busily began trying to draw Gaudi houses on their papers. Maybe one of them someday will pick up where Gaudi left off.
There are other works of Gaudiís in Barcelona, most notably perhaps, the Sagrada Familia, an enormous cathedral that is still incomplete on the inside. It was too much for Gaudi to complete during his lifetime and apparently now there is discussion about whether to leave it unfinished or not. Inside scaffolding and cranes are in place or so I have heard for I did not have time to see it myself, so perhaps work is already underway.
We returned to the campground just in time for dinner and immediately afterward lined up to board the busses for the trip to Gibraltar. I think everyone was dreading the 16 hour trip but in the end it wasnít all that bad. I was the last one to get on the first bus and since they were limiting each bus to 45 passengers that meant there were a few open seats and I was one of the lucky ones with an empty seat beside me. When all 4 busses were finally loaded we set out on our journey. My bus, #355, was too hot and had squealing brakes but otherwise was okay. We were told that there would be stops every two hours and sure enough they were. The first stop occurred earlier than that and lasted for 40 minutes so that the bus drivers could eat dinner. After that we stopped every two hours at whatever place the drivers could find that wasnít already crowded with too many other bus passengers. There are huge restaurants built along the road to handle hundreds of bus passengers at once, but even so the lines for the toilets were long and sometimes the 20 minute stop was hardly enough to get a turn. One did not tarry inside one of those places if not necessary because they were smoke filled and noisy. Because of the many stops our sleep was disjointed but I at least did manage to nap part of the time and felt as least as well as I normally do after an all night flight.
Adios! Alice
DAYS 120 Ė 121
Arrive in Gibraltar and Gibraltar Layover Day
We arrived in Gibraltar without incident and just about 16 hours after our start. We had to drive across the airport runways which intersect the road into Gibraltar and I thought that a unique experience. There was a delay at the British (Gibraltar) border because several riders did not have their passports or any other picture ID. They were made to get off the bus and given a reprimand but then were allowed to reboard and enter Gibraltar. They were told they would not be able to leave without passports. (Their passports were in their lockers but the gear trucks hadnít come.) We drove around to the back side of the mountain to Catalan Bay where our hotel, The Catalan, was located. The drivers didnít stop at the hotel but kept going until they found themselves in a jam and could go no further. Some fancy backing up had to be done but eventually all the busses were turned around and headed back to the hotel.
It took at least an hour of standing in line to get room assignments so the brunch we were anticipating was set back and eventually became lunch but by whatever name it was certainly welcome and highly enjoyed. I was starving. During lunch some of us made plans to go see ĎThe Rockí as it is called. We waited in front of the hotel for the bus which never arrived so we started walking into town which was not so far away, only a few kilometers, but a bus ride would be quicker and we were hoping one would appear. It did and we rode to the cable car station where we paid for a ride to the top of the Rock. What a great view! Of course we could see the city of Gibraltar below us and the big harbor, and on the back side we could see our hotel. We could also see Spain and Africa for Tangiers is only a few miles away. But what Sharon and I both really were interested in seeing were the monkeys, which live on the slopes of The Rock and for which Gibraltar has become famous. These monkeys are thought to be Barbary Macaques, descended from pets that were brought here from Africa and escaped. Here they are called rock apes, but they look like big tailless monkeys. We found them to be entirely adorable and very gentle. They didnít mind if I stroked them and one was even bribed with cashew nuts to sit on my shoulder. The taxi drivers, who constantly bring tourists to see the apes, feed them bananas and nuts and play with them every day until the apes have become very tame. Apparently the apes have done some damage to the paint on the cable car building at the top for I saw a sign apologizing for the state of the paint, explaining that the apes have damaged it, and that discussions were underway about what could be done about the overpopulation of apes. It would seem that Gibralar also has an over population of seagulls. There are hundreds of them flying above the cliffs and why they could be doing that I donít know. Do seagulls eat bananas?
After taking the cable car down the mountain we walked through the shopping street of Gibraltar. Most shops were closed but that was okay because we didnít want anything. We were trying to find a bus or taxi but couldnít. On the way back to the hotel we stopped at the gear trucks which had just arrived to get the things weíd need for the night. They were parked at least a half mile from the hotel so we took only what we needed. Then it was dinner time, but that was delayed because the van of bikes had just arrived and we had to help unload it. At last everyone was seated in the dining rooms, and dinner started, at least an hour later than scheduled. It was to be a sit down served dinner which we prefer because it is so much more civil, but the service was very slow and we were in our chairs for at least two hours. That is too long to spend at dinner. It was already past bedtime for most of us by the time the main course was served.
On my second day in Gibraltar I had hoped to take a ferry to Tangiers for the day with some of my friends. But my conscience and good sense won out, instead I stayed behind working to get current with the web page writing. It took me the entire day without a break to do it, but at last it is finished. In a few minutes it will be dinner time again. It is lovely to have all these meals just appearing before me. I could get used to this! In the meantime I will find a telephone and try to send these messages.
Good Bye! Alice
---

Spain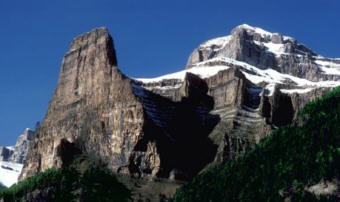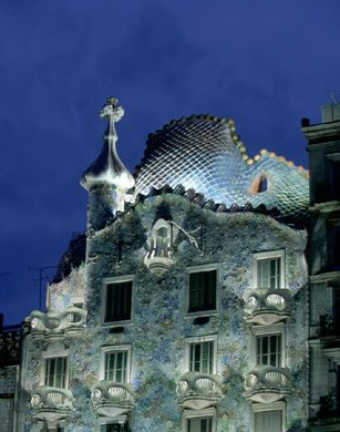 The Pyrenees Gaudi's Castle
---

Italy
---

Odyssey Riders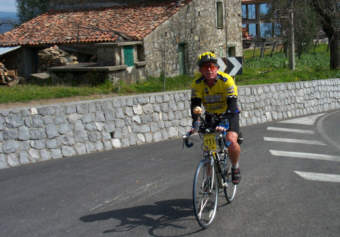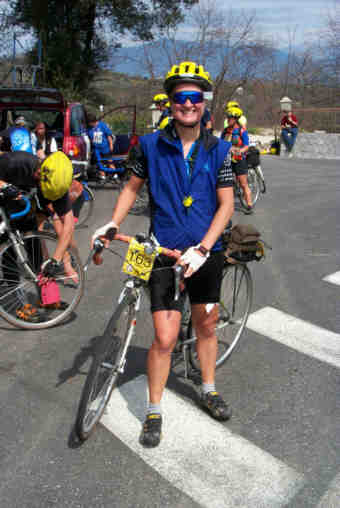 ---
Previous Page (Page 36) Next Page (Page 38)