Page 38
Spain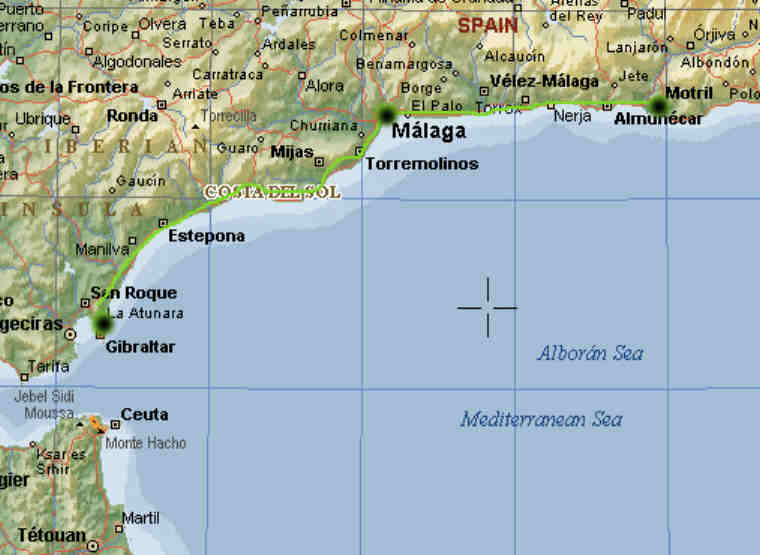 ---
DAY 122
Gibraltar to Malaga, Spain
This was May 1, Labor Day, and a holiday in Spain. The children were out of school and it appeared that most workers had the day off. Only the restaurants and service stations were open for business. The parking areas for the restaurants were filled with cars so one popular activity must be to go out to dinner. Other people had gone for a drive or for a walk in the countryside. At one village the whole community had turned out for the celebration. There were guitarists playing and singers singing and people were dancing. The music was broadcast through speakers and was very loud. Meat and chicken were on the grill and special foods were being sold at long tables as were alcoholic drinks, the bottles standing on the tables, maybe so the customers would know what was available. I was hungry but I didnít feel up to the challenge of making my way through the crowd and trying to make myself understood. Anyway I had just arrived when it began to rain and before long to pour. The people ran for cover and I put my boots on and pedaled out of town.
This was the day we began to ride along the Costa del Sol. It is a very popular tourist area and many attractive hotels and apartments have been built to accommodate them. The four lane highway was good and the traffic fast, if we could have stayed with it our ride would have been shorter. Apparently though there is no coastal road going to Malaga that permits bicycles, and we were soon on the back roads, climbing hills, and rattling our bikes to pieces on poorly maintained roads. It was beautiful out there and I enjoyed the vistas, the birds singing and the wildflowers. I had heard cuckoo birds, which sing just like the cuckoo in a clock, in Italy and France, but I havenít heard them in Spain yet. The wildflowers were abundant, the ubiquitous red poppies were there but others were too that I hadnít seen like wild purple snapdragons.
Finally I headed downhill and toward the coast, arriving at the Torremolinos Campground at 6:05, the latest Iíve arrived in a long time but I was far from last. It was a difficult DRG and several errors didnít help, people were confounded and lost. The sun was shining when I got in, the storm all over, but the campground all wet. I had to pitch my tent on wet dirt, the whole campground is dirt.
Dinner took forever, just about 2 hours, the restaurant overwhelmed by the number of us. The last group was not seated until 9 p.m., after most would like to be in bed. Would you believe we had spaghetti yet again! I have lost track of how many spaghetti dinners there have been in Europe, but it for sure has been nearly every single one. Enough already!
Adios! Alice
DAY 123
Malaga to Motril
Hills and headwinds, another hard day on the road! But it was sunny and it did not rain! Whatís more, we were not served spaghetti for dinner! We rode along the coast all day with the Mediterranean almost continually in view. There were many sandy beaches and in other places the waves bashed themselves to bits against steep, rocky cliffs. The area is very developed and the builders are hard at work building more. Most communities are all white and red. Every house or building is white with a red tile roof. They are adorned with fanciful chimneys and ornate wrought iron. The landscaping is beautiful, all trees and flowers seem to flourish. Roses grow with abandon. Those little rubber tree plants that we cart home from the store and nurture in our living rooms grow higher then three story houses here. People obviously take pride in keeping their homes and property in good order. Over and over today I saw homemakers with mop and pail scrubbing the walk in front of their homes.
Agriculture seems to be important in this area. Sugar cane is being harvested now, it is cut and hauled away without burning it first as it is done in some countries. There were orange, apricot, papaya, and avocado orchards. The papaya trees look peculiar. All the leaves and branches are gone, only clusters of papayas remain encircling the trees near the top. There were acres and acres of greenhouses with tomatoes growing inside. Roadside stands had potatoes and avocados to sell.
My bike was cranky today, the gears slipping and the fender rubbing. I wasted a lot of time trying to adjust it with little success. It needs a lot of work. Luckily though I did not get a flat tire. I tried leaving behind (in my locker) several heavy things: bike lock, tools and chain lube etc., and my precious jar of peanut butter with chocolate chips. I thought I might just whiz along but with the fender rubbing so much that the front wheel could not spin, all day was uphill. I will have to change to narrower tires or a wider fender. My bike will feel like a new machine after the makeover I have planned for it in Washington D.C.
We are camped again near a beach but the best thing about this campground is frogs. The sun has set and the frogs are croaking. It is loud and lovely. So many nights, especially in Central and South America, we had to go to sleep to the barking of dogs. The croaking of frogs is much sweeter, at least to me. No one should be bothered by a snoring neighbor tonight!
Adios! Alice
---

Spain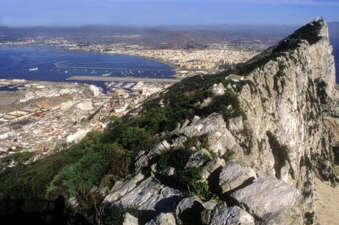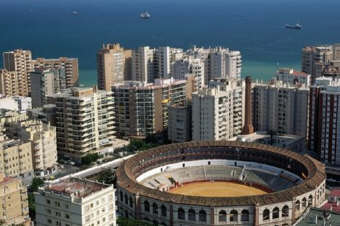 Gibraltar Malaga

Italy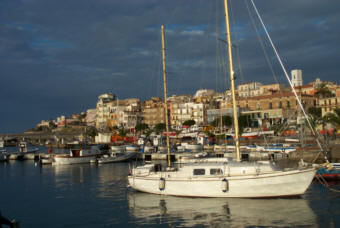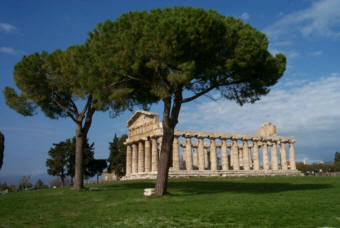 Marina di Camerota (Palinuro, Day 88) Temple of Athena (Roman)
---

Odyssey Riders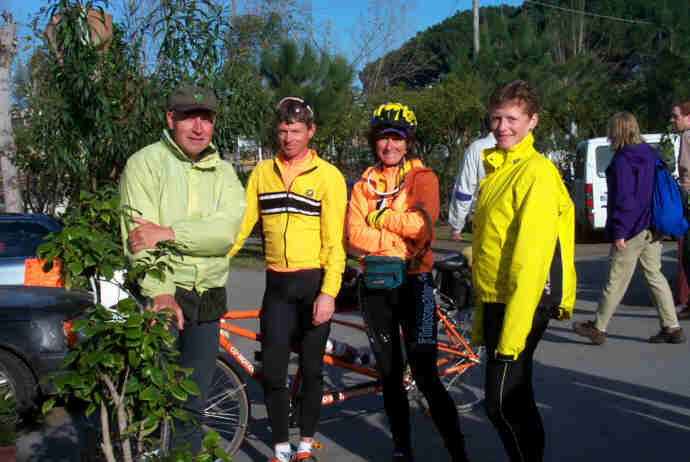 ---
Previous Page (Page 37) Next Page (Page 39)