Page 39
Spain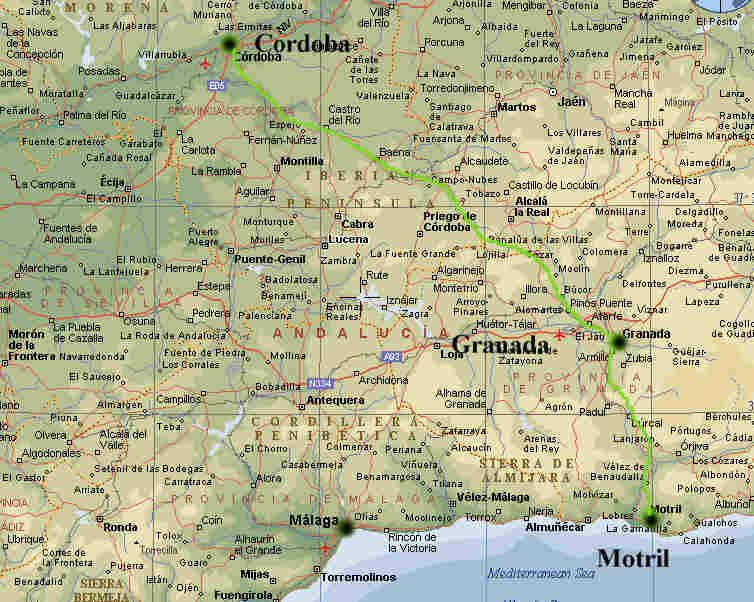 ---
DAY 124
Motril (Playa de Poniente) to Granada
This was a gorgeous day for a bike ride and it didn't even rain! I had a late start because I needed to have the mechanic work on my bike. The front wheel wouldn't spin which of course meant it was harder to pedal. He worked at it for 45 minutes, tightening the spokes to take out any wobble, adjusting the brake pads and the fender. The fender is too narrow for the tire (or the tire too wide for the fender), and has always been tricky to adjust so that it won't rub on the tire. The rubbing makes a bothersome noise and makes the bike harder to pedal. Dave cut some of the fender away where it rubbed and delicately adjusted the stays. "Too many variables," he muttered and I agreed because I have been struggling for months to keep the fenders from rubbing. In Washington D.C. when I take my bike to a shop for maintenance, I will get either wider fenders or narrower tires.
My favorite part of the ride came when the air was suddenly filled with the fragrance of orange blossoms. At first I couldn't identify the fragrance or the source and then I rode around the corner into the village of Beznar and saw the orange trees. They were laden with oranges and blossoms both at the same time, which seems a wondrous thing indeed. Do the trees produce oranges all year round? I stopped to take a picture and to pick up 3 windfalls, which I later enjoyed in pure ecstasy for my lunch. They were delicious beyond belief!
It was a do-able day, warm but with a refreshing gentle tailwind part of the day, and with the longest climb only 6 km. There were more hills than downhills but they were nicely mixed and it was fun. There were some very rough road surfaces like when we had to take a detour around a long tunnel for example, but the views made the beating we (the bikes too) took worthwhile.
About halfway into the ride we were surrounded by the Sierra Nevada Mountains. Let's see there were the Andes, then the Pyrenees, and now we were in the Sierra Nevada's. The whole planet is covered with mountains! By the time we reached Marchena the snow covered mountains came into full view. Unfortunately their beauty was somewhat spoiled because the snow was a grungy color, soiled by air pollution. Everywhere we've been in Europe the air is dirty. Obvious contributors to the problem are the too many cars, the trucks belching black smoke, and the farmers who burn their trash including the branches of trees they have pruned. Whenever we are climbing or descending and looking into a valley we can see smoke rising from fires and we see the view through a haze that hangs in the air over the land. It's like there never really is a clear day.
When I rode into Gojar I noticed some children dressed in colorful festival clothes and stopped to take pictures. It was an extended family celebration with special sweets for the children and wine and pizza. I was invited in and treated to a song by one of the men who played a guitar. I took more pictures and promised him that he would be on the Internet in a month or two. He was thrilled and I know he'll be watching and waiting. I think 'internet' was our only common word. I gave him my card with the web page address and said goodbye. No one there spoke English and my Spanish is very poor so I could not understand what they were celebrating, only that it was a festival day. Later I learned that it was the Day of the Cross.
Dinner was a novel event. It was delivered to the camp in individually packed plastic bags. Inside each bag were three disposable foil containers, a bread roll, a small bottle of water, and a container of yogurt. The bags were on the ground, we only had to pick one up and go find a place to sit to eat. It was a fast way to feed so many. Inside one container was the inevitable pasta, another had meatballs and french fries all covered with gravy, and the third was tossed salad. The vegetarian meal differed in that the container of meatballs and french fries was missing. No substitution had been made. We have seldom had a meal where the vegetarians have been supplied with foods rich in protein like beans and lentils. The usual solution to the vegetarian problem is just more vegetables or another serving of pasta. Perhaps the vendors should be given a list of appropriate protein-rich foods.
After dinner many of us hurried into town for a quick glimpse of Granada, and what a shame too because the beautiful Alhambra is there and few were able to see it. Only the fast riders who had come in early or people who traveled by means other than bicycles were in town early enough. Getting a ticket is a big problem although there are parts of it that can be seen without a ticket. I had seen the Alhambra many years ago and was astounded at its beauty. I was disappointed to be so close and not to see it.
But there was plenty of entertainment in town. The people had turned out by the thousands to celebrate the Day of the Cross. There was music and dancing in the streets, ladies and children were dressed in their finest festival clothes, colorful long dresses with swishing skirts and rows and rows of ruffles on the skirts and sleeves. Young boys wore black trousers, white shirts, and red polka dotted vests. It was the rare man who was specially dressed and when we asked why we were told that they don't make the effort. Beautiful and highly trained horses paraded through the streets, their riders always keeping them in perfect control. Street vendors were barbecuing sausages; people were eating and drinking, laughing and dancing. They were having a great time.
Adios! Alice
DAY 125
Granada to Cordoba
The DRG always ends with a synopsis of the next day's ride. Day 125's description was not encouraging. It read: '159 kms. A long day to Cordoba in hilly terrain on an excellent National Road with some traffic, might be heavy at times.' Now does that really sound like something that would be fun to do? One could surmise that it was going to be a long day from the '159 km.' and the 'hilly terrain', one didn't need the extra emphasis with the words 'a long day'. I had already decided before ever seeing that description that I would not ride to Cordoba because I wanted a day to see the Alhambra and I needed a rest. I thought I would take a bus to Cordoba in the evening. But in the end I followed the flock to the bus station, missing both the ride and the Alhambra.
When I met my friends in the afternoon they all had been to the bus station and had purchased tickets for a 10:00 bus the next morning to Cordoba. No one wanted to stay to see the Alhambra, perhaps because they didn't know enough about it to know what they would be missing. So I gave up my plan and walked to the bus station only a couple of blocks away and bought a ticket for the 10:00 bus.
In the morning breakfast was served in a bag and it was pouring rain, not good picnic weather. Moods were low and as the rain continued to pour more and more people were looking for alternative ways to get to Cordoba. The bus station was inundated with cyclists, dripping wet cyclists with wet bikes and wet bike bags. Tickets were sold to everyone who asked and we began to wonder if there was a count kept or if the bus would be oversold and it would be a first-come battle for a seat. Tension was running high. But then we learned that there were three busses, a 9:30 and two at 10:00. They had provided an extra bus to accomodate the excess. The tickets were in fact labeled with seat assignments so they knew exactly how many tickets they were selling. So instead of a mad dash with pushing and shoving, we actually helped each other turn handlebars, remove pedals and front wheels, and load the bikes on the busses. No one thought that that many would fit but they did.
We left the bus station headed for the freeway but had to change routes. There had been an accident, we could see the black smoke and hundreds of cars backed up in every direction. Our bus driver was quick to see the problem and did not become trapped in the traffic but drove onto a side road, turned the bus around and took an alternate route. It was the same road we would have ridden had we been on our bikes!
I was very tired from the three previous days of hilly cycling and could not stay awake to see the countryside for the first hour of the trip. After a nap though I was able to enjoy the view and identify the Odyssey cyclists we passed. They were rare, only 75 rode that day. We had people on board who had intended to cycle and were dressed to cycle but in the end gave up the idea because of the rain. They were especially chagrined when we found ourselves out of the rainstorm after only a few miles and the rest of the day was fine and sunny. It was a good road and although it was hilly they weren't steep hills, in short we missed a fine ride. The traffic didn't seem as bad as it was billed.
We drove through hundreds and thousands of acres of olive trees, billions of olive trees. How many olives would that be? The olive trees were planted in neat long rows, up hills and down hills. Everywhere. Once at the bus station in Cordoba we had to unload the bikes and put them back together. When everyone was ready we cycled to the campground. Since the bus had followed the DRG except for the last few blocks we had a good idea where to find it and were there in minutes. It was a lovely campground with plenty of grass on level ground for everyone. We were just about the first ones there, beaten only by Trueheart who cycles like the wind and is always to camp hours before anyone else. We had lunch in the campground's restaurant and waited for the gear trucks to arrive, then hurried to put our tents up and get settled. It is harder to chose the perfect spot when there are so many choices! I needed to do laundry and thinking that it opened at 5:30, made my way there about 4:00, hoping to be first in line. But in fact the laundry had been open all along, it was the little market that would open at 5:30. All I could do was to take my place at the end of the line and wait. Some wait it was too because there was only one washer and one dryer. I put the waiting time to good use, working on e-mail and getting my bike fixed.
I had had my bike's wonky headset replaced in South Africa, but by now that one had gone bad too. Every 2 or 3 days I had to return to a mechanic to have it tightened. Apparently part of it was missing and so it was unfixable. But meanwhile, Raleigh who supplied the bikes, had recognized that the original headsets were faulty and since they were a part of the bike that was under warranty for a year, had sent enough new headsets to replace them on all the bikes. The trouble was that we had only two mechanics but hundreds of bikes. Finally though TK&A acted on the problem and put on an extra mechanic for two weeks to help get the job done. Jonathan had arrived only the night before but there he was, ready and willing, happy to do the job. There wasn't even a line. So I left my bike with him and went back to the laundry line.
The timing on that worked out pretty well too. My clothes were washed and waiting for the dryer when it became available at 7:00, just when dinner was starting, so I stuffed them in and hurried to dinner. It was a sit down served meal around the swimming pool. (Never mind that the pool was filled with gunky water and that frogs were living in it.) We had cloth tablecloths and napkins and we hardly knew how to behave ourselves in such a setting. We didn't know how or why it happened, but bottles of wine and pitchers of beer were set out at every table, and resupplied as necessary. This was a first. Some of us had wine in one glass and beer in another. It was like a party.
Now there are some people on this trip who are full of fun and always doing something over the top that amazes and amuses us. Thank heavens for people like these. One of these special people is Rod of Mendy and Rod (sorry I don't know last names). Apparently on a dare for $15, he pulled off his shirt and shoes and dove into that gunky pool. That water was so thick and green, totally skuzzy, but there he swam nonchalantly and like a pro, back and forth in perfect form (he had been on the swim team in college) while we watched astounded. After a few laps he hopped out and went back to his table. Needless to say no one else took the plunge. We all expected him to be terribly ill after that but he was unscathed.
Adios! Alice
DAY 126
Cordoba Layover Day
I was all set to enjoy this day, having dealt with The Laundry Problem the day before. A group of riders, Inge, Gudrun, Joan, Jacque, Lillian, and Dorothy were going sightseeing in Cordoba and invited me to join them. These people are all about my age but most of them ride faster than I do. They always do everything together but I usually only see them at meals or on layover days. We could have taken a bus but chose to walk the 4 or 5 km. to the old area of town from the Camping Municipal el Brillante Campground where we were staying. Joan had a map and we followed like little ducklings. She led us right to the special sights we wanted to see, but it was a walk interspersed with shopping. I needed something for my sore throat (my third one) at a pharmacy and soon everyone thought of something they needed at the pharmacy. We had to pantomime our complaints but the pharmacist was not good at the game, eventually though after much effort, we all were satisfied. Next we stopped for camera repair and batteries, then pen and paper. I bought Cordoba postcards and a souvenir pin for my hat.
We visited the Mezquita-Catedral which in English is the Mosque-Cathedral. The history of this building is long and complicated. I think it began first as Christian church which was shared with the Moslems when they arrived in Cordoba in the 7th Century. But it wasn't big enough so the Moslems bought their half and razed it, building a 'splendid mosque with 11 aisles all opening onto the Orange Tree Court'. At least 3 times more the mosque was enlarged and improved. In the 13th century the Christians went to work on their half and even on part of the mosque, making a sumptuous cathedral. The minaret became a Baroque tower but most of the mosque was left unchanged. What is amazing when you visit it today is to see the startling contrast between the mosque and the cathedral, both under one roof (a very large roof). There are around 850 columns inside, most taken from Roman and Visigothic buildings. There are curved arches on the columns made of alternating red bricks and white stones, so that the arches are striped. So many columns and so many arches is an awesome sight. The mosque except for the striped arches is plainly decorated, while the cathedral is luxuriantly decorated.
Next we visited the gardens which were nearby and free on that day for some reason. They were beautiful with their fountains and pools, rows of orange trees, and many beds of roses, pansies, and other flowers. We had an unexpected treat while there, a wedding was in progress with everyone in the party dressed to the teeth. The men had all slicked their hair down or up depending on the style, with more than "a little dab will do you". Of course it rained and when that happened we took shelter in a nearby coffee shop but I have to say that Spanish coffee and pastry does not begin to compare with that of the French or Italians. Eventually we found our way to the Jewish quarter, an area of very narrow streets with beautifully decorated patios. Flowers in pots hang all over the walls, from the balconies and arches, on the stairs, everywhere. It has to be a job to water all those pots. Some patios were open to the public during a competition so we sought them out and enjoyed their beauty and tranquility.
Some time during the day we had lunch, 'chicken bosoms' the menu read in the English translation. We did more shopping and then split into groups: one staying in the city, one returning to camp, and Lillian and I going to the mall to visit a hairdresser. That was a mistake. It took hours because we were drop-ins and because they worked incredibly slowly. We both were disappointed, getting the worst haircuts we'd ever had. She hated her permanent and I am now a blonde, the color turning out far different than it was on the chart. But I was able to find a shop selling sleepwear so the mall visit wasn't a total loss. I bought some bright yellow p.j.'s to replace the beautiful red silk nightgown I must have left on the hook in the shower in Granada. (It was the only pretty thing I had.)
Before I could get back to camp and only five minutes before dinner was set to start at seven it started to rain, serious rain. I stopped at the gear truck to get my red waterproof cape and arrived at camp to a hilarious (or tragic depending on your sense of humor) sight. Our dinner was being served for the second night around the pool. It had started an hour early because it was ready and the sky looked threatening. Now the diners sat finishing their meals in the pouring rain. Some had umbrellas, others had napkins on their heads, a few sat under the tables which was the driest idea. The tablecloths were soaked, rainwater stood in empty bowls and plates, the rolls were slimy from the rain, the toasted almonds and potato chips put out for nibbling while waiting to be served sat in soggy puddles. I thought it was as funny as could be but poor Tim of TK&A was somewhat distraught that the rain had dared to ruin what should have been a lovely meal. There were flower arrangements on the tables and the beer and wine flowed. I had to sit by myself at an empty table but other latecomers soon joined me. Some who were outraged by the rain, got up and left, going to Burger King they said. Eventually we who remained were served, meanwhile nibbling on the slippery almonds and the slimy bread. The waiters seemed distracted by the rain, of course they were soaking wet, and they had trouble realizing that we at my table were just beginning the meal. At a couple of tables the partying went on for hours, those people were happily and loudly having a wonderful time in spite of the rain. As for me, I was ready for bed and had no trouble falling asleep. Sightseeing is hard work!
Adios! Alice
---

Spain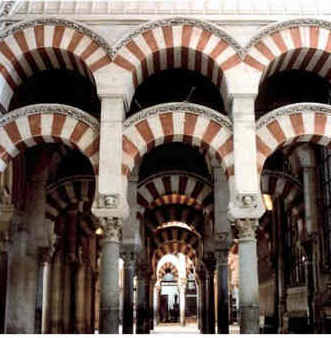 Cordoba's Mezquita (seen at end of bridge) Puente Romano, a restored Roman bridge

Italy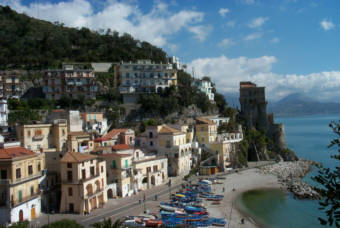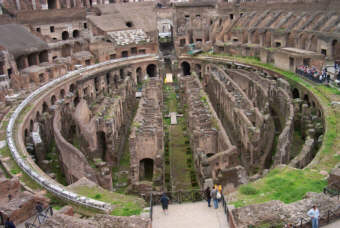 City on Italy's Almafi Coast (Day 90) Coliseum with view of subterranean passages
---

Odyssey Riders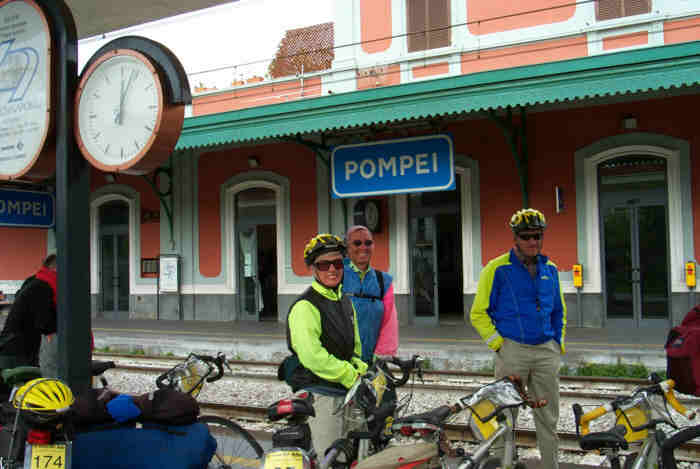 ---
Previous Page (Page 38) Next Page (Page 40)