Page 43
USA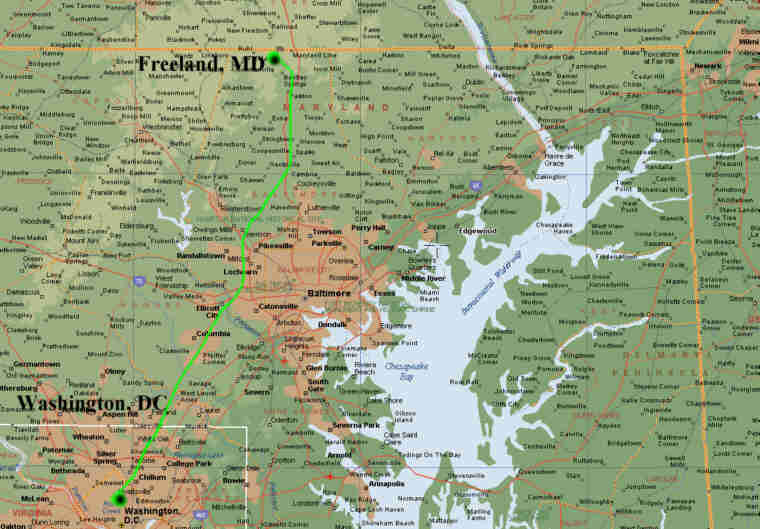 ---
Days 134-138
Washington, D.C. Layover Days
That went fast! Five days seemed a great plenty but they were too few. This is a beautiful city with much to see and do. Washington, D.C. compares favorably with any of the great cities weíve seen, and here the museums are free! I am glad to see my tax dollars being used to support the museums which are without equal in the world, I am sure.
I enjoyed a visit to the Natural History Museum, one of the museums in the Smithsonian group. Highlights there included a 3-D IMAX film of the animals of the Galapagos Islands, and a special Viking exhibit. The Vikings had an unusual use for fleas. Knowing that fleas always hop or crawl toward the north they used them on voyages to determine which way their ships were headed. (Iím not sure I can believe that.) Another day I visited the Holocaust exhibit which overwhelms with information and requires several hours for even a minimal tour.
I was on the mall for the Million Momís March, an impressive event. Another day I walked for miles visiting monuments and memorials: the Vietnam Memorial, the Korean War Memorial, the Lincoln Memorial, and the White House. Itís a long walk to see them all in one day.
One highlight of my visit to this beautiful capitol city was attending a musical, Reunion, performed in Fordís Theatre, the theatre where Abraham Lincoln was assassinated. The play told the story of his election, his struggle to find a capable commander for the Army during the Civil War, his decision to abolish slavery, and finally the circumstances of his death. It was very special for me to be in that theatre reliving that period of time through this musical production. Twenty-eight songs of that period were part of the performance. It was the perfect setting for Reunion, which in fact was written to be performed in Fordís Theatre.
At long last, after 10 years, I enjoyed a reunion with friends from Saudi Arabia, Mars, Thuy and Frances Adkins. They treated me to lunch and a successful shopping trip. It was so good to see them again after all those years. Frances had been one of my second graders and is now graduating with a Masterís Degree.
Our visit in Washington, D.C. is over all too soon. One of the benefits for me was realizing that staying in a hostel is a viable alternative. Itís a more comfortable place to be than I thought it would be, and the price is right, $25 a night for each person. Space is available in the refrigerator and on shelves for food so that you can eat some meals in if you choose to do so. Thereís a laundromat in the basement and plenty of hot water and paper in the bathrooms. We will be staying in another hostel in New York City. Iíll be able to compare to see whether this first experience was the norm or atypical. I am looking forward to being back on my bike again tomorrow. Having the time of my life!
Goodbye, Alice
DAY 139
Washington, D.C. to Freeland, Maryland
Our route out of Washington was easy, almost a straight shot, but there were dozens of traffic lights, nearly every one of them red, so it took awhile. We saw a different side of Washington, D.C., a poorer side, but the people were friendly and called greetings to us. I noticed that the black people in particular were friendly and truly amazed when we told them what we were doing.
We rode all day on country roads through the beautiful countryside of Northern Maryland. There were areas where the homes were palatial and the yards surrounding them could have been golf courses they were so immense and well groomed. Even more modest homes had enormous lawns, all green, weed free, and newly mowed. How do they do that? And why? Although they do look beautiful it seems like a colossal waste of time, energy, and money to me for there is much more lawn than anyone needs for playing.
The best part of the day was the fragrant wild blackberries that bloomed along the roadsides for miles and miles, nearly the whole way. I couldnít believe it was the blackberry blossoms that were so fragrant so I stopped for a closer look. Sure enough! The petals are white with yellow centers and they have a lovely gentle fragrance. I think the blossoms smell better than the berries taste. I love blackberries, but itís the littler ones I like, not these big ones. The roadsides had been mowed so there were no wildflowers; the blackberries escaped the mower because they have climbed fences and are high in the trees. The worst part of the day was wasting time and cycling extra miles trying to find a road that didnít exist. It was hot and humid, which increased our irritation, but eventually with the help of game wardens who described the route we should take, we arrived at our campground, which is the ballfield of a school. I wanted to have my bike fixed so I stood in line for an hour waiting my turn for the mechanic. We have two new mechanics, Mac and Jason, but two plus two does not equal four. The line of riders was very long, but our other two mechanics did not help. I was the last one to be served, quitting time is 6:00. My bike now has a new rear cassette, new middle chain ring, and a new chain. I am looking forward to a trouble free ride tomorrow.
The scariest part of the day happened on a bridge. I was going very fast having just come down a wonderful hill. I could see some teenagers in my lane but they were on the sidewalk of the bridge ready to watch a girl who was standing on the railing jump into the water far below. I was really amazed to see that she was going to jump because it was a very long way down and there didnít appear to be a way out of the water. Also it was posted for no swimming and only minutes earlier we had watched the game wardens citing a group of teenagers for swimming in another part of the City of Baltimoreís water supply. I donít know whether these were the same teenagers who had just moved down the road a few miles or whether it was another group. Stopped on the bridge opposite the teenagers and in the other lane was a red pickup truck with the door open. As long as the kids remained on the edge of the bridge I had a clear lane. I didnít see anyone in the truck but when I was only yards away and going fast a man suddenly jumped out the open door of the truck and directly into my path. He had a look of glee on his face and was in a rush, trying to reach the rail in time to see the girl hit the water. Instead his timing was perfect for a collision with me. I yelled ďHey! Hey! HEEEY!!!í and finally at the last second he leapt backwards out of my path. Whew!
Goodbye, Alice
---
France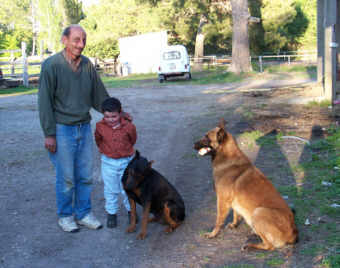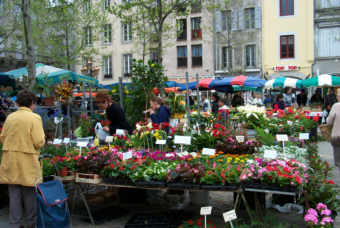 ---

Odyssey Riders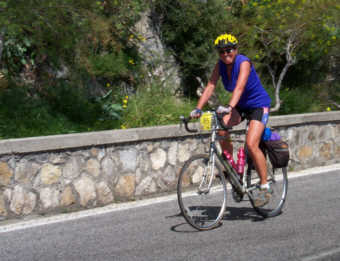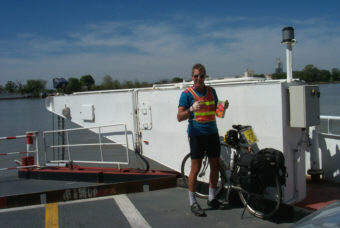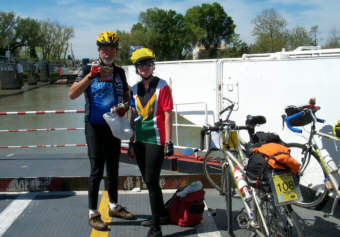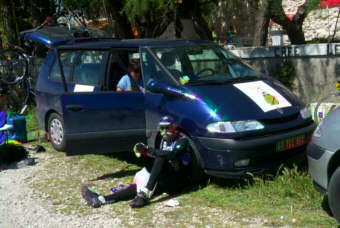 ---
Today's Music
---
Previous page (Page 42) Next Page (Page 44)