Page 80
Japan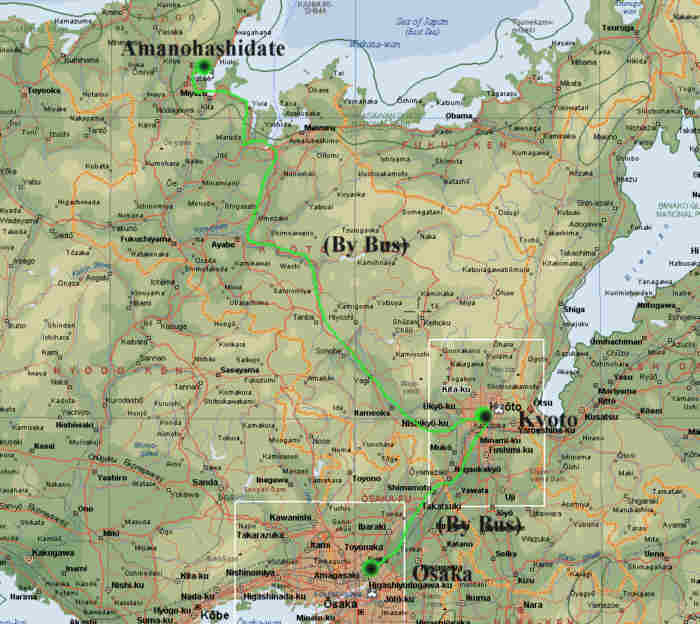 ---
DAYS 278-279
Cairns to Kuala Lumpur to Osaka to Kyoto, Japan
October 4-5, 2000
What could have been a direct flight in seven hours to Osaka doubled because we couldn't fly into Japan with our chartered Malaysian plane. A solution was found, but it was costly in both time and money. We all flew from Cairns to Kuala Lumpur, Malaysia on the chartered Malaysian 747. There we split into two groups for the flight to Osaka, half going on a commercial JAL flight, the other half on a commercial Malaysian Air flight. We had our bags with us but not our bikes. In Osaka we boarded busses for the two and a half hour ride to Kyoto.
Something nice happened for the charter flight to Kuala Lumpur. Maybe it was because some people were bitter that on the last charter only staff members and Karen Ann's stuffed animals were allowed in 'business class'. I had a look at that section of the plane and it seemed to me that they were no better off than we were. I didn't think their seats were any wider than ours or that there were that many more empty ones. Later I overheard one of the stewards say that there was no business class section on the plane but people continued to grumble nevertheless. To correct any perceived inequity for this flight, TK&A announced that the staff, EFI riders, and oldest riders would be invited to sit in business class. When all the staff and the people who have cycled every inch were given seats there weren't many left for the oldest riders. I didn't get one. I was too young! Yeah!
We were told that this 747 was 'ours' for the rest of our flights through Hawaii. Now that I've been on it I'm pleased about that. There were first class and business class seats so that was wonderful for those who got them. The service was outstanding. My only complaint was the poor sound system. It was full of static making the dialogue in the movie very difficult to follow. They tried to fix it in-flight but couldn't.
Otherwise the flight was as good as they come. The attendants were courteous, fast and efficient. I have never seen a more expert meal service. The dinner was good and included dessert, followed immediately by giant-sized ice cream bars. I couldn't even finish mine! One movie later and another meal was served! Coffee and tea were served immediately in time to have with dessert. Then to top it off, champagne was offered and a bit later more ice cream! Whoo! Someone told them about our appetites!
When the chartered plane landed in Kuala Lumpur, the people assigned to the JAL flight were told to disembark first because that flight would leave first. That included me. We waited a very long time for the bags to come and then had to make a beeline for the JAL plane which was a train ride and a hike away in the gorgeous new airport. The flight was delayed waiting for the last of us to board and then of course we'd lost our takeoff slot. Airborne at last, we landed 35 minutes later in Singapore and had to leave the plane for half an hour while it was cleaned. When we reboarded we had to squeeze ourselves in-between the new passengers who had boarded while we were gone and again the takeoff was delayed. It was 1:30 a.m. for us and we still had to endure a six hour flight and a bus ride from Osaka to Kyoto.
Our first Japanese meal was breakfast, I am guessing, because there was just a glimmer from a rising sun on the horizon and my watch told me it was 6:30 a.m. in Cairns. We experienced firsthand why the Japanese attendants are so very slim! Where were the bacon and eggs? Cereal and yogurt? Hotcakes and syrup? In their place was a two-inch cube of cold, solid, white fish and a half-inch slice of something squishy tasting slightly of egg, only just enough for one small taste. Decorating this twosome was a short strip of bright green plastic grass, reminding me of a picket fence. In the adjoining teeny bowl were transparently thin pink slices of pickled radish, thicker slices of bright green pickle, and a very small pickled plum. On a heated plate was a paper thin layer of sticky rice sprinkled with black seeds and adorned with a centerpiece of delicious sliced mushroom. There was one more dish and it contained sliced fresh fruit: pineapple, papaya, orange, watermelon, and green melon, a tiny slice of each, the whole topped with a minute sprig of parsley. That was it! There were chopsticks of course, but also silverware and a toothpick, a smaller than a thimble plastic bottle of soy sauce which itself was in a tiny bag. The hostesses served Japanese tea (green), English tea, and gratefully, coffee. In all fairness I found everything to be good, even delicious, and ate every bit except the plum. But I wouldn't get far on my bicycle with such a limited supply of fuel. We wouldn't be cycling this day however.
By the time we landed in Osaka we had been traveling 22 hours. I had had little sleep, being too cold and uncomfortable to doze for long. The seats on the JAL flight were not as comfortable as those on the Malaysian charter. It hadn't been a good night.
We were met at the airport by the people responsible for transporting us and our baggage to the hotel, and in an hour or so we were in the busses ready for the drive to Kyoto. It was less than a two hour drive from Osaka to Kyoto but we were in a big city and heavy traffic all the way. Osaka, Kobe, and Kyoto have melded.
On arriving at the hotel we found that for the first time ever there were no lines for room assignments. The keys were in envelopes with our names on them so that all we had to do was pick up the appropriate envelope. Glory be!
It was now past lunch time and we were starving after our pretty but tiny breakfast so many hours earlier. We left our belongings in our small but very adequate room in the old and modest New Kyoto Hotel and went to the hotel's restaurant in the lobby for lunch. (I want to call it a coffee shop but somehow that doesn't seem appropriate in Japan.) I warned Joan that it would be expensive but we were too tired to search farther. We chose from photographs of food in the menu for it was in Japanese. The prices were appalling. She ordered a vegetable sandwich for 700 yen, the cheapest item on the menu, and a cup of coffee for 450 yen. I wasn't going to eat western food for my first meal in Japan so I ordered another low cost item on the menu, a bowl of noodles for 1150 yen. That's about $11. Can you believe it! The bowl was only half full, but the noodles were delicious. Sliced mushrooms, much tastier than those white button mushrooms we eat in the states, were in the noodles and atop it all was a heap of finely shredded dark green seaweed. I even ate that! It tasted fine and looked like it must be loaded with vitamins.
We booked an all day tour for the next morning, our layover day in Kyoto, too overwhelmed to make a plan of our own and solve the transportation problems. Although more English is in evidence here than when I was last in Japan (1976), on some telephones and street signs for example, we have found very few people yet who speak even a little English. Communication here will be a challenge.
Goodbye, Alice
DAY 280
Kyoto Layover Day
October 6, 2000
At last we have a doctor, Peter James, on our trip. He and Christie, his wife, flew from the states to join us in Kyoto. Imagine our surprise and excitement, when upon introducing ourselves we discovered that they are from Bellingham where my sister, Jean, and son, Eric, live, and furthermore, that Jean worked for Dr. James in his office for years! I have to say it, it's a small world.
The Japanese breakfast was very fishy and a strong fish odor permeated the hotel. Enroute to the breakfast room I wondered what new taste sensations I was about to experience but when I arrived I saw that there was western food as well so that was what I chose to eat, coward that I am. I have no experience with Japanese food and could not identify most of what was before me on the buffet table.
I spent the entire day and all my energy on the Kyoto One Day Tour. We saw all the same sights I had seen in Kyoto on the same tour 26 years ago. I knew I had seen them all before but I thought I should see them again. The tour was outrageously expensive, 11,200 yen, but many of us went, feeling it was the best way to see the most in a single day. We saw Nijo Castle, the Golden Pavilion, Kyoto Imperial Palace, Heian Shrine, Sanjusangendo Hall, and Kiyomizu Temple. We learned a few interesting things about each site and a bit about feudal and modern Japan.
Our first stop was Nijo Castle which was practically next door to our hotel. The castle was built in 1603 for the first of the Tokugawa shoguns and was used by succeeding shoguns until the fifteenth Tokugawa Shogun in effect resigned, returning the emperor to power in 1867, and giving the castle to the imperial family. In 1939 it was donated to the city of Kyoto. Japanese castles do not resemble European ones. It is built of Japanese cypress and is almost entirely one story. The floors are covered with tatami mats, 800 in all, and there is no furniture. The interior is of Japanese cypress stained a dark natural color. The screens and sliding doors have been painted by great Japanese artists with scenes of trees, mountains and tigers. All of them are presently being copied by artists who have been working for many years, I think it was 30 years, and as each reproduction is finished the original is stored in a vault for safekeeping. The 'nightingale' floor was especially interesting. When we walked on the floor it made sounds that were not squeaks but more musical, so it is said that the floor sings. No one can tread upon the floor without causing the floor to sing therefore no one could sneak in and try to harm the shogun. It is the only floor in the world I have seen specially constructed to 'sing'. I loved it.
The Golden Pavilion is the most beautiful part of the Rokuon-ji Temple. It is three stories high with the top two stories covered entirely in gold-leaf. It sits at the edge of Mirror Pond and when the light is right the reflection doubles it's beauty. It was built by a shogun some 700 years ago and used as a place for meditation and as a guest house.
The Kyoto Imperial Palace is entered through an orange gate of many pillars. When the palace was built it was modeled after a Chinese palace which explains the use of the orange paint. Our guide said that originally red paint was used but in recent years orange has been used instead. He could only guess why. Inside the gate the palace looked more Japanese in character with the use of natural colors and straight lines. The palace is a huge complex but we could not go inside any buildings.
At noon we were taken to the Kyoto Handicraft Center and given time to have lunch and shop. The lunch buffet was part of the tour with a value of 1750 yen, and it was delicious. The food served was Japanese but selected and prepared with other people in mind.
There was chicken and shrimp, sticky rice (not sweet) and beef curry, tempura vegetables, salad, rolls, quail eggs in a shrimp sauce, rolls, melon slices, lemon cheesecake, and Japanese style miniature blueberry cakes which weren't cake-like at all but seemed to be a ball of jelled, sweetened, colored water which had no discernable flavor. Each ball or 'cake' as they were called was individually packaged in a thin blue paper with spatterings of gold leaf. Two diagonally opposite corners of the paper were drawn up and held together with a bamboo paperclip, making each cake look like a small gift.
After lunch I went shopping. I had time for a very quick look at all five floors of shops. I was on the fifth floor when the room began to shake and the goods hung for display swung back and forth. It was the most Japanese of events, an earthquake! I had just begun to wonder if things would topple from the shelves when the shaking stopped. There was no damage done. Later I heard that the force of the quake had been only 4.3 or so in Kyoto, but severe in another part of Japan where we were to have cycled during the coming week. The quake was not a bit scary and I continued my shopping, finding a pin for my hat and a postcard. What a big spender!
Back on the bus once again, I'd had enough touring but we still had three more places to visit. The first was the Heian Shrine which was Chinese in style with curved roof lines and bright orange paint. It was an enormous complex with a beautiful pond and gardens. One popular activity there for the Japanese besides praying was getting a fortune prediction. To do this one paid a fee, then shook a canister with a hole in the top until a long thin stick came out. The stick had a number that indicated which fortune the clerk would give you. The fortunes were printed on paper strips. If you liked your fortune you would keep it, it not you could tie the paper strip to a bush in the courtyard, perhaps hoping it would blow away. There were hundreds of fortunes tied to the bushes. I would have to conclude that the chances of getting a bad fortune are high.
The Heian Shrine is a Shinto place of prayer, although as I understand it, Shintoism is not a religion in the usual sense but a form of nature worship which was created by the Japanese. About 80 percent of the people practice Shintoism. Marriages and baby blessings occur within this 'religion'.
The second major religion is Buddhism, about 90 percent of the people are Buddhists. Most people take the best part of both and adapt the practices to fit their own needs. There are major differences and perhaps a need for both. For example, funerals are Buddhist occasions and marriages occur within the Shinto religion. It is fortunate I think that most Japanese accept both.
Following our visit to the Shinto Shrine we went next to a Buddhist Temple, Sanjusangendo Hall. In the Long Hall stand 1001 elaborate statues of the Buddhist deity, Kannon. These were carved from Japanese cypress in the 12th and 13th centuries and covered with gold leaf. They stand close together in many long rows and are very dusty. Hundreds of years ago an awesome archery competition was held once a year outside the Long Hall which is 120 meters long, the longest wooden building in the world. The contest was to see who could fire the most arrows during a 24 hour period, from sunset to sunset. The record was more than 13,000 arrows or one every 10 seconds. Something like 9,000 of those hit the target 120 meters away. Amazing. There is still an archery event there every year when 20-year-old female archers who are celebrating the Coming-of-Age and wearing beautiful traditional dresses compete.
Our last stop was at the Kiyomizu Temple which was built high on a hill 1200 years ago because of the pure water available there. There are three streams of water, each one grants a different wish: wealth, long life, and wisdom. If you are greedy and drink from all three, none of your wishes will come true. There was a constant line of people waiting a turn to catch the water in a long-handled dipper. Our guide admitted she has been drinking the water for a long time but without success. Just as interesting as the Shrine was the narrow road we walked to get there known as 'Teapot Lane' because of the many shops along the way that sell local ceramics. There were numerous shops selling a great variety of Japanese products, just the place to find the perfect souvenir.
Our guide told us that Japan needs more tourists. There are 40,000,000 tourists each year in Japan, but less than two percent come from overseas. Each site we visited was crowded with Japanese tourists including large groups of uniformed school children of all ages.
When we returned to our hotel there was still no word about the bikes. We were scheduled to ride 170 km. the next day to Amanohashidate where we would camp and spend a layover day. We would skip our first destination, Obama, and do two days ride in one to make up for the day lost in getting to Japan. We all wondered when we'd get our bikes so that we could get them ready to ride. At dinner the announcement came. The bikes were not in Japan and the decision had been made not to bring them into Japan at all for fear there would be a delay getting them out which would leave us stranded in China without bikes. It was thought that it is better to be in Japan without bikes than in China without bikes. We were shocked I suppose, but not surprised after all the trouble the Japanese had already given us. Most people accepted the news gracefully with the attitude that this is more than a bike ride, it is an adventure. Our itinerary had to be altered because of the earthquake, so we won't be going to Tottori and Matsue. Our destinations will be Amanohashidate, Sanbe Mountain,and Miyajima (Hiroshima). Strange but true, we'll be seeing Japan from the window of a bus!
Goodbye, Alice
DAY 281
Kyoto to Amanohashidate (Miyazu)
October 7, 2000
We had learned at dinner that we wouldn't be riding our bikes in Japan, but we were up early anyway. We were leaving Kyoto and we had things to do. Right after breakfast Joan and I took a bus to the Central Station in Kyoto. We were heading for the Central Post Office which would be open on a Saturday and which would have an ATM machine. We'd spent most of our yen already, this was a three day weekend, and we didn't know whether there would be ATM machines at our destination. ATM machines are godsends for travelers but can be scarce. In Japan they seem to be harder to find than most other countries. We have come to expect them on every street corner 24 hours a day, but it's not been like that here. As soon as the post office opened we got our money, gave a sigh of relief that the machine worked, and then took time for a quick visit to the Tourist Information Center where we were given a map of Japan and information about our destinations. We returned to the hotel just as it was time to load our bags onto a truck, then sat and waited. Eventually we boarded the busses and waited some more, an hour and a half to be exact, but finally began the three or four hour journey. The Japanese bus was not very comfortable for us because the seats were too narrow to fit our backs properly and we were bumping shoulders and elbows. The rows were so close there wasn't space for our long legs. There were jump seats in the aisles which had to be used so we were packed into the bus like sardines but I didn't hear a single complaint. Perhaps we are becoming seasoned travelers. Halfway through the journey we were let out for 20 minutes at a huge shopping and fast food complex. I stood in a relatively short line at Mr. Donut for coffee, doughnuts, and a cappuccino milkshake. Yum. Then on impulse I had a patty of sticky rice in a sticky sauce with seaweed attached. Not so yum, especially the seaweed. No one made it back to the bus in 20 minutes which was unrealistic anyway.
Underway again on the bus I learned the startling news that the indefatigable Jim Higbee, who has been determined to ride the original goal of 20,000 miles no matter what, had ridden out of Kyoto on a bike in the morning. He had bought a used 3-speed bike for $55 or was it $150, obtained a copy of the DRG that had been written for the first two days of riding, and set off alone, not even the invincible Bill Bliss went with him. Wow! Jim is a man with a mission.
Japan is very hilly, perhaps mountainous would be a better word, which makes it scenic. The bus has gone through tunnels rather than over the top, but whether we could have ridden through the tunnels on bikes I don't know. Japan is very crowded, at least the part we passed through, with buildings jammed together and little wasted space. In the countryside we saw many small rice paddies and small vegetable gardens. The rice is only inches high which makes me wonder what the growing season is.
When we arrived in Amanohashidate, the busses stopped on the main tourist shopping street and we were all told to get down. The luggage in the hold was quickly deposited in the street, and there we stood, none of us with a clue as to where to go. Not even the staff knew so we walked around window shopping and waited an hour or so for Tim to arrive. When he did we learned we were in the wrong spot so we loaded the busses again and were driven about a kilometer back down the road the way we had come. The busses turned into a junk yard or at least that is how some described it. Someone had made an effort to pick it up a bit and chop some of the weeds but it was a pretty dreary spot. There was no time to waste worrying about it though, we had to pitch our tents before it became too dark to see.
That done we hurried to dinner a kilometer or two down the highway where we celebrated Gudrun's birthday.
Goodbye, Alice
DAY 282
Amanohashidate Layover Day
October 8, 2000
This was a peaceful, restful day. I heard some complain that there wasn't enough to do, but I found that nice for a change. I spent a couple of hours on email and phone calls, becoming annoyed at the Japanese phone system before finally realizing that I needed to use a phone marked 'International' to have success. Two of these special phones are at the Central Station. The phone people have made it as convenient as possible. In the booth with the phone is a machine which dispenses phone cards. Put a 1000 yen bill in one slot and out comes a phone card from another slot. I had to do that twice while chatting with my sister and mother. The phone has a screen that shows the diminishing value of the card being used. If there isn't enough time left to finish the call, one simply buys another card and sticks into the appropriate slot on the phone without disrupting the call. Phone calls are more expensive from Japan to the U.S. than from Australia. Everything about Japan is expensive. No wonder only two percent of the tourists here are from overseas.
The main attraction in Amanohashidate, which is billed as one of the three most scenic areas in Japan, is a long walk across a narrow sand bar and then a climb up a steep mountain for the view. For the Japanese or Buddhists in general, there are other attractions, the temples. Chion-ji Temple and Tahota, a pagoda full of treasures are in Monju, the community just before the revolving bridge where the Amanohashidate area begins. Nariaiji Temple is up the mountain. The Nariaiji is the 28th of the 33 holy Kannon temples for pilgrimages in western Japan.
I spent the day doing what everyone comes here to do, walking. The walk starts at Monju where there is a very novel pedestrian bridge, at least I had never seen one like it. When a too tall boat wants to pass, the bridge opens by pivoting on a pillar at its center. It happens quickly and seems much less complicated than lifting a draw bridge.
Once across the bridge I walked the "Bridge of Heaven" which is a 3.6 km. long narrow sandbar with about 8,000 pines growing on it. Hundreds of others were doing the same thing, all of them Japanese except for the occasional Odyssey participant. This is a three day weekend for the Japanese so a good opportunity for them to visit this special place. Once across the sandbar the climb begins. There is a chairlift but I chose to take the stairs, all 765 or so of them, for the exercise. At the top of the stairs is Kasamatsu Park where the thing to do is to turn one's back to the view, bend over and look at it between your legs. It sounds silly and it felt silly but everyone was doing it. It is said that from that vantage point the sandbar is supposed to look like a bridge suspended in the air. It didn't to me and I could see from the expressions on the faces of those around me that it didn't to them either. Right side up though the view was wonderful and worth the climb.
Riders I met at the top discouraged me from climbing further to see the Nariaiji Temple because of a 500 yen admission fee. They said it wasn't worth it. So I didn't go. I had climbed enough steps and I had already seen many Buddhist temples. Later others who did go felt it was worthwhile.
I returned to my tent early in the afternoon and took a nap. Yes! That was a wonderful luxury that never could have happened if there was too much to see and do.
Goodbye, Alice
---
Today's Music
---
Japan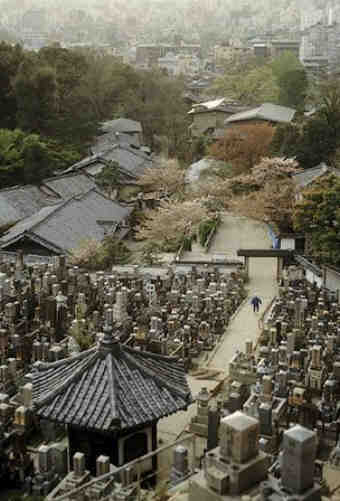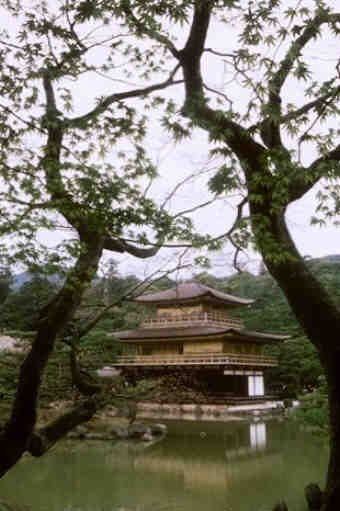 Imperial Kyoto
A Buddhist cemetery overlooks Kyoto, the sixth largest city in Japan and capital of Kyoto-fu, the administrative district. Kyoto contains many ancient temples and palaces, remnants of its 1,000-year history as the imperial residence and capital of Japan until 1868. Located in the southern region of the main Japanese island of Honshu not far from Biwa-ko, the city is growing rapidly in population and becoming more industrialized.
Majestic Kinkakuji Temple
Sinuous branches and delicate foliage frame the three-tiered pavilion of Kinkakuji Temple (also known as The Golden Pavilion) outside Kyoto. Initially the home of a retiring shogun, the 14th-century structure was later converted to a temple. With its gold-leaf ceilings and exquisite symmetry, the historic temple symbolizes both power and tranquillity.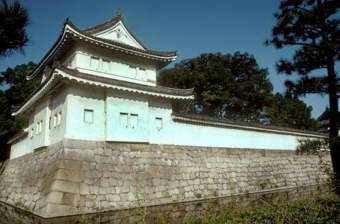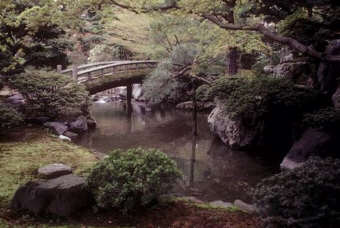 Kyoto's Nijo Castle
Nijo Castle in the central Japanese city of Kyoto was built in 1603 by Shogun Ieyasu Tokugawa. To impress Kyoto's residents with his wealth, the shogun decorated the 33-room castle with opulent artwork and extravagant gardens. He also built concealed rooms to hide bodyguards, and a squeaking floor system so that intruders could not walk in without announcing their presence with each footstep.
Imperial Gardens
An arched bridge spanning still waters is nearly hidden by the lush vegetation of the imperial gardens in Kyoto, often called the Flowering Capital. Although the palace here was home to only two emperors before the imperial residence was moved to Tokyo in 1868, it remains the site of all investiture ceremonies.
---
Australia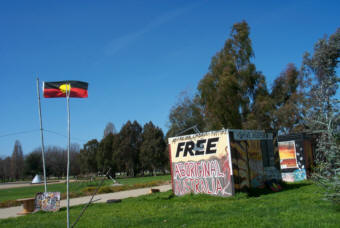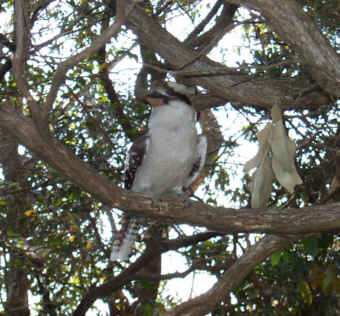 Unofficial Aboriginal Embassy, Canberra
Kookaburra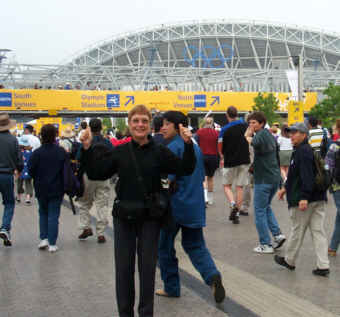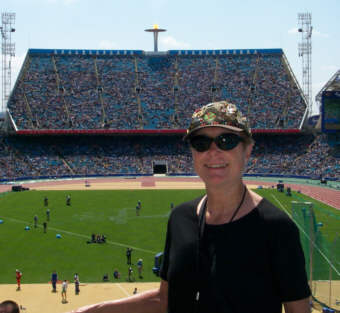 Alice at the Olympics
---
Odyssey Riders and Staff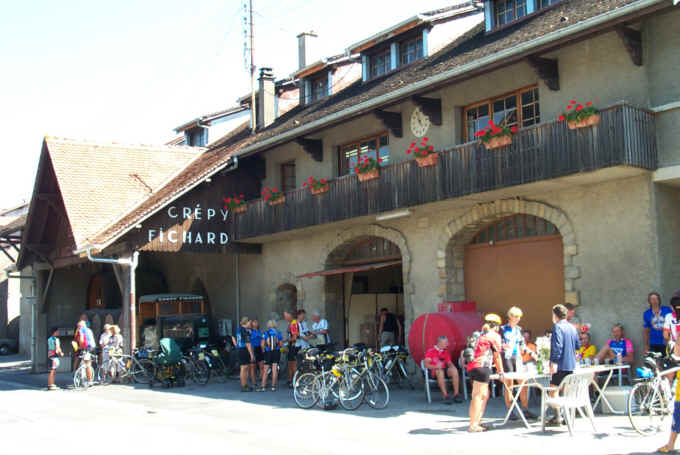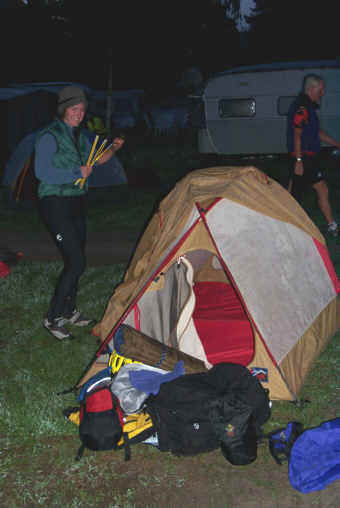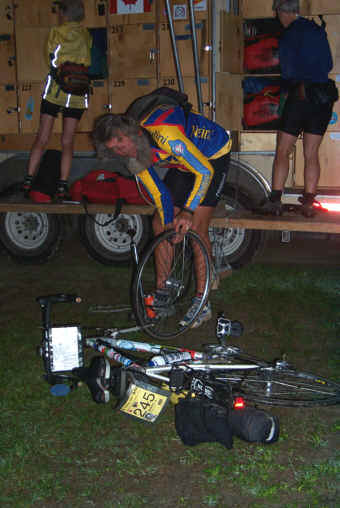 ---
Previous Page (Page 79) Next Page (Page 81)