Page 91
Thailand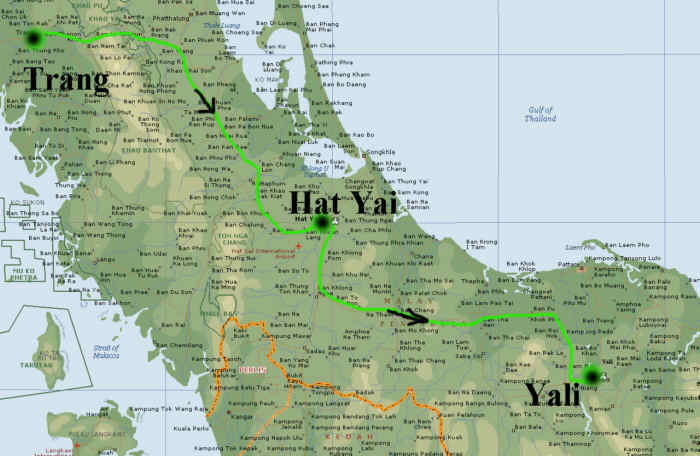 ---
DAY 319
Trang to Hat Yai
November 14, 2000
We were on the road by 6:30 a.m. because this was a 100 mile day, 165 km. to be exact. Luckily the scenery was beautiful and there were interesting activities along the road for much of the way. I just enjoyed every minute of it. The weather even cooperated, alternating between a bit of sun peeping through the clouds and frequent downpours which kept us reasonably cool. Riding in the warm rain was fun! We were soaking wet but warm. I had to stop several times to put my camera away when a new downpour threatened. It was easy to see it coming.
There were Thai homes along the road most of the way and plenty of people seemed to be at home. I wondered who was doing the work! Each house has a raised wooden platform built in the front 'yard' where the family congregates to relax and chat. It is covered so they can sit there high and dry and wave at the silly cyclists pedaling in the rain.
We passed many schools and school children who were excited to see us and cheered and waved. The Thai people have been curious and friendly, calling out in response to our hello's. But I haven't encountered any who speak English when I am lost and need directions. As we all did today for example when there was a mistake in the DRG and we couldn't find our way. Eventually we worked it out by trial and error.
The scenery today was much more beautiful than yesterday and very far removed from the Thailand one sees when visiting Bangkok. There were rubber plantations all day again, but also lots of rice paddies, and wild green areas that could only be described as jungle. There were many flowers and birds, such a contrast to China where there was virtually none of either. Vietnam had some birds and flowers but Thailand surpasses it by far. It was wonderful to see wild areas that have been left uncultivated, pruned or trimmed and to hear the birds singing again.
It seems that chickens, dogs and ducks are kept by everyone. Many dogs look mangy and old so perhaps they are not eaten here. Some people had a cat and others had a monkey tethered to a tree by a long rope. There are Brahma cattle, goats and pigs. I saw no animals used for work. Only one man was working in his rice paddy but he had a motorized rototiller sort of plough that he walked behind. Maybe the cattle are kept for milk or meat.
Plenty of things are going to market, but everything goes by truck. I saw truck loads of rubber mats, rubber globs, and rubber tree logs. There were trucks full of pineapples and at least one with layers of live pigs. I didn't see a single person on a bicycle the entire day. Even school children take themselves to school by motorcycle, 4 or 5 on one cycle.
Our hotel in Hat Yai was a big one situated in the center of the city. The best thing about it was the incredible variety of delicious food (including the first cheese we have seen in Asia) that we were served for both dinner and breakfast. Another highpoint was the well-stocked supermarket next door, and the Swenson's Ice Cream across the street. I thought I would surely treat myself to a cone but I was too well fed at dinner.
Goodbye, Alice
DAY 320
Hat Yai to Yala
November 15, 2000
Another very rainy day but we didn't mind because the rain was cooling and our sunburns and heat rashes had a chance to heal. So that was good. What was not good is that ordinarily I don't take pictures in the rain so I will not have many photos of Thailand. Too many rainy days.
Joan had a flat tire and a local man stopped to help. A little later Danny came by and helped too. The three of them got the tire back on the rim which is very difficult with that particular tire. The roads in Thailand have been good overall with wide shoulders marked for use by bicycles and motorcycles but they are littered with glass. Joan found glass embedded in the tire. She did not have a Tuffy inside the tire to protect the tube.
Back on the road again it wasn't long before we came to Bill Wiggins who was fixing a flat, and would you believe, the same Thai man who helped Joan had stopped to help Bill! But his brand new just-out-of-the box tube was split and worthless. I gave him mine. Apparently Bill continued to have tire trouble though for he was delivered to Checkpoint some time later by the Thai police, and once there he bought a new tire from TK&A. I didn't hear the rest of the story.
The ride was not particularly interesting, it was just one of those days when we had to cover the miles to reach the destination. There were more rice paddies and rubber plantations, but no beautiful scenic vistas. The closer we get to Malaysia the more Muslim people we see. We have only one more day in Thailand.
Thailand is perhaps the smelliest country we have visited. Not all the smells are bad but when they are bad - whew! What is really unpleasant though are the musty hotel rooms which smell of damp and mold, one of my least favorite odors. We can't ride out of that odor but are stuck with it every night, and sometimes all day too. When my freshly washed clothes don't dry overnight I have to wear them damp. And smelly. They absorb the odor of the air in the room. Ick! When I cycle I have fresh air, but when I stop there is that musty odor again.
One hotel had a notice on the mirror reminding us to conserve water because there is a severe shortage in Thailand. Since there is water everywhere at present we are having trouble imagining a dry Thailand.
There is literally water everywhere. We could say that the Thai hotels are plumbing challenged. We've had leaks in the bathroom of every hotel so that water stands on the floor which is most usually marble and very slippery when wet. Drains are built into the floor but are often on the high side of the room. In our last hotel the AC was apparently vented into the bathroom by a blue plastic pipe that protruded from the wall just above the floor. There was a continuous stream of water running from the pipe. In the Yala Hotel the toilet leaked and flooded the floor. We changed rooms once, but the second room had the same problem. The drains built into the floors have been worthless in every case. Another common plumbing problem is that the stopper to plug the sink doesn't go up and down properly. It may be stuck in one position or the other which is a bit of an inconvenience or it may be missing altogether. But overall I would say that the hotels have not been as dismal as I feared they'd be, not until this one anyway!
Goodbye, Alice
---
Today's Music
---
Thailand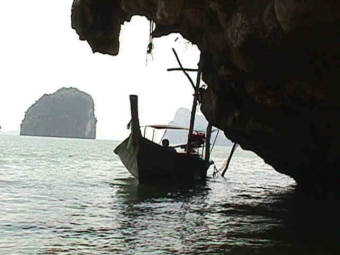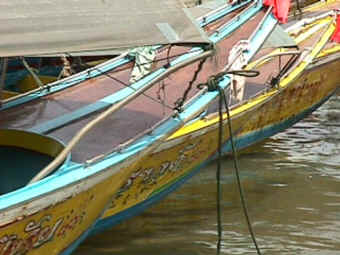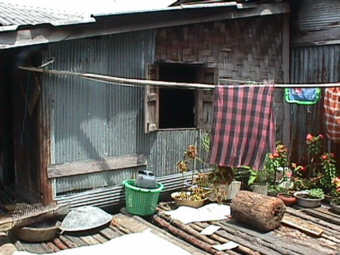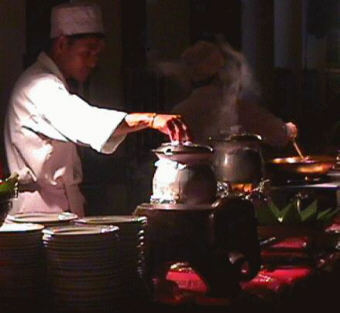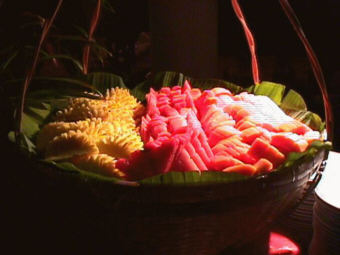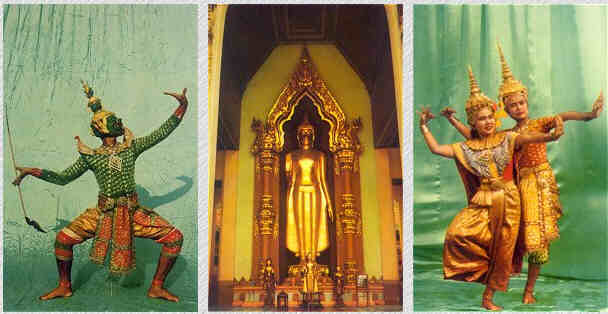 ---
China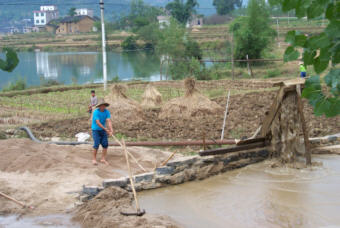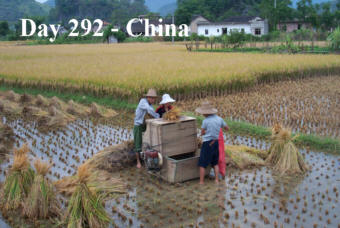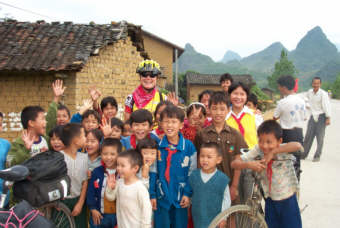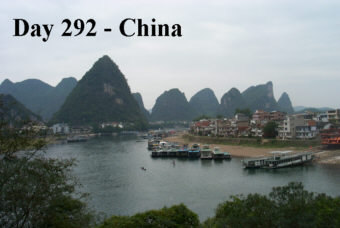 ---
Odyssey Riders and Staff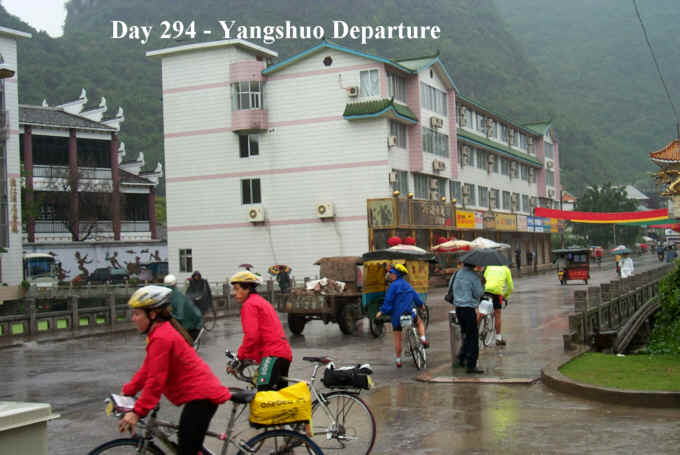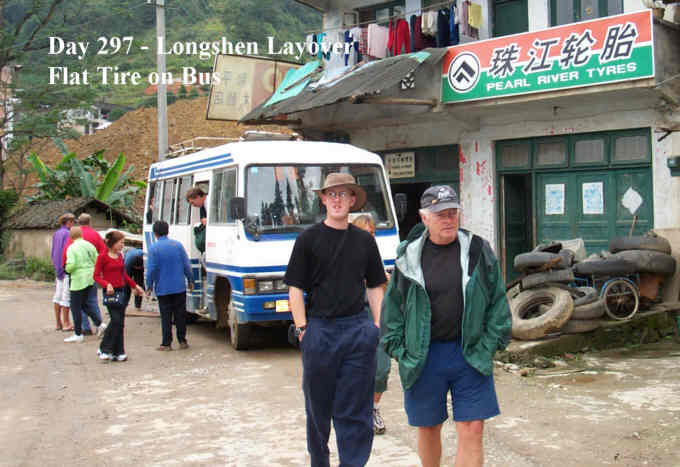 ---
Previous Page (Page 90) Next Page (Page 92)