Page 4
Mexico

Costa Rica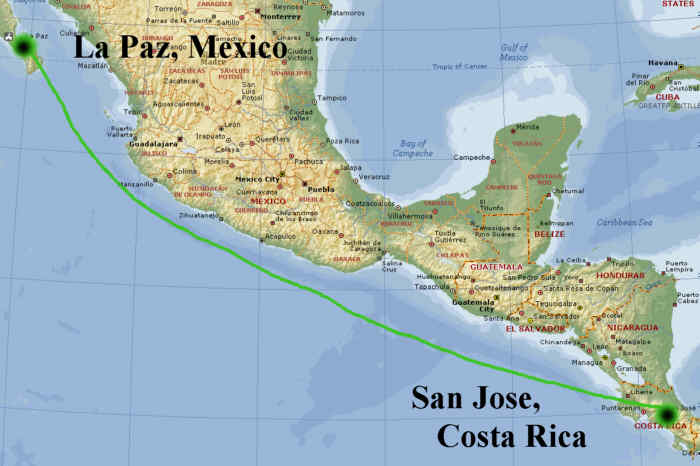 ---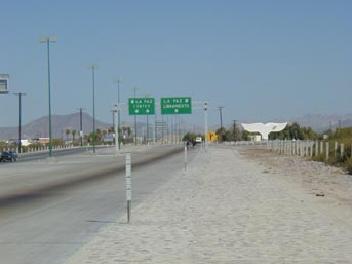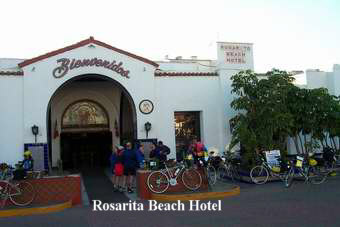 Whale's Tail in La Paz
DAY 18, Jan. 18, 2000
LaPaz, Baha Sur, Mexico
Hola!
At last we have reached the end of our journey in Baha. We are staying for two nights in beautiful hotels on the waterfront in La Paz. Tomorrow we will fly to Costa Rica. Everyone is ready for a change of pace. Today we are busy doing layover day tasks. That includes doing laundry, sorting through our stuff and sending more of it back home, finding a bank and paying the $20 tourist tax, shopping for necessities, sending and reading e-mail in an Internet Cafe, eating ice cream, cleaning our bikes, and resting and relaxing.
The highlight of our 16 days in Baha for me was going on a boat trip to see the grey whales in Guerrero Negro. The whales seemed to be huge but of course we could never see all of a whale at once. We couldn't keep a count of the whales we saw but made a guess of 20 or 30 including one baby. Grey whales are baleen whales. They eat plankton. They migrate up and down the Pacific Coast, traveling 10,000 miles a year. They come to Baja to breed and give birth in the warm and we were told, saltier water than is normal elsewhere. The grey whales are protected. There is a military guard which severely restricts access to the water where they are. We were happy to learn that the Mexicans are protective of the whales.
When I last wrote we were freezing in Baja Norte. It's uncanny but the day, the very hour, that we crossed the border to Baja Sur under a huge Mexican flag that we had pedaled toward for hours, the weather turned warmer. We have been basking in the warmth ever since. And wallowing in the dust! There is not much grass in Baja. The gritty grey dust gets into everything. Still that is better than mud. We're all thankful that we haven't had rain and mud to add to our learning experience.
Today most of us sorted through our belongings and sent home more things. Our storage space is very limited because of the locker size in the gear trucks. It is no fun struggling to push, squeeze and pound our bags back into the locker every morning. I sent home my only two and very thin they were at that books, I can't imagine ever having time to read anyway, my mattress cover that could convert the mattress into a soft easy chair, whenever I get near that mattress I want to be horizontal, my warm booties or overshoes for cold weather riding, sure to come but hard to imagine in this warmth, my brand new pedal wrench, I'll just borrow one, my Odyssey caps and buttons that I had planned to give away to new friends enroute, my new Odyssey fleece jacket that just arrived from Seattle today because it takes up more packing space than my old pullover, etc. What do I have left? In my black wheeled bag are three pairs of shoes which is one too many, four changes of bicycling clothes, one bicycling rain jacket and pants and shoe covers, one pair of shorts, two long pants, two tops - one short sleeved, the other long, two changes of underwear, one nightgown, one pillowcase without a pillow, one bag of toiletries, one bag of bug spray and sunscreen, one bag of pills for malaria, infections and whatever, one bag of camera batteries, recharger and adapters, one bag of addresses, stamps, pens, and postcards, and my mesh laundry bag containing clothesline and pins. In my bright yellow waterproof bag are my tent with poles and stakes, my air mattress and sleeping bag, my three-legged folding stool, and my
Petzel duo-headlamp.
Today for the first time I visited an Internet Cafe and there I was able to see the website, Alice's Odyssey, that Todd is doing for me. Bravo! Thank you, Todd, very much. While at the site I took the link to Biker Al's site. Check it out! She's an entertaining writer, telling it like it is. And what really amazes me is that she has written every day! How did she do that? She's made of tougher stuff than I am. Adios! Alice

Goodbye, Alice
---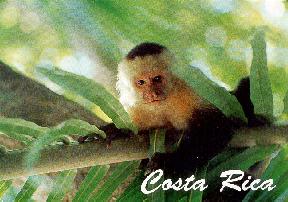 DAY 21 Jan. 21, 2000
San Jose, Costa Rica
Hola!
When my plane, plane 1, landed in San Jose, it landed at the domestic airport which closes at dusk which was only minutes away. We loaded all the bikes and baggage onto two rental trucks and then walked with a police escort to the international airport. It was only a kilometer and we were in high spirits and enjoyed the rather unique experience. Once at the airport we settled in the cafe to await the arrival of plane 2. When it arrived more bikes and bags were loaded onto trucks and we climbed into busses and vans to be transported to the Irazu Best Western Hotel. There we stood in the usual long lines to get our room assignments and dinner. I am rooming with a couple from Oregon, we are all three to a room. To make things come out even all of the couples have a single person assigned to share their room. One half of my couple snores very loudly so I slept poorly. While we waited in lines we were treated to a delicious red juice and given special Odyssey 2000 t-shirts to celebrate our arrival.
Early in the morning I crept out to go on the River Adventure and Poas Volcano tour. We toured a coffee plantation and ate a typical Costa Rican breakfast of beans, rice, fruit, fresh guava juice and of course delicious coffee. We went on then to the Poas Volcano and had the good luck of a clear day so we enjoyed tremendous views as well as the steaming water-filled crater. Back in the van once again we drove to the Sarapiqui River to board a motorboat for the River Adventure. This was the part of the tour I enjoyed most. We saw snake birds, herons, cattle egrets, green iguanas, howler monkeys, crocodiles and a turtle. The green iguanas were easiest to spot because of their orangish color and huge size. They were sunning themselves on the limbs of huge trees that hung over the river. Once in awhile one would fall into the river with a huge plopping sound and a splash. The guide Diego said that that is because they are so stupid. They awake from their siestas, forget where the are, start to walk and fall into the river. I prefer to think that they jump out of the trees into the water because it is the easy way down. They are good swimmers.
We stopped for lunch at a ranch. We were served salad, beans, rice, potatoes, and corn tortillas. Then some people went horseback riding while others relaxed in hammocks. Diego caught a young boa constrictor which was soft, beautifully patterned and colored, and didn't seem at all upset to be stroked and admired. It constantly flicked its black forked tongue at all of its admirers. We took it with us when we left the ranch and set it free on the muddy bank of the river. It slowly made its way toward the trees. The River adventure over we once again boarded the van for the trip back to the city. It began to rain and that was appropriate because we were in the rain forest where it rains every afternoon. I think Diego said it rains 116 inches a year. There was much evidence along the river of last week's heavier than usual rains. Large portions of the river bank had been eroded, the vegetation was muddy for several feet above the water line, and debris clung to the branches of the trees. We were just in time for dinner when we arrived back at the hotel at 7 pm, tired after our 12 hour tour.

Adios, Alice
---
Mexico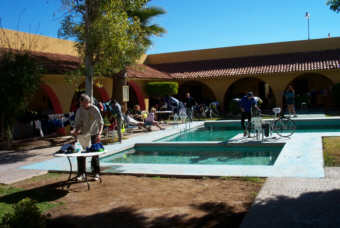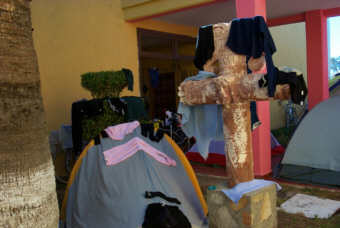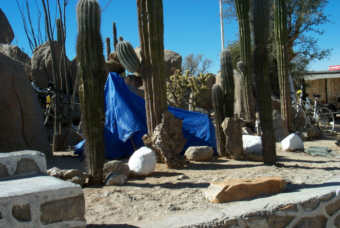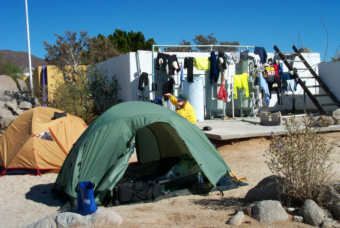 ---
Costa Rica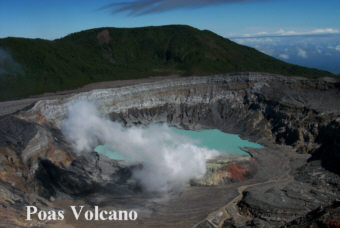 ---
Previous Page (Page 3) Next Page (Page 5)