Page 11
Chile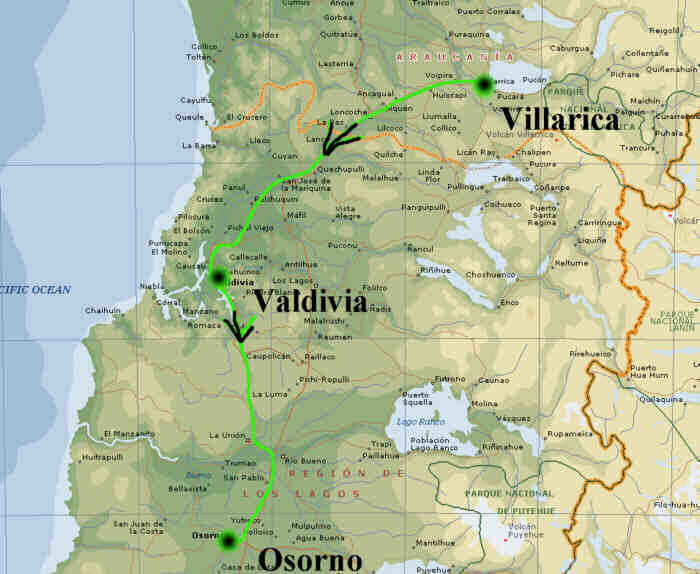 ---
DAY 40-41
February 9-10, 2000
Villarrica
to Valdivia
Valdivia to Osorno
Hola! Day 40 ended in Valdivia. We had camped in a pretty forest in Villarrica, a lovely spot on a lake but unfortunately it was still raining. Our hockey pucks were soggy at both dinner and breakfast. There was no shelter from the rain, and no seats or tables. Probably no one would really want to sit in the rain anyway. After dinner we built a roaring campfire which people sat or stood around for hours holding cold feet and wet clothes to the fire in hopes the warmth would thaw the feet and dry the coats and shoes.
I like camping and I even like camping in the rain. There can hardly be a cozier place than inside a tent in the driving rain. I felt lucky to get my tent up during a break in the rain, ate my soggy diluted dinner, and walked to the campground office to arrange a taxi for the morning. The last hill into camp had been almost one hill too much, I had felt I could barely do it, and that day I had also made mistakes that I make only when too tired. I had to face it, I needed to rest. I hated to give up because it was an interesting challenge to cycle 12 days straight, but better safe than sorry. A cyclist cannot afford to make dumb mistakes. Two other riders that I knew, Al and Cheryl wanted a rest day too so we planned to share the taxi from the campground back to Villarrica to the bus station there. We would take a bus from Villarrica to the next day's campsite in Valdivia. The busses are frequent and inexpensive. They've carried a lot of us during our weeks in Chile. On the ride into town we became so comfortable in the cab that we decided to take the cab all the way to Valdivia. We negotiated the fare with the driver, he called his office, we stopped at the home of a friend of his who could interpret and finally, fare agreed upon, we were on our way.
The ride was over before I knew it because I fell asleep. I had really tried to stay awake because I wanted to see what I had missed by not riding. The few glimpses of the scenery I had now and then looked very similar to the day before so perhaps I didn't miss much. When we drove into Valdivia we wanted the driver to follow the directions on our DRGs to find the way to our campground but he was determined to find his own way. He stopped to ask directions several times of passersby and also unfortunately as it would turn out, of another taxi driver. He had stopped our car and flagged down another taxi, which stopped across the one-way street from us. They were shouting at each other across the road when suddenly a third taxi came barreling through, attempting to squeeze between them but instead hitting the other taxi, breaking the rear taillight and crunching the fender. The two drivers got out and gesticulated and shouted for a couple of minutes and that was it! Both just returned to their cars and drove away. We were part of the cause of the accident but escaped unscathed, a close call though for the bikes protruding from the trunk. Finally the driver stopped the car at what he insisted was our destination, the Parque Saval Municipal Sports Center, but we refused to believe that such a soggy sorry place could be right. We insisted that he go back across the bridge to a street we had recognized from our DRGs, to start over and find the right place. This was not to be easy. We stopped two young men who looked impatient to be detained in the rain, one spoke English and Spanish, and with many exchanges between the three of us, the two men, and the driver he finally understood what we wanted him to do. He was not happy but off we went back to the bridge to begin again at Los Laureles Street, which we had recognized as a right turn from our DRGs. The three of us read our DRGs and tried to direct the driver by pointing and using our very minimal and mutilated Spanish and eventually we did arrive at our site, the very same soggy sorry place the driver had taken us to first. The driver had been right but now he couldn't believe that we were actually going to get out of his cab at last. He indicated that he thought we were a little crazy and we had to agree. We were only convinced that this was really the right place because two other riders just happened by there at that time. The driver unloaded our bikes and we paid the fare plus a very handsome tip for the extra stress and trouble we had caused. He looked very happy to be rid of us.
The two riders we met, Bill and Arnie, had been in town since the day before and we plied them for information. They walked with us toward the city center and then left us to make our way alone. Al, some of you are reading her web page where she is known as Biker AL, was on a mission. She was packing a huge bag of laundry and nothing would do but that we make a beeline for a laundromat. What a one-track mind! She would be not be waylaid or detained for anything. Finally we found the laundromat and left our things to be done as is the custom, and at last we could change our focus to more important matters like food. Cheryl hadn't thought to bring her laundry and was mighty disappointed about missing such a fine opportunity, but she was pleased to find a one-hour photo developing shop so she had at least that satisfaction from our long trudge through the city in the drizzle.
Time to eat! What I do best! We had passed a cafe that looked delicious so back we went. And it was. We ordered wonderful big pork filet sandwiches oozing with guacamole, tomatoes and lettuce plus a heaping platter of papas fritas (french fries) to share and a half litre each of beer to wash it all down. That meal was definitely to be the high point of that day.
Al and I needed AA batteries and found them in a nearby photo shop. The batteries come packaged in sets of four just like in the U.S. but they open the package to sell them individually or in pairs as needed. I had noticed that practice in Chile earlier. It was possible to open the package and buy only one roll of toilet paper or one part of a box of anything that had separate packets inside like crackers or cookies. I saw even a box of ziploc plastic bags that had been opened so apparently it is possible to buy even those individually.
We collected our laundry all clean and dry and headed back toward the awful campsite. By this time Cheryl and I had decided that camping at that place in such a downpour with tents already soggy from the night before was just not an option. Al, who perhaps is tougher and is on a budget, had no alternative. Cheryl and I were hoping for a room at a three star hotel near the campground. The restaurant owner where we had had had lunch called them for us but was told we had to be there to get a room. So we hurried through the wet streets pushing our bikes instead of riding because Cheryl had not brought her helmet with her in the taxi. At last the hotel was in sight but to our dismay we saw a dozen or more Odyssey bikes parked outside. We had been beaten to the punch we thought, and sure enough, the registration desk was crowded with riders seeking rooms. At last it was our turn and the only room available was a triple. We agreed to take it although Cheryl had really wanted a double so that she could be alone with her husband who was cycling into town. It worked out though for the best for all because later I saw Susan Cady who offered to share her double room with me. This was good news for Cheryl and Gary who could be alone at last, and it was a stroke of real luck for me because as it turned out Gary was dreadfully ill all night long. We returned to the soggy campground to retrieve our bags and again to have dinner in the casino (cafeteria) of the Universidad Austral De Chile which was across the street from the campground. By this time we had realized that it wasn't a campground at all but a fairgrounds with a special event happening that evening. Fortunately for Biker Al and all the other roomless cyclists, TK&A negotiated with the University to use their gymnasium for indoor camping that night. Indoor camping isn't cool it but sure beat the alternative that time. Some folks went to the fairgrounds to enjoy the festivities but I must confess that I just went to bed.
In the night the storm increased in intensity and by morning it was raging. Susan and I checked out of the hotel and called a taxi to take our gear bags and us to the area near the gymnasium where we would load them onto the gear truck. The taxi took us back to the hotel where we located our bikes and pedaled back to the casino for breakfast. What a storm! The wind was blowing waves of water across the road as the rain came down in sheets. The street was covered with broken branches and more fell around us as we cycled, struggling to stay upright. By the time we arrived at the casino we were drenched and I was wondering about the safety of cycling to the next destination that day. I thought about my mother and decided not to ride. For some reason I enjoy doing things that are a little scary and challenging but thought the risk of injury in riding during that storm was probably not justified. Some people did ride that day and reported that after the first hour or so they were out of the center of the storm and the wind became a tailwind, a really rare treat so far on this cycling adventure. Then of course I was sorry I had not ridden.
What I did do was pedal into town looking for the bus station. I had no idea where it was and came across it by chance while pedaling alongside the river. I parked my bike and went inside to investigate. The place was crowded with cyclists, every one of them wanting tickets for themselves and their bikes to Osorno but the computers were down because of the storm and no one was succeeding in getting a ticket. The busses were out there ready to go, and I thought it was crazy that the office people couldn't think of a way to sell tickets without the computer. What were they going to do, let the busses leave empty? I left some friends, Dot, Lillian, and Elizabeth, inside trying to get tickets for all of us and went outside to find a bus going to Osorno. I found one and it was set to leave any minute. I tried to talk the attendant into putting the bikes on so we could go but he wouldn't cooperate. Without tickets we couldn't go and that was that. We tried to explain that the computers were down but he was implacable. No tickets, no trip. Just then Micki came by with two bikes which were immediately loaded onto the bus. I asked her how she did that and she said that Erik had bought tickets and she had been told to load the bikes.
How did he do that I wondered but I didn't waste time asking. I had our four bicycles with me so I wheeled them up to the bus and one at a time they were loaded onto the bus. Micki and Erik's bikes had broken the ice so to speak and our bikes were loaded and ready to go without tickets. At that moment the other three women came running to the bus with tickets! (I never did learn how they did that.) We boarded the bus which was already moving by this time and hurriedly took seats. The bus was backing out of the depot with the door still open and it was then that Elizabeth sprang out of her seat and down the stairs and started pulling at the handles of the storage compartments under the bus. "Get the bicycles out," she shouted. I thought she had gone nuts but she had realized our tickets were wrong. I hadn't seen the tickets yet but I knew I wasn't getting off that bus. The bus had stopped momentarily, no doubt the driver was dumbfounded at the actions of these crazy cyclists. I ran down the steps and convinced Elizabeth to get back on, whatever the problem was we could deal with it enroute or when we arrived in Osorno. She got on, the door closed, and we were on our way. It was then that I learned the problem. We had tickets for the Tur Bus but we were on the Pullman Bus. Two different bus lines. I told everyone to just lay low and see what would happen. I was hoping that we wouldn't be put off the bus into that storm when the mistake was discovered. We weren't. Eventually the conductor came around and put an end to our suspense. He simply wrote two tickets for each of us, one for the passenger and one for the bike. Humph! I thought. If he could issue tickets on the bus, why couldn't he have written tickets for us at the station? Once we got to Osorno we were able to get refunds from the Tur Bus Co. for ourselves but not our bikes. We each lost only 1500 pesos or about $3.
The bus trip to Osorno was short, only a couple of hours. It was fun to watch out the windows for Odyssey cyclists but I felt sorry I wasn't there with them. We cheered each of them on but they couldn't see or hear us, they were concentrating on riding safely. When we arrived at the station we retrieved our bikes, got our refunds, and set out walking toward that night's campground, walking because this time it was Elizabeth who had not brought her helmet. It turned out to be a long way so eventually she said she would ride anyway, she didn't care. (This is a very bad idea. Riding has its risks and you just can't predict when you will go down, but everyone does sooner or later.) We all made it without incident however to the Villa Olympica Mario Recordon Burnier, the city's new sports complex. Once there there was nothing to do but wait. Because of the storm TK&A was again trying to negotiate indoor camping and again they succeeded. We rolled out our sleeping bags on the floors everywhere except the basketball court, their pride and joy. I slept on the stage along with dozens of others. Late that afternoon the sun broke through. Several of us made use of that opportunity to dry our soggy tents. It was very tempting with the tent up and dry to camp outdoors but black clouds still threatened so I decided to preserve my dry tent for the next night when I didn't know what the situation would be.
After dinner Al and I hiked into the town to find a telephone where we could send email. She had luck immediately but I had to try 4 different kinds of phones before I succeeded. Neither my AT&T nor prepaid MCI calling card would work. We also went to a huge SuperMercado for lunch food for the next couple of days and we treated ourselves to enormous scoops of the best ice cream either of us had ever eaten. I had been surprised to find that Chileans love ice cream. It is sold everywhere and everyone is eating it. The few times we were served dessert it was ice cream.
Adios, Alice
---
Today's Music
---
Chile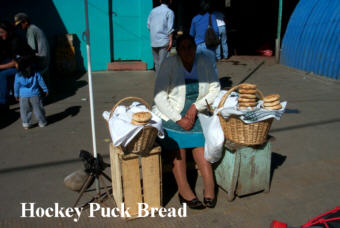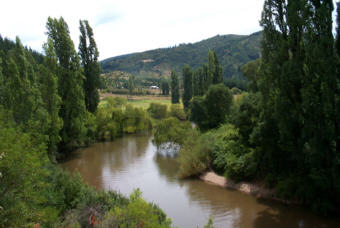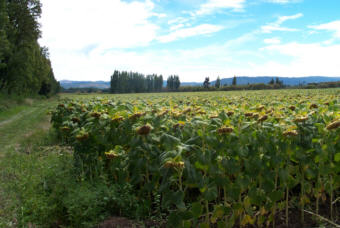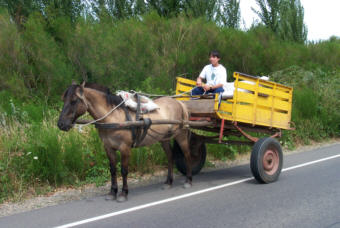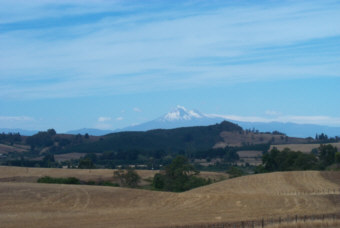 ---

Odyssey Riders and Staff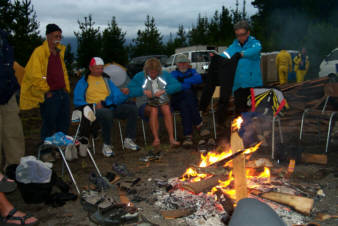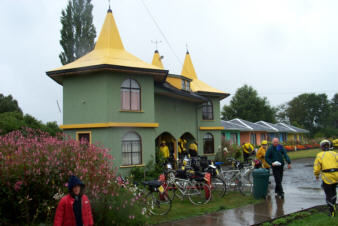 ---
Previous Page (Page 10) Next Page (Page 12)