Page 12
Chile

Argentina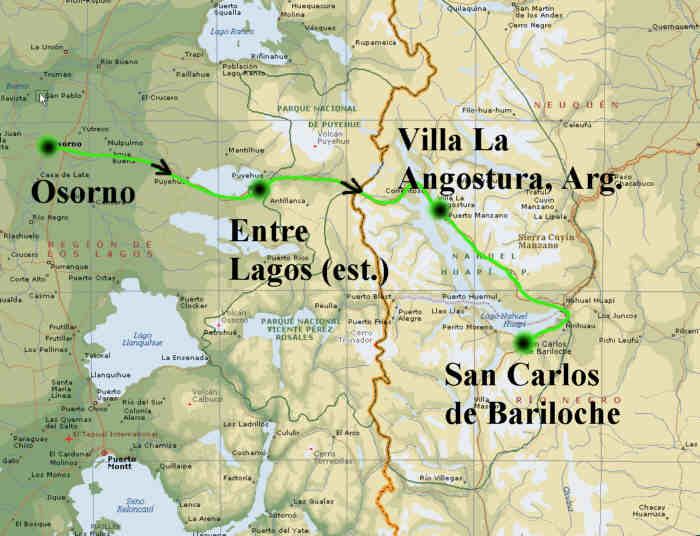 ---
Day 42
February 11, 2000
Osorno to Entre Lagos, Chile
This day was unremarkable except for two things, the ever-present rain and the Jardin dal Turista restaurant. Some people stopped at the Classical Car Museum but I gave that a miss. The midday checkpoint was at the restaurant. TK&A usually makes an effort to locate the checkpoint near a restaurant, shop, a gas station or some other point of interest. This restaurant was remarkable because it had been painted in many vibrant colors and because of its very beautiful flower gardens. I even took my camera out of its snug dry spot in my handlebar bag to take pictures. I had taken few pictures in recent days because of the rain.
A visit to the bano (ban yo) was a real treat. Generally speaking, the least said about the banos in Chile the better. The banos were in a separate building behind the restaurant but this was no outhouse. It was wonder of glazed forest green ceramic tiles, window walls, dozens of plants and chintz-covered furniture. The plumbing worked, there were seats on the toilets, paper, running hot and cold water, soap, two kinds of paper towels, and lots of mirrors. I wanted to move right in.
Back in the restaurant I ordered the house specialty and got a tiny breakfast by a cyclist's standard but then that was okay as this was my second breakfast for the day, brunch. There was a little plate with tiny thin slices of delicious cheese and ham, four slices of very thin white toast, which broke into pieces when I buttered it, blackberry jam, and a slice of a berry cheesecake. There was also a glass of pineapple juice and coffee. The coffee in Chile is best taken cafe con leche, coffee with milk. Otherwise one is likely to get a cup of a sweetish dark smoky tasting liquid faintly resembling coffee in flavor, but I was put off by both the sweetness and the smoked flavor although I do wonder how they managed that. The alternative is cafe con leche. If this is served one is given a cup of steaming hot whole milk and a can of Nescafe granules which one adds to taste, one spoon, two spoons or whatever. Now anyone who has ever tried to drink Nescafe in water must wonder as I do how Nescafe, like Coca Cola has become ubiquitous, absolutely everywhere in this world. It is just not good! But cafe con leche. Ah! Now that is a treat. In Chile whole milk is used and it transforms the Nescafe into a rich creamy luscious concoction, like dessert in a cup.
Out in the rain again, I pedaled toward our next sopping campsite, the Republic de Chile Parque Nacional Puyehue, described by TK&A as 'a beautiful area tucked away at the foot of the Andes'.
What I could see of it through the rain and low black clouds did look green and lush. I walked about looking for a less soggy spot on which to put my tent. There was another cloudburst and rumbling thunder so we all ran for cover. I took shelter inside the men's shower tent which was the closest covered structure and fortunately not yet in use. Once the rain abated I located my tent bag in the mountain of baggage and rushed to set up my tent before the next cloudburst. I had just thrown the fly over when the first drops fell. The sky emptied in buckets. Each of these cloudbursts would last 5 or 10 minutes and then there would be a short lull before the next one. Someone theorized that the clouds were dumping their moisture before moving over the Andes. They kept at it all night and in the morning we were wading in inches of water as we broke camp. But my tent hadn't leaked and I my down sleeping bag was still dry so I was a happy camper. Adios, Alice
Day 43
February 12, 2000
Entre Lagos to Villa La Angostura, Argentina
This was the day we would ride through the Andes and cross the border into Argentina. Few regretted leaving the hockey pucks behind but everyone had loved Chile in spite of them, the rain and the bad coffee. Everyone was resolving to come back to Chile someday.
Perhaps only half of us rode on Day 43. The mountain pass and the gravel road were good excuses for a rest day. Many had gone 'off route' a day or two before and had bussed to Bariloche, our final destination in Argentina. Others were gone longer and had gone farther; one couple at least, flew to Rio.
But I was excited about the challenge of cycling over the Andes if not the gravel road on the descent, which would just have to be endured. Unfortunately it was still raining and the mountains were obscured with clouds. We were to get only a couple of glimpses of them during the day. I occupied myself by looking at the vegetation and listening to the birds. The birds had been singing every day that we had pedaled through the forest but the forest was dense and I seldom spotted one. The exception was a large falcon type bird, which was common and bold. They flew above us and landed in front of us and could be seen standing about on roadsides and campgrounds. The birds were the only wildlife I saw in Chile, even butterflies were absent, probably because of the rain. There must be some wild animals but the only animal I saw besides dogs was a dead opossum. I did enjoy hearing frogs singing in the rain. It was perfect frog weather and they sounded happy. The forest was interesting because the bamboo grew thickly in amongst the other trees. I kept thinking that it looked like a good place to see a panda. I saw fushias growing wild along the roadsides and flowering plants common in the U.S. like foxgloves, red clover and dandelions.
But back to the ride. It was wet and uphill, lots of uphill. We crossed the border into Argentina individually and uneventfully, unlike the chaos at the Panamanian border. We climbed to the summit which was 4290 feet. The midday checkpoint was at the southernmost pass through the Andes, the Summit Paso Internacional Cardenal Antonio Samore.
It was as cold as ice at the summit and blowing a gale. We each posed for pictures with the summit marker, added layers of warm clothing for the downhill, and chowed down on our last hockey puck sandwich provided free as a treat by TK&A. It was a make your own sandwich situation and the choices were peanut butter, jam, and dulce del leche. Dulce del leche is a thick caramel sauce made by cooking milk and sugar slowly for a long time. It is used as a breakfast spread, stuffed into pastries and as a filling between cake layers.
One could not tarry at the summit because of the cold so I was soon on my way. The way down was harder than the climb. We had to ride a 27 kms stretch of a really very poor gravel road. It was full of potholes and crevices and covered with gravel, deep gravel, and in some places large rocks and mud. A road crew was out trying to repair the erosion and slides that had occurred because of the rain. A grader was pushing deep gravel onto the road, making it even more difficult for us. It was slow going and painful for me because my brakes are so bad. I had to apply them from the drops which hurt my wrists and put my hands to sleep.
When I discovered it was less painful to keep one hand up on the handlebar and the other down on the drops for the brakes, I did the descent with only one hand applying only the front brake because it was working better than the other. I had stood in the mechanic's line the night before in the rain in the soggy campground to request new brake pads but again I was refused.
Merlyn, the mechanic, shortened the cables again to tighten the brakes but that made them so stiff I could barely squeeze them and required a much longer stopping distance than normal. I wondered aloud at this reluctance to replace the brake pads because afterall we have to pay for them, and someone confirmed what I had been thinking, that the TK&A stock was very low. I had planned to have my bike overhauled when we reached Johannesburg but now that we have lost the layover day there the bike repairs will have to wait.
Because of the shortage of replacement brake pads I once again found myself doing a descent with weak brakes. But I made it safely, no falls and no flats. Not so for everyone. One rider with the original tires on his bike had 7 flats on the way up and ruined a tire on the way down. He was in trouble then. It had taken so long to go up the mountain because of all the flats that the TK&A sag wagon wanted to pick him up and bring him in. He refused because he wanted to finish the ride. They said, "Okay, but we will have to mark you off route". He agreed to that, not realizing that that meant he would not be tracked by TK&A anymore and was on his own to finish the ride. When his tire blew out at the summit it was already getting dark and he had no way to fix or replace his tire. He said it was the worst day of the trip for him.
It was not the worst for me, the Hill of Death in Costa Rica still holds that record.
Our campground that night was the Osa Mayor Auto Camping Campground. We were restricted to a designated area, a sloping area, but I found a relatively level spot and hastened to get my tent up and dry in the late afternoon sun, the first sun we had seen in many days. I have realized that the one thing I am most grateful for is the warmth of the sun.
Dinner was a barbecue; great slabs of beef and hundreds of sausages were grilled outdoors, creating a lot of smoke and a lovely aroma. In addition to the barbecued meat we were served shredded lettuce, sliced tomatoes and a length of french bread. No more hockey pucks! Dessert was fresh peaches and pears.
Then it was into the shower and bed for me. I thought I might have trouble staying on my mattress pad during the night because of the slope but that wasn't a problem afterall.
Adios, Alice
Day 44
February 13, 2000
Villa La Angostura to San Carlos de Bariloche, Argentina
This was a beautiful day. It was very cold in the morning but before long I could detect the warmth of the sun and that was oh-so-good after so many days of rain. It was an easy ride over flat rolling terrain, the Patagonia area of Argentina. It was beautiful everywhere I looked and at last I could see the rugged snow capped Andes. It was so beautiful we all kept stopping over and over again to take yet another picture. This was perhaps the best riding day we've had. There were no services at all along the route so we had to depend on what we carried in our bike bags. I suddenly became so starved that I had to stop right in the middle of a hill for lunch. I munched on peanut butter and crackers, dried apricots, nuts, and cookies.
The view of San Carlos de Bariloche nestled on the shore of the enormous Lago Nahuel Huapi and surrounded by the Andes was awesome. It is truly a beautiful place. Both Villa La Angostura and Bariloche are tourist meccas. As a result the buildings are all attractive and everything is well kept. Bariloche is also popular in the winter for skiing.
We were going to be camping of course so could only look with longing at the many attractive Swiss chalet type lodgings we pedaled past on our way through and out of town to our campground. The DRG said that we would camp at the Army's Mountain School but when we first rode into town we came to an unexpected TK&A checkpoint where we were told that the campground had been changed. The new one was even farther out of town but it was enjoyable to pedal there, gawking at the lake, the Andes, and the many attractive hotels and restaurants.
Finally I arrived at the campground and found many disgruntled whining riders. They thought this was the last straw. TK&A was going too far this time. We were camping in a horse pasture under dozens of old apple and pear trees. I thought it was a pretty place and the trees made very handy drying racks, but most people were upset about the horse manure, flies, and yellowjackets. The horses had been removed for the time being and had taken most of the flies with them. I carefully chose a spot that would be in the sun as long as possible and was also largely free of tiny thorny rose bushes, horse manure and broken tree branches. It was a great spot. My tent dried and all the clothes I washed there nearly dried.
There was hot water for clothes washing and in the showers. We had indoor sit down seating for dinner and breakfast. All in all it was a good place. It was our last night of camping in South America.
Adios, Alice
---
Today's Music
---
Chile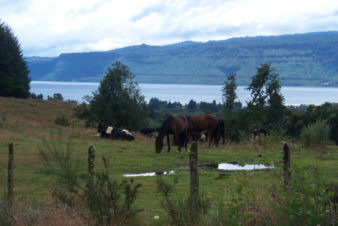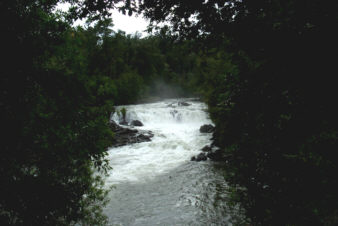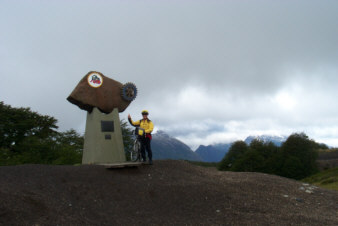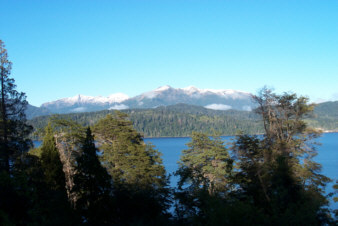 ---
Argentina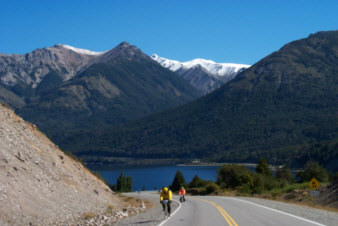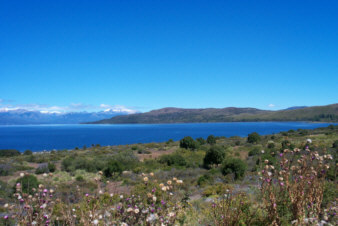 ---

Odyssey Riders and Staff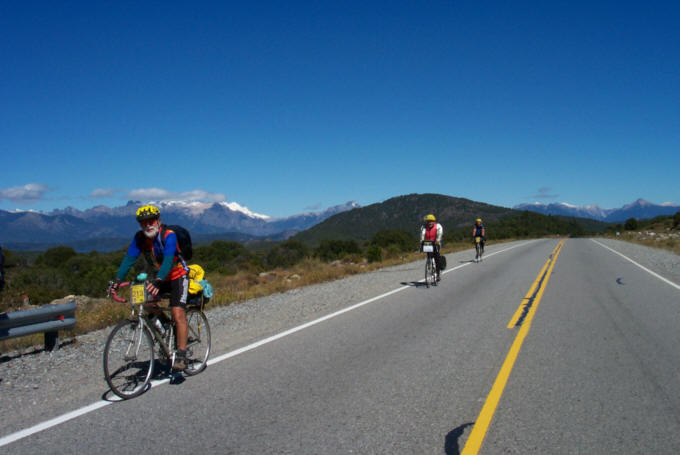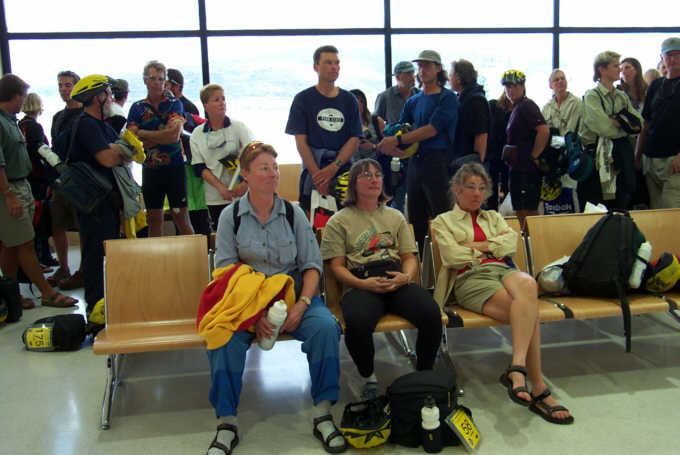 ---
Previous Page (Page 11) Next Page (Page 13)