Page 13
Argentina

South Africa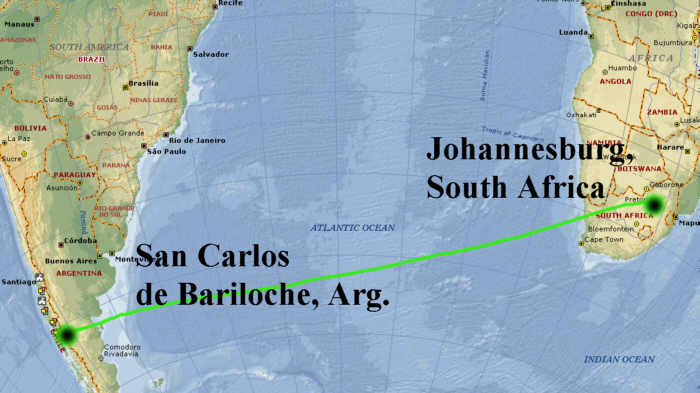 ---
Days 45-46
February 14-15, 2000
San Carlos de Bariloche, Argentina to Johannesburg, South Africa
We did it!
Days 45 and 46 were the days that we moved from Stage 3 of our journey to Stage 4. We were going to South Africa. It meant changing continents, which meant another flight. Our first two flights had not gone well and had disrupted our plans and thrown us off schedule, not to mention all the extra work and expense for TK&A. Everyone was concerned about this third flight.
Bariloche is a beautiful place and the ride from the horse pasture where we had camped to the airport, about 30 kilometers, gave me a last look at the snowcapped Andes, and the beautiful big lake, Lago Nahuel Huapi. I stopped in the town center to buy some postcards and an Argentina pin for my cap then continued on my way to the airport. I was to be there by 1:00 and only just made it in time because of a strong headwind. I had stopped to buy food to eat at the airport too as I was starving and had heard that there was little or nothing at the airport. That was fortunate as it turned out. Once at the airport everything had to come off the bike: pedals, bags, pump, water bottles. The tires had to be deflated and the handlebars turned. Then I handed my bike over to the people who would load the airplane and went inside with all my stuff: my sack lunch, camelback, bike bags, helmet. Near extinction because of starvation, I immediately ate my lunch, then went to the departure lounge to wait.
This time the plane was a 747, chartered from Air Gulf Falcon, a private company. We had been assured that everythng would fit, just as with our last 2 flights when of course it didn't fit so we were in a wait and see mode. There was a concern too about the choice of planes for this small airport. The only 747 that had ever landed and taken off there was Air Force One. The runways were too short. We knew our plane would be heavy.
We waited and waited and our 3:00 departure time came and went. Finally a beaming Tim Kneeland of TK&A appeared and told us that all the bikes were on, leftover luggage would go in the extra seats. There were about 100 more seats than passengers. Around 5:30 we finally boarded and were eventually underway. That was exciting. Everyone waited with fingers crossed and wished the same wish, 'Let this plane become airborne before reaching the end of the runway'. Suddenly the plane gave a leap forward that threw us against the back of our seats. We were off with a running start and I am sure collectively holding our breath. It seemed to me that the race down the runway went on forever before I finally felt the plane lift. There was a big cheer for the pilot as we climbed into the sky. And as he had promised he turned the plane and flew back so that we could have a last look at Bariloche, the lake Lago Nahuel Huapi, and the Andes.
We listened to all the safety instructions in 3 or 4 languages somewhat impatiently as it was already past dinner time and we were hungry. But then they announced that dinner would be delayed. In order lighten the load so that the plane could take off from Bariloche, we had only a little fuel. We would stop in Buenos Aires to refuel. Since the flight to Buenos Aires was only an hour and a half, there would be no meal service until after leaving Buenos Aires. Of course those of you who travel know what happened. We had been told we'd be on the ground for one hour but in fact were delayed there forever it seemed. We were told to stay seated and out of the way of people who had come on board bringing meals and supplies. But it got hotter and hotter. People began to get up and mill about trying to find cool air. I was very fortunate to be seated right at the open doorway so I was comfortable enough. Finally the doors closed and we were off again, this time headed nonstop for Johannesburg. At 11:30 pm dinner was finally served.
I ate my dinner and then tried to sleep. I may have had 3 hours of disturbed rest before it was broad daylight in the plane and I gave up the effort to sleep. The crew were banging about preparing to serve breakfast. Even on the plane the coffee was Nescafe!
Then I remembered the offer the Captain had made. Early in the flight it had been announced that we were welcome to visit him in the cockpit after dinner. He had come around then shaking hands with everyone. He was our hero for getting us off that short runway and anyway everyone was interested in meeting a prince from Qatar who owned his own airline. After breakfast I climbed the spiral staircase to the upper deck where I found Tim Kneeland hard at work on his computer. He told me that the prince had invited us to stop in Qatar on our way from Capetown to Greece when once again we would be using his plane. He had even offered to arrange a camel safari for us. I went into the cockpit where our pilot, the prince, posed for a picture and I told him I was excited about his offer of a stopover in Qatar. There hasn't been a word about it yet from TK&A, I hope they are working on it.
What a long flight! We had had 11 hours of flying time and at least half as many more of waiting time. But at last we made a smooth landing in Johannesburg. It was a long wait but eventually the bicycles and luggage were all unloaded. While we waited many of us stood in line at the ATM machine to withdraw South African money. The paper bills are rands and the coins are cents. There are about 6 rands to a dollar. If we want to think about how much something would cost in dollars we have to divide the rand price by 6. In Mexico and Chile the notes were called pesos, in Panama U.S. dollars and coins were used, in Argentins the paper bills were called dollars and one Argentine dollar was equal to one U.S. dollar. That was easy to calculate!
When we had our money, bikes, and baggage, we passed through customs and into South Africa. Exciting! With bike in one hand and luggage cart in the other I wheeled my way through the throng and out the doors to the roadway where our gear trucks with the lockers awaited us. They had been shipped to South Africa by sea. I parked my bike and then attempted to stow my bags in my locker. What a struggle! I have acquired only 2 tee shirts, nothing more, and yet my bags refused to budge. Finally I remembered that my water bottles were in my tent bag. After removing those, I pushed and squeezed until the bags were finally inside. I couldn't lock my locker however because I had forgotten the combination of the padlock. That problem was solved the next day when Al lent me an extra padlock with a key that she wasn't using.
Al was waiting for me, she does everything quickly, and we rode into Johannesburg to our hotel, the City Lodge, together. It was an easy 6 kms but we were all somewhat breathless anyway trying to make the adjustment to riding on the wrong side (the left side) of the road. Luckily we made it safely but it was a bit nerve wracking. It didn't help that I had forgotten to move my mirror to the right side of my helmet. As a result I couldn't see the traffic behind me.
Our hotel was beautiful. We really regretted that we could stay only that night instead of 2 as had originally been planned. Because of the time change we skipped lunch and went right to dinner. We'd have to get up early the next morning to ride, so here we were in Johannesburg and all we would see of it was the airport. Some people were so tired that they booked rooms in the hotel for the next two nights, staying behind in Johannesburg and finally caught up with us by bus in Hazyview three days later.
Because of the time change we had missed lunch and were on our way to dinner as soon as we had checked to see whether we had mail. I had several items including a big envelope full of Valentine cards and letters from the third grade class of Mrs. Wollak in Dhahran. I was pleased to read those and everyone at dinner was envious of all my good mail. Some of the children who had written had been in my second grade class last year. It was special to hear from them. Mrs. Wollak wrote that they are following my journey by reading the web page, so, boys and girls, if you are reading this, thank you!
Dinner was at Mozzarella's Italian Restaurant only a couple of blocks away. We had three different pasta and sauce choices, salad, and hot thin crispy wedges of bread. It was a delicious meal.
On the way back to the hotel Al and I shopped in a small store for snacks for the next day. I scored a real coup when I found a jar of highly prized genuine made-in-the-U.S.A. peanut butter. There had been only two jars on the shelf. Lucky me! People had tried buying peanut butter made in the countries we visited, but discarded the jars after tasting it. They couldn't even give it away. In Baja, Costa Rica and Panama we could find imported foods like Peter Pan or Skippy peanut butter and my favorite munchie, Peanut M&M's. But in Chile and now South Africa they manufacture their own foods rather than import them, and while that is laudable, I miss my Peanut M&M's.
Once back at the hotel Al was in bed in a flash, while I struggled to sort and repack, making a great racket with plastic bags and zippers. Finally I gave up, transferred the whole mess from the bed to the floor and crawled in. It felt so good to stretch out in bed after our long journey but I slept poorly, maybe because of jet lag, or maybe because I was so excited about riding in South Africa.
Good-bye, Alice
---
Today's Music
---

Odyssey Riders and Staff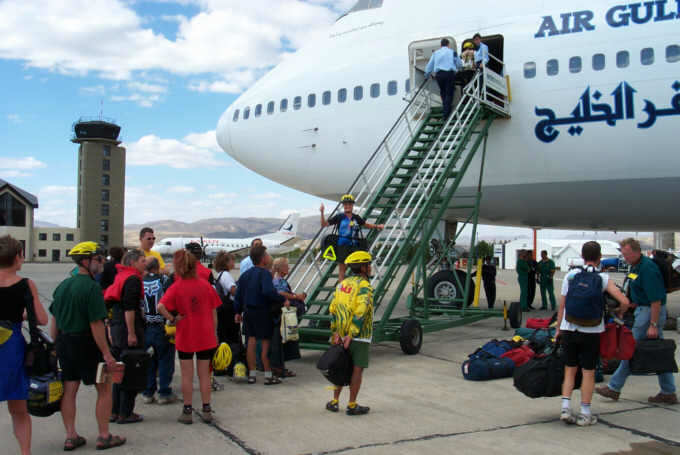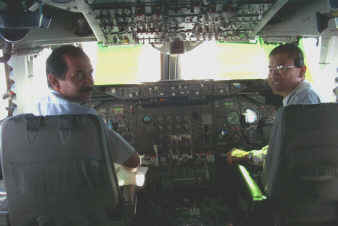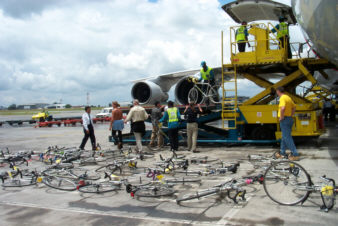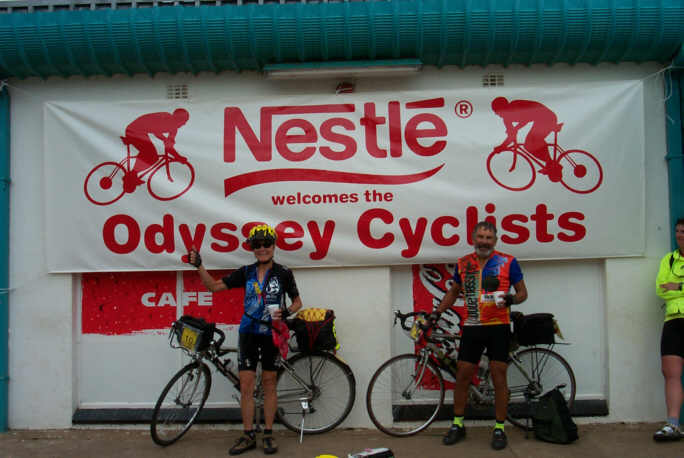 ---
Previous Page (Page 12) Next Page (Page 14)