Page 14
South Africa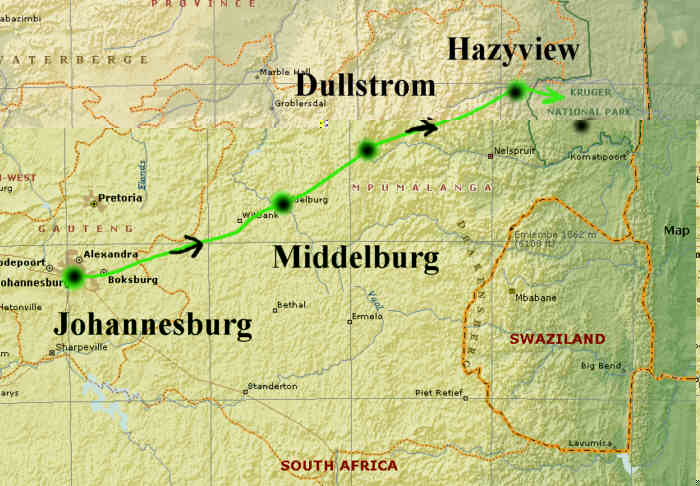 ---
DAY 47

Feb

ruary 16, 2000

Johannesburg to Middelburg

Hello! We'd had a largely sleepless night on the plane the night before, but still we had to get up early to get ready for this day's ride. It seemed we had barely gone to bed when the alarm rang. I wanted to just rollover and go back to sleep, but I couldn't do that because we had a 154 kilometer day to do. We had to leave that beautiful hotel and start pedaling again. Everyone was tired. Some people were staying behind to rest. But those of us who were riding lined up for an early breakfast. What a contrast it was to most of our meals. At the head of the line a headwaiter wearing a tuxedo controlled the flow so that everyone would have seats at the tables in the hotel lobby. And what a breakfast! We were ecstatic! Fresh fruit and granola, milk and juice, rolls and toast, ham and sausage, properly cooked scrambled eggs, beans and broiled tomatoes, and all of it served cheerfully and with smiles. It was a good send off for our first day in South Africa.

Everyone was a little concerned about bicycling out of Johannesburg because we would have to remember to stay on the left side of the road. We went in groups and my group did just fine. We were out of Johannesburg in no time and without incident. The tricky part is when making a right turn onto another street. Not that day but twice when I was riding alone later I found myself on the wrong side of the street (the right side) after making a right turn, pedaling against the traffic. Luckily it is easier to get out of a jam like that when on a bike than in a car.

While pedaling along I noticed on the DRG that we would pass a bicycle shop at 22 kilometers. I decided then that my first priority for the day would be to get my bike fixed and if it took too long and I couldn't finish the ride that would be okay. Many riders stopped there that morning for repairs and to buy tires, chains, degreaser, gloves, socks, just all sorts of things. It was to be my lucky day. Paul, the mechanic, was excellent. He fitted my bike with new brake pads and a new headset. It took quite a long time though because he was constantly interrupted by other riders with questions and because it was hard to fit the headset. Apparently that part of the Odyssey bike is not of a standard size. He had the tools and the skill to do it though and now my bike is fixed! My handlebars don't go crooked and I have brakes! Another rider, Bill, was having new tires put on his bike. When we were about the only ones left in the store he offered to wait for me so that we could ride together. That was thoughtful of him. We'd been told not to ride alone in Africa and since this was the first day we were still inclined to heed the warning. Finally we set out but had gone only a few kilometers when Bill had a flat on his brand new rear tire. We could not find the cause or the hole in the tube and finally used another tube. That tube was too big for his skinny new tire but eventually we got it together and started again. I am a slow rider but Bill was incredibly slow. I could see how hard he was working and he kept apologizing for holding me up. His bike was squeaking so I asked him if he lubricated his chain regularly. No! Not for weeks! I got my 3 in 1 oil out and we gave the chain a good dose. After that his bike no longer squeaked and he doubled his speed! While working on his chain I had the rear wheel off the ground and that was when I noticed it was falling out. He had forgotten to tighten and close the wheel quick release lever! We set out again and as I said he had doubled his speed from 6 or 7 kph to 12 or so.

That is still very slow really and he would fall way behind on hills and we would have to stop so he could catch his breath. I could see that we were going no where at this rate but once you commit to riding with someone you can't duck out just because he is having a bad day.

Finally we tried spinning his back wheel and saw that it didn't spin. On investigation we discovered that he hadn't centered the wheel properly after fixing the flat and his brakes were rubbing on the rim. I had thought I would never find anyone who knew less about bikes than I. After that we made a little better progress but it was clear to both of us that too much time had been lost to be able to finish the 154 km. ride. It was what we had expected after the delay at the bicycle shop. At last we reached the checkpoint at 62 km. where we posed for pictures under a welcome banner from the Nestle Corp., and were treated to free glasses of Coke with our lunch. I ordered a Mexican burger and enjoyed it with chili and cheese potato chips. There are many more flavors of chips available in South Africa than I have seen elsewhere.

Remember Judy, the killer bee lady? She and her husband rode into the checkpoint while I was still there and when she stopped we noticed that she was into some serious crying. Her husband explained that she had been terrified by riding on the left side of the road and by all the fast traffic. But there's a happy ending to that story. She got into the sag wagon that day but the next morning she was all smiles and back on her bike.

Bill and I pedaled as far as we could that afternoon but eventually had to get sagged because it would be dark before we could reach the campground. We'd done our best and the sensible thing to do was quit and be safe.

When doing a long ride something happens to you that makes it seem more important than anything to finish. Maybe it is all the effort that has been put into the ride. Truth is riding a bike long distances in less than favorable conditions is hard work. The rider has made an investment of time and energy and becomes determined to finish or else. We have had a couple of ugly incidents when determined riders have been asked to stop and sag so that they won't be riding in the dark. In one incident it was a group of fast and capable women riders who had ridden hard but it was just too late. The sag wagon pulled alongside and asked them to stop but they kept going. Then the sag wagon got ahead of them and a volunteer got out to stand in their path, waving her arms to get their attention and to get them to stop. But they just kept riding straight at her nearly mowing her down. In another incident an irate rider who'd been stopped and told to sag, tried taking punch at a volunteer.

Most of us though put safety first and are willing to quit and be sagged when it is necessary.

We camped at the Garden Inn Conference Center. It sounds so fancy but in reality it just another grassy place in which to pitch a tent. I got a great spot even though it was late. A great spot first of all is dry and covered with grass, level, near the gear truck and if at all possible near the bathrooms. My spot met all those criteria. People were already eating as I pitched my tent and I hurried to join them. This was an outdoor meal, with everyone sitting on the grass to eat. A very polite dog was happy to eat the chicken skin and other scraps of my meal.

Off in the distance one could make out some buildings in which there were showers and toilets. The buildings were unusual school buildings, a warren of hallways with a bathroom here and there. There were many riders waiting and the water was said to be cold so I opted for a spit bath. That was quick, easy, and refreshing.

In the morning as we were leaving bus loads of children were arriving. They seemed to be surprised and delighted to see us.

Good-bye, Alice

DAY 48-49

February 17-18, 2000

Middleburg to Dullstrom

Dullstroom to Hazyview

Water Everywhere

Lots of hills, lots of rain. It was hard wet work to get there, and when I did, it only got worse. The DRG at 105.6 kms said 'Bear right as the road becomes dirt.' Read that MUD and WATER. The road was a mucky mess and the Dullstroom Dam Caravan Campground was sodden. I put my tent up in the rain in the least boggy place left near the gear truck. Then I gathered my stuff and enjoyed a TK&A shower. These showers are inside tents, there is a tent for the women and a tent for the men. Each tent has 4 showers. The water is usually hot and everyone looks forward to a shower at the end of the day. I enjoyed my shower but when I came out I was the only rider left in camp. They had shuttled everyone to dinner about a kilometer away back down that muddy road. My choices were to have a peanut butter picnic in my tent or to walk the muddy road in the pouring rain. I walked not because I wouldn't have been happy with peanut butter but because I wanted to see if anyone had found a way to our next destination, Hazyview, by car. Yes! A man named Al was working on it and there would be room for me. I was tired and wanted a day to rest because it was from Hazyview that we would go on a safari. I expected that to be the highlight of my South African experience and I wanted to be able to enjoy it. I sat awhile after dinner waiting for my raincoat to dry in front of the fireplace. Then I got a shuttle ride back to camp and found quite a lot of frantic activity. A big bus carrying the Odyssey riders who had stayed behind in Johannesburg had just arrived. They were going to their lockers in the gear trucks to get the things they would need for the next couple of days. After one look at Dullstroom and our soggy campground they had unanimously decided to keep the bus and go to Hazyview. There was room for a few more on the bus so those who learned of the opportunity first scurried to take down their tents and get what they needed until the gear trucks would arrive in Hazyview the next day. People were tired, tired of cycling, and tired of being soaking wet. So the busload set out about nine and arrived in Hazyview near midnight. Luckily the youth hostel had beds enough for all. But I wasn't interested in getting to Hazyview at any cost, I wanted to travel in the daylight so I could see what I had missed by not cycling. Going on that bus was not the answer for me.

The people of Dullstroom had rolled out the welcome mat for us. There was a welcome sign and balloons decorated the entrance to the dining hall. The food was home cooked and very delicious. They had a unique method of serving. Everything was dished into separate plastic bowls with lids. By the time we had collected the whole meal we had a tower of bowls. Then we walked across the way to the hotel and found a place at a table to sit to eat.

Right after breakfast the next morning we met at a cafe called the Rose Cottage to be transported, bikes and all, to Hazyview. Any time we go off route, that is not ride, we have to take our bikes with us. Happily there was time for a cup of real coffee brewed in a tiny single-cup French press while we waited. Then the vehicles arrived. One was a van and the other a 'combee'. I am not sure what all fits that classification, but 4-wheel drive type vehicles are included. Our bikes were loaded on a trailer, we stowed our bike bags, found seats, and were off. The ride was unremarkable except for the magnificent scenery. It would have been a rewarding bicycle ride and I felt sorry for myself for missing it. We stopped only once for photographs but if I had been on my bike I would have done a lot more stopping. When we arrived in Sabie we had a rest stop and everyone scurried around taking advantage of this rare opportunity to use an ATM machine and to buy postcards, food, and African handicrafts.

Before anyone was ready we had to get back into the vehicles and continue the drive to Hazyview. It was a 158.8 km. trip according to the DRG, but because of the heavy rain and flooding, a detour had to be taken which added another 45 km. to the ride. The riders were cycling 200 km. that day, the most yet. We arrived at the Hotel Numbi where we were to camp and had been there only a few moments when Trueheart cycled in. Trueheart is the most amazing young man. He is 19 and accompanied on this trip by his sister and father. He had been training with the U.S. Olympic road racing team but gave that up to ride the Odyssey. He rides like the wind and is beautiful to watch. He is always into camp hours before the next rider. Of course none of us had ever seen him arrive and when he rolled in so early in the day we were stunned and gave him a hero's welcome. You would be stunned too if you had seen the hills he had to climb and the headwind he had to battle. We all took photos of our living legend.

We inquired at the hotel reception and found that there was no laundromat in town but that they would do our laundry for us. It is more expensive that way and it is risky too because things tend to disappear. But when it rains every day and all your clothes are wet and dirty you haven't much choice. This time I lost one piece of underwear and got someone else's riding shorts instead of mine.

Hazyview has a pretty name but there is nothing pretty about the community. It has been built very haphazardly with no apparent plan in mind. Some shops are just shacks or shelters. Most people seem to be poor and unemployed. They stand about in crowds and just watch. I felt like I was being watched as I used the ATM machine and hurried to put away my money and leave the scene. I needed to find the post office but everyone I asked apparently could not understand my question. I kept exploring until I found it but it was a bit unnerving to be in town alone. Happily another rider came into the post office while I was there so we walked back to the hotel together.

I went shopping in the supermarket. Here the main chain of markets is SPAR. It was a big store with a range of items, but it also reminded me of the old commissary in Dhahran. For example, there might be a zillion cans of tuna, shelves and shelves of tuna, but all are the same.

I took a room that night in the hotel, thinking I would offer to share it with Susan when she rode in because she had shared her room with me on two rainy nights. I also thought I would get more rest that way, but in the end I put my tent up anyway to let it dry. I rather regretted taking the room. It wasn't raining so Susan didn't want to share and I really like camping in my tent. For the first time in many days the camping area was attractive and dry.

Goodbye, Alice

Day 50-51

Feb

ruary 19-20, 2000

Kruger National Park, Satara Camp, South Africa

Siyabona! This is just so awesome! I am spending two days at the Satara rest camp in Kruger National Park. It is late in the afternoon now and the air is filled with the sounds of birds and insects. The yellow hornbills are exotic looking and curious; they seem to like watching me as much as I do them. Irridescent blue yellow-eyed birds called glossy starlings are bold enough to snatch morsels from the hands of the people eating at outdoor tables.

We left Hazyview at 9:30 this morning for the drive to Kruger. We thought we had overnight reservations and reservations for three safaris as well. Unfortunately the safaris were not reserved as promised. We will get to do only one starting at 5:00 am tomorrow. That is a great disappointment, but we do have reservations for the bungalows which are round little buildings with thatched roofs.

The Park is completely fenced so that the animals can't get out and destroy farm crops. Soon after driving into the park we began seeing animals which are used to seeing cars and do not flee until an excited tourist pokes his head and camera out an open window. We saw giraffes, impalas, wildebeests, zebras, elephants, a young blackbacked jackal that was leaping about in the tall grass catching and eating insects, warthogs, guinea fowl, European roller birds, bee eater birds, and other birds as well as bright yellow and green locusts and a big millipede. Our driver was quick to spot everything and to stop so that we could have a good look and take photos. We were so excited that we were climbing over one another for better shots with our cameras.

The other Odyssey riders in the van were Bob, Debbie, Gary, Michael, Donna and Adrienne. Just one of the many benefits of a layover day is a chance to spend time with other riders and to get acquainted with new people. On riding days most of us don't have time for socializing. We are too busy surviving. Of course our conversation was almost entirely about the Odyssey and how we and others are coping.

That day passed all too quickly. After dark I walked across the lawn to where I could see the spotlighted area outside this well-fenced compound. There is a waterhole there. The intention is to attract animals to the waterhole to drink. Kruger Park has cameras trained on this waterhole at Satara and on another waterhole at Orpen. There has been so much rain recently though that there is water everywhere. Waterholes are not as attractive as they usually are. You may tune into these waterholes on the internet. I have two addresses: http://www.parks-sa.co.za under Kruger National Park or http://www.africam.com.

The heavy rains a week or so ago caused flooding in the park. We have seen the damage to the river banks and trees. Some bridges are still underwater. The southernmost part of the park where we had originally intended to go because it is closer to our layover camp in Hazyview, is so washed out that that part of the camp is closed. Our driver told us yesterday that five elephants were found drowned and dead downstream. There must have been countless smaller animals. He explained that the river did not fill gradually but that without warning a sudden silent wall of water came surging down the river and caught the animals, the tourists, and the local people by surprise. Stranded people were rescued by helicopters. Luckily this flood happened during daylight hours otherwise people would have been trapped indoors as their homes silently filled with water while they slept.

We had to get up early, at 4:30 am for the early morning game drive today. We rode in a big open vehicle with bench seats and a canvas roof. I was happy to see that there were no windows to get in the way while taking pictures. It was dark for the first hour or so. We had two big spotlights but we actually didn't see many animals while it was still dark, only hyenas which were walking down the road, and jackals which ran along in front of our vehicle. When it became daylight we saw a lot more animals. The rarest animal we sighted was a leopard of which there are only 800 in the park. Our guide said he seldom sees one and was very excited to have found this one. None of us would have spotted it I am sure as it was lying down and somewhat hidden in the tall grass. An animal I was surprised to see so many of was the giraffe. I said they should rename this park Giraffic Park. Other animals that we saw included silverbacked jackals, hyenas, wildebeests, impalas, hippoes, zebras, baboons, ostriches, a secretary bird, and elephants. Four points of interest: the driver told us that an elephant drinks 220 liters of water and eats 250 kilograms of food a day, a hippo can hold his breath for 5 minutes, a hyena has the strongest jaws of any animal in the park, able to exert 1700 pounds of pressure per square inch, and if a giraffe gets a thorn stuck in its tongue not to worry, the tongue will shed its skin and the thorn with it in a week's time.

Now we are in the bus and have to leave the park to return to Hazyview. I am sorry to go. I would be happy to stay here forever to watch the beautiful animals and birds.

Salakahle, Alice

P.S. I have been told by a local ranger that the word siyabona (see ah bona) means 'hello' and the word salakahle (sala kath ay) means 'good-bye' in the Swazi language. Many languages are spoken here. I will hope to get by with English.
---
Today's Music
---
South Africa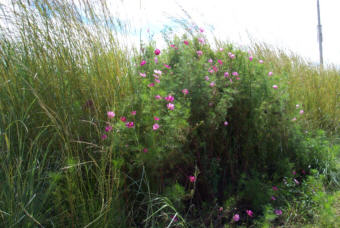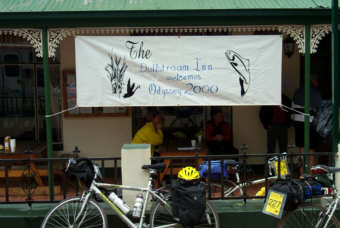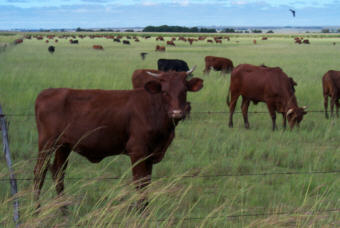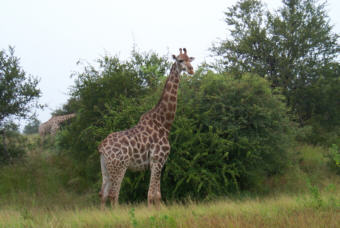 ---

Odyssey Riders and Staff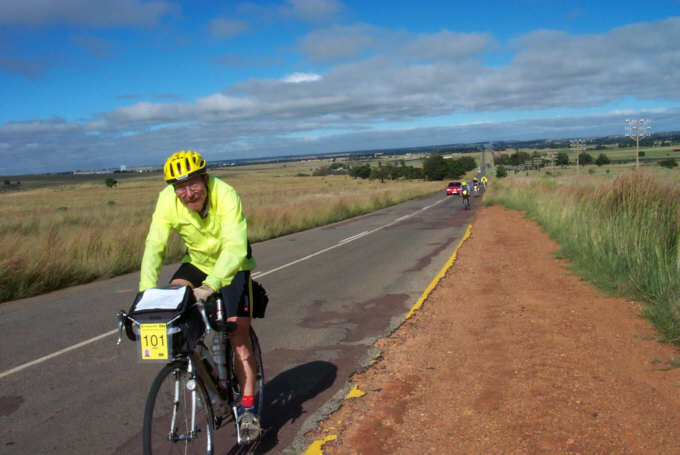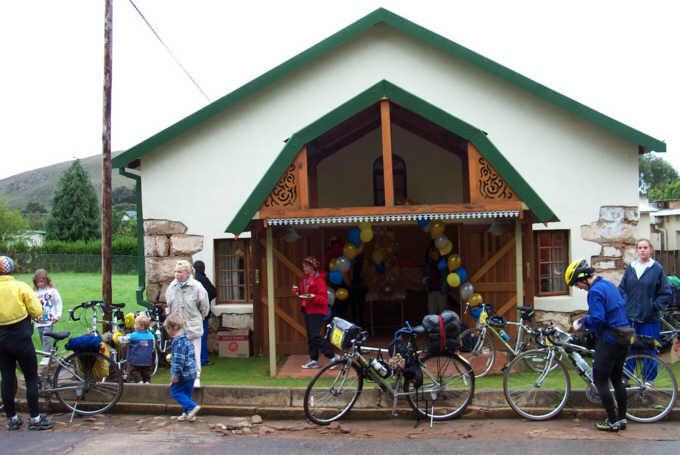 ---
Previous Page (Page 13) Next Page (Page 15)