Page 18
South Africa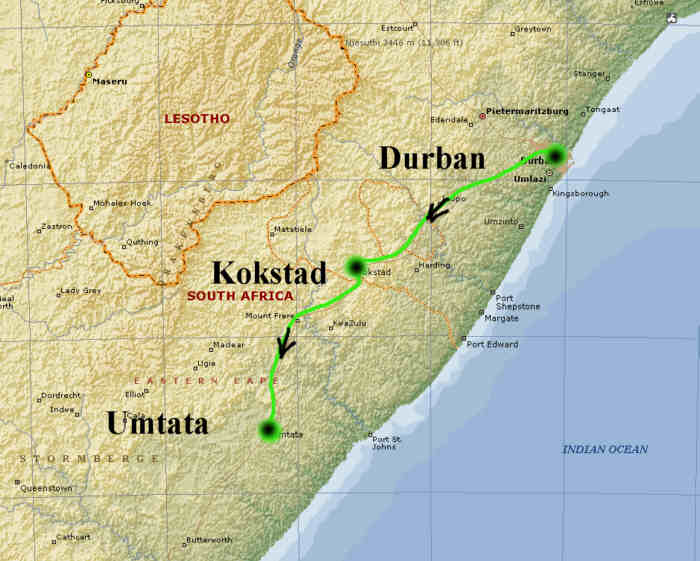 ---
DAY 60
Feb. 28, 200
0
Durban to Port Shepstone to Kokstad by bus
Hello! In keeping with my new resolve to keep current I am writing as the day unfolds. Which is easy to do today because I am sitting on a bus.
I was up this morning at 5:00 a.m. because I needed a ride on the chartered bus leaving at 6:00. I want to join the main group of Odyssey riders who rode out yesterday morning to Port Shepstone while I stayed behind in Durban to write reports for the web page. About a dozen other riders also stayed behind in Durban for a day and they are on this bus too. We left without breakfast or even coffee since the hotel doesnít offer breakfast until 7 am. Carissa thoughtfully brought muffins for everyone which we ate before leaving the parking lot. We are always ready to eat.
An attraction enroute today was the Oribi Gorge. The bus driver agreed to take us there and that has delayed us considerably. It took an hour for everyone to get a cup of coffee and a scone or whatever, three times as much time as we had been allocated. Then came the hike to the gorge and back. It was only 5 km. or so round trip but with all the picture taking and chatting it took more than the hour that was planned.
The end result was that it was too late to start bicycling from the checkpoint as I had hoped so I stayed on the bus to the rideís end, Kokstad. This is an awesome place, it is beautiful here and the local people have put on a big celebration in our behalf. We are having dinner in an enormous white tent with arched windows and scalloped trim, definitely a party tent. A local band is playing and singing and their music is beautiful. Some people havenít been able to resist the temptation to dance. The dinner is equally awesome. Men are busy barbecuing beef steaks, lamb chops, and sausages. Women are serving and what a spread! There are rolls, interesting whole grain rolls, a fluffy white maize that is served in place of mashed potatoes with a special and specially delicious tomato-onion sauce on top. Weíre familiar with this luscious dish as it is a South African staple. There are baked-in-butter new potatoes, macaroni and cheese, and seven different wonderful salads. There is a choice of guava juice or orange juice and coffee or tea. For dessert there are 3 different pastries and ice cream with chocolate sauce and we were served all of them. We are stuffed and happy. The townspeople bought tickets for the dinner so they are here too.
We are camping on the grounds of a new private high school called St. Patrickís College. The school does not have showers so these great people built outdoor showers for us complete with heated water. They also set out big wash basins and laundry soap to make it easy for us to wash our clothes. Best of all they even managed to arrange sunshine and blue skies for our arrival.
We are treated like celebrities. How could anyone help but love this experience? I am having a great time.
Goodbye, Alice
DAY 61
March 1, 200
0
Kokstad to Umtata
Hello! The party went on in the big white tent last night past my bedtime. But bright and early this morning the Kokstad folks were back to cook another magnificent meal. There were 3 choices of dry ceral and 3 choices of fruited yogurt. There were scones and muffins and bakery bought rolls, butter, marmalade, and jam. There were scrambled eggs, sauteed mushrooms, a spicy beans and ground beef stew, sausages, Canadian bacon, apples, bananas, and grapes, juices, and coffee and tea. It was wonderful.
Breakfast started half an hour earlier than usual, 5:30 a.m., to give people as many daylight hours as possible to do the longest ride yet, 185 km. or 115 miles. The day was to be hilly as well as long and some people decided not to even try. They left camp in a bus they had arranged and drove to East London where they will wait the next two days for the rest of us to arrive. Put those folks together with all the others who had already left and you find that more are gone than are here. Only 89 riders started the ride today and less than half were able to finish it. Many, like myself, gave up at checkpoint. If you are a slow rider you cannot do a hilly ride of that length in the daylight. My knees were hurting, the right one in particular, so I decided to sag and spare my knees. They havenít bothered me much but todayís ride had many very long climbs. It also had awesome descents, gorgeous scenery, and thanks to a cloud cover it wasnít unbearably hot. It was a perfect day for a bike ride, the road was good, but the miles were too many. Just as a point of interest, there are now less than 10 riders who have ridden every mile. Only one of them is a woman, Ruth, who I think I mentioned some days ago. She rode the long difficult miles to Hazyview but she was too tired to go on the safari the next day. Itís very hard for some people to give up the goal of riding every mile. If that choice is made then something else has to go so one has to decide what oneís priorities are. I no longer care about the miles.
Today we rode the first day of three that are thought by some to be potentially dangerous because of the poverty or politics of this region known as the Transkei. The police responded to TK&Aís plea for help and there were several police cars parked along the route. I was glad to see them there, but never at any time today did I feel threatened. All the people I saw along the way were friendly and called a greeting as I passed. But one group of 3 riders had a scarey moment when a man pulled a switchblade and raised it in a threatening manner. Whether he was just showing off for the young people around him or really intending to do harm we do not know. Itís a shame that it had to happen to spoil an otherwise good day.
The scenery was awesome, vast and green. We have left the sugar cane behind, this area is used for pasture, corn and hay. We saw cattle, horses, goats, and sheep. Luckily there was a cloud cover that kept the temperature down.
We are at dinner now where a funny thing happened a few minutes ago. To appreciate the prank you have to understand the mentality of this group after two months together. Because there are so many of us we have to stand in line for just about everything. It has become an automatic response to join a line and the sooner the better or one finds oneís self behind 200 others. After most had finished dinner tonight a line began to form and immediately dozens of others joined the line. People assumed they were in line for dessert although there wasnít evidence of any. After a few minutes a spokesman for the people at the beginning of the line confessed to doing an experiment; they had lined up just to see what the rest of us would do! Those in line sheepishly returned to their tables while we all enjoyed a laugh at their expense.
The people of Umtata put up a welcome banner for us over the main street, Nelson Mandela Street. A number of officials have spoken welcoming us and explaining that they are working to overcome the poor reputation this area has. The high school choir has sung. Next we are going to go visit the Nelson Mandela Museum. I am so pleased to be here.
Goodbye, Alice
---
South Africa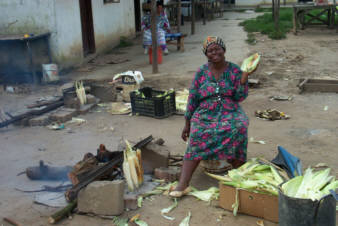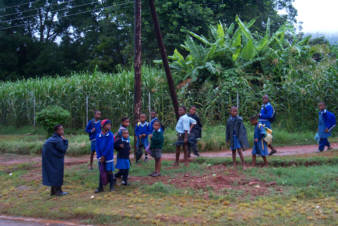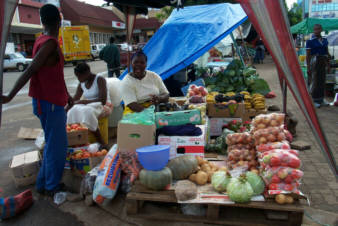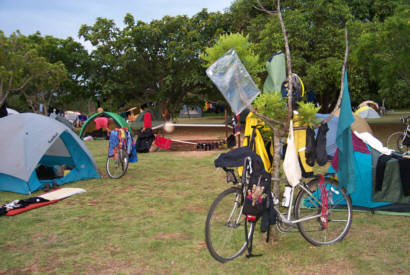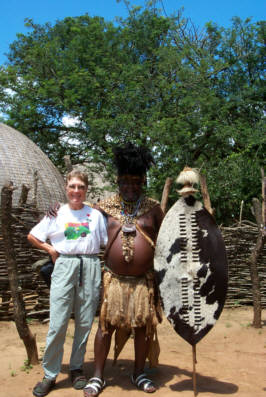 ---

Odyssey Riders and Staff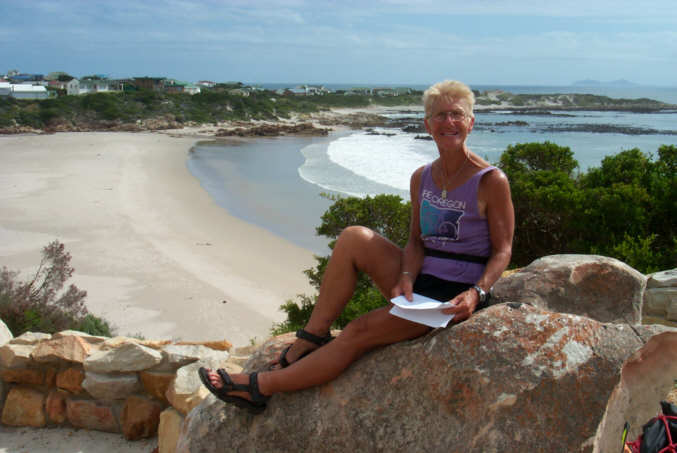 ---
Previous Page (Page 17) Next Page (Page 19)