Page 19
South Africa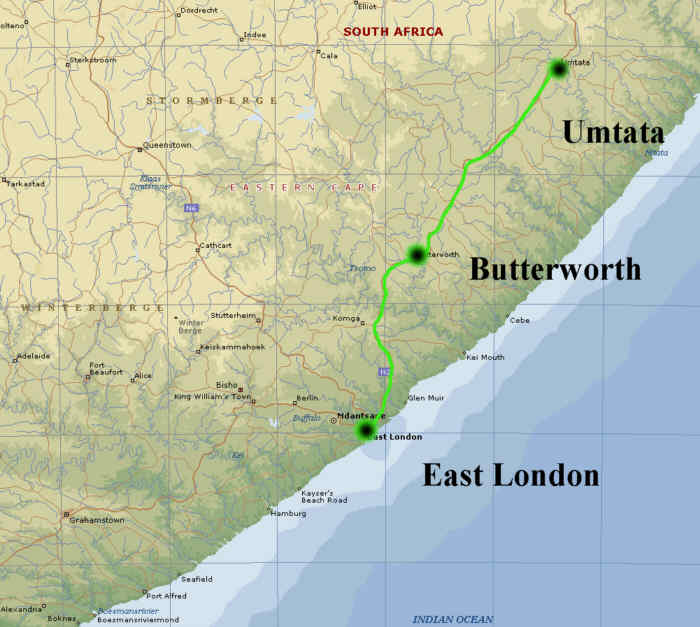 ---
Day 62
March 2, 200
0
Umtata to Butterworth
Hello! The after dinner speeches in Umtata were sincere and heartfelt, the speakers were assuring us that the people in the Transkei area are friendly and we would be safe while cycling there. Some people couldnít keep their eyes open because it was past our bedtime but I had had a nap before dinner. Finally, the speeches over, we walked with a military escort to the recently dedicated Nelson Mandela Building to see an exhibit of his life and work and also all the gifts that the different governments have given him. I thought it ironic that this exhibit is in the building where he was tried and sentenced to prison. I enjoyed that visit and have a great deal of admiration for Mr. Mandela. He was invited to come to the dinner but was unable to attend. He sent us a message wishing us a safe journey.
We left Umtata with a police escort and in the rain. It was foggy and it rained all day, fine rain that blew sideways into my ear and face. Because of the rain and fog I couldnít see far enough to enjoy the views, but I could see that the vegetation is changing. There are cactus-like plants now, cornfields and pastures. There are beautiful cattle, fat and sleek, and horses, sheep and goats. Usually if the animals are grazing on the right of way there is a shepherd with them. He does not use a dog to help control the animals but instead whistles at them. There are a variety of whistles and the animals seem to understand what is wanted. I am surprised that they can be trained like that.
There was an accident today but no cyclists were involved. We had seen the ambulance go by and whenever that happens we worry. We were stopped before reaching the scene and told to carry our bikes past the accident area because of the broken glass and spilled oil. The car was crushed, the oil tanker had hit the guard rail, the ambulance was gone so there must have been a survivor but one body lay beside the road covered with a blanket. Just last night we were told to be careful because there are too many accidents and we should expect to find the road slippery with spilled oil. In fact it was, slippery like ice in that stretch where we walked carrying our bikes.
We were told last night that the people of the Transkei area are friendly and would welcome us. It was clear they were trying to overcome the reputation for trouble the area has. It worked for me. I rode by myself all day which I much prefer to riding in a group. The people were friendly with only one exception. That was a teenaged boy who stepped forward just as I passed and kicked my bike. He then laughed. His kick didnít cause any harm but I was disappointed that it happened because it was so out of keeping with the behavior of the other people. Shortly afterward one young man called in greeting and wished me a safe journey. Another young man blew me a kiss. Everyone waved and called and asked questions. Where are you going? Where are you from?
Tonight we are camping on the grounds of the Eastern Cape Technikon School near Butterworth. We have left the Transkei region and entered the Eastern Cape region. We are seated for dinner and being treated to an outstanding performance by the schoolís choir. The girls are wearing long green satin dresses and the men white shirts. They have rich, full voices and sing with heart and great enthusiam. They sang a song composed just for the Odyssey 2000. We have given them one standing ovation after another. The welcoming speeches have been so warm; the people of Butterworth are really thrilled that we are here.
We have enjoyed a feast fit for kings. I am having a wonderful time!
Goodbye, Alice
DAY 63
March 3, 200
0
Butterworth to East London
Hello! It rained hard during the night but stopped by 5 a.m. and didnít rain all day until we reached our destination. Rain follows us wherever we go. All day long we have dishwater hands and everything is either soaking wet or damp. Nothing will dry inside a tent in weather like that. I keep dry things in ziplocs to keep moisture out and I keep wet things in ziplocs so moisture canít get out.
What amazes me is that when I put up my tent each night, I put the soaking wet as-in-a-bathtub fly on it and it keeps the interior of the tent dry! But one corner of my tent leaks. My temporary solution is to put an absorbent cloth in that corner and then cover the corner with a plastic bag so that if my sleeping bag should reach that spot during the night it wonít get wet.
It is impossible to dry clothes. Iíve come to the conclusion that the best solution for me is to wash the clothes I wore that day in the evening and put them on wet in the morning. That way I wonít have a bag of wet and dirty or wet and washed clothes mouldering away while I wait in vain for a sunny day. The wet clothes are cold for a minute or too but soon warm and eventually dry as I wear them if I can stay out of the rain long enough.
Todayís ride to East London was through spectacular scenery under an overcast sky which was perfect, we could appreciate the views but didnít have the heat of the sun. Even though it was overcast it was a very warm day. Rivulets of sweat ran down my face all day as I toiled up the many hills. We pedaled up one hill that was miles long. When I reached the top and stopped for a breather someone asked me how I was doing.ĒIím on top of the worldĒ, I replied, but unfortunately more hills lay ahead.
As I pedaled into East London to find our hotel I spotted a bicycle shop. I popped in there and left the bike to be given a thorough overhaul. They will deliver it to me tomorrow afternoon.
We are in East London for a layover day which means that we donít cycle tomorrow. Our hotel is the Regent Hotel and it is on the Indian Ocean. We had another sumptuous dinner, I tell you I am getting very spoiled, and now I will soak clothes in water plus bleach in an effort to get rid of the sour odor so that first thing in the morning I can walk with Al until we find a laundry or laundromat. Fixing bikes and doing laundry become the priorities on a layover day. This is the life!
Goodbye, Alice
DAY 64
March 4, 200
0
East London Layover Day
Hello! What a busy day. Everyone is tent cleaning and bike cleaning, taking advantage of the last opportunity before Cape Town. We have ten cycling days in a row between here and there and the slower folks like myself will have no time for anything but pedaling.
I have washed my tentís footprint and fly and hung them in turn over the balcony to dry. A hundred or more others are doing the same thing making our hotel look quite tacky. The miracle is that it hasnít rained all day and I just may get everything dry and inside before the threatening clouds let loose.
I went to the laundromat just after breakfast and sat in line for 45 minutes using my bag of dirty clothes for a cushion until it opened 15 minutes late at 8:30. By that time there was a long line of us, overwhelming the facility. Luckily I was very near the front and got my clothes into a washer straight away. It wasnít long before the owner was turning people away, sending them to another laundromat somewhere in East London. She then commandeered all the washing machines but three to use to do the laundry that people had dropped off.
Biker Al was with me and in fact it is probably due to her singleminded pursuit of clean laundry that I got organized in time to go with her immediately after breakfast. Some people would have been happy to turn their wash into the hotel for laundering but the hotel doesnít do laundry on Saturdays.
On the way into East London yesterday I stopped at a bike shop and left my bike for cleaning and lubrication and anything else it needed. The bike shop, like the laundromat, was overwhelmed with Odyssey riders. They usually close their shop at noon on Saturdays. We suggested they remain open this one time because of all the potential customers but they had to close to do the bike repairs. I am very glad that I left my bike because I would not have had time to clean it today. The bike shop has delivered it to me all spic and span, ready to go.
Weíve noticed that a noon closing on Saturday is common here in South Africa for most shops and most do not open at all on Sunday. The Post Office closes at noon on Saturday too. Luckily I was aware of that and got there in plenty of time today.
Shopping in a bigger city like East London is a pleasant enough experience but in the smaller towns that we have cycled through it can be down right intimidating. The main street just swarms with people. The sidewalks look like one long flea market there are so many vendors. I wonder how the shopkeepers can tolerate that because the congestion must prevent potential customers from reaching the shops. Everyone who isnít trying to sell something appears to be just hanging out. People stand around by the dozen with no apparent purpose. Maybe they are among the 30% unemployed. The traffic is crazy too as all sorts of vehicles dart about and park where they please. I usually just cycle straight through to be out of town as fast as possible but one time I wanted some water so I stopped. I looked around at all the hangers-out and decided I wouldnít dare to leave my bike unattended. I wheeled it into the store with me which caused people to stare.
Our hotel faces the Indian Ocean and is only across the street from the wide sandy beach. While I was eating breakfast this morning I watched dolphins swimming and this afternoon I could see people on surfboards and others wind surfing. I have not had a minute to go stick even a toe into the water and if I did I probably wouldnít anyway. Been there, done that. The waves stir up the sand so much that the water is discolored with it. I wore my bicycle clothes when I went in one day last week, what a mistake! The pockets of the jersey filled with sand but worse the sand infiltrated the stretchy fabric of the bicycle shorts. Several washings later they are still itchy from sand that remains imbedded in the fabric.
Bye! Alice
---
South Africa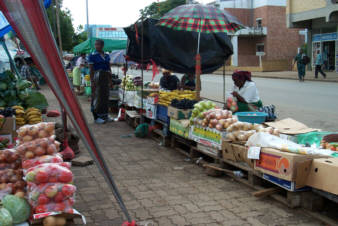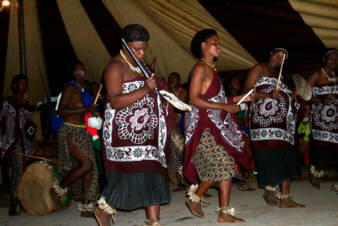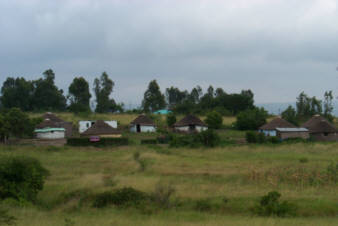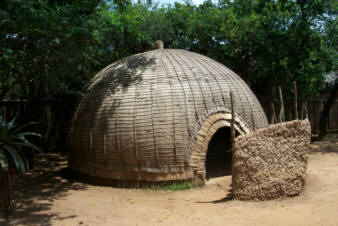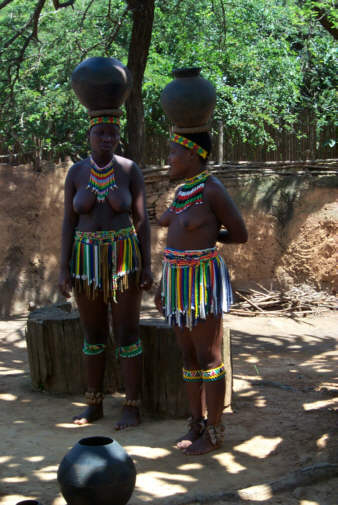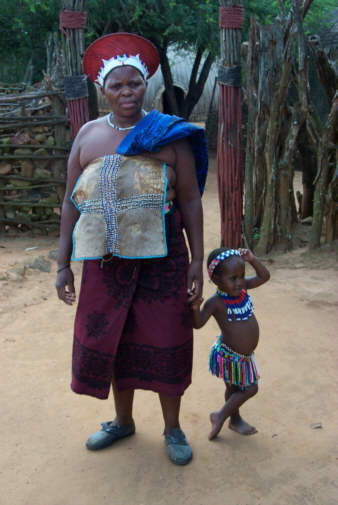 ---
Previous Page (Page 18) Next Page (Page 20)