Page 20
South Africa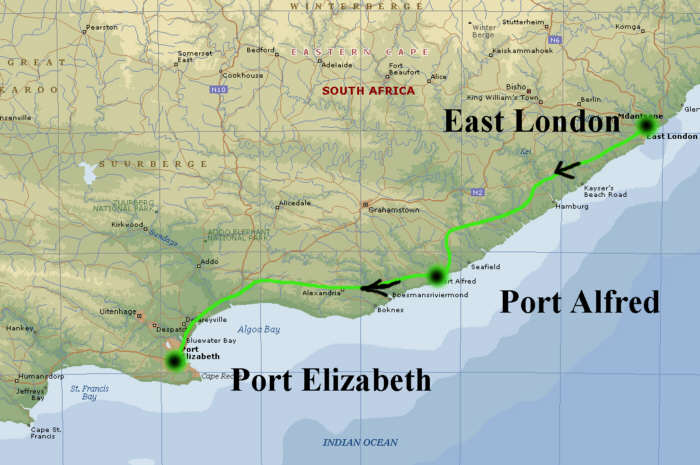 ---
DAY 65
March 5, 2000
East London to Port Alfred
It was cloudy but not raining when we left East London and our good luck held. In the afternoon the grey clouds changed to fluffy white and the sun came out.
We took the scenic route out of East London. The road was parallel to the Indian Ocean and fog off the ocean enveloped us. Except for a golf course on the other side of the road the area was undeveloped so the trees and bushes and flowers crowded the road. I am always watching for and listening to birds as I ride. Today a rather large crested bird flew across the road in front of me and when I glanced up to watch it I saw that the underside of its wings were a brilliant red. There is a bird expert on our trip and when I described the bird to her she said it was a purple crested lourie, a kind of parrot. I was lucky to get to see it as it is secretive and stays hidden in the trees normally. This morning it probably thought it was hidden by the fog. When I get to see a special bird or animal it makes my day. Later in the day I saw a big tortoise slowly walking across a patch of grass.
At 8.5 km. on the DRG the road suddenly became very smooth. We were riding on the Grand Prix Circuit race track! It was the flattest smoothest 2 km. of the day. It appeared that everyone must enjoy the same access to the race track as we did. I wonder if that would happen in the states. I thought of all the teenagers and others who would love driving on the track at top speed. Here that probably is not a problem as there are very few teenagers with cars. Most people do not own cars. Everyone including teenagers, grandmothers, mothers with babies tied to their backs, hitch hikes. They stand by the roadside and when they see a likely looking vehicle approach they hold out an arm and motion to the driver. If it is a taxi and if it has room it will pull over and pick up the hitchhiker. The taxis are little Japanese vans with extra seats crammed in so that 16 people can have seats. They have to be hot and crowded in there but there is no other way for the poor of South Africa to get around besides walking. The taxis are unmarked and said to be very unreliable. Weíve been cautioned not to use them.
Today I rode across bridges over at least 5 or 6 big rivers and when I looked to the left I could see the mouths of the rivers where they emptied into the Indian Ocean. There were big sand dunes and sandy beaches. It was very beautiful.
Tonight we are camping at the Willows Caravan Park in Port Alfred. It is on a peninsula in the Kawie River, a beautiful area. We walked next door to the Port Alfred River and Ski Boat Club for dinner. Unfortunately they started serving dinner at least half an hour late, but worse yet they ran out of food with dozens of people still in line. Brit-Simone and Shirley rolled up their sleeves and helped in the kitchen. Eventually they had some noodles boiled and a salad tossed together. Everyone got something to eat but not everyone got enough. We are lucky that this has happened only a couple of times on our trip. I am curious now to see what will happen at breakfast. We have to ride 165 km. tomorrow, more than 100 miles. We will need a substantial breakfast. Now I am going to my tent to see what I can find to eat!
Goodbye, Alice
DAY 66
March 6, 2000
Port Alfred to Port Elizabeth
Woe is me. I am in the sag wagon instead of cycling through the beautiful countryside, waylaid by the flu bug or maybe food poisoning. The trouble started in the night and hit the 6 of us who are now in this van. I was up most all night either trying to sleep but frequently disturbed by the man one tent away who was retching, or I was sitting on a bench in the restroom waiting for my next attack. Today I have a headache and hurt all over. The others look like they feel about the same. I would just like to lie down somewhere but we had to break camp and hit the road. Fred, the rider who treated me to hot chocolate on the Hill of Death noticed my distress and took my tent down for me. Such a kind thing to do especially when you consider that it delayed his start on a high mileage, relentless headwind day. Another friend, Joan S., who was riding but found it too hard against the headwind, got on the van at Checkpoint. She has volunteered to help me pitch my tent. Hers is the same model as mine. Last night without moving from the spot I looked around and counted ten identical to mine.
We drove directly from the campsite to Checkpoint where this van load is usually required to wait all day but the driver has kindly promised to take us directly to the todayís campsite as soon as Brit-Simone arrives and is ready to go. It is her responsibility to be at the campsite first every day to check out the situation and make sure everything is in order for the hundreds who will be arriving all afternoon. It is not an easy job. At last nightís campground for instance, the vendor had not prepared enough food, running completely out with scores of cyclists still in line. Brit-Simone had to do something about it so she and Shirley, one of the volunteers, rolled up their sleeves and went to work in the kitchen. Eventually everyone had at least a little something to eat. Luckily this kind of snafu rarely happens.
The road we are following for our 10 day ride to Cape Town is called the Garden Route. I havenít been watching today but pineapple must be a crop here because the little shop at the checkpoint today is a pineapple shop. There is a big pineapple in the parking area advertising pineapple juice which everyone is saying is delicious but right now the way I am feeling I canít get interested in drinking it. Whole pineapples and cut up pineapples are for sale too. South African pineapple is delicious, Iíve eaten plenty of it. There must be different varieties of pineapple because some are small, they are served peeled and sliced and even the core is tender and delicious, or they are peeled and eaten whole using the leaves for a handle. There are big ones too like the Hawaiian pineapples we get in the states.
Iíve been sleeping as this van makes the 100 mile drive to the campsite, but when someone shouted Ďostrich farmí I roused myself in time to look and see hundreds of ostriches grazing in green pastures. I think they are probably raised for meat but use is made of the shells too. Whole shells are painted with beautiful scenes and broken shells are made into jewelry. I bought a necklace and earrings yesterday so I would say that there must be brown shells as well as white because the jewelry is both colors.
I bought the earrings because I am often mistaken for a man because of my now very short hair and the baseball cap I wear when not on the bike. I didnít bring any jewelry with me because I thought it would be too much trouble. I am also looking for a bow or a flower to pin to my hat. The local people get very upset when they see me entering the womenís washroom.
We have arrived in Port Elizabeth which is right on the Indian Ocean. The very long beach fronts the entire city creating a scenic setting. The waves are rolling in but the wind is so strong that the fluffy white part of each wave is blowing away. Our campsite at the Pine Lodge Campground was the nicest place we have stayed but I wasnít able to enjoy it. There was a laundromat and a pool, green grass and trees everywhere. The wind had been blowing a gale all day and kept it up while we were trying to pitch our tents. Luckily I had help, got the job done, and gratefully crawled inside to rest. It felt so good to lie still and relax until all the aching stopped. The wind had blown in big black clouds and shortly the downpour started. It is very cozy to be all zipped up inside a tent during a rainstorm. As I lay there I thought I should be taking advantage of the laundromat but couldnít bestir myself for that. I thought about getting a massage because my legs have been waking me up at night and the more I thought about it the better it seemed until I finally worked up the courage to raise my aching body from the bed and crawl out of the tent. Randy, one of the therapists, worked on my legs for 20 minutes and although it was very painful at the time my legs felt better for it and did not wake me even once. After the massage I went back to bed. I hadnít eaten anything all day except one Coca Cola but I wasnít hungry.
Goodbye, Alice
---
South Africa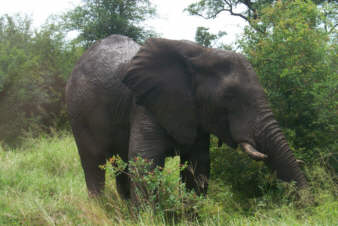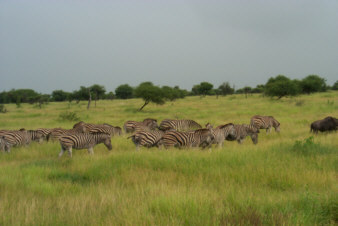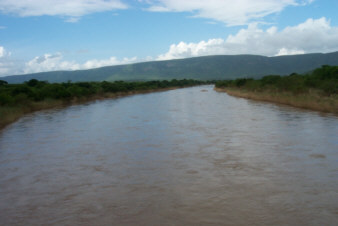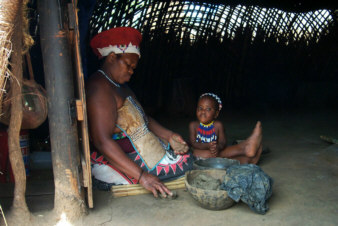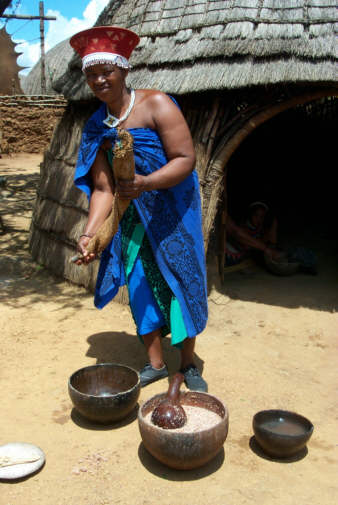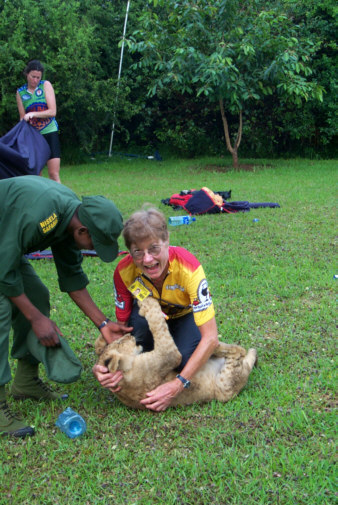 ---
Previous Page (Page 19) Next Page (Page 21)