Page 28
Italy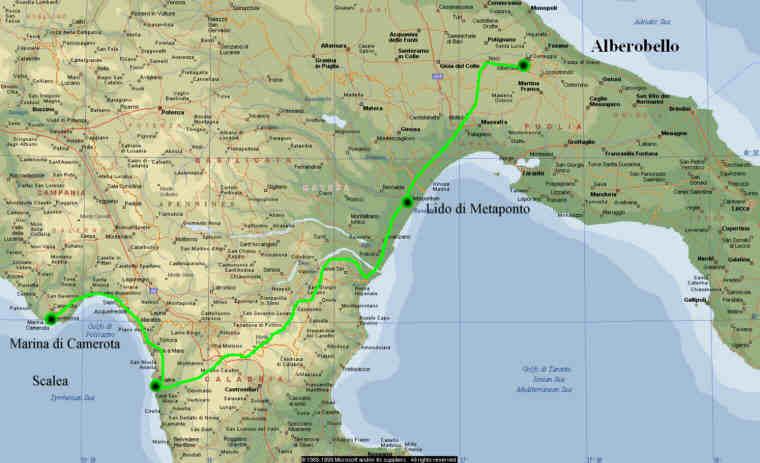 ---
DAY 85
Alberobello to Lido di Metaponto
As I cycled out of Alberobello there were more of the interesting trulli homes. This part of the countryside is very rocky and the zillions of rocks have been put to good use not only to build the trullis but to build stone fences around the farmersí small fields. These are wide and low and sturdy. They are beautifully made of all sizes and shapes of stones artfully stacked so that like a puzzle there is a place for every piece. The edges of puzzles come out straight, the tops and walls of the stone fences are straight and level. It must take a trained eye to pick rock after rock that is exactly right in size and shape. No mortar is used to hold the stones in place.
As I pedaled I wondered whether stones keep working their way to the top of the soil for eons, is the farmersí work never finished? Some small fields were clear of stones while others were peppered with them. In one field someone had worked hard to unearth all the stones, big and little, that had been near the surface, they were laying there on the top of the newly turned clumps of red soil looking for all the world like potatoes that had been dug and now awaited collecting.
By afternoon the fields had changed from small areas of pasture and olive trees to vast wheat fields with not a stone anywhere to be seen. It was amazing. Suddenly there were no more stones and the earth was grey, not red. I wondered at the contrast.
At Checkpoint we were told that the campground had been changed, to look for TK&A signs that would mark the turns.
When I arrived at the campground it was clear that we had not been expected, people were scurrying to clean away the winterís collection of leaves and debris from the washrooms. There was a large building where dinner would be served and where we could sit out of the cold. Dinner would be delayed an hour so I used the time to work on e-mail. The hour came and passed and still there was no food. Some of the hungry riders grew impatient and began shouting, demanding an explanation from TK&A. That was ignored but it was announced that the first Odyssey video by our film crew was nearly finished and we would be treated to a preview momentarily. There was another long delay and people again began shouting that they wanted food. Even after the 45 minute film was playing people shouted during every lull in the action. It was ugly. I thought, if they are so hungry and impatient let them go to their tents and have a snack of peanut butter and cookies. Every rider always has a stash of snacks in his bike bags. Finally nearly 3 hours after the scheduled dinner time and past our usual bedtime, food began to appear. There were bowls of salad and platters of pasta, but little on each so the food lasted only seconds. More bowls of salad and platters of pasta appeared until eventually everyone had had a little of each. People were still hungry and some, believing that that was all the food there would be, left to go to their tents while others waited hopefully. Eventually more food did begin to trickle in, pizza this time, one platter at a time. Eventually enough pizza had appeared that everyone had had a piece, and most folks left, some still hungry, belligerent and angry. Next platters of chicken were set out and finally trays of fruit. In the end there was not only plenty but far too much food. TK&A had not explained the delay and the riders had not known that it is the custom in Italy to serve the meal in courses. We are having a morale problem that is only growing worse. There are many disgruntled riders and many issues that are not being addressed.
Although the countryside was varied and interesting this had not been an enjoyable day for me. I had a severe sore throat and my ribs hurt from my fall two days earlier. I decided that if I didnít feel better by morning I would sag.
Goodbye, Alice
DAY 86
Lido di Metaponto to Scalea
I did sag this day and unfortunately missed a beautiful ride and with a difference. There were 17 tunnels! Near the end of the day there was an awesome 18 kilometer descent, lots of fun if you have good brakes. But I didnít even get to enjoy the scenery from the van because I kept falling asleep. We saggers were driven to the checkpoint and put out to wait until some time in the afternoon when a ride to camp would be provided. Luckily there was a shop called a bar and so we had a place to sit indoors out of the wind and cold. A bar in Italy is not the same as a bar in America. Inside an Italian bar there is a long high counter, a bar, and from behind that various kinds of refreshments are served including alcoholic drinks as well as coffee, sandwiches, and cakes. In the rest of the shop are displays of candy bars, potato chips, cookies, the usual snack foods. It is not particularly pleasant to spend a day in a bar as it seems that most Italians, just like the Greeks, think they have to smoke constantly.
But eventually the day passed and we were told to get into a van for a ride to Scalea where we would be staying in the Hotel Santa Caterina for two nights, three to a room. We found the hotel to be a vast, empty, cold and deserted place because it is not yet the tourist season. Eventually though the heat did get turned on and we began to settle. I was the first one into my assigned room and the first thing on my mind and most everyoneís mind was laundry. It had been weeks since most of us had had an opportunity to wash our clothes. We had had to wear the same cycling clothes day after day. We felt and smelled grubby. The hotel offered a laundry service but it was expensive and I had had bad experiences with hotel laundry services anyway. The town did not have a laundromat. When I discovered that the room had a balcony with a drying rack I decided to wash most of my things by hand and send the bigger items like my rain jacket to the laundry. I had just about finished my washing when the first of my two roommates, Judy of the killer bees, arrived. The hotel rooms were small and it was obvious that three of us would overwhelm the space with our stuff and bikes. More importantly, I felt sorry for my roommates as I knew I would be coughing all night from my sore throat. I decided to try to get a room of my own.
With the laundry hung to drip I went to Reception to inquire about renting a single room and then to the gear truck to get my tent and set it up so that it could dry. While doing that I noticed that Dave, the mechanic, was open for business but no one was there. My bike was still locked inside a large truck because I had sagged but I was able to have the truck opened. This was an opportunity too good to miss. I usually get in too late or itís too cold or rainy to go to the mechanic. Dave went straight to work and had my bike fixed in no time. He adjusted the brakes and replaced the chain with a new one for which I was charged $30. My tent was nearly dry and I had been able to rent a single room. This was turning out to be a good day afterall.
When I moved my things and got settled in my new room I realized that it made me very happy to have that little space all to myself. I decided then that when room rates are reasonable I will treat myself to a room of my own.
It was a very good thing that I was alone for not only did I cough all night but my bruised and possibly cracked ribs caused me great pain every time I moved, resulting in a lot of groaning and moaning.
Goodbye, Alice
DAY 87
Scalea Layover Day
Scalea is a popular summer resort area for Italians. Tens of thousands of vacationers come to enjoy the sun and the sea. Our hotel was one of the big ones and right on the beach but it was too cold for fun at the beach. There was an old town that looked intriguing but I was struggling with a cold and not feeling up to sightseeing. I did walk to the post office to mail a package home. Many other riders were doing the same thing, completely overwhelming the system which is archaic at best. The average wait in line was an hour and a half. Papers had to be prepared, stamps stuck on using a brush and a pot of glue, then the stamps had to be hand cancelled and so on. It surprised me that a country that is as modern and fast paced as Italy could have such an inefficient postal system. I hope my package makes it.
It had been quite a walk to the post office and then with the long wait I was running out of time. I had a little list I needed to accomplish before all the shops closed at 1:00, not to open again until 4:00 or later, much like in Saudia Arabia but I wasnít very successful. In the farmacia (farmacheeah) I was able to get Ibuprofen but not sunscreen or hand lotion. They werenít available in the profumeria either. Maybe Iíll find them in a food store. I bought a banana from a fruit stand and a cappuchino and sweet cake in a gelateria. If you ask for coffee you get about a thimbleful in a tiny cup.
That was the end of my exploration of Scalea. Some people went for bike rides, some cleaned their bikes, some went to the local bike shops. I ignored my bike, spending my day on e-mail, laundry and blowing my nose. When I went to bed I knew I would have to sag the next day.
People have devised a variety of ways to make this trip enjoyable for themselves. One group of 10 riders felt they needed an extra layover day, so they traveled by train to Scalea from Lido di Metaponto and although they had to change trains 5 times to do it they still had fun and enjoyed an extra day of rest in Scalea. One couple, Anne and Walter, have taken the train from Scalea to Pompeii in order to gain 4 days of rest and have an opportunity to get well. Many people have rented cars or vans with a partner or a small group and take turns driving so that they can have more rest days and do more sightseeing. These people sometimes follow the same route as the riders and take their meals with us, and other times they go off route and follow their own itinerary. All these special activities create extra expenses and are out of the question for some riders. Other riders are happy enough with the Odyssey as it is and are content to do the set itinerary. I fall into the last group.
Goodbye, Alice
DAY 88
Scalea to Marina di Camerota (Palinuro)
Today I sagged due to my sore throat, cold, and painful ribs and I missed a gorgeous ride along the coast. In the sag vehicle with me was Jim Higbee and a nicer fellow there never was. He is letting an injured knee heal. He hates sagging as much as I and is impatient to ride again. But todayís sag was different and even fun for awhile. We donít know why but Jim and I were told to get into a staff car rather than the regular sag wagon. The volunteers driving were two of the young massage therapists, Kim and Rachelle. They were upbeat and happy and having fun. They stopped a couple of times to take pictures and pick flowers and even waited while I bought strawberries at a fruit stand. This was sagging with a difference. But it came to an end, we were put out at Checkpoint which was just a wide spot in the road. Luck was with us though because it was a warm day and there was a rock wall to sit on while we waited. We could chat with the riders as they came in and we took a few pictures. To our great delight we were picked up by the sag wagon earlier than is usual and taken to camp.
We are staying at Campeggio Romano which is on the beach. We have pitched our tents in a grove of olive trees where birds are cheerfully singing. Under our tents and feet is a beautiful carpet of grass and little white daisies. There is a lot of laughter in the air as everyone gets settled. The day was just right, only 81 kilometers, very do-able with a nice mix of up and down hills, spectacular scenery, good weather, and several picturesque villages enroute where riders could stop for pizza, gelato, and caffe. It was a perfect cycling day.
Dinner will be served in 3 different restaurants in town which is about a kilometerís walk away along the beach. I signed the list for Tratteria Valentone, the closest one. It is time to go.
Ciao! Alice
---
Greece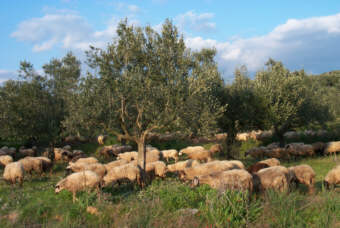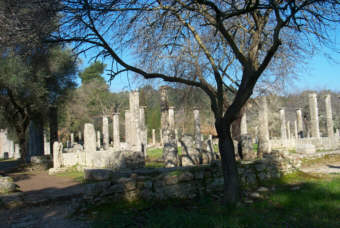 ---

South Africa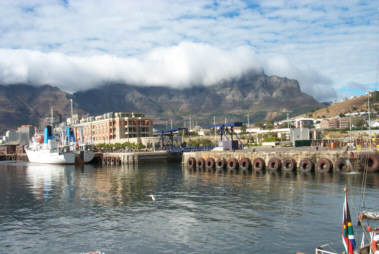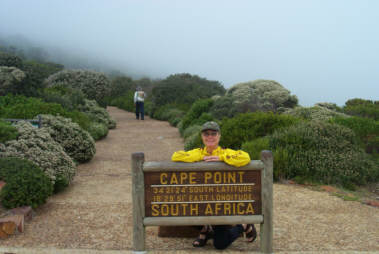 Cape Town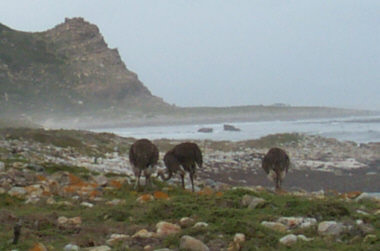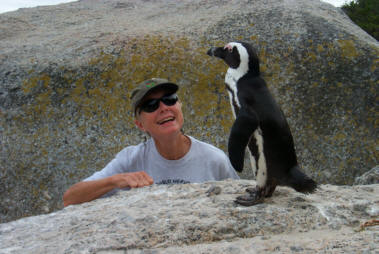 Cape Point - Ostriches are the grazing in the picture on the left
---
Previous Page (Page 27) Next Page (Page 29)