Page 46
USA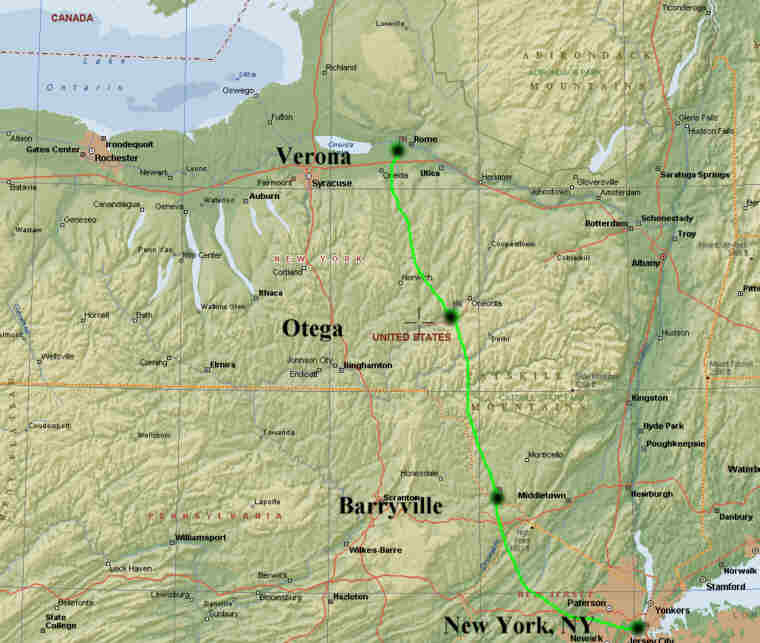 ---
DAYS 144-145
New York City Layover Days
Now we are having fun! There is just too much to do! Highest on my priority list was a trip to see the Statue of Liberty and Ellis Island. The ferry ride to Liberty Island is fast but the lines once you are there are long and slow. We didnít climb the stairs to the top, that would have taken too much time, but we did take the elevator to the top of the pedestal for the view (which was poor due to rainy weather) and we briefly visited the museum there. We should have made an earlier start, because by the time we got back on the ferry we were out of time to visit Ellis Island. That was a disappointment for me but I have read about it and I did see the island from the ferry. I read something that surprised and disappointed me. During the great influx of immigrants they all had to stop at Ellis Island to be inspected by a doctor and questioned by officials. People who did not pass the medical exam were sent back to Europe. Children were made to walk so that the doctor could check for limps, for example. If a child did not pass the medical exam he would be sent back to Europe while his parents and siblings stayed in America. The doctors wrote in white chalk on the coats of the people any problems they found. An X was the most dreaded mark, it meant you were mentally impaired.
My biggest disappointment in a long time was the Broadway show that I saw, Wild Party. Although some of the actors clearly had great talent, and Eartha Kitt was in the play, I hated it. Unfortunately there was no intermission so I could not leave. When it was over I found that the people I was with, Al, Sandy and Mark didnít like it either. I felt it was a complete waste of time and money and what a shame too with so many good shows we could have seen. Since it was set in the 1920ís I had expected Roaring Twenties music and dancing. Way wrong! Next time I will choose a show that I know is good.
This hotel is in an excellent location but it has problems. It is old and decrepit, painted garish colors which are chipping off, the plumbing is on the outside of the walls and ceilings, and light switch boxes on cables protrude out of the walls. The key must be turned the wrong way to unlock the door which then must be kicked or bumped hard with a by now bruised hip to get it to open. The cord on the ceiling light bulb must be pulled 3 times to have an effect. When I stepped with bare feet onto the bathroom floor the ceramic tiles stuck to my feet. I had to peel them off and put them back into place. The sink has two faucets but only the cold water works. In such a place things are bound to go wrong and they have. The first mishap was that I was trapped in the elevator, which stopped between floors. The door opened but there was no place to go. After pushing various buttons it got underway again and stopped properly. I escaped and now I always take the stairs. The second mishap found me trapped in the bathroom. The doorknob turned but the bolt did not move back out of the door frame. I tried over and over, and finally giving up, I yelled for help and knocked on the door. There was no response, my knuckles hurt and I was getting hoarse. Next I opened the window and yelled at passersby on the street below but no one heard me. Finally someone called, ĎWhere are you?í I couldnít see anyone so I knew it had to be someone in the hostel. In just minutes he was there and I was rescued. My hero was our very own mechanic, Merlyn. The third mishap occurred while I was out of the building. The sprinklers came on the 3rd floor, my floor, because of a fire in the kitchen. Luckily the sprinklers are only in the halls and not in the rooms. My stuff was okay but the water trickled through the ceilings and floors to the first floor level, soaking everything in its path including the reception desk.
The sun was shining so I left my work and went for a ride around Central Park. Central Park is huge, green and hilly. There are acres of grass, hundreds of trees, enormous boulders, and many paths and ponds. There are ball fields and playgrounds. People are walking, running, skateboarding, fishing, eating, and feeding the ducks and geese which is not allowed. It is a lovely place to be on a sunny afternoon and I enjoyed riding my bike on a bike lane around the perimeter of the park. Good use was made of those lanes, walkers, runners, rollerbladers and cyclists were all enjoying their exercise and managing to maneuver around each other.
Too soon our two days in NYC were over, but I had seen the Statue of Liberty, Times Square and Central Park and found out that it is not a scary city after all.
Goodbye, Alice
DAYS 146-148
New York City to Barryville to Otego to Verona
Whooee! We have had three very hard days of riding in upper New York State but I have not been writing updates because my Pocketmail device refused to work back in New York City. I thought it was toast but gave it another chance tonight and blow me down, it worked so I will write a brief summary and hope it will work one more time. I hope to get a new device in Quebec City now that this one is unreliable.
The web site will be on hold for the first two weeks of June when my brother-in-law, Todd, who does the web site, goes to Mexico as part of a surgical team. But weíll be back! Donít forget about us.
New York state is so darn hilly! We have been riding in the Catskills on all the little back roads that were built before bulldozers. The first day was 101 miles, the second was 90 and the third was 72, the only day I finished. We had strong headwinds and we climbed about 16,000 feet! The grades were incredibly steep but I made it up every one of them! I heard Racer Bob say that he had never gone so slowly in his life, he thought that at 3.5 mph which was all he could manage, he would fall over. I didnít tell him that I didnít fall at 2.8 mph and I may have been even slower that that, I was working too hard to look or care.
Racer Bob, Bob Beede, is really fast and there are other strange things about him too. In May he flew to California for a 100 mile race, the Tour of the Unknown Coast, and came in second! But thatís not strange. What is strange is his new 6 man tent which he can stand in to dress, and his double bed size air mattress. We donít have the locker gear trucks now but when we use them again in France we all want to see him squeeze his new tent and air mattress into his locker. The second thing that is a little strange is that he also brought his guitar back with him. A guitar! He carries nothing on his bike in order to be as fast as possible, but he had a rack put on the bike so that he can carry the guitar if necessary. I am sitting in the laundry room now of a KOA campground and Racer Bob is playing his guitar and singing. I have to say that this is my best laundry experience yet!
Today we awoke in pea soup fog, our tents dripping wet, but we climbed out of it and had a mostly sunny day which was very unusual for us. The New York countryside is very beautiful, extremely hilly, and lushly green. The trees are mostly deciduous and the farms are dairy farms. I am amazed at how well kept the barns and other farm buildings are. Most are painted red. The homes in the little villages are immaculately kept, with beautiful gardens. Many people are flying the American flag which looks so good. Jeff, one of the volunteers who is a driver, as he drove through one of those villages said, ĎLook at this. This is America.í Itís clear that these upstate New Yorkers are proud of their homes and property. The paint stores here must do a good business. Now it is late and I am very tired. We are all walking like we are 100 years old, so stiff and sore are we from all the miles and climbing. Tomorrow we ride again, 103 miles, to Canada.
To all my friends who have written and I havenít yet replied, donít give up on me, I really am trying to get to it. I love hearing from you. To Elaine who sent me $50, thank you! I will use it to buy telephone cards overseas for sending these pocketmail messages. To Thuy who fixed a wonderful goodie bag for me in Washington D.C., thank you very much! The toasted pecans and dried cherries are wonderful. To Jan who read that I lost my red nightgown and wanted me to have something pretty, thank you so much for the beautiful red nightgown. To my friends from Saudi Arabia, Jim and Joyce Fuqua, thank you for the check you sent to help with communication costs. Thank you all you thoughtful people.
Now it is late, it is dark, how will I find my tent?
Goodbye, Alice
---

Gibraltar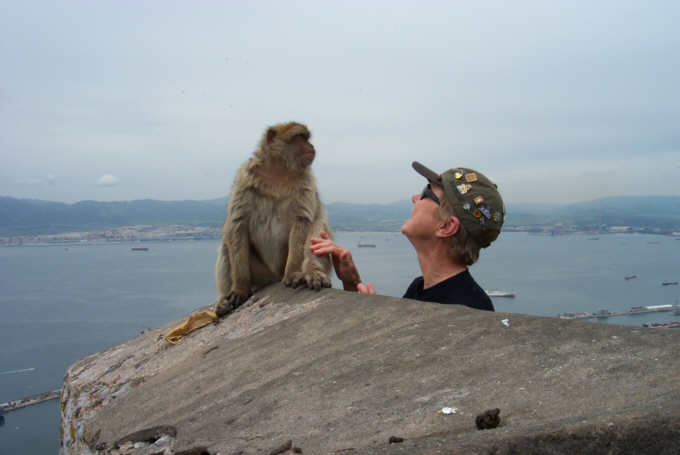 ---

Odyssey Riders and Staff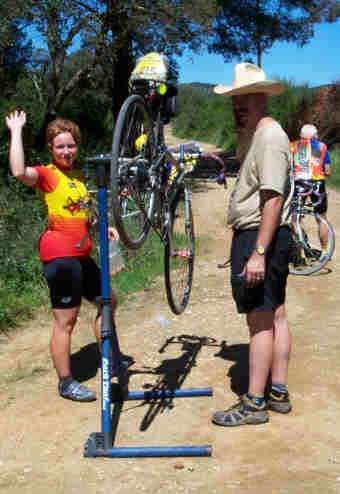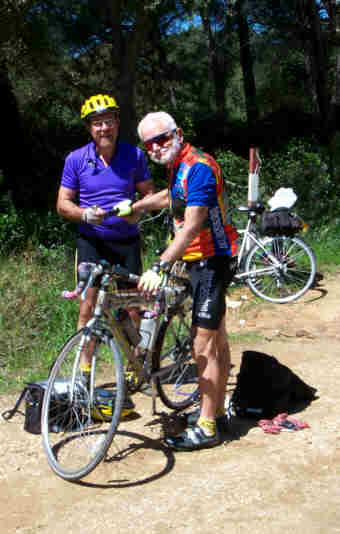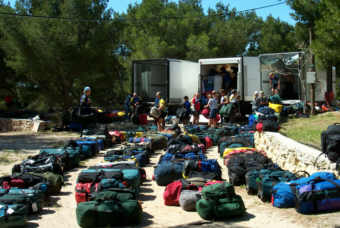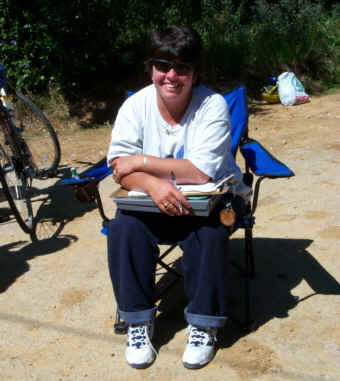 ---
Today's Music
---
Previous Page (Page 45) Next Page (Page 47)