Page 47
USA
to Canada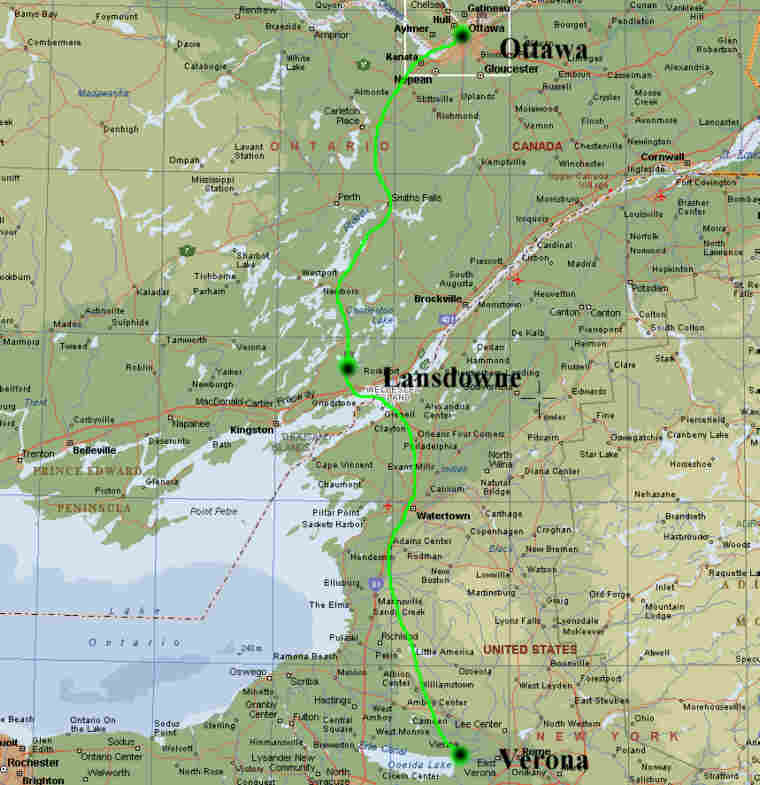 ***Link to a Seattle Time's article on the Odyssey***
---
DAYS 149 to 150
Verona, NY to Ivy Lea (Lansdowne), Ontario, Canada and Lansdowne to Ottawa
Rome, Vienna, Florence, London, Paris, where are we! These are just a few of the places we've been in the last two days of cycling, more than 200 miles in all. We had two 100+ miles of cycling days back to back, hard on the heels of three very tough hilly, long, windy days. We are whacked! But I finished (rode in) and am glad of that. I was in the saddle for about 9 hours on each of the last two days. Try that sometime. Sit on a bike seat for 9 hours. Ouch!
We are all thrilled that Lillian was able to finish Day 150, the first time she ever rode a century (100 miles). Lillian is quite the character, one of those who says what she thinks but manages to make it sound funny so it doesn't sound like she is whining. Adapting to and sticking with this trip has been very challenging for her. She's been ready to quit several times but we've succeeded in talking her into hanging in there. Now at last she appears to be enjoying herself most of the time. Lillian is deaf, her hearing destroyed as an infant in London during World War II. When very young she was thought to be stupid because she didn't learn to talk but finally the deafness was discovered. She can talk now and can hear what you say if she can see your face. But she doesn't hear other things, and to be cycling without your sense of hearing to warn you about what is behind, well that would be terrifying. We think she is very brave to be out there on a bike.
Only three miles out of camp on Day 149 we crossed the Erie Canal. Imagine that! It was special for everyone just because it is one of those things you've known about all your life. It is wide, wider than any of us had imagined and very straight. There was a path alongside it which we wanted to cycle, but it wasn't going our way. I've been wondering how the canal could be so straight. It was hand dug, wasn't it? My experience with digging, even a little trench for planting in the garden for example, is that it is impossible to get it straight.
To reach Ivy Lea in Canada we had to cross two bridges, the Thousand Islands Bridge and the Hill Island Bridge. Here is what the DRG (daily route guide) said about crossing the Thousand Island Bridge.
93.1 RIGHT to access sidewalk over the Thousand Islands Bridge. Should probably walk your bikes across.
94.1 CAUTION sidewalk ends in stairs. Descend stairs at end of walkway, CROSS grass as you walk back toward the water, hop over guardrail, and go LEFT onto Park St. under bridge.'
Hop over the guardrail! Can bikes hop? Fortunately we were spared this bit of acrobatics because the sidewalk on the bridge was closed for repairs. Instead we stopped in a parking lot before the bridge and when 3 or 4 people had gathered we were transported to the other side in the back of a pickup truck. On ordinary bridges we just cycle across, even on extraordinary bridges if there is a bike lane. But on these very long, narrow bridges with heavy fast traffic and no bike lane we have to use the sidewalk. Only Trueheart, who flies on his bike and can cycle at the same speed as the cars can get away with cycling across such bridge.
Only about 4 miles past the Thousand Islands Bridge which is on the U.S. side of the border, we passed through Canadian Customs and entered Hill Island where we encountered another extraordinary bridge. This one we did have to walk and that was not easy but the view was spectacular. I gaped at the islands and boats far below in the river, its water sparkling in the sun. The sidewalk was very narrow, so narrow that it took concentration to keep from bashing into the railing on your left side and your own bike pedal on the right side. It was just the width of our handlebars and where there were corners it was even more difficult to pass. Some people who are wider than I am had a very tough time of it because they couldn't fit beside their bikes. But the view was worth the struggle.
I took a few pictures but couldn't tarry because other riders were behind me. One rider who was in front of me, Bryan, RODE his bike on that narrow sidewalk. He has an extraordinary sense of balance. At stoplights he can wait for the light to change without ever putting a foot on the ground. This area of Ontario East is going on my list of places to revisit. The Thousand Island area is simply gorgeous. The islands are wooded and all over the place in the St. Lawrence River as it empties into Lake Ontario. I have never seen a prettier place! There's lots to do too, water sports, hiking, cycling, and exploring the history of the region. I will come back in the fall when the deciduous trees are changing color.
Day 150 was another long cycling day with a relentless headwind. The route was largely flat and very green. The scenery was pretty, it was dairy farming area. Dairy farms look better than they smell and it can take a long time to get past one on a bicycle. The farmers scoop up that smelly stuff and take it to their fields where they spread it. Peuyee!!! I considered giving up eating dairy products while suffering through that odoriferous countryside. But to counterbalance the dairy farms there are the lilacs. Everyone has planted lilacs and in some areas they have planted themselves. They grow to be enormous bushes, as big as a house. They are in bloom now and their fragrance wafts through the air. It is a welcome relief after the dairy farms.
The day would have been really long and boring with nothing to see but cows and lilacs but for CHECKPOINT which was in Merrickville. There I enjoyed a Sugar Bush sundae in the local ice cream shop and had a look at the Rideau Canal. First the sundae. This was SO good and something you could enjoy at home. This is a maple syrup area, the maple trees must be known a sugar bushes. The sundae was made of two scoops of maple walnut ice cream doused with real maple syrup and topped with whipped cream, chopped walnuts and a cherry. Yummy!
The Rideau Canal is a chain of beautiful lakes, rivers and canal cuts 202 km. long, reaching from Kingston on Lake Ontario to Ottawa. It was once used for military and commercial purposes but now is maintained for pleasure boats. The scenery changes along its route and it passes through shallow marshes alive with birds and wildlife. And mosquitoes too I dare say. Never mind, a boat trip up the canal is going on my list of fun things to do. That's the trouble with this bike trip. We are tantalized by all these fun things to do but there is no time to do them.
The ride into the city of Ottawa was relatively easy and most motorists were courteous. For part of the way into the city there was no shoulder and here it became important to hold your line. If the vehicle behind distracted or scared you, you could go off the edge of the pavement into the gravel and take a fall. That happened to our Doctor Sharon, one of the sweetest, kindest people on this trip. She bruised and skinned her elbow but otherwise is fine.
Having fun! Wish you were here!
Goodbye, Alice
---
Spain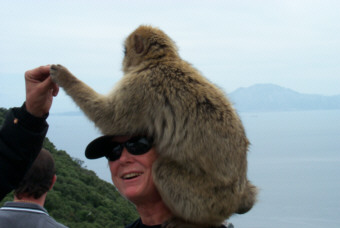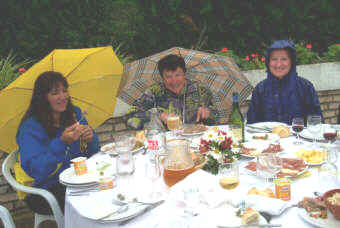 ---

Odyssey Riders and Staff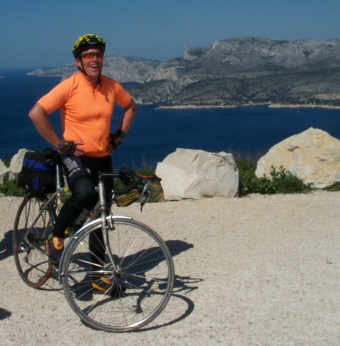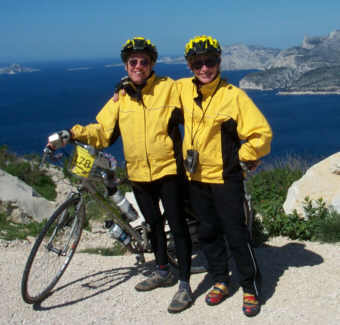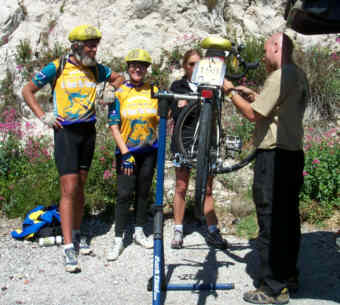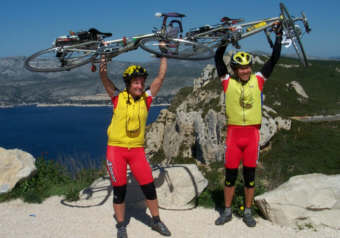 ---
Today's Music
---
Previous Page (Page 46) Next Page (Page 48)