Page 49
Canada

---
DAY 153
Chute-a-Blondeau (Hawkesbury) to Montreal
This was one of our shortest days, 60 miles. It was more interesting than some rides because of a rough section of gravel road that was a bit dicey and because we crossed the Ottawa River on a ferry. It was a tiny ferry and a short ride, 5 or 6 minutes maybe, but it was a welcome break to pedaling. The ferry ride took us out of the Province of Ontario and into the Province of Quebec. Later we had a couple of bridges and after crossing the Riviere Prairies Bridge we were in Montreal. Only 10 miles later we reached McGill University where we were to stay. It was an easy ride except for the steep hills in Montreal. McGill University is perched high on the slopes of a hill, Mount Royal I think. On arrival we received a room assignment, we had single rooms, a great luxury on this trip. I celebrated by promptly taking a nap! I awoke in time to get a shower and go to dinner. People were making plans to go to the movies or sightseeing but I only wanted to go to bed. After draping my wet tent over my bike to dry, that's just what I did.
Goodbye, Alice
DAY 154
Montreal Layover Day
Jacque had taken the Greyline City Tour in Ottawa and praised it so highly that many of us decided to do the same thing in Montreal. We rode around for 3 hours in a bright red bus with a jovial driver/guide. We went first to the old town, which does not look old and quaint so was a disappointment. There we toured the Notre-Dame Basilica and heard its history. I thought I had seen all there was to see in Cathedrals but this one was definitely different. It was decorated with bright colors and gold leaf, there were gold stars on the ceiling, and the walls behind and beside the altar were aglow with blue lights. Our guide explained that originally there had been a more traditional stained glass wall behind the altar but the people complained that too much sunlight came through the glass so it was replaced with a solid blue wall, blue lights and a huge carved altarpiece. The square in front of the Basilica is the Place D'Arms, a statute of the founder of Montreal, Paul de Chomedey stands there.
We drove to see the Olympic Stadium, built for the 1976 Summer Olympic Games, which is topped with the tallest inclined tower in the world, the leaning tower of Montreal. Next to it is the Velodrome, which was built for bicycle racing and resembles a bicycle helmet. We drove past Mount Royal Park, which has something to offer all year around. In the summer it is used for walking, cycling, inline skating, and water fun including pedal boats on the lake. In the winter the lake freezes and is used for ice-skating. People cross-country ski where they had cycled in the summer.
We drove to the top of Mount Royal for the view of Montreal but it was limited because of the rainy weather. We could see enough to realize that Montreal is a big city. In the afternoon I walked to the old town with Biker Al. We met her good friend Elizabeth who had driven from Quebec to see her. Elizabeth lives in Port Angeles, my hometown, which is why Al invited me to go. Traveling with her was Sandy. The four of us enjoyed a delicious Japanese dinner in Chinatown. Both Elizabeth and Sandy have traveled extensively and unlike me, remember everything they have done and seen. That is a wonderful attribute. I think to go to Montreal for a special event like the Winter Festival might be worthwhile, but I will not plan to return just to get to see more of the city.
Goodbye, Alice
DAY 155
Montreal to Nicolet
We cycled out of Montreal in bright sunshine but it was cold in the shadows of the city and a cold wind was blowing. It was Saturday morning so the traffic was light and the route was easy to follow. The main problem was the many treacherous potholes. Trying to avoid them and read the DRG at the same time was impossible. Montreal is an island city in the middle of the St. Lawrence River. To leave we rode over the Pont Jacques-Cartier Bridge which was high and in two parts. Thanks to the clear air and bright sunshine the views of the city and of the St. Lawerence River were excellent. From my side of the bridge I could see the biosphere, a huge glass sphere built by the United States for a World's Fair. It stands near the edge of the St. Lawrence River and looks very fragile and beautiful. Being made entirely of glass you can see right through it.
The rest of the day was flat, mostly along the St. Lawrence and for much of the way with a tailwind. It was a piece of cake! Everyone is saying what a fun ride it was, but to tell the truth I thought it was rather boring. All there was to do was to gawk at the beautiful mansions and homes that have been built on the banks of the river. There were a few dairy farms and several industrial sites. The people were using their Saturday morning to do the usual spring things, mowing the lawn, washing the car, planting flowers and having garage sales.
I think Susan W. may have the rubber chicken tomorrow. She rode the entire distance today, more than 87 miles, and much more than she has ridden to date, but she finished last so she will probably be awarded the rubber chicken. She had started the Odyssey with the rest of us in the Rose Bowl Parade but had to leave after only two days due to a back injury. She rejoined us in Washington, D.C. where she was my roommate. She is a very personable young person but carrying a lot of extra weight, which makes cycling difficult for her, and hills impossible. A great cheer went up when she rode in tonight.
We are also cheering for Priscilla, a very special young woman with a great deal of courage. In South Africa she was found to have breast cancer so she left the trip to return home where she had surgery and chemotherapy, then rejoined us in Washington, D.C. for the wet and grueling ride through Pennsylvania and hilly New York. She was able to finish most days and was always bright and cheerful, an inspiration for us all. But in Montreal she had to leave to go home for her last chemotherapy session and to begin radiation treatments. She plans to rejoin us when they are completed. We wish her the best.
The sun has gone down and although it is still light it is too cold to sit at a picnic table. The only other place to be is in my tent!
Goodnight! Alice
DAY 156
Nicolet to Quebec
I had tried too hard yesterday, cycling in the largest chain ring because I could go a little faster that way and I wanted to get to camp before the rain started. I did and even had my tent up in time, but I injured my knees. They hurt a little then but had sharp pains in them by morning, so I decided to give them a rest. I would sag to Quebec. I knew better than to grind away in the large chain ring but I was hoping to get away with it. In the vehicle with me were Bruce who has a cold and Linda who has broken bones. She had gone home from Washington, D.C. to visit her family. While at home she cycled in a benefit ride with a friend, only to have the bad luck to fall, breaking her collarbone and a couple of ribs. Yes, it was raining, but this time the accident was caused by an enormous dog that came barreling toward her and crashed into her front wheel - knocking her down.
The volunteers driving were Shirley and Stan who had lived in Alaska but since taking early retirement have lived in their fifth wheel mobile home. They were already contemplating a trip abroad when they read about an opportunity to travel with Odyssey as volunteers. So here they are and we are the lucky ones. They are both always cheerful and supportive, they work like slaves, and Stan can fix or do anything. Among her other talents, Shirley can cut hair and is often seen doing that on a layover day. Stan was a nurse in the military so everyone goes to him for medical advice.
The van ride to Quebec was fast, easy, and comfortable, very unlike the bicycle. It was sunny but cold and riders were complaining of cold feet. The ride was entirely along the St. Lawrence and therefore flat. The countryside looked much the same as the day before, largely farm lands. There are homes built all along the river, some are modest, others are big and expensive, all look well cared for. All have enormous lawns. There must be more riding lawn mowers per capita here and in New York state than anywhere. We all think it rather silly to have acres of lawn but I haven't stopped to ask any of the homeowners why they do it.
We are staying at the Laval University in Quebec where someone has been putting arsenic into the coffee machines, making some students ill and landing them in the hospital. We'll be here for two nights, then fly to Paris. My knees will have 2 more days of rest.
Goodbye, Alice
DAY 157
Quebec Layover Day
We are staying in a dorm at Laval University, a large school with about 30,000 students. We are crammed two to a room, bikes and all, into dorm rooms intended for one. A folding bed on wheels has been rolled into each room for the second person. Because the rooms are small most of us had left our bikes in the hall. I thought that looked like a bad idea because they created quite an obstacle course. Sure enough, around 11 p.m. Karen Ann of TK&A came through the halls knocking on doors and shouting that the bikes had to be moved into the rooms immediately. Most people had been sound asleep but climbed out of bed and groggily found, unlocked, and moved their bikes. Amazingly there was minimal grumbling. Maybe everyone else had also realized that leaving them in the halls really wasn't a good idea.
One very nice thing about this University is the dining facilities. They are in a large building next door to our dorm. Many other conveniences are in that building as well including ATM machines, a convenience store, a bookstore, and a beauty salon/shop. The dining area is like a food court. Students have a choice of several restaurants including Italian, Chinese and American. There are microwaves available for rewarming food should it be necessary.
Another special feature of this University is that every building on campus can be reached by miles of underground passageways, making it unnecessary for the students to go outside in the dreadfully cold winter weather. I spent nearly the entire layover day wandering around in the old town with friends, Joan S., Joan I., Gudrun, Inge, and Maryke. It is quite picturesque and is a UNESCO designated heritage site. Because of that federal matching monies are available to those who restore the outside of their buildings to their 17th century appearance. No other kind of redo is allowed and even the color of the paint used has to be approved. I think it is a good idea, at least from my, a tourist's, point of view. As a result of this and a booming tourist trade everything is spiffy and attractive. There are musicians playing along the boardwalk and baskets of blooming flowers everywhere. The boardwalk is high on a cliff overlooking the St. Lawrence River and continues up, up, up 310 steps to the highest level of the fort, which is still used and occupied by the military. Cannons are still in place. We had a bright and sunny day, which always enhances a day on the town. After lunch we took a 2.5-hour guided walking tour of the old city. Our guide, Sebastian, is studying history at the university and seemed to be a fountain of knowledge. At one point we stopped for lemonade in a home restored to 17th century appearance both inside and out and furnished entirely with antiques except for the television, which looked very out of place.
We had lunch at an outdoor table with a red checked tablecloth in the warm sunshine. I ordered two exquisite appetizers, Parmesan cheese fondue and asparagus with citrus fruits. To top off the perfect meal, I had a cappuccino and shared a piece of black forest cake with Joan S. Luckily for me our afternoon tour was a walking tour for I would have been sound asleep on a bus.
In Spain, for example, I noticed all the roofs were red ceramic tiles. In each country there seems to be a characteristic roof type. Here in Quebec, it is sheets of zinc, which are silver colored when new. When they eventually get rusty they are refinished and become silver again. Two other colors are used, very bright red and very bright blue. I find the red especially attractive as the houses are often built of grey stone, which with a silver roof is just too much greyness for me, but is a look which they like here.
Fences are sometimes built around the edges of the roof to hold the snow on the roof rather than to have it fall on the heads of people below. Snow is an issue here, last winter there were 12 feet of it. The pitch of a roof is always very steep to encourage the snow to slide off which makes me wonder why the fences are used too. Perhaps they are in place only over sidewalks and entrance ways. I didn't notice.
A very distressing event has occurred which has us all upset. Tim of TK&A has fired Stan, one of the volunteers. Stan had just returned a few days ago after taking some much needed time to recover from extreme overwork. Stan is one of those rare people who can do and fix anything. He is always upbeat and encouraging and along with his wife, Shirley, were the hardest working people you could find anywhere, yet no matter what the demands placed on them they continued to be positive and supportive of us, the riders. We are all saddened and enraged by this yet there is nothing we can do. There is no one to take their places so in the end their loss will negatively affect us all. What a bummer.
Goodbye, Alice
---
Canada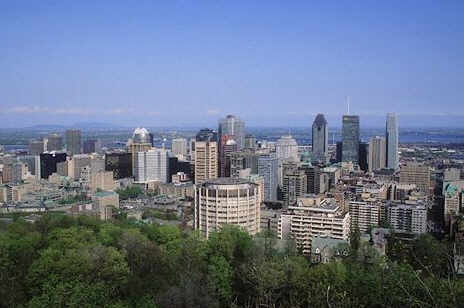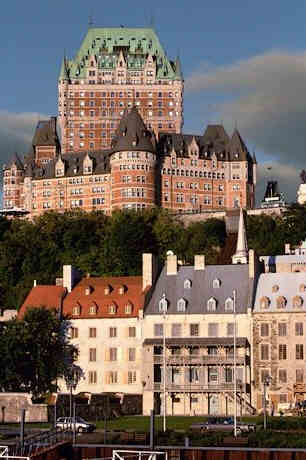 Montréal in Summer
The world's second largest French-speaking city (after Paris), Montréal is Canada's most important port on the Saint Lawrence Seaway and a major cultural and business center.
Quebec City
Château Frontenac, a hotel, is Québec's most famous landmark. It was built in the late 19th century and forms part of the walled historic center of the city, which was designated a World Heritage Site in 1985. Château Frontenac is the only remaining walled city in North America.
---

Odyssey Riders and Staff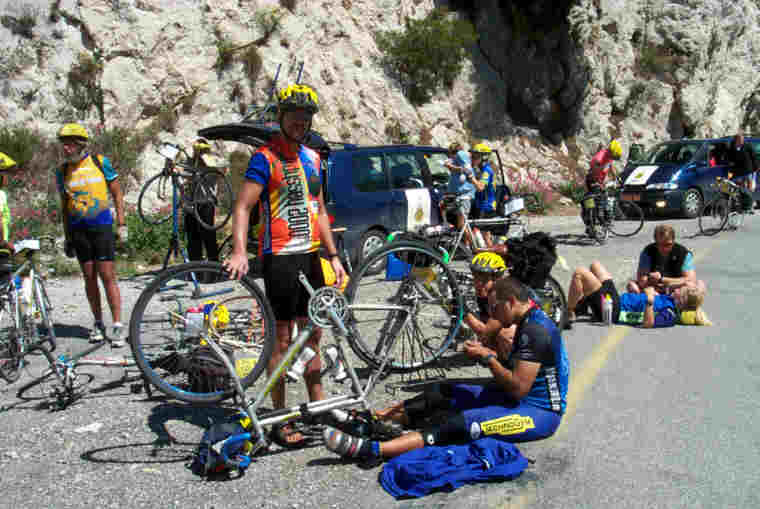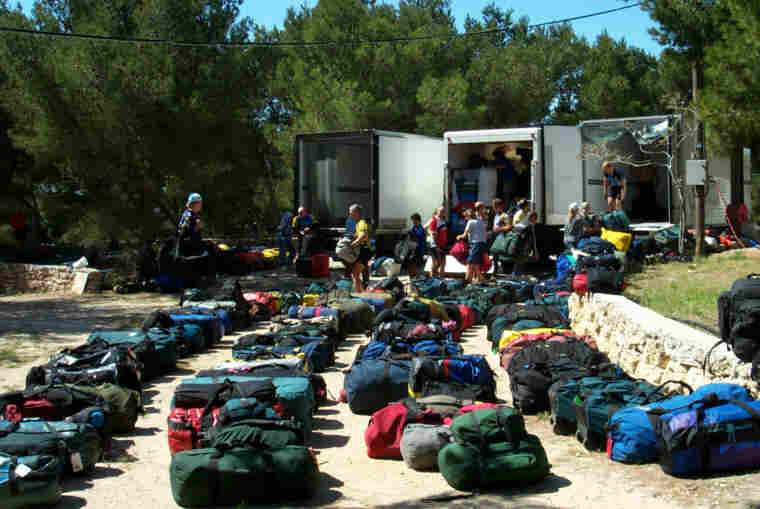 ---
Today's Music
---
Previous Page (Page 48) Next Page (Page 50)