Page 50
France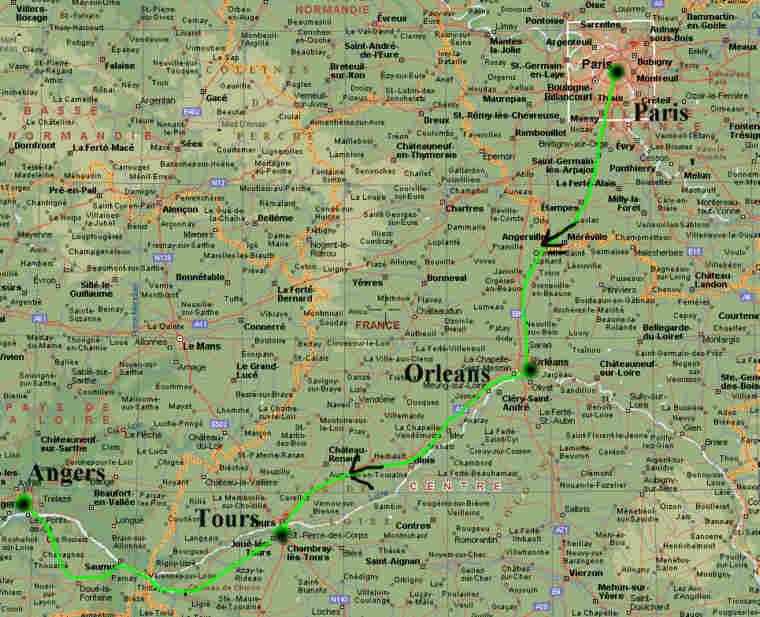 ---
DAYS 158-159
Paris, France
Just when many of us were giving a sigh of relief that at last the chaos that was Odyssey had settled, just when we felt we were really coming together as a cohesive group, a family really, a bomb was dropped. Stan and Shirley, two wonderful volunteers that were loved and appreciated by everyone, were fired. So instead of being filled with anticipation and joy at the thought of flying to Paris today, all anyone could think or talk about was what appears to us to be an unreasonable act. We are upset, and one new volunteer, Diane, who had been with us only a week, quit and left the ride as a protest of the dismissal.
When we arrived at the airport in Quebec another surprise awaited us. One of the riders, Matt, was told he couldn't have a boarding pass until he talked to Tim of TK&A. That resulted in a confrontation with many riders gathering round, some at least to offer their support of Matt. I don't know what was said because I stayed out of it. Matt has been disenchanted with TK&A from the beginning and has verbalized his discontent. The last straw for Tim of TK&A though was when Matt bought and copyrighted (or whatever you do) a website which he named Odyssey2003. I haven't seen it but apparently he wrote, 'Tim, you owe me $35,000.' Whether people were in support of Matt or not, the general feeling seemed to be that he could have been required to speak to Tim before he had arrived at the airport. Whatever, in the end Matt was given a boarding pass and made the flight to Paris.
The flight was short, about 5 hours and totally uneventful, the Sky Service charter airline is very efficient. I watched both movies, Hurricane and Here on Earth, and then we were landing!
So here we are in Paris, sitting on a bus, waiting to go to the hotel. We've had to reset our watches to Paris time so it is suddenly 8 a.m. and we haven't been to bed yet. We are weary. We are supposed to cycle out of Paris tomorrow morning but many people will stay an extra day or more because just an afternoon in Paris is not enough. I will stay one day.
Once at Hotel Etap, we waited in a long, ragged, weary line outside for our room assignments. Luckily the weather was pleasant. They went about it alphabetically so luck was with me again, my roommates are the Bovees. It was really very good to be one of the first ones because soon all the available rooms were assigned and the remaining people had to wait for more rooms to be cleaned and made ready. Sandy and Mark changed clothes and went sightseeing. I took a shower and went to bed. I slept the entire afternoon.
Our room is a miracle of efficiency, a queen size bed occupying almost all of the floor space, a high bunk bed with a killer ladder over the head end of the bed. I am perched in my little nest now, I feel like a fly on the ceiling. The toilet and shower are in two separate plastic chambers in one corner of the room, the sink is in another corner. It would be a fine accommodation for a couple but for an odd mixture like we are there is no privacy. The price is right though, about $35, and it is clean and fairly close to a metro station.
I got up in time for dinner, which was several blocks away and went to the first sitting at 5:30. We were served the same old thing, salad, spaghetti, chicken and French fries. I should have kept a record of how many times we've had exactly that same menu. Dr. Sharon and I went for a short walk after dinner and I went to bed as soon my roommates returned.
Au Revoir, Alice
DAY 160
Paris to Jargeau (Orleans)
About 50 of us decided to spend this day in Paris. For the first time, TK&A made it easy for us to play hooky. It was a riding day of more than 100 miles, but recognizing that we had arrived one day later in Paris than originally planned, TK&A provided transportation for our bikes which we loaded on the truck early in the morning, suggested that we take the 6:04 p.m. train out of Paris, and arranged for a bus to carry us the last 19 miles to the campsite. The only drawbacks were the cost, $30 to TK&A and $20 for the train ticket, and that we would arrive too late to have dinner at camp.
I set out with a group of nine from the hotel to see Paris, but it wasn't long before I was one of a small group of 3, Elizabeth and Bill of Seattle were with me. A group of 3 is much more workable than a group of 9 which is too many to keep together. We did the city tour where the bus runs the same route all day, stopping at the same stops so that the passengers can get off and back on later. That was an easy way to go sightseeing and I saw all the familiar sights of Paris; The Cathedral of Notre Dame was just as beautiful but smaller than I remembered it and there seemed to be more gold statues on the bridges and buildings. I didn't get to do what I wanted to do which was to go to the top of the Eiffel Tower and have a ride on the ferris wheel. Before we knew it our day was over and it was time to find the train station. That was very easy to do, it was only two stops away on the subway. We bought train tickets for 91 franks, found the train, and boarded. The train left on time and was fast and comfortable. When we arrived the bus was waiting for us at the train station and whizzed us to camp in plenty of time for dinner. We had been told we couldn't eat there but we joined the end of the line anyway. There was plenty of food for everyone.
After dinner I had to hustle to get everything done before dark so that I'd be ready to ride in the morning. That included pitching my tent, resorting my stuff so that it would fit into my locker, and finding my bike and getting it ready for the road. My bike had been carried to camp on a truck. The handlebars had been turned and the pedals removed so that the bikes could be closely stacked. I was making good progress until I came to the bike. The rear fender had come loose and in order to fix it I had to take off the rear wheel. Every one hates to remove the rear wheel and for good reason. I fixed the fender and after a struggle got the wheel back in place but then discovered that the rear brakes no longer worked. It was too late for the mechanics so I had to leave that for the morning.
It was nearly dark when Tim of TK&A came to speak to Jacque. When she screamed I knew that there had been a tragedy in her family. 'Not my baby!' she wailed and as we were soon to learn, the worst had happened, her son, Eric, had been killed in an accident on the Denali highway in Alaska. Every parent there was stricken with anguish and grief at her pain and loss. I was amazed at Jacque's courage and fortitude. She was soon calm and talking about her son, by morning she had plans for her flight home and for the coming weeks. Her dignity reminded me of another Jackie in another tragedy decades ago.
Au Revoir, Alice
DAY 161 - 163
Jargeau (Orleans) to Montlouis-s-Loire (Tours), to Chalonnes-sur-Loire (Angers)
These three days have been similar with beautiful scenery, quaint villages, long miles and headwinds. We've ridden along the Loire River, an agricultural area. We've seen fields of corn, wheat, and sunflowers, vineyards, pig farms and big happy cows contentedly chewing their cuds. The farmhouses and barns, the homes and buildings in the villages are made of stone or sometimes brick, they are very substantial structures. Flowers are everywhere! It is so gorgeous! Gone are the huge lawns of Canada. These people have used that space to plant vegetable gardens and flowers. Potted flowering plants and hanging baskets decorate every windowsill, dooryard, light pole and bridge. It is stunning. We've passed many orchards too, the cherries are nearly ripe and the farmers have been creative in decorating their trees to scare away the birds. The cherry trees looked happy enough but I think the pears are in pain. They are in what I would describe as tortured orchards for the poor things have been tied to wire fences and made to grow horizontally along the fences. As I rode by I imagined the pear trees to be moaning, 'Oh my aching limbs!'
The food in this region has been a treat too. There have been a variety of vegetable salads which are a welcome change and delicious pates and roast meats. Twice we have been treated to a wine tasting party, at tonight's we even had champagne!
We've cycled past a dozen or more chateaus, Checkpoint was at the grandest of them all, the Chambord Chateau on Day 161. Some riders toured the palace but I didn't have time, slowpoke that I am. We started in sunshine that day but in the afternoon we rode in the rain and pitched our tents in the rain. It poured in the night but my tent leaked only a drop or two at two corners. It had been so sunny and warm the day before in Paris and so lovely in the morning that even after all the rain we've had that rain caught us by surprise.
Only 10 km. out of camp on Day 163 Biker Al took a bad fall and was taken to hospital. I wasn't there to see the accident but people who were said she was traveling at about 20 kph going downhill when she looked back to say something to Cheryl, the rider behind her. In that instant her front wheel hit the curb and she flew off her bike headfirst into a stone wall. Her helmet did its job, protecting her head, but she got a big goose egg on her forehead anyway, injured her neck, scraped her face and cut a knee. One of the riders at the scene was Charmaine who is a doctor so from the first instant Al had proper care. A French doctor came to her too and supervised the ambulance crew who used great care and skill in moving Al to the hospital. That was very fortunate because the x-rays show 3 cracked vertebrae in her neck. The prognosis is very good but she will have to stay in hospital a few days and then wear a neck brace for 2 or 3 months. She will be going stir crazy!
We are relieved that Al will heal and be fine, but her accident like each of the others, reminds us what an unforgiving vehicle a bicycle is. It has no mercy, one second of inattention and you are in trouble. And let's hear it for helmets! This accident would have been far worse if Al had not been wearing a helmet.
We ALWAYS wear our helmets. Do you?
Au Revoir, Alice
---
France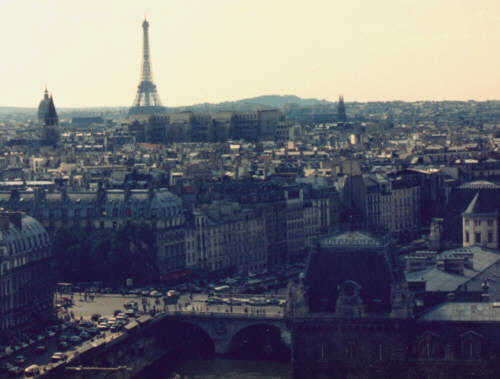 ---

Odyssey Riders and Staff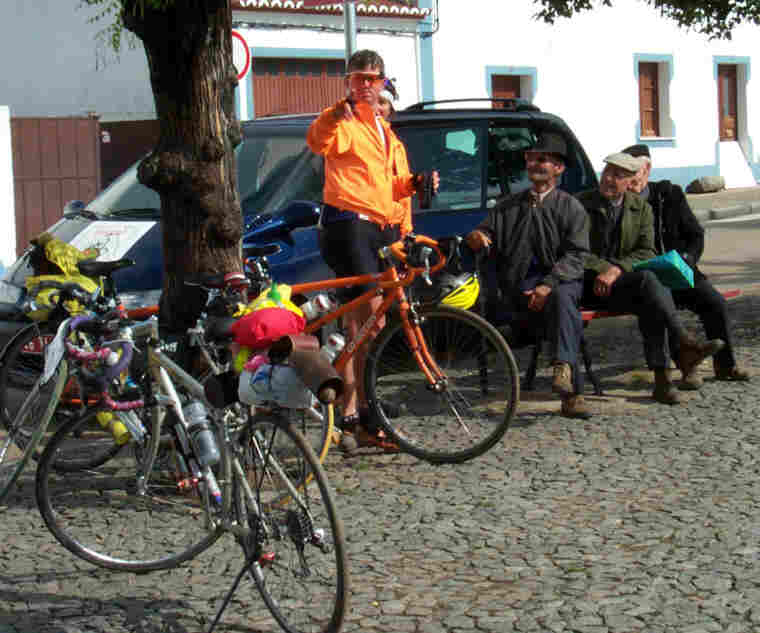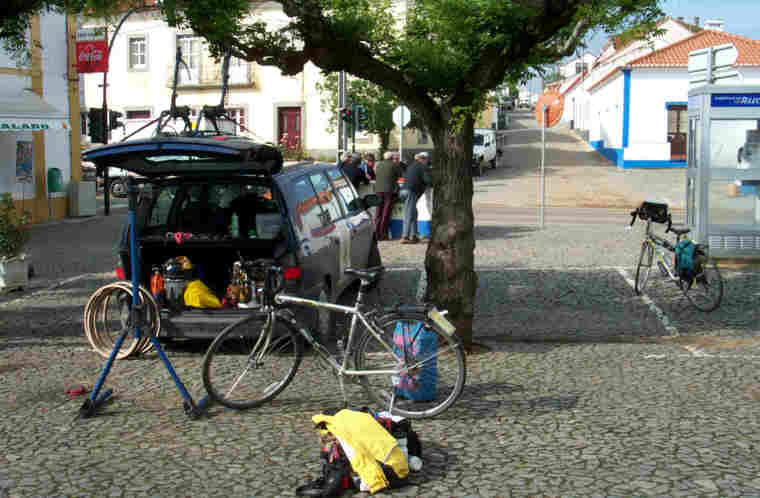 ---
Today's Music
---
Previous Page (Page 49) Next Page (Page 51)