Page 56
Scotland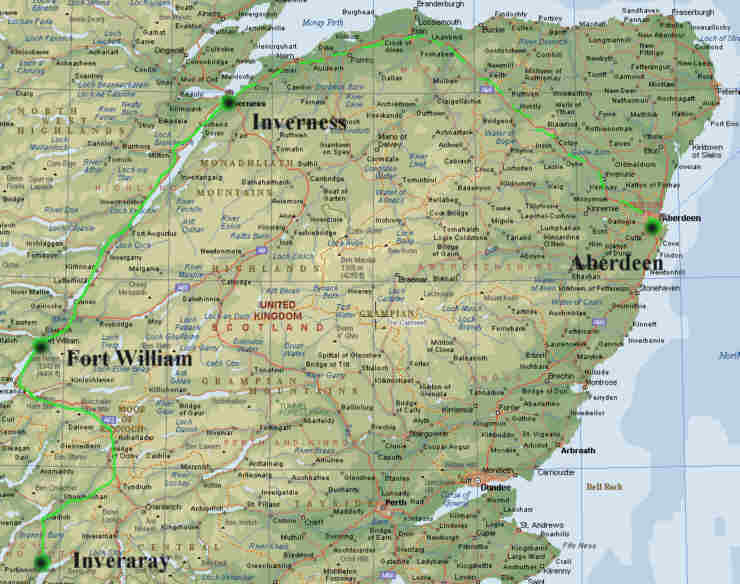 ---
DAY 189
Inveraray to Fort William
We rode the 2.5 miles back to Inveraray to pick up the route for the day. I had heard about some good shops in town from the other riders but of course it was way too early for them to be open. But I did get to see Trueheartís mother, Jan, who had come to Scotland to travel along with her cycling family of three, Ron, Trueheart and Julie, for the week. It must be lonely at home for Jan with everyone gone for a year.
I was feeling tired and somewhat glum, probably from too many miles and a poor nightís sleep, when I rounded a curve and came upon a small herd of Highland cattle. I think that they are the cutest cows in the world and was thrilled to find them there beside the road. They have long hair and forelocks so long and thick that their eyes cannot be seen. They also have horns which can be curved or straight. Some were busy eating the lower branches of trees but others seemed as fascinated with us as we were with them. They posed for one picture after another as every rider who came along wanted to have a photo taken with them. I was happy to oblige as photographer for I could have stayed there all day. When Katie came along she offered one a leftover pancake which he apparently liked as he ate it and looked for more. Later when I asked about the cattle I was told that they are raised for beef, but that only the wealthy farmers keep them now, maybe as a matter of pride or an indication of wealth, I donít know. They are certainly greatly outnumbered by more familiar cattle.
Cheered by my encounter with the Highland cattle, I rode with new energy through a remote countryside where there were no services for many miles, but just in time to shelter from the rain which had threatened all morning, I reached the Cruachan Filling Station. It was a small place and was soon crowded with Odyssey riders. Everyone bought a snack or two and procrastinated but eventually it became apparent that the rain wouldnít blow over any time soon. We had to put on our rain clothes and be on our way. We rode past a Sea Life Center where there was a rescue station for needy seals. I was interested in that and wanted to stop but of course I had to keep going if I wanted to avoid sagging.
Checkpoint was at 49 miles and there we entered the Scottish Highlands. The change in landscape was not dramatic, there were still some sheep and cattle to be seen but now there were also coniferous forests which had not been in the Lowlands. The forests looked similar to those in the Pacific Northwest where I grew up but there were no very big trees to be seen. There were tree farms and logging by clear cutting but logging may not be an important industry as I didnít see any log trucks on the road or any lumber mills either. There were wild blackberry vines along the roadside with blossoms just opening, and the most spectacular display of foxgloves I have seen anywhere. The rhododendrons are fading now but the big bushes with their lavender blossoms grow wild on the hillsides. Wild roses have been prolific alongside all the roads we have traveled in Scotland.
We rode alongside several lochs, (lakes) which all seemed to be huge but maybe that was because we were on bicycles, and finally reached our destination, Fort William, on Loch Linnhe. We were camping on the municipal field adjacent to the Nevis Leisure Center and the Fort William Shinty Social Club. I didnít get to see anything of Fort William except the campground and a Safeway store which was just across the street. It was a windy, wet afternoon. Everyone who could had found lodgings indoors. I would have too but there were no vacancies to be had by the time I arrived. I didnít want to pitch my tent in the rain so I decided to wait and hope for a break in the storm. Everyone was in the Leisure Club drinking beer at the bar and watching a tennis game at Wimbleton on TV. I asked the barman for a taste of Guiness and it was not to my liking so I asked for taste of a cream beer but that wasnít good either. I then bought a glass of the familiar, a lager, and took it with me to the room where our massage therapists were at work. I had a turn right away but didnít feel much better for either the massage or the beer. The rain had let up by then though so I dashed about putting my tent up and just in the nick of time too because it soon started raining again. The field was not mushy underfoot but the grass which had already been short had just been cut and the clippings left on the field. Those wet grass clippings stuck in clumps to the bottoms and sides of our shoes and got into our tents. Wherever we walked inside the Leisure Center great clumps of grass fell off our shoes. We left trails of grass in the bathrooms and shower rooms, in the common area and in the dining room.
After dinner I walked across the street to Safeway for batteries and fruit for the next day. The products in this British Safeway were quite different than those in the Safewayís of America. I was surprised, maybe because in Dhahran we had gone to the Safeway there specifically because we had wanted American products.
Glad to be in my cozy tent at last I settled down for a good nightís sleep, but alas, that was not to be. It was Friday night and disco night at the Shinty Social Club on the field where we were camped. They had the windows and doors open, sharing the music with everyone. This continued until the disco finally closed at 2:30 a.m. My ear plugs were woefully ineffective.
Goodbye, Alice
DAY 190
Fort William to Inverness
Having spent half the night listening to disco music, 5:00 a.m. came way too early. I felt like I had just gone to sleep. But we had to ride and today we might see the Loch Ness monster so with that improbable bit of nonsense in my head I was able to get myself moving. It was overcast, misty and raining but Amanda, one of the volunteers, cheered us by saying that that was the best weather for seeing Nessie.
Twelve miles north of Fort William we came upon the Commando Memorial, a large sculpture of 3 soldiers placed strategically on a hilltop. The soldiers appear to be on duty as they look at the panorama of hills and valleys below. The plaque on the monument described the history of the Commandos, perhaps better known as Green Berets, and told that the first Commandos had been trained in Scotland and had served in World War II.
We crossed the Caledonian Canal twice near Invergarry. I could see a series of locks in the distance but didnít stop for a closer look. The canal and locks would apparently connect Loch Linnhe with Loch Lochy and beyond, giving access to the sea. At Fort Augustus the DRG directed us to take the old road on the south side of Loch Ness rather than highway A82 on the north side. A82 was more direct but busier. We would enjoy less traffic but we also would encounter the hill I decided during the climb to call Monster Hill after Nessie. Those riders who had done their homework knew beforehand about the hill and avoided it by taking A82 to Inverness. That did not include me.
The only hint about Monster Hill on the DRG were the words Ďcrest of climbí. The climb was nearly continuous for 5 miles with only a rare and short level space or downhill. Because of the rain I was wearing my rain clothes but became so overheated from the hard work that I had to stop and take them off. Some riders avoided the climb by going off-route for the day, staying on the Ďnewí road on the north side of Loch Ness, Highway A 82. I began to wish I had done that too. Finally though I arrived at the crest, only to see the view that I could not see for all the mist and rain. I think it would have been beautiful though for there was a map there detailing the scene below.
Loch Ness is an enormous lake and we rode the length of it, some 30 miles or so. It is impossible to take a picture that shows it size and on this rainy, misty day it was difficult to take a picture at all. I could see some fishermen on the shore trying their luck and a sailboat or two, but alas no Nessie. Later I read why. Nessie has almost always been sighted on bright sunny days, so Amanda had had it backwards.
At Foyers, having burned up lunch on the climb, some of us stopped at the cafe for more calories. The sole attraction at Foyers besides the cafe is the Foyers Waterfall which I didnít hike down to see. It looked beautiful on postcards and that view would have to do for me. I ordered a pot of tea and a slice of coffee and walnut cake. The slices were thick and so was the delicious coffee frosting. I savored every morsel. Soon the small cafe was filled with riders enjoying soup, sandwiches, hot chocolate, coffee, and cake. It was a welcome break from the cold wet day.
Finally we crossed the River Ness which connects Loch Ness with Moray Firth and the North Sea to enter Inverness, our destination. We were camping on the Inverness Councilís rugby field and using the facilities in the adjacent and incredible Inverness Aquadome and Sports Centre. It was a comfortable arrangement except for the wind and rain. On the ride through town I had kept an eye open for vacancies at B&Bís but didnít see one. We would be in Inverness for a layover day and two nights in a B&B sounded very appealing. I decided to check in at the campground first and then ride on the streets closest to the campground in search of a vacancy. Then I had a stroke of good luck. There was Joan walking along the street having just returned from an emergency trip to the U.S. She was searching for a room and volunteered to find one for me too.
It stopped raining, only a brief break as it turned out, but I put my tent up while waiting for Joan to return, hoping it would dry that evening or the next day so that I could stow it away in my locker dry. At least it was reasonably dry inside so that if Joan failed to find a vacancy the tent was ready for occupancy. But she did find rooms, one for each of us, big and old and gracious, so that we lived like queens for a couple of days. The only drawback if there was one was that the house was about a mile away, not far to walk unless lugging a lot of heavy stuff. Luckily my bag has wheels and I just pulled it all the way. We were set to enjoy a free day in Inverness.
Goodbye, Alice
DAY 191
Inverness Layover Day
Certainly one of the highlights of my stay in Inverness was having a room in a B&B, a treat I usually donít allow myself. Joan and I each had a big room to ourselves while Shar and Else shared a third room. Itís a funny thing about B&Bís that they charge by the occupant rather than by the room. Shar and Else each had to pay the same rate as Joan and I, but had only half the space. Shar asked for and received a break on the rate for all of us because we could eat the Odyssey breakfast rather than the B&B breakfast. That made our rooms an affordable 15 pounds a day or about $23.
Our rooms in the B&B were Ďen suiteí meaning each had a bathroom, and we even had a small color television set in each room. We could watch Wimbleton tennis or the Tour de France or old movies. Out my bay window I could watch dozens of hardy Scots dressed all in white playing a very slowpaced and stately game of bowling on the lawn, but there were no bowling pins, only small heavy-looking balls. The games continued all day, the rain ignored.
Joan, Gudrun and I walked into Inverness to see the sights and to do a guided walking tour. It was still raining but we were dressed for it. The tour leader did not show up however, maybe because it was raining or because it was Sunday. Instead we did a little shopping. I bought washing and waterproofing solutions for my rain jacket and a Nessie pin for my Odyssey cap.
We ran into Dr. Sharon who was looking for a special Sunday lunch so we joined in the search and found it in the Palace Hotel, across the River Ness from the Inverness Castle, a lovely setting for a special meal.
Then it was back to the B&B for some relaxation and chores. On my list were mending the three tears in my silk sheet liner for my sleeping bag and getting the grease out of my raincoat and poor old Lawrence. When Ďolderí Anita had had an accident with my bottle of Goo Gone losing it all she had replaced it with a cream cleaner called Jif. I tried it on the coat and with a lot of scrubbing it actually worked, removing most of the grease, leaving only grey shadows in the worst areas. I scrubbed Lawrence too, his first bath of the Odyssey. He still has grease on his bum but most of it is gone. It took hours of work, but my coat once again looks nearly new and is freshly waterproofed.
Another task on my list was packing for an unexpected change of plans. The next two days, Days 192 and 193, had originally been scheduled as riding days, which would bring us to Aberdeen. We would fly from there the morning of Day 194 to Bergen, Norway. But all that was changed and although I donít know the details it has something to do with the ferries. The new plan was to bus the riders to Aberdeen on the morning of Day 192 where we would stay for 2 nights before the flights to Bergen on Day 194. Meanwhile the bikes would travel by truck, and that truck plus all the Odyssey trucks and vans would drive to Newcastle and from there make a long, 25 hour ferry crossing to Bergen, Norway arriving in Bergen the night before the riders would fly there. Perfectly clear, right? So I busied myself making stacks and lists. When I walked back to the Aquadome for dinner it was still raining so of course my tent was wet. I took it down and carried it back to the B&B where I spread it out to dry overnight.
I had carried my bags of dirty laundry with me, hoping to get that task done while at dinner, but Reception was closed as it was Sunday so I couldnít buy the tokens to operate the machines. Some riders who had been off-route were at dinner, coming back to join us in time for the flight to Bergen. Among them were tandem riders, Sandy and Mark, favorite people of mine, who had taken two hard falls in the span of a week or ten days and decided that a rest was needed. Markís wrist still hurts but he was told by a doctor that if he could bear the pain he could ride. After dinner I lugged my wet tent to the B&B where I spread it out to dry and I packed my bike bags to use as day bags for the bus trip to Aberdeen in the morning.
Goodbye, Alice
DAYS 192-193
Inverness to Aberdeen and Aberdeen Layover Day
At 6:30 a.m. Joan and I had already walked the mile back to the campsite from our B&B and thank heavens for Joan because she carried one of my bags. Everything we werenít going to carry on the bus to Aberdeen had to be stowed in the lockers of the gear trucks by 7:00 a.m. I stowed my dry tent, my dirty laundry and my bag on wheels, keeping with me my two bike bags, my helmet, and a plastic sack containing my not yet dry rain jacket and a pair of sandals. Then I went to breakfast and had a couple of hours to relax while waiting to load the buses at 9:00. I intended to work on writing for the web page but couldnít stay awake so took a nap instead.
Finally it was time to load. The driver on my bus was friendly and kept up a running commentary about the countryside all the way to Aberdeen. He even took a detour off the route to drive through a small town with special flower displays explaining that this town usually won the competition for best gardens every year. Before we knew it we were in Aberdeen and deposited at the Hillhead Halls Residences of Aberdeen University where we would stay for two nights.
After lunch I locked myself in my room, on a self-imposed restriction there until such time that I should finish the long overdue web pages. I went to dinner but missed the sightseeing trip to Aberdeen with my friends in the afternoon and the movie in the evening. On the way to dinner we all noticed a sign posted on the white board. It read, JAPAN IS BACK! Tim of TK&A, who had announced the elimination of Japan a week ago and then found that most of us were disappointed, promised to rethink the issue. He did and we are pleased that he has found a way to include Japan afterall.
We picked up a new young volunteer in Inverness. Her name is Megan and she was found and hired in the laundry room at the campsite. You just never know when your life will change! Megan is from Australia and has been hitchhiking in Great Britain. Thatís got to be even harder than riding a bike.
Now it is the middle of the afternoon of the second day, I am hungry having worked right through lunch, nothing I write makes sense anymore. I am nearly caught up and ready to call it quits, I will go find a phone and send all those back web pages.
Goodbye, Alice
---
Scotland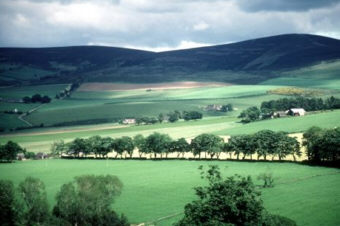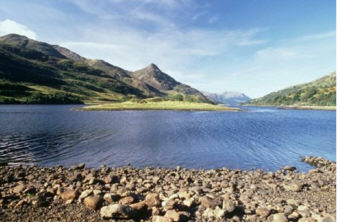 Scotlandís Grampian Region
A green forested plateau stretches toward the grassy rolling slopes of the Grampian Mountains in northeast Scotland. Although less jagged and precipitous than mountains in the northwest, the Grampians include several peaks above 1,220 meters (4,003 feet). The regionís wide valleys and gentle hills hold many remnants of ancient settlements, from Neolithic cairns and Bronze Age stone circles to the remains of a 13th-century abbey.
Loch Lomond
Loch Lomond is 39 kilometers (24 miles) long, and its glacially excavated floor reaches depths of 199 meters (653 feet). Within easy reach of both Glasgow and Edinburgh, Loch Lomond is a popular day-trip destination for urban residents in Scotland's central belt.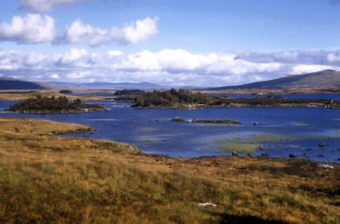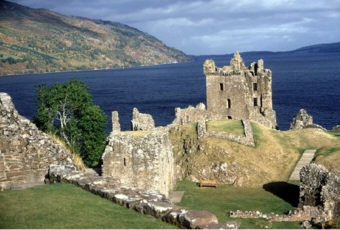 Moor of Rannoch, Scotland
The Moor of Rannoch is a desolate expanse of bogs and granitic rock incised with slender, deep lochs. Moors are expanses of open country that may be dry or wet. Heather and similar vegetation cover the drier moors. Wet moors are covered with peat and are found in poorly drained areas. Today very few of the moors are undisturbed; most of them show signs of grazing or controlled burning. Moors in bloom create an impressionistic landscape of deep red, purple, and yellow mounds
Castle on Loch Ness
The remains of Urquhart Castle dominate the east bank of Loch Ness in the Highlands of Scotland. The stone structure, built in the 13th century, was one of the largest castles in Scotland. Perched on a bank above the legendary waters of Loch Ness, the lake that is now famous for its so-called monster, the castle was destroyed in 1692 to prevent Scots loyal to James VII from seizing it.
---

Odyssey Riders and Staff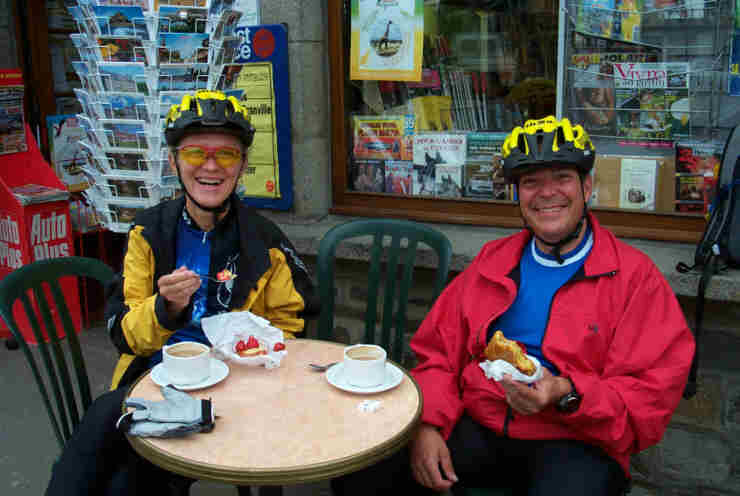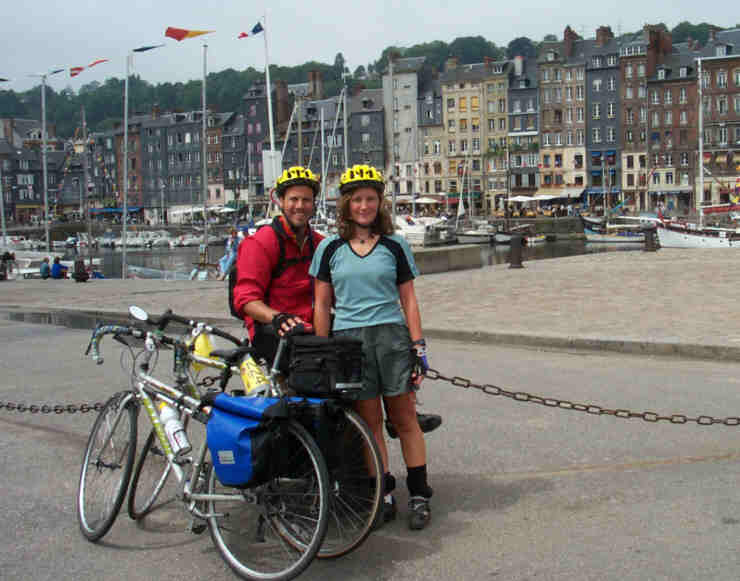 ---
Today's Music
---
Previous Page (Page 55) Next Page (Page 57)