Page 57
Norway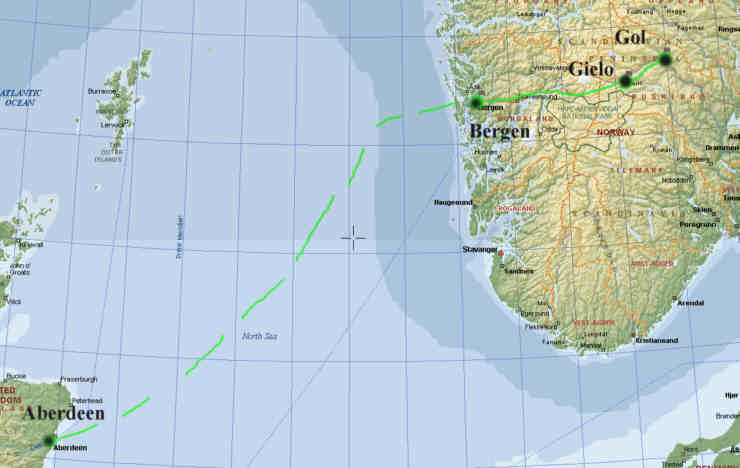 ---
DAY 194
Aberdeen to Bergen, Norway
Today we left Great Britain and Ireland behind and flew to Bergen for the next stage of our journey. We'd all enjoyed traveling in England, Wales, Ireland and Scotland for many reasons but a major one certainly was that it was easy. Easy because the language is English, everything is organized and works like it should, the toilets had seats and tissue, etc. There are many more reasons including the friendly people, beautiful scenery, and reasonable prices.
We left Aberdeen in two groups, the chartered plane not being big enough for all of us to go at once. I was in the second group which left for the airport at 11:00 giving me a leisurely morning and an opportunity to walk to the post office to mail things home. Our bus driver was a friendly fellow and took us on a city tour before heading to the airport. I appreciated the tour since I hadn't seen Aberdeen when everyone else did. (I had spent the layover day in my dorm room writing for the web page.) Nearly every building including homes are made of gray granite which was dug locally and, we were told, so much granite was dug that the largest manmade hole in the world was created. All that grayness was relieved a bit when the sun shone for a minute or so because the silica in the granite sparkled in the sun. Another remarkable thing about Aberdeen is that the harbor comes right into the center of town. It is amazing to see big ships sitting there next to the office buildings. Aberdeen's main industry is supporting the oil wells in the North Sea. The largest heliport in the world is in Aberdeen.
The flight to Bergen, Norway was only an hour, just enough time to eat the cold lunch we were served and there we were! For most of us including myself, it was a first visit to Norway and we were excited. But when we arrived the weather was gray and wet so that was a bit of a letdown. All those who had gone on the early flight hoping to have the day for sightseeing in Bergen had been disappointed. We were taken by bus to the Montana Hostel which is high above the city and has a good view of Bergen and the harbor. We were immediately checked into our rooms which were simple but clean and had lockers. Clean linens were stacked on our beds and a duvet and pillow. The showers and toilets were way down the hall but clean and more than adequate. To my great relief there was a washer and dryer available for our use. We had heard that the Scandinavian hostels were good. That one certainly beat the hostels we used in the U.S.
We were reunited with the locker trucks for the first time in days. Quite a few of the volunteers including the truck drivers had made the trip to Bergen by ferry, a 25 hour crossing. The weather was so awful, the sea so rough that white water was hitting the windows of the rooms on the third floor. I wasn't there but have been told that all but 3 of our people were wretchedly seasick, so much so that they just stayed in the bathrooms for the duration of the journey. What should have been a welcome minicruise and rest for our volunteers instead became a nightmare.
I spent the evening doing laundry, taking care of my bike, and deciding whether to join a group of friends for a short holiday the next morning. We have some walking wounded, which might barely include me because I have strained my left thumb, an overuse injury, shifting gears. To shift has been a problem for awhile but I didn't take time to see the mechanic until my thumb had swollen and had shooting pains even when not using it. Others have had sudden and much more serious injuries. Poor Suzi Jones is in considerable pain with what x-rays show to be a slipped disk. Shirl injured her arm reaching out to grab her falling bicycle. The pain was horrendous but she didn't consult one of our rider-doctor's until several days later when the upper part of her arm had swollen to twice its size. She apparently has a ruptured bicep. TK&A was providing transportation for both of them to get medical care in Bergen. Suzi and Shirl are both strong, determined individuals and are going to hate sitting around long enough to heal. Fortunately, thanks to Allison who initiated and maintains the library, we have quite a collection now of rider-donated books. Suzi and Shirl won't lack for a good book to read to help pass the time.
Goodbye, Alice
DAYS 195-198
Bergen to Geilo to Gol, An Escapade
In the end it just sounded like too much fun to miss. And anyway, who wouldn't rather go on a fjord cruise than grind up yet another steep hill? I sound flippant here but actually it wasn't an easy decision because I didn't want to miss any of the Odyssey doings and I knew they would be seeing beautiful scenery too. But eventually I made the decision to stay behind the main group, signing off-route with TK&A and on with three friends, Joan, Maryke, and Gudrun, rationalizing that my strained thumb needed time to heal anyway. The planning had been done, all I had to do was pack my bike bags and pay my share of the expenses.
On the first morning, Day 195, we left our things at the Montana Hostel and caught a bus to downtown Bergen. We went directly to the Tourist Information Office where we booked an apartment in Bergen for the next 2 nights, and bought tickets for the Bergen Folkdance performance and the Norway in a Nutshell trip. At the train station we bought our tickets for the train trips to Geilo and Gol for ourselves and our bikes. Maryke called Gol and reserved an apartment there for one night. We were all set! This was all accomplished in only a couple of hours but cost many kroner. Everything in Norway is expensive compared to what we have experienced.
When all the arrangements had been made we returned to the hostel, gathered our belongings and rode our bikes to the apartment we had rented. It was a studio apartment, just one room containing the beds and the kitchen plus a bathroom. It was new and clean and although small for four, it was bigger than I had dared to hope. There were only beds for 3 but Gudrun volunteered to sleep on the floor which she prefers anyway to a soft bed. It was within walking distance of everything we wanted to do and only five minutes from the train station. The price was right too, 200 kroner each per night, 60 kroner more than the hostel, but we could prepare our meals and make up the difference.
The sun was shining so we began our exploration of Bergen with a funicular ride to the top of Mount Floyen, one of the seven hills encircling Bergen. From that vantage point we had a spectacular view of Bergen and its fjord, the Sognefjord. It was absolutely beautiful, one of those views that are impossible to capture with a camera but of course we had to try. After posing for pictures with a bigger than life troll and enjoying a rich and creamy soft ice cream cone we rode the funicular back down the hill to Bergen. There we visited the open air fish market which is just beside the harbor where I was disgusted to see whale meat for sale, and wandered among the colorful old wooden buildings on Bryggen Street which fronts the harbor. They have been made into shops now but once were homes and barns in the countryside. They were brought to Bergen, reconstructed and restored to show what it was like to live in the town during the Middle Ages. These buildings are now on UNESCO's World Heritage list.
After a delicious stir-fry dinner cooked by Maryke we went to the folkdance program. It was delightful. The dancers and musician were volunteers who perform twice a week during the summer season just because they love dancing. They wore beautiful costumes from various regions in Norway. I was fascinated with the instrument the musician played. At first I thought it was a violin and I was amazed that he could get so much music out of it. It was explained that it wasn't a violin but a Hardanger fiddle, it had two layers of strings, 4 strings on the top layer and 5 strings underneath which vibrated when the other strings were bowed. It required more frequent tuning than a violin, probably because of all those strings.
The following day, Day 196 of the Odyssey, we went on an excursion called 'Norway in a Nutshell'. This was an all day outing through the beautiful Norwegian countryside by train, boat and bus. We rode the train from Bergen to Myrdal, gaining altitude all the way and enjoying the beautiful scenery. In Myrdal we transferred to a special train called the Flam Railway for the 20 km. journey downhill to Flam. The Flam Railway line is on a steep gradient with sharp curves. It passes through 20 tunnels, 18 of them excavated by hand. We were spellbound by the snow covered mountain slopes, the cascading waterfalls, the sparkling clear blue water of the rushing rivers, and the many lakes glistening in the sun. We were frustrated by the tunnels which suddenly appeared and blocked pictures we were trying to snap through the windows of the train. In Flam we disembarked and found ways to pass the time while waiting for our fjord cruise. We started with food, first things first of course, dessert and coffee first and why not, then sandwiches! We enjoyed wandering through some of the many souvenir shops, went for a walk in the rain, and shared a bottle of wine with another rider, Florida Bill. At last it was time for the fjord cruise from Flam to Gudvangen. It was overcast and raining much of the time but not quite too cold to stay on deck and enjoy the scenery. We cruised on two small branches of the longest fjord in Norway, the Sognefjorden, which runs inland from the sea, branching and ending in Flam and Gudvangen. We passed between towering, nearly perpendicular cliffs with grass and goats barely clinging to the sides, waterfalls cascading down the slopes of mountains whose peaks were lost in the clouds, isolated farms, and now and again small colorful villages on gentler slopes near the water's edge. It was gorgeous and I couldn't bear becoming involved in a conversation for fear I might miss the next beautiful sight.
When the cruise ended in Gudvangen, we immediately boarded a bus for the journey up Stalheimskleivane to Voss. Little did we know we were in for even more spectacular scenery than we had seen yet! The views back down the valley were breathtakingly beautiful, the waterfalls incredible. The road was extremely steep with many tight switchbacks and after a short stop at the top we continued on our way to Voss, passing along the shore of Lake Oppheim. In Voss we boarded the train to Bergen, to retrace the route we had traveled in the morning, passing through the sometimes wild and sometimes rural countryside, with colorful small villages and farms along the way. It had been an awesome journey.
It was already 8 p.m. by the time we reached Bergen but the indefatigable Maryke and Gudrun set out on a search for food for dinner, not an easy task due to the short hours kept by the shopkeepers. The grocery stores close early, at 8:00, the shops selling wine close even earlier, at 5:00. They had to walk a long way but succeeded in finding a small shop still open and came home at 9:00 with the makings of another fine meal which they whipped up in no time.
On Odyssey Day 197 we traveled by train from Bergen to Geilo, a charming little town with lakes all around and ski slopes a few minutes walk away. After settling into our new apartment and shopping for food, we set out to explore Geilo. We walked to an operating ski lift and bought tickets for the ride to the top, my first ride on a chair lift. When I last skied only a rope tow was available. There was a great view at the top and a steep walk down to the town center. In the evening we relaxed with our books and pocketmail devices.
After breakfast on Day 198 we went for a bike ride on paths around the Geilo lakes. We stopped to wonder at a Viking cemetery from about 1000 years ago. All the graves had been identified and marked as either man or woman. Birch trees and wild flowers grow among the grass covered mounds.
Some Norwegian homes have grass growing on the roofs and we don't know why, perhaps for insulation. It looks quaint and it just seems right that it is there. Everything else is green and growing so why not the roof! It is found on new construction as well as old. It may be that it is the traditional roof and some choose to perpetuate it. I've noticed that there is a layer of birch bark under the sod. Birch trees are predominant in the forests. I'd like to come back in the fall when all those birch trees are changing color.
After our morning bike ride we returned to our apartment and had the pleasure of eating the leftover cake and ice cream, followed by cheese sandwiches. We keep doing that! Then we packed and checked out of our really very nice rooms. The apartment was reasonable enough but the charge for the linens was out of sight, nearly $10 for each of us! It was too early to go to the train station so we went shopping. I had the great good luck to find a tape with the music I've been wanting, the Peer Gynt suite No. 1. The composer was a Norwegian, Edvard Grieg. His home was in Bergen but I didn't get to see it.
We took the train from Geilo to Gol, then bicycled to the campground. It's taken hours to pitch my tent, wash the clothes I'd worn for 4 days straight, reorganize my stuff back to riding mode, and greet everyone. It was beautiful when we arrived but now it looks like rain. This campground will be really very soggy and muddy if it does. But I am glad to be back and looking forward to a spectacular ride tomorrow.
Norway is gorgeous!
Goodbye! Alice
---
Norway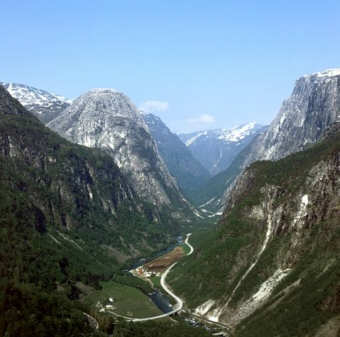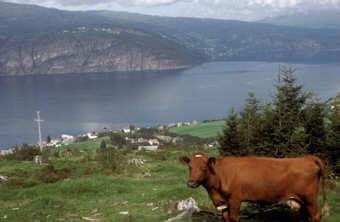 ---
France

Photo's of Normandy Beach, Day 165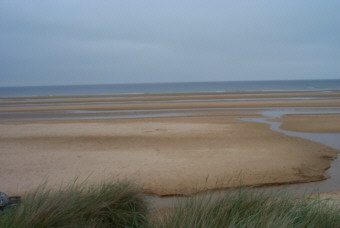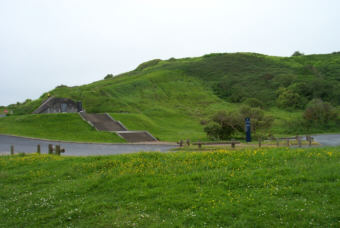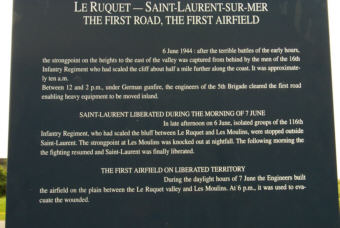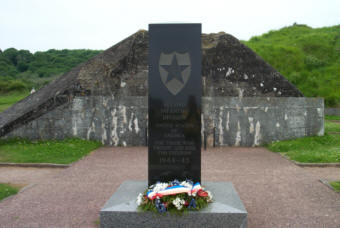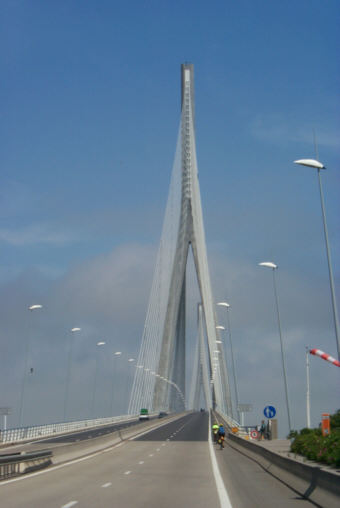 ---

Odyssey Riders and Staff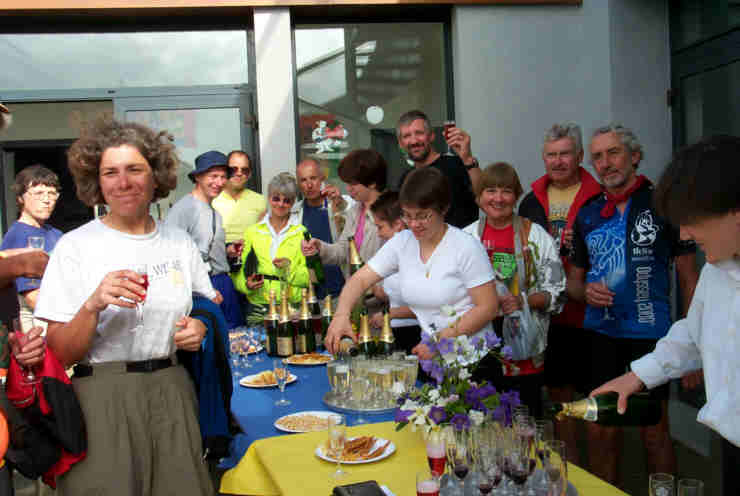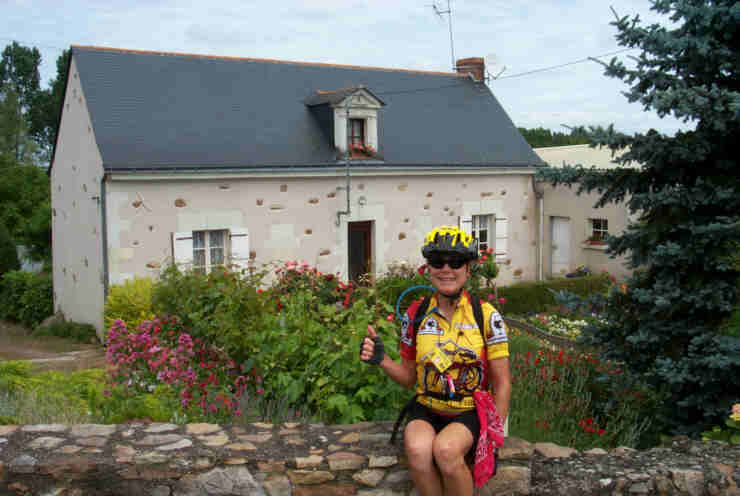 ---
Today's Music
Wedding Day At Troldhaugen

Grieg, Edvard (1843-1907); Norweg. (R.S.Finley)
---
Previous Page (Page 56) Next Page (Page 58)