Page 60
Denmark

Sweden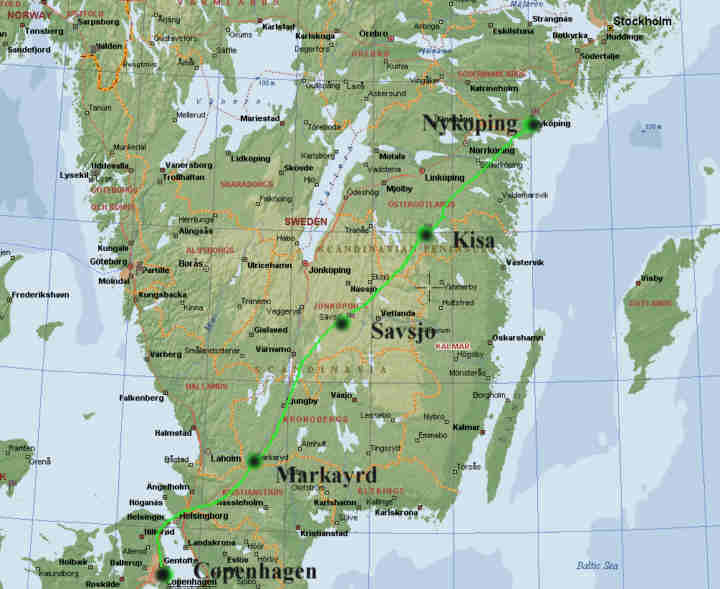 ---
DAY 207
Copenhagen Layover Day
This was my second time in Copenhagen so I did not feel pressured to get out early and run around trying to see everything in one day. A group of us decided to do the City and Harbor Tour in the afternoon. I thought that would be a refresher for me of what I had seen before and also would require little energy. I was tired from too much cycling. I spent the morning doing laundry and mailing things from the post office. We met at 12:00 and walked to the center of the city, to the Radhaus Pladsen or town square, to meet the tour bus. Arriving early, we had time to grab a bit of lunch, I had a delicious schwarma. Unfortunately the tour bus arrived and the top level filled before we returned with lunch in hand. That meant we had to sit on the lower level which had pitiful windows and consequently we would see very little. I wasn't happy about that and then a solution became apparent. Too many people had arrived for one bus, so a second bus was arranged. But could I talk any one of my friends into moving to the new bus? No way. They had become too settled and comfortable where they were. So I went on the new bus by myself and had a grand and peaceful afternoon.
My bus went directly to the canal, we would do the harbor tour first. Copenhagen is not especially attractive from the canal, as we were looking at the back sides of most buildings, but it was a refresher of what I had seen before and more. We cruised past the old Navy yard where the Base Camp is, and the area known as Christiania which was new to me. Of course we had a look at The Little Mermaid and the Amallenborg Palace and fountain. The bus tour covered some of the same sights but from a different vantage point plus many more. We had an engaging guide on the bus tour and before the tour was over we all knew about King Christian the Fourth and his accomplishments. We also learned that Denmark is the oldest monarchy, and that the present queen can trace her ancestry back 1000 years to the Vikings.
After the tour I walked along Stroget, the pedestrian shopping street for a few minutes, not that I needed anything but I wanted ice cream and I hoped to see someone I knew to get directions back to the CabInn. I soon came upon Shar who had just left the dentist's office and was ready to return to the hotel. She was sure she knew the way and we would walk together but she insisted that I have my ice cream first. I had to have what she had just had, a waffle with soft ice cream and hot fudge sauce. That sounded good and it was!
Goodbye, Alice
DAY 208
Copenhagen to Markaryd, Sweden
This day got off to a slow start. There was major confusion about the breakfast and a lot of milling about and gnashing of teeth. Some riders had helped themselves to breakfast at 5:50, enraging the hotel staff, which had apparently said that we couldn't eat until 7:00. Karen-Ann of TK&A told us that our breakfast was to be catered and served downstairs, totally separate from the hotel's breakfast. But the caterers hadn't arrived and the alienated hotel staff wouldn't help, either by calling to check on the caterers or by letting us eat their breakfast. Finally Karen-Ann told us just to start down the road and find our own breakfast; we would be given credit for it. Joan and I left then and stopped at a 7-11 and had coffee and rolls. Sometime after we left Else, a rider who is Danish, spoke to the hotel staff with the result that any riders still at the hotel were invited to have breakfast. We have had amazingly few snafus about the meals, thank goodness, for food is one thing the riders take very seriously.
We rode along the coast for 40 km. to the ferry, admiring the beautiful homes that faced the beach all the way. And that was the last we saw of Denmark! Denmark is mostly flat, making for easy cycling, and bicycle friendly with bike lanes everywhere. We were told that the tax on a new car is 200%. Consequently many people use bicycles as their transportation for work and shopping. There are hundreds and thousands of them on the streets of Copenhagen.
Sweden looked just like Denmark! We rode on rural roads most of the day, past fields of grain and tree farms. It was a beautiful sunny day and a good ride. We camped at Jetesjon's Camping on Lake Getesjon, a pretty place. Dinner was served outside, the cooks had enormous wok-like pans and stirred and kept the food hot while we stood in line. Two men were playing accordions so that it was a festive atmosphere.
Goodbye, Alice
DAY 209
Markaryd to Savsjo
It was a rainy day, starting with a gentle rain that gradually became serious and soaked us. My raincoat shed the water, but I hadn't stopped to don rainpants and boots so my shoes were wet through and through. We pedaled on quiet rural roads past mile after mile of grain fields and dozens of red houses and barns. I saw many horses; I would say that from what I have observed Sweden has many more horses than Norway or Denmark. I wonder why that should be? There were cows too and some soggy sheep. The countryside is beautiful with lakes and forests and golden fields of grain. There are moose warning signs on the roads but so far no one has seen a moose.
Joan and I were on a team of ten participating in a scavenger hunt. We had the list of items with us and devoted much of the day to searching for some of the items. One item we needed was a cow's ear tag. I found a farmer who gave us one. We stopped at a golf course to get 'a ball from a local club'. Joan found an 'article about the Odyssey' in a Swedish newspaper of an interview of Bobbi Fisher, one of the riders. Luckily there was a photo or she never would have spotted it. And so it went all day. It was fun to search for that stuff but sure slowed us down.
It was a long wet ride, 153 km., so we were happy to learn on reaching camp that 'indoor camping' was an option. Some few people had pitched tents, maybe it had stopped raining for a while after they arrived, but Joan and I and most others chose to sleep indoors. That saves about an hour of set up time, and saves time in the morning too. I found the perfect spot on a wide bleacher bench in the gym, and found places to drape my wet clothing. Dinner was in a school just a short walk away.
Some people were sick with the flu and of course we all wondered who would be next.
Goodbye, Alice
DAY 210
Savsjo to Kisa
Guess who caught the flu? Joan! She had been sick during the night and was still miserable in the morning so she had to sag. The DRG promised a remote day so after breakfast I stopped at a gas station store to get some fruit. Then I was on my way. It was the first time I had ridden alone for weeks and how I enjoyed it! I could go at my own pace and stop whenever I wanted. Joan is good company and overall we ride at the same speed. But she is fast right out of the starting gate and I am sluggish for the first 20 or 30 km. She gets slower and slower in the afternoon when I am rarin' to go. She always sits and spins up hills while I like to try getting up some of them at least by standing to pedal which I find to be faster, more fun, and a relief for a squashed backside. And so it goes.
It was another day on rural roads with fun hills, some of them rollers, many lakes (good places to see a moose) and tree farms that have become forests. The trees are very tall and very skinny pines and some fir trees. The pines have only a few branches way at the top so that enough light filters through to allow grass to grow. The forest floor is beautifully carpeted with grass, very thick moss, wildflowers and mushrooms, exotic mushrooms! What fun I had trying to find the perfect ones to photograph and traipsing through the woods to find more. I even saw lavender ones! But best of all were the bright red ones with white spots that I had thought existed only in the illustrations of fairy tales. When I pointed out one of them to another rider, Walter, he told me that the red ones are the most poisonous mushrooms in Europe. But only if you eat them!
Guess what else grows wild in Sweden? Raspberries! There are miles and miles of raspberries along the roadsides just waiting to be picked. They are smaller than domestic raspberries but delicious nevertheless and a great excuse to get off that bike seat for a while.
We camped at the Pinnarp Holiday Village campground, a very nice place beautifully situated on a lake. It was gorgeous there. Some riders went for a swim to an island in the lake and others played on the giant water slide. The lake had a sandy beach that I thought very unusual and some riders played a game of volleyball there. It had rained in the morning but the afternoon had been sunny and warm. We enjoyed a pretty sunset reflected in the lake. Dinner was gorgeous but poor Joan was still too sick to eat.
Goodbye, Alice
DAY 211
Kisa to Nykoping
This day got off to a good start with a delicious breakfast, especially the Swedish pancakes, which are very different from ordinary ones. They were served with butter and raspberry jam. Swedish raspberry jam is different too, and better. It is softer and tastes more like fresh raspberries. What a treat that was!
It was a rainy morning and I was riding alone again because Joan was still sick. It was another remote day on rural roads with little traffic and little to see but fields and forests, beautiful fields and forests. Near Checkpoint I rode with Judy Bradley and we decided to stop at the Cafe Lappham which the DRG declared had excellent waffles. It was off the road up a lane and when we reached it we found that other riders were there before us. It wasn't opening time yet but the waffle irons were almost hot and in a few minutes we were enjoying waffles with ice cream and raspberry jam, plus good coffee. Two Swedish college girls operate the restaurant during the summer. They serve only waffles and desserts.
Later we crossed the Gota Canal drawbridge, which is just a little bridge, but it was pretty there and sailboats were waiting on each side. I was just barely across when the road closed and the bridge opened to let the sailboats pass. I think it is a little strange that I remember the drawbridge as a highlight of the day. That may be because after so many days of forests and fields it is a treat to see something else. One rider who has a Swedish friend was asked why we came on that route when another one parallelling it was so much more beautiful. The route we had was pleasant enough but days and days of fields and forests at bike speed does tend to get monotonous. The answer may be that a non-Swede planned the route, using maps rather than local knowledge, not realizing that there was a more interesting route he could have chosen. This has happened in other countries too. It has to be an enormous task to plan 20,000 miles of cycling through unfamiliar territory without the assistance of locals. No wonder some miles are boring!
There was another fast and frequent ferry crossing. Is anyone counting? We were to have 11 ferry crossings this year but it seems like more to me. Which is fine because it is a bit of an entertainment and an excuse to rest.
Finally, after nearly 180 km. I arrived at camp which was on the grounds of the Tessingkolan College. It was just another grassy field but a memorable place because of the entertainment provided by the people of Nykoping. A Swedish man and 3 women in costume rode into camp on those marvellous beautiful big horses that I have seen in the fields. I asked one of the riders what they are called but when I couldn't understand the word, she supplied 'Nordsvensk' which means (I think) North Swedish. The man did all the talking and told the story of an event in the 13th century whereby he came to be a powerful landowner. He owned all the land around including the spot where we were camped, so he welcomed us and gave us permission to stay. His presentation was humorous and entertaining but I could hardly hear a thing for my excitement over the beautiful horses.
Having a great time in Sweden!
Goodbye, Alice
---
Sweden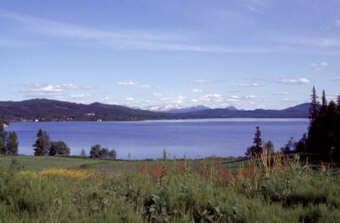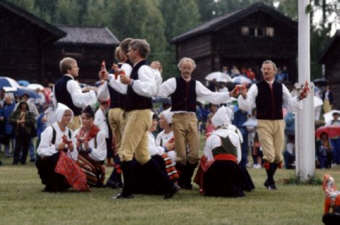 ---
Ireland

Photo's from Ireland, Page 54 Giant's Causeway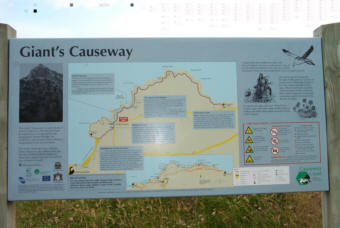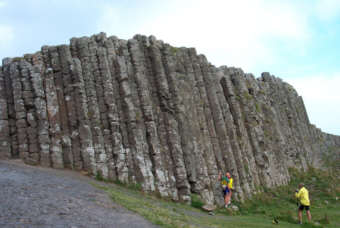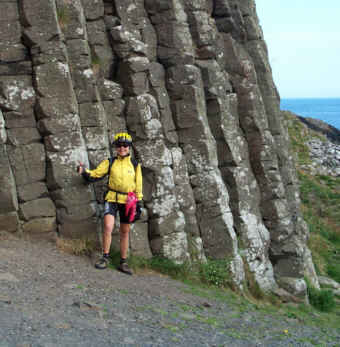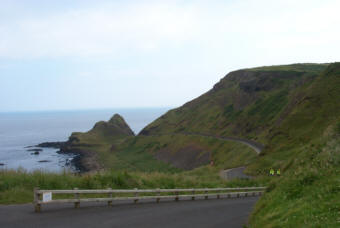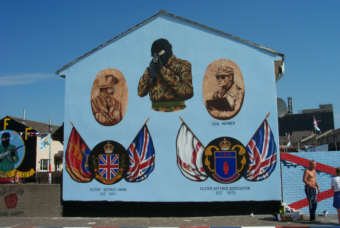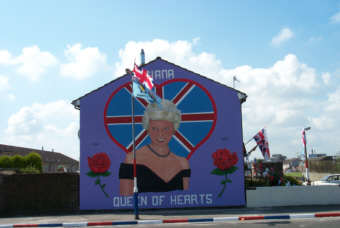 Photo's from Ireland, Page 54 Belfast Murals
---

Odyssey Riders and Staff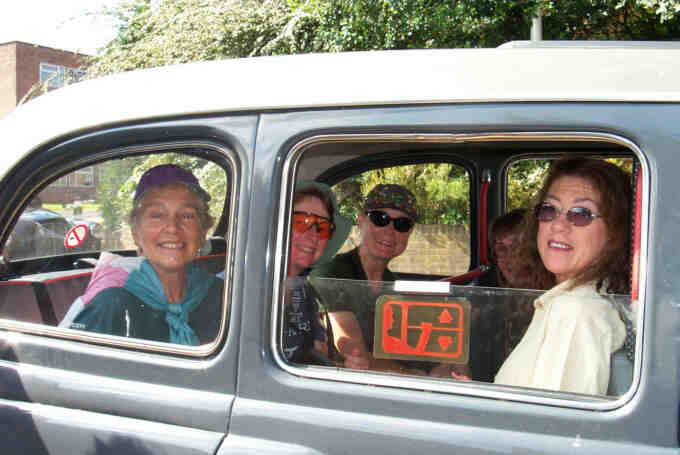 ---
Today's Music
---
Previous Page (Page 59) Next Page (Page 61)