Page 61
Sweden

to Finland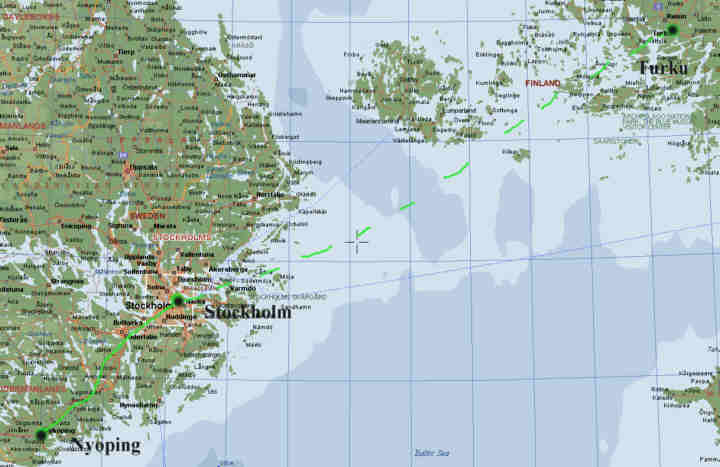 ---
DAY 212
Nykoping to Stockholm
It hadnít rained but our tents were soaked with dew. Each of us was hoping our tent would dry before it had to be packed. We wouldnít be using them again for a few days. But the sun was weak and there was no wind so we werenít successful. Eventually we had to pack them away as they were and start cycling.
It was a routine cycling day, through more fields and forests, especially forests and no wonder. I have read that 54% of Sweden is forested while only 8% is cultivated. There were more lakes, Sweden has thousands of lakes, and another ferry. Joan felt fit enough to ride so we were together. She was determined to continue the search for the scavenger hunt items as we needed only one more item to complete the list. It was a cap from a gas station attendant and it was proving impossible to find. We stopped at one station of each brand name but none of the attendants wore caps and in fact most stations didnít have attendants. At one station we were offered a dusty hat someone had left there so we took it plus some copies of the stationís logo to attach to the cap later. It worked. In the evening at dinner our team were declared the winner of the contest.
Our destination in Stockholm was the Backpackers Inn which turned out to be a junior high school converted to a hostel for the summer. I was lucky and assigned to a room for 4; Allison, Denise and Kathleen were to be my roommates, but Kathleen wanted to be with other people so she moved to another room leaving us with 3 in all which was very nice. I had a top bunk but it wasnít hard to climb up and down from a chair. The most remarkable thing about our room were the sheets. We were each given a little plastic wrapped packet, inside were 2 sheets and a pillow case made of paper! We were astonished but they actually proved comfortable enough and durable too.
But the first thing to do on arrival was to drag out the wet tent and dry it thoroughly. There was a hot sun shining so that was easy. Some people were cleaning their bikes, others were washing clothes and hanging them to dry. There was no laundromat available so I too spent precious time hand washing clothes because I had no clean cycling clothes left. Outside I strung my clothesline between two trees, and wringing water out of each item yet again pinned everything to the line. Only then did I realize that the Cunninghams had set up their wringer for our use so I took down my wash and ran it all through the wringer, once then twice, and still lots of water streamed out. By this time black storm clouds had gathered but I rehung my wash anyway. It didnít rain much but everything was still wet at bedtime so I took it all down, rigged a clothesline in my room and rehung everything there.
At dinner we asked each other for ideas of the best things to see and do the next day, our only day in Stockholm. Jane, who had come a day early and had already been sightseeing recommended the Wasa Museum. We decided to do that. Then there was the dilemna over how best to see the city, a walking tour or a bus tour or a harbor tour or a combination of bus and boat. In the end we chose the walking tour of the Old City. So we were all set for a day in Stockholm!
Goodbye, Alice
DAY 213
Stockholm Layover Day
After breakfast our group gathered and the six of us walked into Stockholm. We were Joan, Judy Bradley, Maryke, Gudrun, Inge and I. We decided to go first to the Walking Tour office and reserve our tour. That done we set out to accomplish some tasks, Judy needed a post office and I wanted to buy a waterproof groundsheet for my tent. I didnít find a groundsheet but at the Tourism Information office I bought a little red wooden Dala horse (dalahast) pin for my cap. The Dala horse is folk art from one area of Sweden and it has become so popular that it has become a symbol of Sweden. I was pleased to find a tiny one for my cap which is quite covered with pins and causing people to stare.
The walking tour of the old city was okay, we heard a lot of history which of course I canít remember. (I stayed awake too. Iíve had to give up bus tours which are sure to put me to sleep!) We saw the palace and the square where 95 people lost their lives due to treachery. The conquering Danish king had invited them all to dinner, proclaiming that if they came they would be forgiven for resisting his reign. He did feed them but then he detained them, had a trial at which nearly every one of them was found guilty, and had them executed in the square where the bodies were left for 3 days. He was asserting his power.
We happened upon the changing of the guard at the palace, quite accidently it seemed, although our guide told us that it is done every day in summer. It was quite the event with a marching band and a group of guards marching behind who were to replace the soldiers who had been on duty for the last 24 hours. The setting was beautiful and it was exciting to watch.
Stockholm, the Swedish capital, is said to be one of the most beautiful cities in the world and I would agree. The ornate yet grand architecture of the old buildings, the beautiful colors (which we learned can help identify the century in which a building was built) and the setting, Stockholm is built on 14 islands, all are gorgeous. There are trees, fountains and bridges, and sailing ships and cruise liners fill the harbor. Everywhere you look, around every corner, down every narrow street is another beautiful vista and photo op.
After the tour we had lunch. Choosing was tough but I settled on potato pancakes with bacon and lingonberry jam. It was very good but there was too much bacon which I offered to Joan and Inge. They had ordered waffles which in Sweden are thin and more like a dessert than a main course. Beth had joined us for lunch. She ordered a beet and meatball sandwich. That was an enormous thing which proved very difficult to eat. She posed for pictures holding the huge thing for the first bite. But it was already falling apart. In the end she took the top of the enormous bun off and tackled the resulting open face sandwich with knife and fork. After lunch we split into small groups. Judy and I went together to find a post office where she mailed her package. I couldnít find the type of store I needed so I went to the Tourism Office gift shop and Swedish Bookstore instead.
Finally we walked to the Vasa Museum which was on another island and a very long way after walking and standing all day. We might have taken a taxi but didnít find one going our way. When we walked into that museum we were awed. The Vasa is a gorgeous, ornately carved and decorated Swedish warship that sank 372 years ago. There it stands towering over everyone and everything, completely filling the building housing it, in fact the masts stick out through the roof making the museum easy to spot from afar. When the Vasa was built it was the most expensive and richly ornamented warship in the Swedish navy, the pride of King Gustavus II Adolphus. One thousand oak trees were felled to build the hull. It had 64 large guns on 2 decks and masts more than 50 meters high. There were many hundred gilded and painted sculptures.
But the Vasa was to meet a tragic end. On August 10, 1628, when the Vasa set sail for the first time, it capsized and sank after a journey of only 1300 meters! About 50 of the 150 sailors and their families who had been permitted to come aboard for this great event went down with the ship. In the 1660ís most of the valuable guns were salvaged and then the Vasa was forgotten for nearly 300 years until found by a Swedish engineer, Anders Franzen, who expected to find the Vasa in good condition because the shipworm does not thrive in the less salty Baltic Sea. He persisted in the search until he found it in 1956. The Vasa was salvaged, cleaned, preserved and restored in a massive project requiring 30 years of hard work. The result is stunning. There is no other exhibit like it in the world. The story of the Vasa is fascinating. Several beautifully illustrated books have been written.
After dinner TK&A called a meeting to give out the revised itineraries that had been promised after the disappointment with the previous revision. This new revision was more acceptable and does include Japan. People were generally pleased and applauded Tim for his effort to improve the itinerary. It is enormously complicated to plan an event like this with so many variables and probably impossible to please everyone, but this version comes closer to what the trip was promoted to be before it began. Tim welcomed two riders who had just returned, Priscilla and Al. Priscilla had finished her radiation treatments and is ready to ride, Al is still wearing a collar to protect her broken neck and cannot ride. Both women were thrilled to be back and everyone was glad to see them. Then we were admonished for writing about others on the web and instructed to write only about ourselves in the future. That meant I had to delete what I had written about a recent serious accident before I could e-mail the last few messages I had ready to send although I know that by now his family is aware of the accident. We were also admonished for making sandwiches for lunch at breakfast, so it will be back to crackers and cheese, or peanut butter when we can get it. Much of the time we ride in country so remote that it is impossible to buy a sandwich or anything else. Oh well!
Goodbye, Alice
DAY 214
Stockholm to Turku (Abo), Finland
We were going on a cruise! We had to pedal only 3 km. to the harbor to board the Silja Line ferry to Turku, Finland. We rode our bikes onto the enormous ferry and went upstairs, and up the stairs and up the stairs! There are 12 decks on the ferry with a swimming pool and sauna on the top deck. There are casinos, a band playing dance music, bars, a special program for children, feature films, duty free shopping, shops and several restaurants. There are cabins too of course, and since the trip is 11 hours some riders rented cabins so that they could sleep. After a walkabout to look at everything and to stroll on deck watching Stockholm disappear, I settled into a comfy chair on the 8th level at the back of the ship. It is a non-smoking area and the curving exterior wall is floor to ceiling glass. I am one happy passenger as I sit here working on the web page, occasionally taking time for a glance out the glass walls. What I usually see are islands. Millions of them! 24,000 to be more precise. We are sailing in the northern part of the Baltic Sea, the Gulf of Bothnia, and it is a beautiful day. We have seen many sailing ships, some have been very large and spectacular. I can see why cruises are so popular. The last huge ferry we were on was quite a different experience. It was very crowded and noisy, I felt trapped and couldnít wait to get off.
We are losing an hour today and will dock in Finland at 8:20 p.m. their time. We have to bicycle about 15 km. to the school where we are promised Ďmattresses on the floorí for most of us. Dinner is at 9 pm. I will be late but I have eaten on board so I am prepared to skip dinner if necessary. Joan and I sat in the bow of the ship in a restaurant called The Food Market where we enjoyed a supper of baked potato, salad, and bread and butter. In addition I had a parfait glass of strawberries garnished with blueberries. Umm good!
Goodbye, Alice
---
Sweden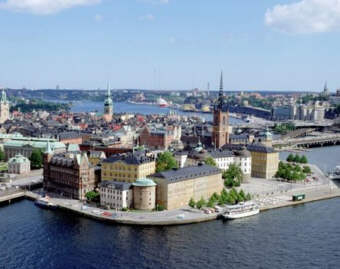 Riddarholmskyrkan in Stockholm (Left)
Riddarholm Church on Noblesí Island in Stockholm exemplifies the cityís famous architecture. Built in the 16th century, the church is in Gamla Stan (Old Town), which dates back to the 13th century and is also the site of the Royal Palace. Stockholmís parks, lakes, and tree-lined squares and boulevards blend gracefully with multilane highways, skyscrapers, subways, and underground shopping malls. Although the cityís population has grown from less than 100,000 to more than a million in a century, careful planning has resulted in a handsome metropolis.
---
Ireland

Photo's from Ireland, Page 54 Irish Roses, Belfast Murals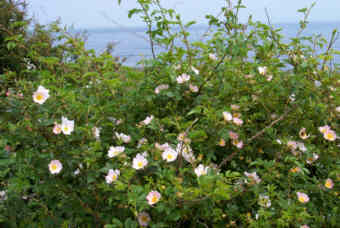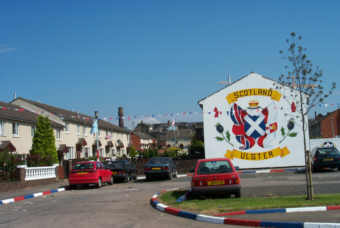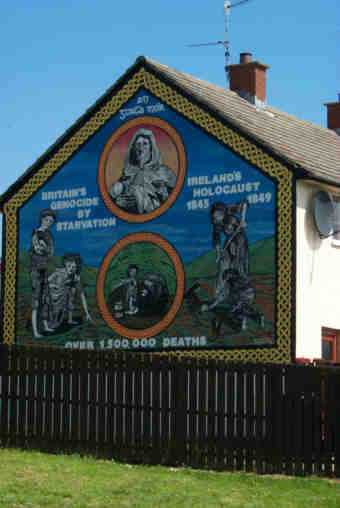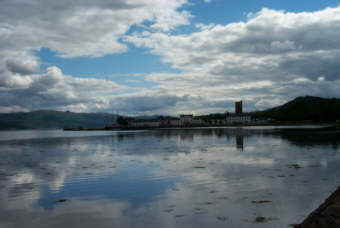 Inveraray, Scotland on right
---

Odyssey Riders and Staff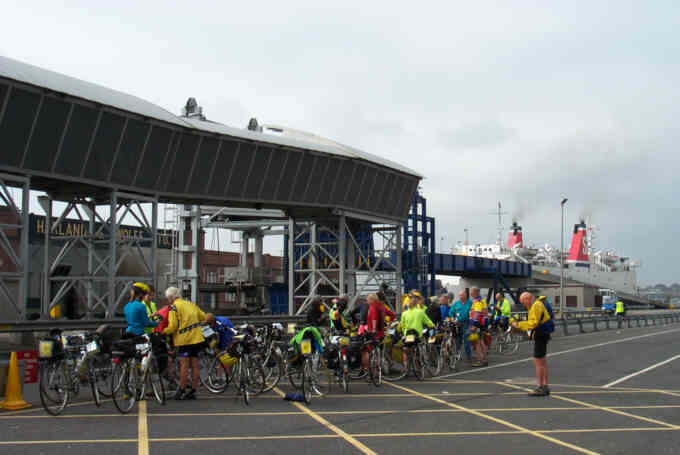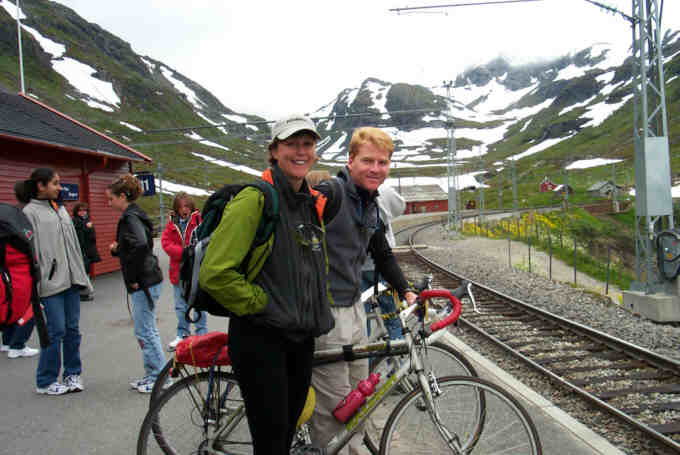 ---
Today's Music
---
Previous Page (Page 60) Next Page (Page 62)