Page 64
Germany

Czech Republic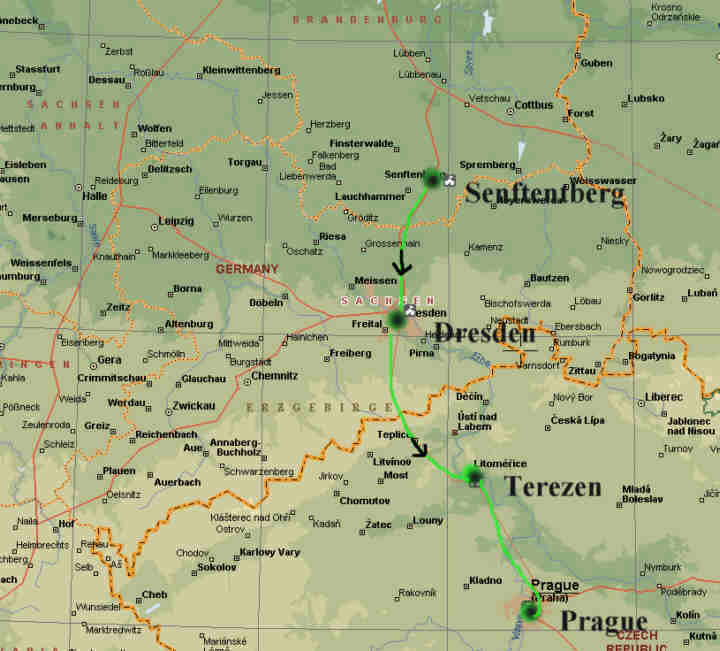 ---
DAY 224
Senftenberg to Dresden
When my alarm rang at 5:15 I shut it off and went back to sleep, still too tired to think straight. So I had to hustle when I finally did get up. Joan was already up but she said not to worry, it was a short day and she was in no hurry to get started. There was no lingering over breakfast though because we were eating outdoors and it started to rain before I had finished even my first cup of coffee.
"Owee!" That's what I said when I got back on that bike seat, still bruised and chafed from the long, bumpy ride the previous day. But the ride was to be short, 71 km., so we knew we wouldn't be at it all day. As it turned out, the roads were much better than the previous day although there were still cobblestones occasionally, and the villages looked much more prosperous than those we had seen. Houses were under rennovation and many had already been repaired, looking like new. The gardens were a riot of color with blooming flowers of all sorts, and many houses had flower boxes on the window sills. I found myself wondering at the difference in the prosperity of the villages. Why did it happen?
We had only eight km. to go to our destination when we came across a couple of injured riders. One was up and about with an awesome case of road rash, the other was down and being cared for by other riders and a German man with an enormous firstaid kit and a cell phone. He called an ambulance and did what he could to help the rider. I think he must have been a doctor or an EMT. When we got to camp we learned that two other riders had gone down in exactly the same place, both suffering only road rash. They got back on their bikes and finished the route. The other two riders will be fine, no serious injuries. Why did at least four riders go down in the same place? A wicked curb. We had just passed through a rough section of construction and heavy traffic when suddenly a beautiful bike path appeared on our right. It looked very inviting, salvation from the narrow busy highway with its enormous trucks and speeding cars. I'm sure those riders were giving a sigh of relief as they headed that way. What they didn't see was the curb, it wasn't high where it began, maybe an inch and then the height gradually increased to the normal height. A curb at normal height is usually obvious, but this curb, which matched the pavement, was very difficult to see, so that if one were just a little late entering the bike path, the tire would hit the curb instead of the ramp. I am going on about this at great length because construction like this is so darn hazardous to cyclists. The engineers out there responsible for these things need to keep cycling safety in mind. In this case the curb started too soon, too close to the entry ramp for the bike path, and it was the same color, nearly invisible to a moving cyclist.
Dresden is repairing its bridges and roads, every one of the ones we needed was completely torn up and closed to traffic. We walked part of the time through the construction and crossed the bridge in the pedestrian lane because that was the only way across. Then there were the trolley tracks! The intersections were riddled with them. We walked there too. I was very relieved to reach our destination, the Jugendgastehaus Hostel. It was a great place! The rooms were spacious with no upper bunks and each room had a complete bathroom. Sharing my rooms were Gudrun, Joan I. and Joan S. who did not like being stuck with me because I snore. In the end she took her air mattress and went to a quieter spot. Gudrun offered to trade beds with her because we had two rooms, the smaller room had a door, but she wouldn't do it. I suggested she ask for another assignment but she wouldn't do that either.
The location of the hostel was great, within walking distance of the city center, and just around two corners to the World Trade Center shopping mall which had an ATM machine and a grocery store, two things we always need. The dinner though was really very awful and for the first time on this trip I could not eat what was served. There were fresh vegetables though so I was happy with a big salad and bread.
After showering and getting settled I realized that I was too tired to go sightseeing. I had hoped to work on e-mail instead but gave into the need for a nap. It was a shame to skip the sightseeing in Dresden but I was just too tired. I saw the center of the city though while enroute, and it was very impressive. Dresden was heavily bombed and very seriously damaged at the end of World War II. 100,000 people were killed during that air raid. It had been beautiful and was dubbed the 'Florence of the Elbe'. It has been repaired, whatever could be salvaged from the rubble was used in the reconstruction. It was like a gigantic puzzle. One can see what is old and what is new because the old stones are black with age. The streets are crowded with tourists who have come to see the transformation. It looks like the restoration of the major buildings on the outside at least is complete. Now they are having a go at the streets and are installing new trolley rails. I noticed that they have removed the old cobblestones, I hope they don't repave the streets with them.
Goodbye, Alice
DAY 225
Dresden to Terezin, Czech Republic
We'd had to leave our bikes out all night but they were still there in the morning. The night watchman did a good job! We prefer to have them with us in our rooms, or under lock and key in a storage place.
It was another day of cobblestones and railroad tracks, a bumpy ride. The most interesting event of the day was crossing the border into the Czech Republic, an easy thing to do. In a car it would have taken hours to cross, the traffic was backed up for miles, but with our bikes we could get ahead of all the cars. At both borders the only formality was showing our passports. The people on our trip who are collecting visas are often disappointed.
We were pleasantly surprised to find that the roads that we used in the Czech Republic for the most part were in good condition. The countryside changed almost as soon as we crossed the border from generally flat to quite hilly, but with the hills came more beautiful scenery. We rode alongside the Elbe River for many kilometers and then the Labe. On the DRG map it looks like the Elbe and the Labe are the same river, just a change of name where it crosses the border. Some villages appeared to be prosperous, the shops and houses have been rennovated and painted, and flowers have been planted. But others are very different, the homes and shops looking very poor indeed.
The DRG advised us to visit the Terezin Fortress which was only a kilometer or so down the road from our campground. I usually don't get to do those things because I am too slow and get to camp too late. But this was a short day, 118 km., and we had arrived early in the afternoon. We decided to go directly to the fortress before checking in at the camp, lest we get too lazy to get on our bikes and go to the fortress later.
The fortress was huge, covering 398 hectares, and requiring 10 years to build. It was founded in 1780 by the Austrian Monarchy for use against invasion by enemies from the north but that never happened. The fortress was used though as a prison in both world wars, and because of its use by the Nazi's in the second World War it has become infamous and is now preserved as a museum. It took us hours to tour it. Thousands of Jewish people, Russians, and others were imprisoned there, held for trials or until shipment to concentration camps. Conditions were awful, the accomodations, food, and treatment in general was just as bad as it was in any of the concentration camps. Few people survived.
The gear trucks didn't arrive in camp until six, the same time that we did. Most riders were there and had been waiting for hours, happily waiting though which is unusual. TK&A had made a very smart move when they heard that the gear trucks would be late. They had invited everyone to have two beers on them, big pint size beers. So everyone just relaxed and chatted away the afternoon.
Then I made a smart move or two myself. As soon as the gear trucks were opened I was there to get my stuff and I immediately put up my tent. Most everyone else was still drinking beer. Then when dinner was ready and some people stood in line to eat while others were still drinking beer, I went to the camp's shower room and had the whole place to myself. Clean and dressed I was ready to enjoy my dinner and there was no line. By this time TK&A had realized that the camp's showers would be inadequate (there were only 3 and at least one of those didn't drain) so many of the volunteer staff began rushing to set up the TK&A showers and riders began waiting in line. Meanwhile I brushed my teeth and got ready for bed. Everyone else was still waiting for a shower. When the TK&A showers were up and ready the engine that pumps the water wouldn't start and there was a long delay while the men tried to fix it. (I was in bed by now listening to this through the tent walls.) Finally the engine started and people were hopeful but then a pipe broke and that was the end of that. Meanwhile people had started using the camp showers. But the wonderful and amazing thing about it all was that no one made a fuss about it, not that I heard anyway. Maybe we are learning to cope with the inevitable glitches.
Goodbye, Alice
DAY 226
Terezin to Prague
I thought it was exciting to be going to Prague and it was only 70 km. so this was a fun day. We passed huge fields of grain and several fields of hops, a strange looking crop. The vines climb and are trained to climb up strings that are strung on poles that must be 20 feet high. It looks like a Jack and the Beanstalk garden. We passed through villages where clearly the people were barely making a living, the buildings were badly in need of repair, the cars very old. And we had three km. of the worst road of the trip. It was an asphalt road that had disintegrated. When it ended and the cobblestones began they seemed smooth by comparison. I worried that my camera and e-mail device would be ruined but they were not. We had many kilometers of cobblestone roads which are made of stone cut into small cubes. Then they are set into the street in a pattern which is usually straight rows or semicircular rows. The stones can be a dark grey, white, or a stone red; or a combination to mark a crosswalk. It takes experience and skill to make a cobblestone road, but they seem to last forever. The best thing about one of these bone-jarring roads from a cyclist's point of view is getting off it. If new blacktop begins where the cobblestones end, one has the eerie sensation of floating on air and it is suddenly very quiet.
Midmorning we stopped at Checkpoint in an attractive village square and went to a cafe for coffee and a pastry. There were so many choices! I chose a chocolate covered hourglass shaped goodie topped with a dob of cream and a bit of fresh kiwi just because it was so unusual and I wondered what was inside. I had no idea what it would be and I couldn't ask. Very few Czechs that we've met speak English. I cut into it with my tiny coffee spoon and found that it was filled with ground nuts that had been sweetened, shaped and coated with chocolate. It was delicious with a cup of fresh coffee. Our money goes farther here. The coffee and pastry together were less than a dollar.
We stopped another time or two for a snack out of our bike bags and arrived at camp just at noon, the earliest ever. There had been a couple of very steep hills and the day was already hot so we were overheated, wet and sticky. But the tents were wet too, first things first, so we pitched our tents before showering and changing clothes. The shower room was like a sauna. There was plenty of hot water but that had created so much steam that the walls ran with it and the ceiling dripped. It was very uncomfortable in that room both before and after the shower. A couple of women who couldn't take it any longer fled in only their underwear to finish dressing outdoors. Joan went outside wrapped in her towel looking for another place to dress but there wasn't one so she stood in the doorway and dressed. There was another alternative and that was a building which was piped only for cold water, very cold water. The very hardy chose that option. It would have been cooler to dress there but it was too far away in the public campground to walk wrapped only in a bath towel.
My next task was laundry, there were no machines but I had a bucket and detergent. There was a line of riders waiting to use two big outdoor sinks but there they had to stand with their backs in the blazing sun while scrubbing. I found a room full of sinks, it was cool in there and washing my clothes by hand in the cold water was a cooling activity. I drank glass after glass of cold water while I scrubbed clothes and felt refreshed by the time my laundry was done. Joan and I strung a clothesline from her tent to a sawhorse to my tent, it was low but there were no trees or lightpoles to use. When I started to hang my laundry the line sagged too much. I fixed that by parking my bike under the line so that it was supported by the saddle. Everything was dry before dinner.
Some people had gone to Prague for the afternoon and evening, but I planned to make a day of it the next day when we were having an unscheduled layover day. Al hadn't gone to town either and brimming with energy (she can't ride her bike for some weeks yet) and ingenuity, she started a bike cleaning service. Some of the riders like cleaning their bikes and there are a few who do it every day. Others despise it and try to find a bike shop once in awhile to have it done there. She cleaned two bikes that afternoon, earning $40, and the two satisfied customers spread the word. She will have a waiting list I think and plenty of beer money.
Dinner was in a Czech pub in Prague which was a long way from the campground so we were bussed there. I thought it was a delicious meal. We had a salad of fresh tomatoes, cucumbers and grated cheese followed by a heaping plate of hot food. There was half of a roast duck, roast pork, a sausage and bread stuffing, sliced dumplings, and best of all the most wonderful sauerkraut I have ever eaten. It wasn't vinegary and sharp, but more of a sweet and sour flavor with a lovely gravy-like sauce. It was so perfect with the duck and dumplings. Dessert was ice cream which always pleases everyone. Some of the specialties of the house were cooked pigs' feet, chicken imps, tripe soup and pond-keeper pot roast. I was happy that we weren't served any of those.
Goodbye, Alice
---
Today's Music
DVORÁK, Antonin (1841-1904); Cz.

New World Symphony, No.9 in E-, Op.95

Largo
---
Czech Republic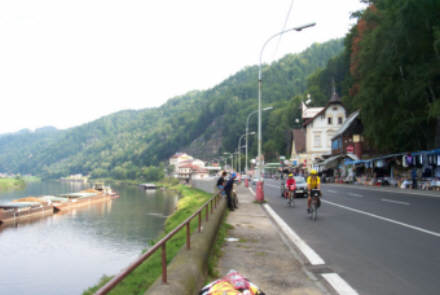 Entering Czech Republic, Astronomical Clock in Prague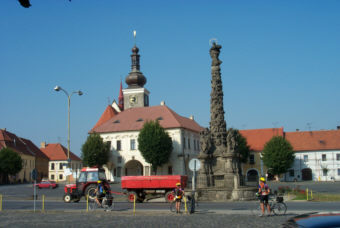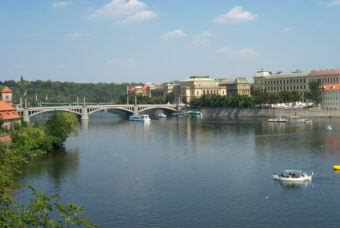 Town Square in Czech Republic, Vltava River in Prague
---

Odyssey Riders and Staff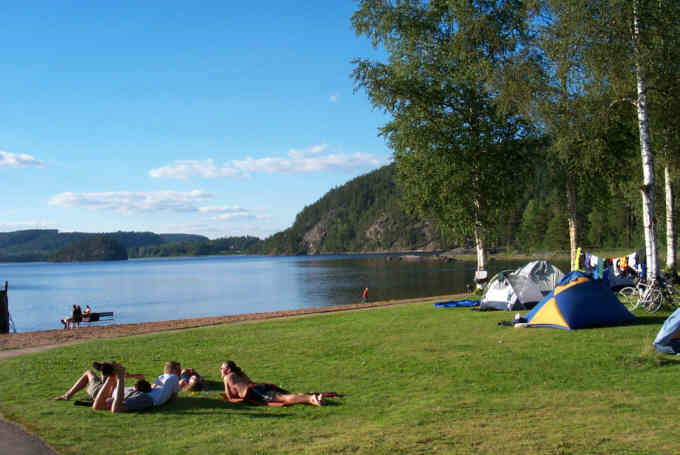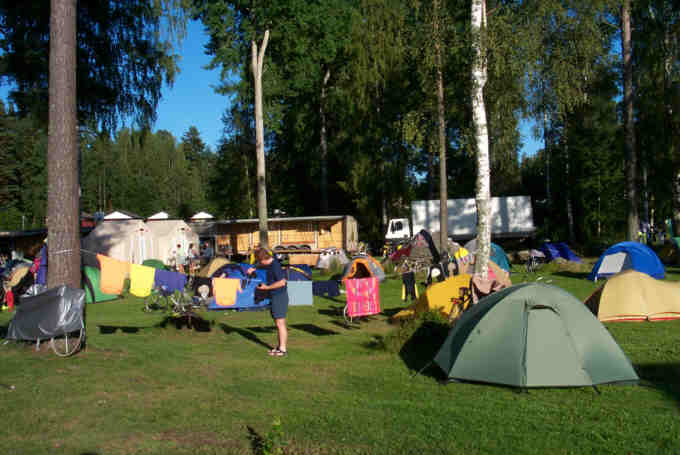 Camping in Sweden
---
Previous Page (Page 63) Next Page (Page 65)