Page 65
Czech Republic

Austria

---
DAY 227
Prague Layover Day
We had learned about an early morning beat-the-crowds walking tour of Prague that sounded good. Eight of us met at 6:00 am to go into Prague for the 7:00 tour. We rode tram #26 which took us to Old Town where the tour would begin. Prague has an excellent mass transit system. The tickets are inexpensive and can be used interchangeably on the tram, bus, and subway within a limited time period.
The size of the walking tour group, swelled by 14 Odyssey riders, somewhat overwhelmed our guide, a young student of theology and psychology named Daniel. He was very good-natured and patient and he certainly knew his history. It was a gentle walking tour, unlike the workout we had had in Berlin, and we eventually landed in a cafe for breakfast. There were three options, only the bread in a basket served at the table for 50 kroner, a buffet style continental breakfast for 80 kroner, or ham and eggs for 150 kroner. I chose the continental breakfast and what a steal! I had juice, cereal, yogurt, a banana, rolls and bread, butter and jam for the equivalent of $2.00. I could have chosen to have a variety of sliced cheese and meat as well. My two cups of coffee though were 40 kroner or $1 each.
The tour finally finished at 11:00 a.m. by which time we had had enough of listening and learning for awhile so Gudrun, Joan and I went shopping. Eventually each of us found what we wanted and we had some fun sightseeing and eating along the way.
There is a fanciful clock called the Astronomical Clock on the Old Town Hall Tower in the square of Old Town. Crowds of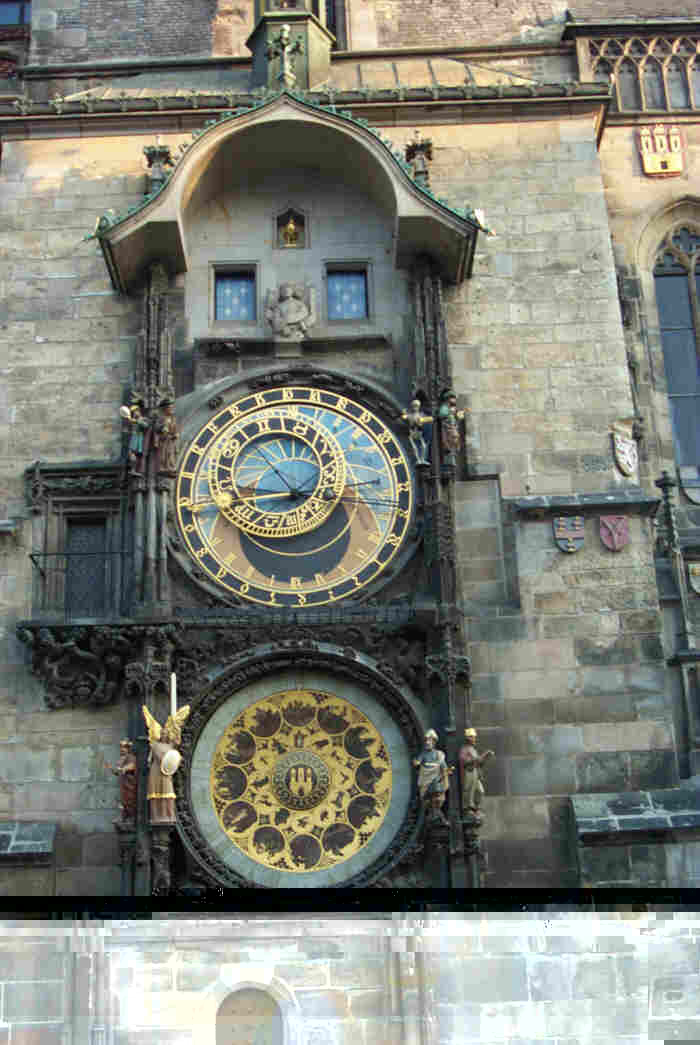 tourists gather to watch the action each hour and we wanted to see it too. We took a table at an outdoor cafe directly opposite the clock some minutes before the hour. I had a fabulous dessert called an Ice Cream Pyramid and Joan and Gudrun had beer and cheese. Finally it was 3:00 and the clock performed. It chimed many more than three times and while chiming the windows opened revealing the 12 apostles. So much fuss is made over this clock, but it doesnít even tell the time! It has two faces; the upper one shows the signs of the Zodiac while the lower clock is a calendar. I couldnít work out how to read either one.
Everywhere we turned in Prague a concert was advertised and people wearing sandwich boards were giving flyers to all the passersby. We thought a concert in Prague would be special and would be especially good at the end of a day on our feet sightseeing so we bought tickets for a 5:30 concert in the St. George Basilica which is part of the Prague Castle. The church was very plain but the acoustics were wonderful and the music beautiful. There were only six musicians playing violins, a cello and a bass viol. They played Vivaldiís The Four Seasons, Schubertís Ave Maria, Mozartís Eine Kleine Nachtmusik, and one selection by a Czech composer, A. Dvorak. It was light and lovely but the two Joanís sitting on either side of me both took naps!
Prague is so beautiful. I had heard that it was but it exceeded my expectations. It is built on both sides of the Vltava River, which can be crossed on a half dozen bridges, the most picturesque of which is the pedestrian bridge, Charles Bridge. Most of the roofs are red tile, it is said that there are 100 spires but I didnít try to count them, and many domes and onion domes. The facades of the buildings are beautifully and colorfully painted and decorated. Everywhere one looks it is beautiful. I heard later that one of our riders who is known as ĎCamera Alí had shot 10 rolls of film before noon! All that beauty and interesting history plus low prices has made Prague a very popular destination for tourists from all over the world. The streets and shops were crowded and someoneís head was always in the way when I tried to take pictures. I would like to go back some day in the off season, maybe October, when I could take time to see and read about Prague, a beautiful and fascinating old city.
Goodbye, Alice
DAY 228
Prague to Passau
Day 227, a layover day in Prague, was not on the original itinerary. But Tim of TK&A had realized that people really do want to see the cities so an adjustment was made that allowed a layover day in Prague. How did he do that? We skipped two bicycling days, Days 227 and 228, and we made up those two days in one day by travelling by chartered bus instead of bicycle. We skipped C. Budejovice in the Czech Republc and went directly to Passau, our original cycling goal for Day 228, thus eliminating 315 kms. of cycling. (Yeah!) But not everyone was ready to take advantage of the change. There are a few riders who are so determined to ride every mile that they ride even on the cancelled days. Bill Bliss and Jim Higbee rode those two days, giving up the opportunity to see Prague. ĎWildí Bill also cycled to Passau, intending to do it all in one day but lost his way and finished the next day. True Brown, our amazing young cyclist, rode the miles too, cycling the entire distance of 315 km. in one day. It was a hard hilly route. What can I say. Those men are amazing.
We lesser mortals were very happy to take the bus ride. We got our gear into the lockers before 8:30 a.m. and boarded the busses about 9:30. There we sat for about an hour, quite uncomfortable in the hot and stuffy busses. We thought the delay was that there didnít appear to be enough seats for everyone but eventually all those waiting disappeared from view so seats must have been found. We had only two busses and one van, only 122 seats in all. More than 100 people must have been off route or had gone on their own to Passau.
At our campground outside of Prague there was a race track for small race cars which was a big hit with many of the riders who had raced them the previous evening. Now, at this early morning hour, the Odyssey riders were the only ones in line for cars. Since there was nothing to do but wait to board the busses some of the riders rented cars and raced each other around the track to the great amusement of the rest of us. I would have loved to try it but had already spent the last of my Czech money.
But eventually the bus ride began and it seemed to go on forever. I wanted to use the time (4 to 6 hours) to write for the web page but I was too sleepy. I wanted to take a nap but my seat would not budge in the reclining direction. So I napped anyway sitting bolt upright, for most of the trip.
When we arrived at the Passau campground, the Dreiflusse Campingplatz, we learned that we had to camp on the lowland next to the river, which turned out okay in the end because it didnít rain and the mosquitoes didnít bite me, but it was a little demoralizing for some and a long long way to carry our gear. Sometimes we walk into situations either in campgrounds or hostels that seem so unappealing at first that I wonder whether I can do it. But once I am settled with my stuff about me, the situation doesnít seem so hopeless afterall. So far anyway.
The dinner that evening was a disaster. Hopeless. Those of us that came for the first seating sat for two hours before food appeared. Weíd had salad and most had had goulash but none was ever served to me. After that we just sat sweating and waiting. We began to doubt that there was anything else and eventually dozens of people left. Meanwhile half of the riders hadnít even got a foot in the door. Finally the meat and potatoes appeared followed much later by ice cream. Meanwhile in an effort to move things long, Karen Ann had begun serving food and eventually Michael, one of our photographers, served too; he was the one that brought the ice cream. I did not stick around to see whether there was a second seating for it was already past bedtime. The moral is: Make it to the first seating!
Goodbye, Alice
DAY 229
Passau to Salzburg, Austria
This was a gorgeous day for a bike ride although too hot for some and the scenery was beautiful too. Hilly, make that very hilly, agricultural land is definitely prettier and more interesting than flat. We saw dairy cattle again and some horses and sheep, all these things seemed to be missing along our route in the Czech Republic. There were huge fields of hay and corn and once again the bales of hay were in huge rolls wrapped in plastic. In the Czech Republic the hay had been left loose and piled into enormous stacks. So uphill and down we rode, the uphills hard but doable the downhills fun and cooling. Checkpoint was at McDonaldís, the ubiquitous restaurant, so we took a break there. I had a large orange juice and a strawberry sundae.
The only thing that went wrong was that we missed a turn, consequently riding an extra 10 km. and climbing some of the steepest climbs of the day, for a total ride of 148 km. Some other folks made the same mistake so we were in good company.
When we got to Salzburg I was delighted to find whimsically painted life-size plaster cows displayed everywhere. Apparently there had been a contest? Or as someone told us, the painted cow thing had started in Chicago and spread and now the cows were on a worldwide tour. Could that be? I donít know. It wasnít easy but I controlled myself and took pictures of only a few.
It was already 6 p.m. by the time we rode into Salzburg so instead of going directly to the Hostel as instructed, we walked along a pedestrian street to get a glimpse of the city, take a few pictures, and buy souvenirs. I buy hatpins and Joan buys tree ornaments. That didnít take long as Salzburg is very tourist oriented and in another five minutes we were at the Jugendgastehaus Salzburg Hostel. I was the last to arrive but one in my room of eight so I had to take an upper bunk. I needed to do some hand laundry so had a splashing good time in cold water using my bucket which was too big for the sink, to get things washed and rinsed. I had rented two towels in which to roll the wet clothing to absorb the water I couldnít wring out. Then I climbed the ladder and struggled on my upper bunk to string a clothesline from the posts at each end, and finally succeeding in that, hung all the clothes. Most were dry in the morning.
By this time I was really running late for dinner and starving too, so I was ready to eat whatever and it turned out to be spaghetti. Oh no! I wouldnít have thought it could happen after having been fed so much spaghetti that I was fed up with spaghetti, but I actually enjoyed that mountain of pasta and sauce and parmesan. Other people came to dinner even after I did, further annoying the cooks who wanted to clean up and leave. Two who came in and joined me had a sad tale to tell. They had left their bikes locked together outside a small hotel in Prague where Reception told them it would be safe, and you guessed it, the bikes were stolen. They had planned to ride to the campground to make the bus trip to Passau with us, but spent that day with the police instead, coming to Salzburg later by train. I think that makes 13 bikes stolen but I may have lost track.
When I got back to my room the lights were out and everyone was in bed. I hadnít made my bed yet and I had piled all my stuff on my bunk for a lack of anywhere else to put it. I had an interesting time trying to spread out the sheets and settle for the night.
Goodbye, Alice
---
Today's Music
---
Austria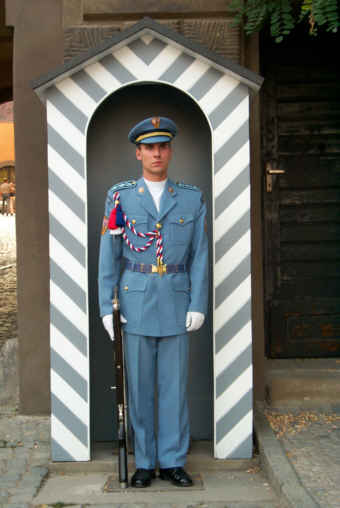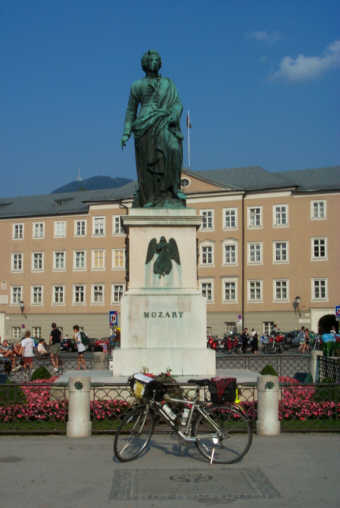 Palace Guard, Mozart Statue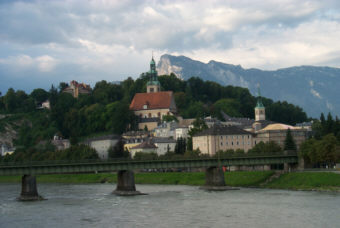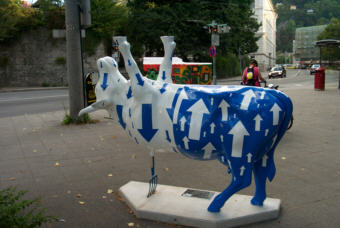 Salzburg
---

Odyssey Riders and Staff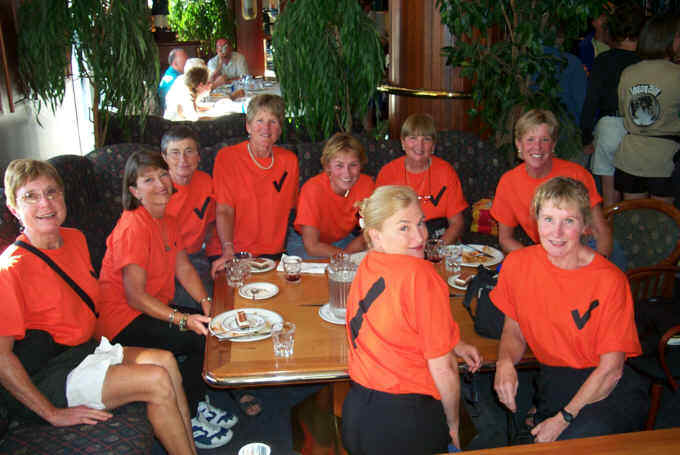 Checkpoint Girls - See text page 63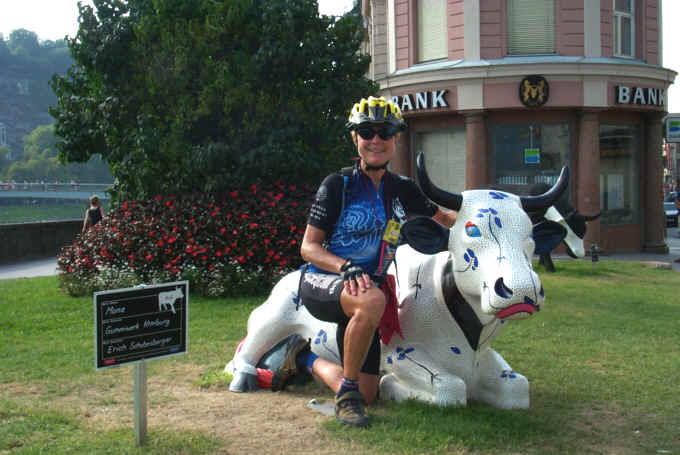 ---
Previous Page (Page 64) Next Page (Page 66)