Page 66
Link to Index of Old Pages and other Odyssey Info
Austria

Germany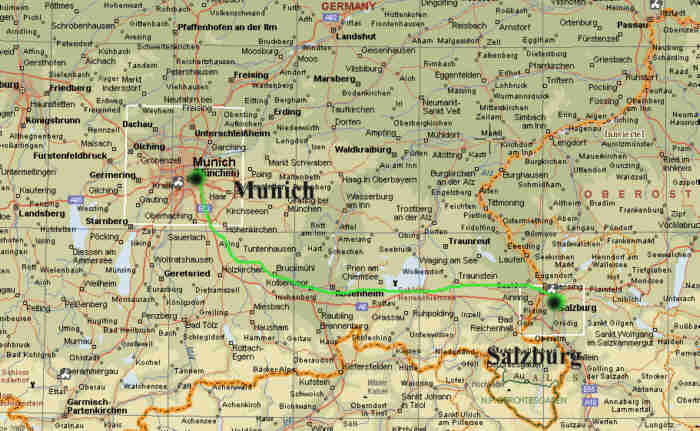 ---
DAY 230
Salzburg to Munich, Germany
We crossed the border into Germany only 6.7 km. from the hostel. We usually try to spend our leftover money on snack foods in the last shop before a border, but this border came too soon, no shops were open yet. In a few days we will return to Austria for a day so we'll have another chance to spend every last schilling.
This was yet another beautiful day, too hot really for comfortable cycling, but after moaning about all that rain we had we'd better not complain about the sunny days. Sometimes we rode in the shade of forests, appreciating the cool darkness. We rode along a lake, Chiemsee, which was a popular place to be on such a hot day. People were swimming, sunbathing, sailing and windsurfing. But we had to keep pedaling, no time to stop to play.
By the time we reached Checkpoint we were still having fun but it was already two o'clock and we had nearly 80 km. to go. We pondered this over large ice cold lemonades and finally reached the conclusion that the sensible thing to do was sag the rest of the way. We weren't dead tired yet and could have ridden farther although Joan was certain she could not do another 80 km. From experience we know that sagging somewhere after Checkpoint may require hours of waiting and a very late arrival in camp. But with our names on the sag list we were given a ride to Munich after just an hour's wait. How easily the car accomplished what we would have worked hours to do.
We stayed in another hostel which was reportedly built for the Munich Olympics. It was the best hostel yet, no upper bunks, in room WC and shower, and windows that opened. We were four to a room, my roommates were Linda Bergdorf, Jen Teboe, and Sharon Dennis. I was the first to arrive in the room which seldom happens to me, and that meant I got first choice of beds. I changed my mind three times before finally settling on the one by the window. Then I proceeded to trash the room. I draped my tent fly over the table and chairs to dry, and hung all the clothes still damp from yesterday wherever I could. It looked pretty darn awful and I worried what my roommates would think but no one complained. When my tent was dry and put away Linda draped hers on the table and Jen hung hers from the closet doors.
The cafeteria was built with us in mind, there was plenty of food and it was efficiently served. A young woman was there from Munich Walk Tours describing a bicycling tour of the city for 9:00 the next morning. I signed the list because I felt sure that seeing a big city by bicycle would be easier than walking and since I had sagged into Munich I hadn't yet cycled in the city. This would be my first bicycle city tour.
Goodbye, Alice
DAY 231
Munich Layover Day
There were so many Odyssey riders ready to do the city bicycle tour at 9:00 a.m. that we had to split into 3 groups. We had explained that we were a bit weary from cyling and were promised that the riding would be easy and it sure was. We rode a total of 12 km. at an easy, slow speed, stopping frequently. Our guide was an American who had moved to Munich recently so of course her English was clear and easy to understand. Unfortunately she spoke with little authority about the sites we saw and the history. She knew the basic information about each site but could not expand or explain. We have been spoiled I think by having guides in the past who have had history and archeology degrees. What a difference it makes.
I was right, Munich is too large for a walking tour so cycling was a better option. Unfortunately the guide didn't allow time for picture taking which does take time because I always want to wait until people get out of the way, find the best angle, etc. It was an overcast, dreary day as well but I did get a few photos.
We learned that at the end of World War II only 2.5% of the buildings in Munich had escaped bomb damage. The people considered just abandoning the whole mess and rebuilding elsewhere. In the end though they decided to stay which meant clearing away mountains of rubble and rebuilding almost everything. Consequently nearly every building in Munich is young although some were rebuilt in the original style. Doing so much construction at once was too expensive. One way costs were cut was to not rebuild pillars where pillars once had been. Instead they were just painted onto the plastered walls. Wishful thinking! It didn't work, the painted pillars wouldn't fool anyone.
We saw many buildings and my favorite is the plain and simple Old Town Hall which looks more recent than the New Town Hall. The New Gothic Rathaus or New Town Hall is much bigger and very elaborate with its many spires and carved figures. It is a crowd pleaser with its magnificent Glockenspiel but the figures perform only three times a day and I missed it.
We stopped at the Ludwig Maximilian University with its beautiful twin fountains and learned how a small group of five students and a professor had started an organized resistance to Hitler known as the White Rose movement. They wrote articles which they printed, then distributed to the students. They tried to do this secretly, throwing the pamphlets over a balcony where they would fall to the floor and stairs below so that students would find them on their way out of class. Unfortunately they were caught after about a year and taken to Dachau where they were killed. The fountains have been built in their memory. Some of their articles have been reproduced in metal and set into the walk at the entrance to the building where they worked.
We rode our bikes through the vast English Garden created by Emperor Maximilian the First, so named because it is an informal garden in the English style. Water from a river was diverted to create streams and ponds in the park. It was originally created as a place where the soldiers of the German Army could raise their own food. I tried to visualize that as I rode through there. What is lawn now must have been pasture, hay fields and gardens then. I wondered what kind of farmers the soldiers would have made and who would have tended the crops and animals when the soldiers had to go to war. Perhaps their families lived there with them. Now the farms are gone, replaced by lawns and lanes and beer gardens, the most unusual is the Chinese Pagoda, which in my opinion looks very out of place. The English Garden is to Munich what Central Park is to New York, a favorite place to play and relax. We stopped at one of the beer gardens for lunch near the end of our tour.
Munich in my opinion is not a beautiful city, maybe because the sun wasn't shining, maybe because it is so vast and spread out, maybe because I didn't see enough. I probably won't return although there is an incredible museum there, the Deutshes Museum: the largest technical/scientific museum in the world. The photos I have seen of the exhibits make it look very interesting.
Munich's Oktoberfest is the largest festival in the world and must be an awesome spectacle but the crowds are enormous and probably more than a bit tipsy. Not the place to be unless you like to party. I think I'll give it a miss.
Goodbye, Alice
---
Today's Music
---
Austria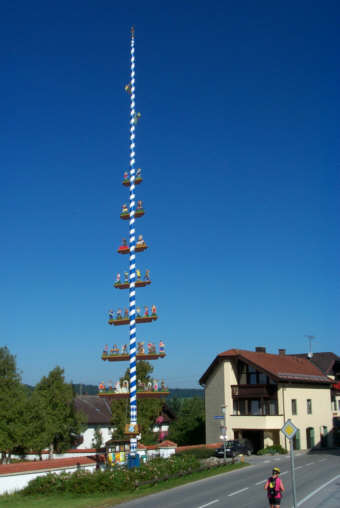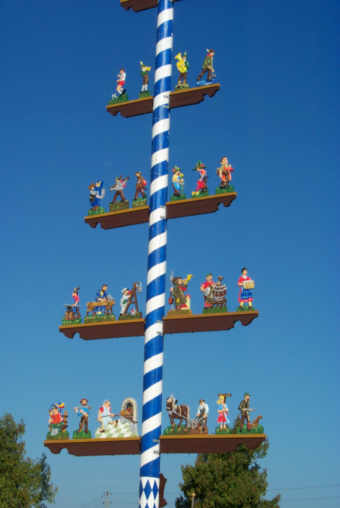 Maypoles in Austria. Villages build these to be stolen by neighboring villages, the village of the successful thief is fined. The fine money is used for a party for both villages - all in fun of course.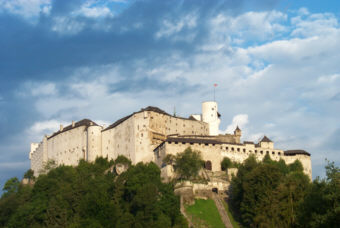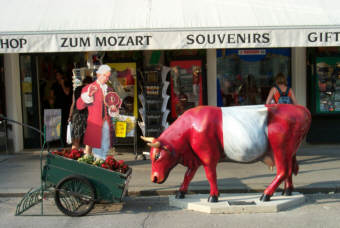 Salzburg Castle, Mozart and Cow
---
Germany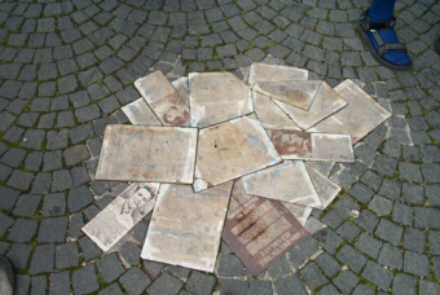 Munich Fountain to remember German Student Resistance to the Nazi's. Pamphlets set in stone which were handed out during WWII.
---

Odyssey Riders and Staff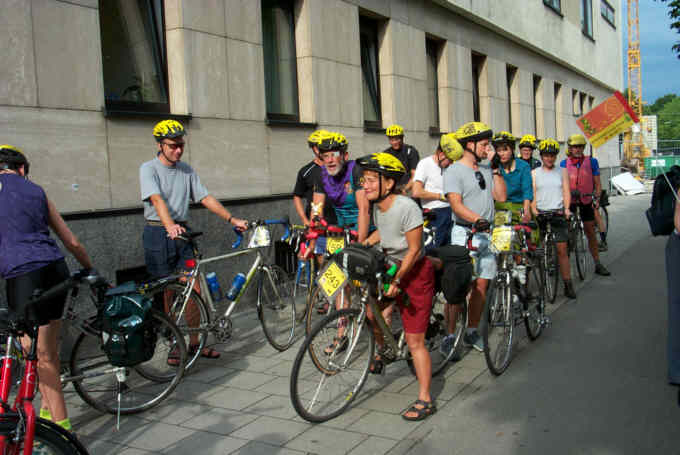 ---
Previous Page (Page 65) Next Page (Page 67)