Page 83
China
---
DAY 289
Hong Kong to Wuzhou, China
October 15, 2000
Last evening we turned over the bags that contain our camping gear and all else that we won't need in Asia. It is going to be great not to have to lug that heavy bag to and from a truck every day. Those bags will go to New Zealand to be stored until our arrival there.
At 6:30 a.m. we were on busses and headed for the China Hong Kong Ferry Terminal. There we unloaded the baggage trucks and found our own bags. I have only one big bag now plus my bike bags which I use as carry-ons, but some people have two. They had to pay a fee for the extra bag but it was only $20 Hong Kong, which is about $3 U.S. We had been told it would be $4 U.S. for each kilo over 20 kilos. My bag weighed 18.7 kilos so I was okay but they weren't charging for overweight bags anyway. We had had a lot of anxiety over nothing.
We saw our bikes being loaded as we boarded the ferry. A crane was loading them one bundle at a time and there they dangled in the air. When one bundle was set down two bikes hung over the edge of the ferry, but the crew managed to reach them and move them to a safer location. We spent 4 hours on the ferry, sailing right through Hong Kong Harbor and up the Jian River to Zhaoqing where we disembarked. Along the way the scenery was mainly rural with banana plants growing along the river. Occasionally there was a good-sized city and the ferry reduced its speed until past the city limits.
At Zhaoquing we had to disembark and stand in the immigration lines which were very slow. By the time most of us had made it through, the Chinese workers had unloaded all of our bikes and baggage. We then had to put everything onto the trucks that were waiting, and board busses for a three hour journey to Wuzhou. My bus had the steering wheel on the right side, perhaps it had been a Hong Kong bus at one time, ages ago, but the driver seemed accustomed to it. The bus was ancient and reluctant about changing gears. It lost power once and we thought we'd be stranded on the highway, but it recovered and we sighed with relief. The driver honked long and frequently at anyone using the road on his side and that included the occasional bicyclist. I think we'd better prepare ourselves to be assaulted with honking. I saw fewer bicycles but more motor scooters than I expected. I imagine a motor scooter is one of the first things that a family saves to buy.
Our hotel was a pleasant surprise, the rooms were clean and modern, the bed was hard but comfortable anyway, and the bathroom would meet anyone's standards; it was clean and furnished with hot water, towels, shampoo and bath foam. The view out the window was of the street and the river, both busy with people and boats and bikes and more people, fascinating to watch. Of course we were a spectacle for the Chinese in turn. Throngs of them had gathered outside the hotel on our arrival watching us as we searched for our bags and later as we worked on our bikes.
Dinner was dreadful, one platter of greasy, bony, critters after another. We struggled to eat it and got messier and messier. There were no napkins and eventually we were so greasy we couldn't hang onto the chopsticks so we wiped our hands on the tablecloth. Just when I thought we would go away hungry we were given a large platter of fried rice, our new comfort food. Dessert was 'ice cream', literally, the bottom of the cup was filled with chopped ice and bits of fruit, topped with a dollop of whipped cream.
Our bikes were in the basement of the hotel, and right after dinner we were all down there, each of us trying to find our own bike, assessing the damage and trying to make it work again. I counted and realized that our bikes had been moved nine times since we had seen them last. Mine had lost a lot of paint but appeared to be okay except for the front brakes which the mechanic fixed in just minutes. Other people had had worse luck including torn saddles and flat tires. Never mind! We were in high spirits because at last we'd be riding our bikes again.
Goodbye, Alice
DAY 290
Wuzhou to Xindu
October 16, 2000
This was our first day to ride in a long while, and our first day in China which had everyone excited and a little anxious. At least we would be riding on the right side of the road.
Joan and I were riding together again and Bobbi joined us for the first part of the morning. I was grateful for her company because she is a very experienced rider and three opinions would be better than two in interpreting the DRG. All of the road signs and all others for that matter, were in Chinese so we had to rely on other clues. This is an example from the DRG: 'RIGHT onto Datong Lu (unmarked until after turn) just after the Bar Baiyun Hotel (unmarked). Note no truck sign and sign on corner with a picture of a phone. Note Workers Hospital ahead.'
One memorable thing about this day was the construction, 80 km. of construction! We wondered why they had to tear up so much of the road at once. Little seemed to be happening. There were no men with big machines, but just a few laborers now and again, toiling away with hand tools. The object of the project is to straighten and widen the road but meanwhile traffic has to thread its way through a sea of mud, gushy, slippery mud. We could cycle in the ruts where the mud had been packed hard by cars and that worked pretty well unless there was oncoming traffic or the bumps were too big. In one particularly hazardous spot and where there just happened to be a sea of really sloppy mud, at least four riders lost control and went down. I saw a couple on a tandem fall and when they got to their feet they were coated with mud, head to toe. What to do? They were in the middle of nowhere, and they had no way to clean off the mud. They were walking when I passed them. I imagine they just had to wait for the mud to dry and fall off.
Checkpoint was at a little restaurant, very little, with room for only four to sit, but the heaping platters of fried rice looked delicious. I ordered fried rice with egg and vegetables and a can of soda pop. The cost was 10 Yuan, about $1.25. Shortly after, Joan ordered and later I learned that hers was 20 Yuan. She hadn't realized that I had already ordered and paid for mine. By now then we'd paid for three servings of rice and three cans of soda. We each had a soda but we had to wait for the rice. We were told to go upstairs which we did. We sat at a table there. In a few minutes she was served a platter of rice, but I was not. At varying intervals I popped up and down the stairs trying to explain that I needed rice but without success. Arthur was seated downstairs and eating rice but I knew he had ordered after I did. I told him he was eating my rice for which he apologized but didn't hand it over. I was served finally, but by that time the cashier had forgotten that either of us had paid and an argument followed which he lost. Lesson learned; Do not pay for food until after eating it!
Stuffed with rice at last, we were back on our bikes, threading our way through the mud or taking a dust bath along the stretches of road that still had the old surface. When a truck or bus passed us we'd be enveloped in a cloud of dust and black diesel smoke. Many of us wore kerchiefs over our faces like bandits for some protection. There are no emission standards and there are many old and decrepit vehicles. It would seem that the Chinese can keep a vehicle running forever.
There are zillions of strange looking but widely used vehicles here that have developed to fit a need. Ruth says she calls them 'rototillers pulling a trailer'. Out front there is a small putt putt two-stroke engine that may be supported by one wheel or two close together like a tractor. The engine is totally exposed making it convenient to fix. Attached is the trailer (also with two wheels but set wider apart) with a simple cab, a place for the driver to sit and hang onto the steering wheel. These putt putts can carry amazing loads. I saw several stuffed with water buffalo. They have to go in crosswise so that their legs and bodies are in the trailer but necks and heads stick out over the sides. Somehow the Chinese can make 3 buffalo climb into that tiny trailer and stand still for the cramped and bumpy ride. Other heavy loads are carried too, sand and gravel for example. We can pass these vehicles easily on the hills but even though the engines are laboring, the putt putts make it to the top. There is a radiator without a cap and I can see the water boiling as I pass.
All the vehicles, including the newer trucks and buses, are noisy and dirty. The worst by far are the old trucks which are belching clouds of black smoke. They are all fitted with the most blaring blasting horns ever heard which they use constantly. They go at breakneck speed, honking loud and long at every living thing and each other, it's like a deadly game of chicken. Sometimes they're racing down the highway three abreast because one will not give way and let the other pass. Also thronging the highway are cyclists who often carry wide and unwieldy loads, water buffalo walking to or from grazing, schoolchildren walking to or from school, people pulling or pushing two wheeled carts, dogs and chickens, and occasionally very fast new cars. Just who is in them and what they are doing there I don't know. Also hazards are the many broken down trucks which park in the lane of traffic. The drivers find big stones to put in the roadway to seal off space for their stalled trucks. They may also break off tree branches and stand them among the stones. When the truck is repaired the driver motors away leaving the stones in the highway. We've had two accidents so far because of these trucks. One rider didn't realize that the truck in front of him had stopped so that he rammed into the back of it, flying over his handlebars into the bed of the truck. He wasn't badly hurt but had to have stitches. Another rider didn't see a stone in the road and also flew over her handlebars. She wasn't seriously hurt either. Compounding the problem is that we are so entranced by everything that is happening because it is all new and exciting for us that we get distracted and forget to keep our eyes glued to the road.
It was about 3:30 when we finally arrived at Xindu, our destination. We were exhausted from riding through construction for hours and filthy with dust and diesel smoke, our bikes coated with dust and mud. I sprayed mine with a hose to remove the worst of it. Inside the Sin Yue Gui Hotel we found confusion. To find rooms for us all we were staying at 5 hotels, the Yi Yuan Hotel, the Jinjaio, the Ming Zhu Hotel, the Sin Yue Gui, and the Yang Guang Hotel. All of them impossible to pronounce and to identify because the signs were only in Chinese. I was told I would be at the Jinjaio and my roommates would be Al and Lillian. I rode away with several others to find my hotel but when we came to a fork in the road no one knew which way to turn. We could only stand and wait. When Tim came by and directed us to our hotel we cycled there but had to wait again because our host could speak no English and couldn't figure out what to do. I bought a liter of beer for the equivalent of 50 cents and sat down to enjoy the refreshment. By and by one of our volunteers with a room list and one of the interpreters came and we received our room keys.
To say that the room was a bit of a disappointment would be an understatement. We had been spoiled by the nice Wuzhou Hotel. It would have to do but we could grumble about it. Al said she could hardly wait to describe it on her web page. I am struggling to find the words. First of all, it was smelly. Our beds were wooden platforms with a grass mat and a cover over the mat. There was a quilt on each bed, a pillow, and a towel. Everything was worn, old and stinky. The bedding was moldy and sour smelling, the towel which had been on the pillow reeked of dirty hair. I set all of the bedding and the towel aside, grateful that I had my own silk sheet, inflatable pillow and camp towel to use instead. My bed had lost some of its height at the foot end so was propped on two stacks of bricks. The bathroom was extremely basic. There was a smelly eastern style (squat) toilet with a huge cockroach living in it. There was a tank of propane, a wall unit water heater and pipes for water. Cold water. I tried every which way to turn on the propane and I pushed the buttons and twirled the dials on the heater but without success. So it had to be a cold shower. By the time I had finished I was so cold I didn't warm up until the next afternoon. Then Al took a turn, but had no sooner got soapy than the water ceased to flow. It had been only a trickle anyway. I went to shout through doors and inquire about water and found that the others had none either. Al dried herself then and got dressed. Later when water became available she had to get cold and wet again rinsing away the soap, a courageous act!
When Lillian arrived she was a good sport about the crummy room and being stuck with the bed in the middle, but her bedding and all of course were also smelly, and she had none of her own. In the end the owner gave her a tablecloth to use for the night. She must have grown fond of that tablecloth because in the morning she said she was going to ask if she could buy it.
We had to walk a kilometer back to the Sin Yue Gui Hotel for dinner, little of which I enjoyed. There was chicken with head again, but without feet this time and there were several other platters of various meats. It's a wonder how the meat can manage to be so fatty and so bony at the same time. When the rice finally appeared it was just plain steamed rice, not at all tasty, but we ate it anyway. Someone explained that the rice is served last because you are expected to fill yourself on all the good things that have come before. If you are hungry enough to eat the rice than the host is embarrassed because he hasn't offered enough food.
Satisfied by rice Sharon, Lillian and I rode by Chinese tuktuk back to our hotel. It wasn't too far to walk, but Sharon wanted the experience and the price was right, one Yuan each, or about 12 cents. It was too dark in our room to work on Pocketmail or anything else because we had only one light bulb, so we just went to bed. I wore my fleece pullover and my clothes and rolled up inside my silk sheet to make the best of it but slept poorly because I was so cold. One thing about that kind of a night is that I am glad to get up in the morning.
Goodbye, Alice
DAY 291
Xindu to Zhongshan
October 17, 2000
This ride was easier than the previous day because we were past the major construction project and we rode on paved roads all day. There are both concrete and asphalt roads. The concrete roads have been scored with ridges so that our tires make a buzzing sound and the ride isn't smooth. The asphalt roads have unique white lines down the middle and sides made of broken china. White plates and saucers have been used to create the lines by sticking the pieces into the asphalt as though creating a mosaic. I tried not to ride on the white line to avoid a possible puncture!
Again we were fascinated by the Chinese as they went about their daily work. People commented that riding in China reminded them of Baja and South Africa. This is still very much a developing area and most people appear to be poor or are saving every penny. There seemed to be unemployed men in the villages but in the countryside everyone was at work. Hard work. We decided we can never again whine about what hard work bicycling is. I wondered what the Chinese thought of us, for there they were, working at a subsistence level and using their bicycles for transporting goods to market, while we frivolous ones pedaled through their countryside on our magnificent bicycles (compared to theirs) apparently without a care in the world.
They were curious and friendly, everyone stopped to stare and the children screamed, jumped for joy, and shouted 'Hello', 'Hi' and even 'I love you'. The children gathered in great crowds along the roadside apparently waiting for hours to see each of us as we rode past. We disrupted whole schools full of children who came onto the balconies or into the yard to scream and yell and wave at us. Some riders speculated that most of these people had never seen any tourists because we were off the beaten path. That would explain their great excitement and stares. People on scooters would turn around and stare at our faces as they passed, others would slow their speed so that they could watch us pass, then pass us again for yet another look. It felt like a day long parade, waving and shouting hello for hour after hour. 'Hello' worked better than the Chinese version, 'kneehow', which would send them into gales of laughter. I guess I didn't say it right, or it just sounded utterly peculiar coming from such an apparition as I must have looked to them.
In the middle of the day we came to the beginning of the limestone karsts, the hills and pinnacles that have made this beautiful area of China a favorite subject for poets and artists. I wondered whether the Chinese farmers appreciated the beauty of these great lumps in their landscape or whether they had grown so used to them that they didn't see them anymore.
We had too much to see, everything the Chinese were doing was fascinating. We could see them harvesting the rice, wading in the water and cutting one handful at a time. They were tending their vegetable gardens, carrying water to them in two buckets hung from either end of a long pole, to be applied to the plants one dipperful at a time. Others were spraying the crops with insecticide, the tank on their backs, the wand in hand. It is very noticeable that birds are missing, we have seen only a dozen or so, and have missed their songs. It is said that Mao ordered the destruction of all the birds and I would have to say that that was one plan that succeeded. The only sounds to be heard (if there are no vehicles near), are the chirps of the crickets. I haven't heard frogs and the only evidence of wildlife were a snake and a rat on the road, both road kill.
Some of us are having a hard time with the Chinese love for dog meat. I had heard of that of course, but to be here and to see how prevalent it is, is disquieting. Perhaps it's only the people in this region of China that love to eat dogs, I don't know. The people keep a female dog not to be a pet but to produce puppies which they then eat or sell for food. We have seen them lead or carry the lactating female to the road to defecate which she does on command, then pick her up and carry her back inside to her puppies. The females seem to be well fed, at any rate they look fat enough. When the puppies are weaned they are taken to market. We have seen them crammed on top of each other into wire baskets, being carried on a bicycle to be sold. I saw an entire cooked dog for sale. It had been gutted and steamed, head and all. One rider saw a tray of dog paws for sale in a market. All of these edible dogs seem to be of one breed but what it is I don't know. They are of small to medium size with short hair. The few I have seen at play or at rest look just as endearing as any other dog. How anyone can eat an animal that looks at one with adoration, I can't understand! I don't think all Chinese eat every dog. I have seen a few fluffy laptop type dogs which appear to be pets. There are a few large shepherd type dogs used as watchdogs. Some of our group attended a party late into the night with the hotel employees and were served dog cooked into a stew. Gross!
Zhongshan is a sizeable town and it made the cycling interesting trying to survive the traffic, the rules for which we don't quite understand. Perhaps it's 'every man for himself' and maybe that is why TK&A have had to hire Chinese drivers for every vehicle. At any rate we made it safely to Check-in at the Zhong Shan Guest House/Renbian Hotel which had a great facade but I didn't get a room there so I can't say how well those who did fared.
First though we each had to put our bikes into the 'pool'. There was a large pool about four feet deep in front of the hotel that was waterless. It was not meant to be a swimming pool, maybe it was meant to be a fountain that was never finished. Anyway we had to put our bikes in there. I took everything off mine to be safe but not everyone did. The pool filled so completely with bikes that it would have been nearly impossible for a thief to make his way through to steal what he could. But if your bike was at the edge, well that was another story. One rider left his bag on his bike, thought about it at dinner but still didn't go get it, and in the morning found that his camera had been taken. His bike was at the edge of the pool, an easy target.
Once the bike was in the pool I could get my room assignment. I was told that I would be at a hotel two left turns and eleven buildings down the street. But first I had to find my luggage and put it on a truck to be delivered at 4:00. Then I walked to the hotel carrying all my bike gear and I found it, but only because there was a Checkpoint sign outside. I couldn't figure out how to count eleven buildings because it was hard to see where each building ended, and did they mean buildings or shops? I got my room number but no key as there was only one (the norm) and Ruth, my roommate, was already there. The elevator was broken so I had to climb the stairs to the sixth floor. The room was better than the night before and there was warm water so at least we were moving in the right direction. We had the advantage of being at the far end of the hall where a door opened to an outside balcony. Clotheslines were already in place, it was windy, the perfect place to dry clothes. But first I had to get my bag. It was nearly 4:00 so I went down the stairs to the lobby to wait. I waited, patiently at first, but by the time the bags were delivered an hour later I was cross. I felt I had wasted a whole hour waiting and I had things to do like showering, laundry and writing. I was hot, sticky, and thirsty from the day's ride so I went into the bar to buy a beer, a huge bottle of Chinese beer which I can never finish, for only 50 cents. The bar was a sight. First of all it smelled, of age, of damp, of smoke, of beer, I don't know what. But the real shock was the carpet. It was so filled with cigarette burns that if it weren't so ugly one might think it was a design in the carpet! Obviously the patrons weren't accustomed to carpets but were to dropping lighted cigarettes on the floor. There were thousands of holes about an inch or two long. There were holes in the carpet in our room too and even in the sheets and pillowcases. I remembered that when in China a few years ago the people were warned not to spit in the streets or be fined. Now I think they need to promote the use of ashtrays.
Dinner was eleven buildings, two right turns, and dozens of autographs back down the street at the hotel with the bike pool. Suddenly we had become celebrities and scores of Chinese children swarmed us wanting our autographs. There was nothing to do but sign every one, then make a get away only to be surrounded by a new group a few steps later. Finally arriving at the hotel, I eyed the vegetarian tables wistfully but had to go sit with the others who are called carnivores by the staff. But for the first time, the food was delicious and I really enjoyed my dinner. The most sensational dish was a loaf made of some vegetable unknown to us, ground chestnuts was one guess and another was taro. It was brown and unappealing looking and furthermore there was a great slab of very fatty meat of some sort between each slice of the loaf, but the loaf itself was delicious. We ate every bit of it, leaving all the slabs of fat on the platter. Speaking of fat, some of us are getting that way, especially since all those days of bussing in Japan, and us with time on our hands and nothing to do but eat. No matter where we are or how strange the food, we find plenty to eat. We had thought or at least hoped that we would lose weight in Asia. Not yet!
Goodbye, Alice
DAY 292
Zhongshan to Yangshuo
October 18, 2000
The Chinese countryside that we have been cycling through has been beautiful, each day more gorgeous than the day before. On this day we could hardly cycle for stopping to take pictures. The peaks and pinnacles of limestone called karsts became more plentiful, creating a dazzling skyline in the hazy air. Some of the haze may be due to mist but unfortunately there's a lot of smoke in the air as well. As in other developing countries there appear to be no controls as everyone hustles to find a niche and become rich. In one area there are great scars on the hillsides where apparently marble is taken, because we cycled past several facilities where there were huge circular saws sawing the rock into slabs and slices, and other machines that were polishing the cut surfaces of the slices. Stacks and stacks of sliced and polished marble were on display ready for sale. There were heaps of chunks and bits of marble that appeared to be discarded, but I think they have value too. Someone only needs to realize it and seize the opportunity.
The poor people of the countryside do not use this marble so one wonders where it goes. To Shanghai maybe, or Hong Kong and Beijing. In the villages and towns one sees evidence of new prosperity. Better bigger homes of fired brick are going up, some even faced with ceramic tile. Pink, red, and white are favorite colors. Occasionally outside a town we would see a palatial home, large and shining in its splendor with a handsome arched gateway to proclaim it. I wondered how one man apparently did so well compared to his neighbors. Even in the villages we can see that some people are prospering. The mud brick homes which are so charming to look at are being replaced by fired red and white brick. Such a house stands out like a sore thumb against all the others but I am sure it offers more comfort to its occupants. These Chinese of the countryside do not commute to jobs in the cities. First of all they have no education or training and secondly no transportation. They have to get ahead by producing more on their farms than they need, then selling the rest along the roadside or in the streets of nearby towns and villages. Most do not own any vehicle except a bicycle or a two-wheeled cart so they have to walk, carrying their load on their backs or hanging from baskets on a pole across one shoulder. Those who own a bike pile it high and when it becomes too heavy or unwieldy to ride they walk pushing it. Even pigs are transported by bicycle. If a load is too big and heavy for a bike, then it is pulled by a two-wheeled cart with a man or woman between the shafts. Not everyone is this poor. The more fortunate own the rototiller mini-trucks.
I have seen no animals used to move goods along the roads. The people have water buffalo and another breed that I don't know of beautiful small brown cows but these animals are obviously too valuable to be used that way. The buffalo are used for plowing and once I think I saw one of the brown cattle pulling a plow but they are smaller and perhaps not as strong. Otherwise the animals are kept for milk, producing more cattle, and for meat. They are taken for walks each day in search of food and to water holes to bathe. They walk placidly along the highway, apparently immune to the noise and commotion, sometimes on a lead and sometimes not. The calves follow alongside. Even ducks are driven down the highways to a water hole. They are guided by the farmer with a long pole. The only other animal that a farmer keeps is chickens. The Chinese eat eggs steamed in the shell for breakfast and lots of chicken. Steamed eggs look and taste exactly like hard boiled eggs.
The countryside is covered with small fields of rice in different stages of development, but there are other crops too. There are many I don't know but I have seen rows of sweet potatoes with corn planted sparsely in the rows, sugarcane, peanuts, bok choy, lettuce, radishes, beans, eggplants, onions, tiny redhot chilies, lotus and tomatoes. There are fruit trees: apples, oranges, pears and persimmons are all on the market now. We rode through a persimmon area and what a colorful scene! They are on offer along the roadside both freshly picked and dried, but the vast majority are spread on trays to dry in the sun, to be sold later as dried fruit. I would guess that the farmer has no way to get them to market when ripe but if dried they can be stored and sold eventually. I wanted so much to stop and buy some but felt the risk of getting an intestinal bacterial infection too great to take.
We watched as they harvested the rice. It had been cut earlier and left lying in heaps in the field until threshing day. The threshing machine is a couple of wooden boxes with a motor attached. Inside the top box is a wooden cylinder with loops of wire protruding from it. The farmer carries the machine to the rice field and puts it down, maybe on a couple of rocks to keep it out of the water. The machine we watched had a motor so no one had to turn a crank but still the machine kept three people busy working as fast as they could. One walked about gathering the rice to be threshed which he stacked right behind the two people tending the machine. Those two people would turn around and pick up a double handful of rice stems, stick the grain end into the top box where the rotating wheel was, turn the sheaf over a time or two, and then throw the straw to one side. The rice fell into the box below. The man who wasn't working at the machine had two jobs. The second was to gather a big double handful of stems, tie the bundle near one end, and stand it in the rice field like a little teepee to dry into straw. Maybe that straw was used for bedding or food for the cattle. I didn't see hay or other crops being grown just for cattle feed so I'm not sure what the cattle do eat. Maybe they are taken to graze all year round.
When we cycled around the corner and onto the Yangshuo Bridge I immediately recognized the scene. My mother and I had taken a cruise on the Li River from Guilin to Yangshuo several years ago. I remembered the cruise well of course, but hadn't remembered that it had ended in Yangshuo, the very place I was now to spend the night. We made our way to Check-in at the Xi Lang Hotel and on the street found ourselves face to face with other western tourists for the first time in China, which painfully reminded me of how huge, fussy, and out of place we look.
This time I was assigned to the Check-in hotel, the Xi Lang Hotel, which I thought was a break because I wouldn't have to wait for my bag to be delivered to another hotel and because the meals would be served at my hotel. But then I discovered that there was no elevator and I began to wonder. When I reached my room Ruth, who was my roommate again, was already settled. She had opened the window to try to freshen the air, and I appreciated her good cheer about our circumstances. We can always find something to be cheered about if we try. Perhaps it could be that we had a western toilet, even though it leaked and didn't flush completely? Or that there was warm water for the shower even though the drain was in a high spot on the floor so that a puddle from the shower and the leaking toilet always stood on the floor? Or maybe it was that the room was furnished with two pairs of plastic slippers so that we didn't have to wade in the bathroom in our own shoes. And to top off that list of plusses we even had access to outdoor clotheslines again. We're not hard to please!
Goodbye, Alice
---
Today's Music
---
China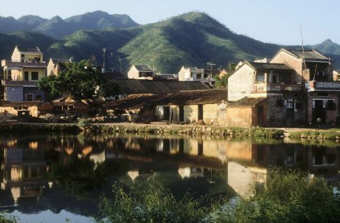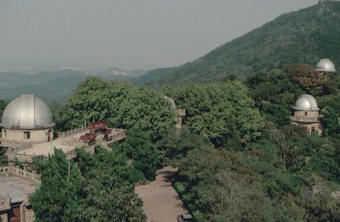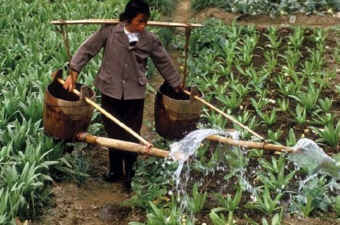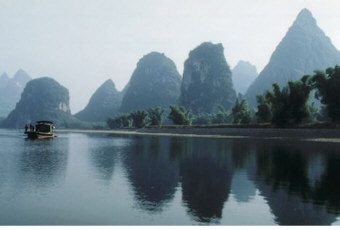 Scenes from Guangxi Province
---
Australia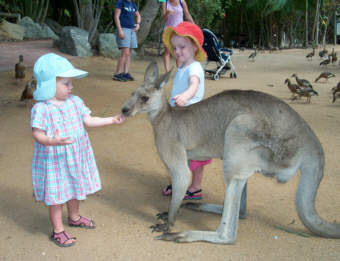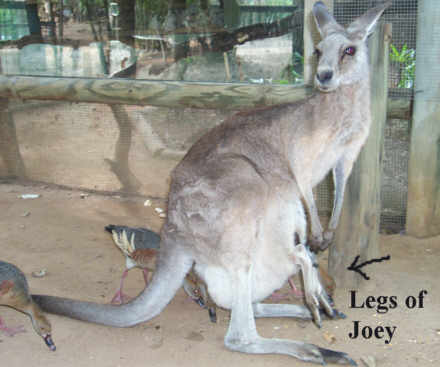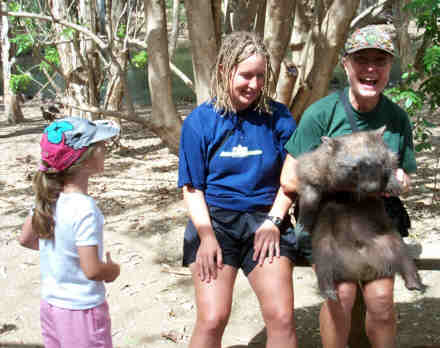 Alice with Wombat and Parrot
---
Odyssey Riders and Staff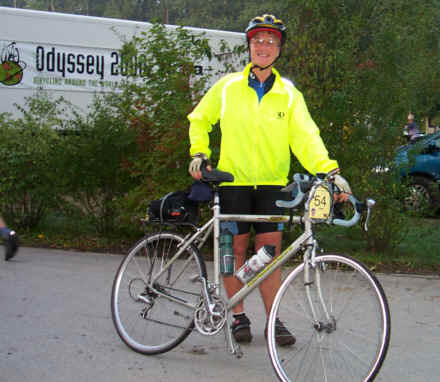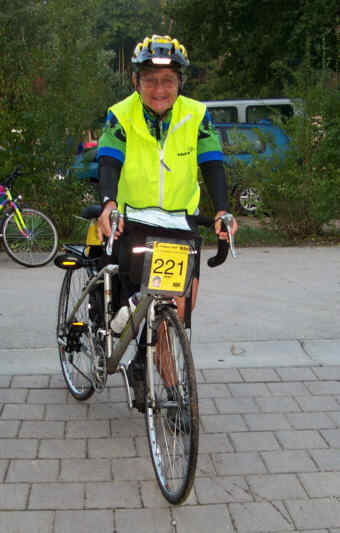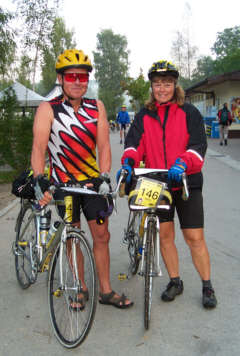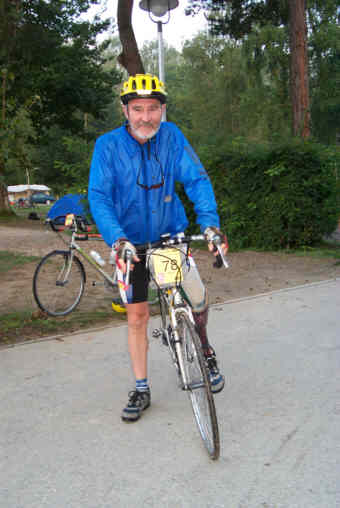 ---
Previous Page (Page 82) Next Page (Page 84)