Page 87
China
Vietnam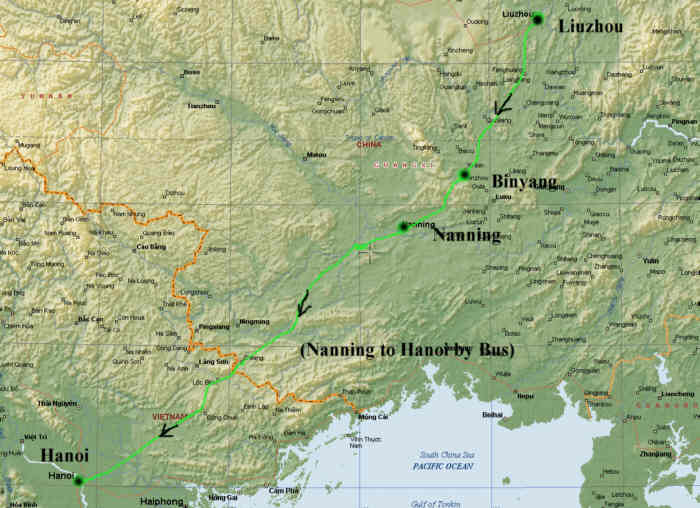 ---
DAY 300
Liuzhou to Binyang to Nanning
October 26, 2000
We wished that a layover day had been planned for Liuzhou so that we could stay and enjoy the excellent Jin Du Hotel another day. Our rooms had been nice and we had been treated to vast buffets of western food both for dinner and breakfast including the first coffee we'd had in China. Several riders liked the hotel and food so much that they stayed behind for another day, planning to take the train to Nanning and rejoin us there.
I was concerned about the day's ride because it was long, 175 km., and I knew it would be hard work for me to make it. We had an opportunity to take an optional tour of a private garden offered to us by the city. It would begin at 7:15 a.m. and would include a police escort to the garden and back to join the route out of town. Doing that tour would mean getting an even later start, making it likely that I would run out of daylight to finish the ride. So I felt that the tour was really not an option for me. But at breakfast I met Joan and she had a plan. She would do the garden tour and ride only to the midday checkpoint at 84 km. There she would ask to be sagged. That sounded good to me as well so that is what we did.
Three policemen on motorcycles were ready and waiting but Joan and I were the only riders waiting with them. Because of the many miles, everyone felt pressured to get on the road as soon as possible. Joan went around talking to other riders, trying to recruit some for the tour but not with much success. Finally there were nine of us. We were embarrassed about the low turnout and tried to explain why to the policemen and convince them to begin. We had already waited 15 minutes. At last we did start. It was exciting but harrowing to ride through the city with the escort. There have not been many intersections with stoplights in this part of China and where they did exist they were ignored. But in Liuzhou there were red lights at the major intersections and they actually controlled the many lanes of traffic. When we approached a red light our police escort did not stop, but said something on their powerful loudspeakers and drove right into the cross traffic which was expected to stop instantly. If some vehicles continued to move the police would shout another order to halt. We imagined they were saying, 'Stop! Let the Yellowheads pass!' We did our best to keep up and wend our way through the resulting jumble of bicycles, trucks, and busses at each intersection. I tried to stick as close to the first police motorcycle as possible because the traffic would start to inch forward again as soon as the policeman had passed. I had to really push to match the pace set by the police. We tried to motion to them to slow down but they had their own pace. By the time we reached the park we had lost two riders.
Normally admission is charged to visit the park but that was waived for us. Several reporters with cameras met us there. Luckily one could speak some English and he served as our guide. There was a lake with a bridge typical of those in the old days in this region. The old bridges were wooden, this copy was concrete. The lake was called Dragon Lake. There were Donald Duck and Mickey Mouse paddleboats available to rent. There were acres of greenery and the whole garden seemed to be surrounded by limestone karsts, making it very beautiful. It was a quiet, peaceful place and I marveled that there was such an oasis of tranquility in the busy city. We rode the circular path around the park and came upon a large group of Chinese people doing ballroom dancing. We were invited to join and so we did. It seemed a strange activity for early morning, but they look on it as exercise we were told.
Back on our bikes we left the park with the police escort who went even faster than before making it very hard to keep up. The photographer with the video camera sat on the motorcycle behind one of the officers with his camera running. I felt both conspicuous and important but wished the ride would end. I was exhausted from the pace and found moving so fast through the traffic a little scary. I could see in my mirror that the others were far behind. Finally we did stop. The police and reporters were ready to go. We thanked them for their help, but did not have a clue where we were on the DRG. We managed to delay them long enough to get directions from the English speaker among them. Then we waved goodbye to them and set off to begin the day's ride. We all agreed that our trip to the private garden had been an exhilarating experience and a special opportunity to mingle with the Chinese people. We wouldn't have missed it for anything.
The rest of the ride was uneventful. We rode through a beautiful area of rice paddies and limestone karsts, but eventually left them behind and sugar cane became the major crop. We stopped for a lunch break and sat on the rail of a bridge to munch our peanut butter and cookies. About 2:00 we finally reached Checkpoint, nearly the last ones. We asked to be put on the SAG list and waited. Eventually Karen-Ann was ready to go and we were told to go with her. The road was very rough and the loaded bike rack very flimsy. Karen-Ann had to plead through the interpreter with the driver to go slowly. He would for a minute or two but then would be off to the races again. Finally we met Amanda's van and my bike was transferred to that rack to lighten the load by one-fourth on our rack. An hour or so down the road Barbara and I were asked to leave Karen-Ann's van and go with Tim. It is always a mystery to me why these changes are made. We were enroute in one van or another for about three hours. We slowed or stopped for every rider we passed to inquire whether he or she needed water or wanted a lift. We came across Len, one of the riders, surrounded with locals, so Tim went to see what the problem was and didn't return to the van for the better part of an hour. Len had had several flats and Tim helped him find the glass in the tire and get back on the road.
During the ride Tim was both 'working the road' and 'working the phones', amazing to watch. He received a call about some trouble or confusion at our destination, Binyang, and within 10 minutes had made a new plan. We didn't learn the details until we arrived at Binyang.
There were two problems, not enough rooms were available for all of us and one of the male riders had been assaulted in the hallway of his hotel. Based on these events Tim made the decision to leave immediately after dinner, bussing everyone to the next day's destination, Nanning. We would stay in the five-star Nanning International Hotel instead of the dumps available in Binyang. Anyone who wanted to do the next day's ride, Binyang to Nanning, would be bussed back to Binyang first thing in the morning to find his or her bikes and ride. Surprisingly a whole busload or about 40 people went back to do the ride. Of course all of the every-inch people rode but a surprising number of others as well. I did not ride. That extra day in Nanning was just what I needed.
But back to Binyang. I never learned what my hotel assignment would have been. There was no point in it. I walked down the street to Hotel 'B' where the bags had been unloaded to find mine and put it back on the truck. Then I washed my face and arms at a sink in the yard behind the hotel and went to dinner. Afterwards I found my bike left standing where someone had unloaded it from Amanda's van and tried to hide it among the others because we had to leave our bikes behind overnight. With that done I just had to hang out and wait with everyone else. Riders who had arrived earlier in the day and gone to their rooms to shower and dress had since then scattered all over the city. Most returned for dinner or were found before the busses left but not all. There were a few other riders who declined to go to Nanning and stayed in their Binyang rooms for the night. They would be in a position to get a good early start on the ride the next morning. But almost everyone else was delighted to leave Binyang behind.
The Nanning International Hotel was beautiful. It was air-conditioned, clean and shining, and ready for us even though we were arriving a day early. There was a red banner welcoming us, and a glass of punch for each of us. Someone was playing the grand piano in the lobby, where we just relaxed and waited for room assignments. Ruth was my roommate again and the room was great. This hotel had been constructed with more care and skill than the others we had seen. We were glad for the sudden change of plans and the late evening bus ride that had brought us to Nanning. Those of us not bussing back to Binyang in the morning to ride could go to bed without even setting our alarm clocks.
Goodbye, Alice
DAYS 301-302
Nanning Layover Days
October 27-28, 2000
No layover days were planned for Nanning. Day 301 was the riding day from Binyang to Nanning that most of us didn't do. Day 302 was the day we should have traveled to Hanoi but the Vietnam visas weren't ready so our stay had to be extended. No one really minded except the people who were anxious to see everything in Hanoi. I hadn't read about Hanoi yet so I was unperturbed.
I knew nothing about Nanning and it was barely mentioned in my China book so consequently I didn't mind spending Day 301 doing the things I needed to do which included washing and cleaning my gear and writing for the web page. Of course there was a nap in there somewhere too. About my only distraction were the many weddings occurring in the hotel, one group of 75 couples in the morning, another group in the afternoon. The hotel had been brightly decorated with red bells and streamers and clusters of red and yellow balloons. The ceremonial part seemed to take hours, or maybe most of the time went for taking photographs, I don't know. The Wedding March played throughout the hotel all day on the sound system and put us all in the mood. There didn't seem to be any family members present for the ceremonies, but when it was over and the couples were departing, many of us gathered to see them off. Each bride and groom walked down the spiral staircase very regally, the grooms in dark suits, the brides in long hoop-skirted white dresses and veils. Every bride had had her hair done in a fancy do on the top of her head with flowers and the veil. Every bride carried a floral bouquet. As they descended the stairs pictures were taken and the couples formed a line to board one of the festively decorated busses. Hotel hostesses dressed in red silk sheath dresses sprinkled each newlywed couple with red confetti as they stepped through the hotel's doorway. Where would the busses take them? What about a reception? Where were their families and friends? All of us wondered what the next step was.
Because I had heard that Chinese families are allowed to have only one child and every couple wants that child to be a boy, I expected to see fewer girls than boys among the children. I am happy to say that I didn't see that, there appeared to be plenty of little girls and they looked as loved as the little boys. Of course we were in the rural areas where families are allowed to have two children so that may make a difference. One thing is for certain; there are plenty of children in China!
On the evening of Day 301 we were told that our visas hadn't come back as anticipated because some people had no space left for the Vietnam visa and the officials needed more time to solve that problem. That was good news and bad news. We could spend another day in our luxurious hotel, but we would lose a sightseeing day in Hanoi. I made plans to spend my second day in Nanning seeing something of the city. I went with Joan and Gudrun in the morning to the Cultural Center and Museum. We saw typical homes of the people of the region and were treated to a performance of costumed dancers. In the museum we saw a special exhibition of two major Chinese watercolor artists who happen to be husband and wife. They were there greeting all the people who came to see the exhibit. Their work has been exhibited around the world. One of our riders negotiated with them and bought one of the more beautiful watercolors. Then we walked back to the hotel, searching in every shop for a China souvenir pin for my cap. Funny thing is that many of the pins I have purchased around the world were marked 'Made in China'. But now I was unable to find one made for China, probably because our route was not on the usual tourist circuit. In the end I bought a tiny green jade happy Buddha to stitch onto my hat. Nanning has awesome new buildings and a river; it will be a beautiful city before long.
In the evening we had the large group meeting that had been promised for Nanning concerning the money crunch in which we now find ourselves. It was not a pleasant experience and not a single-issue was solved. TK&A postponed addressing the options that had been proposed by the riders until a later date. That was a disappointment for all those still undecided about what to do. They did offer a handout detailing exactly the rising costs of jet fuel so that we could all see for ourselves how very large the increase had been and hopefully conclude that it was rising costs and not mismanagement that caused the money to run out too soon. That didn't work for the most negative among us who assumed perhaps that fuel prices always increase at that rate.
Otherwise the meeting was a disappointment and people are still frustrated and angry. Some have made up their minds exactly what they'll do next, some keep changing their minds, and others cannot decide. I am one of those. This is a complicated issue.
Goodbye, Alice
DAY 303
Nanning to Hanoi, Vietnam
October 29, 2000
We had to set our alarms for an early start. We were going to Vietnam! Ruth was up very early to go running but I was up only in time for breakfast at 6:15. After breakfast we took the pedals off our bikes, turned the handlebars, and removed anything that might get lost or broken. Then the bikes were loaded, stacked in two layers into two trucks. The busses arrived at 8:00, by 8:15 we were on our way to the Chinese border. We would be on busses all day. My first bus was deluxe! The seats reclined, there were leg rests that popped up just like on a recliner, there was AC of course, and television. We were each given a bottle of water. Everyone had brought munchies along to help pass the time.
We reached the border about noon. We got off the busses and waited for directions but none were forthcoming. That gave us an opportunity to spend the last of our Yuan on the noodles and cookies that the vendors were selling. But before I could get noodles the baggage was unloaded and the bikes were coming off the trucks. They had settled and were entangled even though the pedals were off. But my bike was on the second level and was one of the first off! Never mind that the rear wheel no longer turned. With bike and bags in hand we had to get in line to pass through Immigration and out of China. I had a stroke of luck there! Because my bike was off first I was one of the first ready to go. We could not make two trips so we had to carry everything with us. Once again I was grateful that my bag had wheels. I fastened my heavily loaded bike bag to the rear rack and put my Camelback stuffed with pedals, water bottles and pump on my back. I pushed my bike with one hand, and pulled my wheeled bag with the other. I wouldn't have thought I could move everything at once but it wasn't hard except for the curbs and stairs. We had a surprise when we reached the first immigration clerk. We had to pay a 10-Yuan border tax before we could pass. Then I felt lucky that I hadn't been able to buy the noodles or I wouldn't have had 10 Yuan left. People were borrowing from others back down the line and offering $2 U.S. instead and that was accepted. Eventually TK&A came forward with a stack of money and put our new doctor, Peter James, in place to pay the tax for each person. But by that time I was sitting in the parking lot awaiting further orders.
The line was moving very slowly. Only one man was working to check the passports and visas, and other travelers crowded ahead in line. It was clear that it would take hours to get all 200 plus of us processed and out of China. One by one we trickled out of the building, down the stairs, and into the parking lot. Through the fence I could see our line way back there, people sitting on the pavement because they knew they'd be waiting for hours. TK&A personnel were running around trying to get all of their gear together and moved into the Immigration Hall. China would not let the truck drive across the No Man's Land to Vietnam so a ton or two of stuff would have to be carried by riders and staff to Vietnam.
Finally Tim, Brit-Simone, and Pat came through and into the parking lot. We were to give them a five-minute head start and then we could begin walking to Vietnam. We walked about 300 meters and came around the bend to find a welcoming committee! People from the tourist agency that TK&A had used were on hand to take our bikes to be loaded so that we could start the Immigration procedure. We had the usual forms to fill out but there was no line because the Vietnamese had four people working to check passports and visas. The bikes, by the way, were gently handled and carefully loaded, each two tied in place so they wouldn't rub or become entangled. Before the second layer was stacked, plywood was put down to protect the first layer of bikes.
We were given bus numbers as we arrived and again I was lucky, I was assigned to Bus Number One. I hoped that that meant the bus would fill first and leave first and that is exactly what happened. We had a four and a half hour journey on a basic bus over many miles of road construction. Every once in awhile there'd be a smooth patch and we would hope for the best but there was always more construction. We were getting a bit fed up but reminded ourselves how fortunate we were. We knew that other riders were most likely still standing in the Chinese immigration line.
Bus One reached the hotel in Hanoi by about 7:30. Later I learned that the last bus arrived about 10:30. Our hotel was the very nice Thang Loi Hotel on West Lake; in fact my room was on legs in the lake! It was lovely. Ruth was there too so we had our dinner and showers and were sound asleep before most of the riders had even arrived.
Goodbye, Alice
---
Today's Music
---
China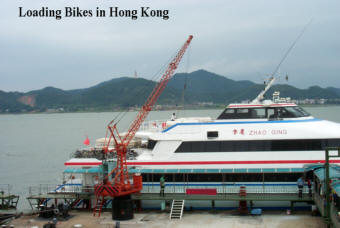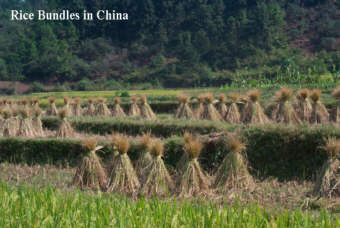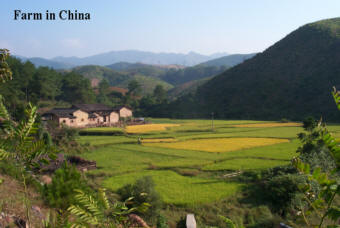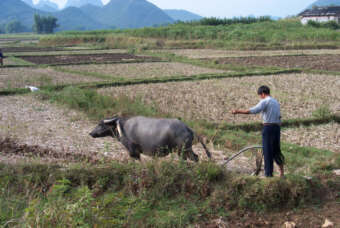 ---
Japan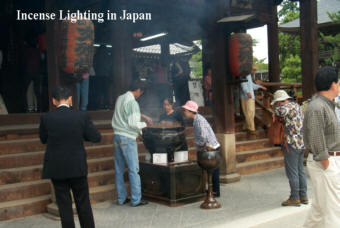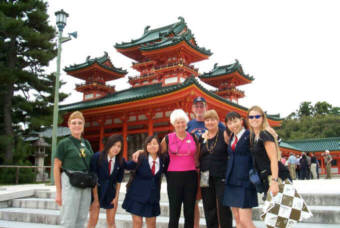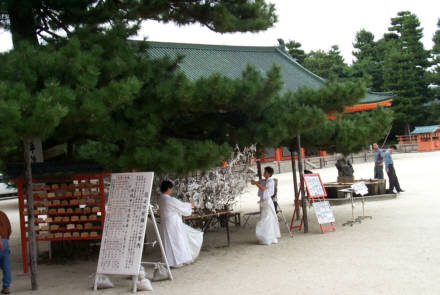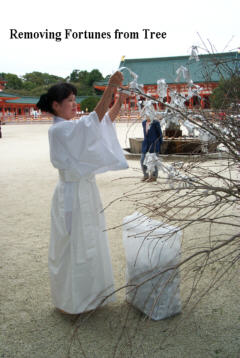 ---
Odyssey Riders and Staff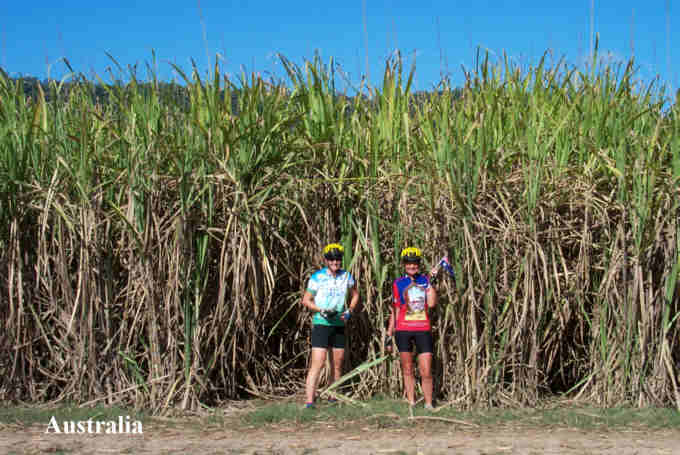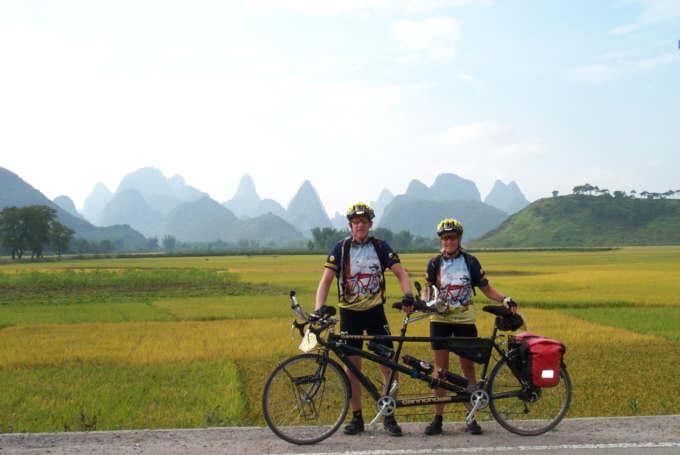 ---
Previous Page (Page 86) Next Page (Page 88)