Page 88
Vietnam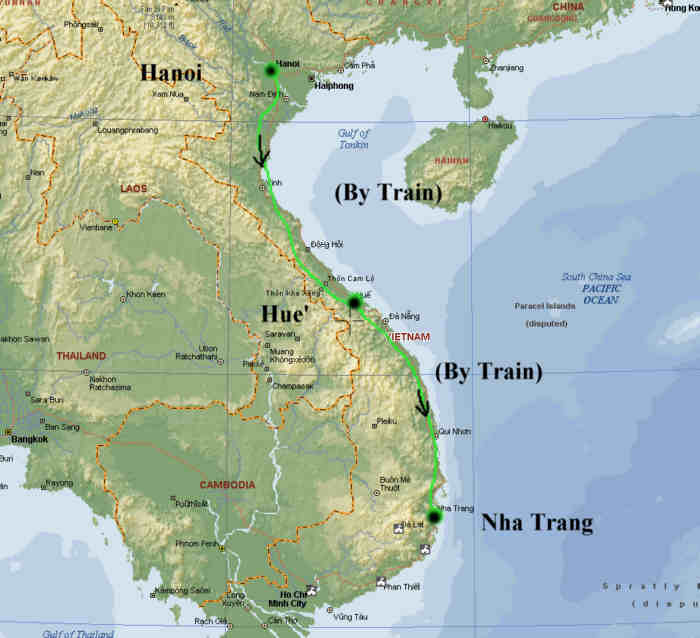 ---
DAYS 304 - 305
Hanoi to Hue
October 30-31, 2000
Ruth had a story to tell in the morning. She'd been awakened in the night by rustling rodent sounds. She turned on the light to investigate and sure enough there was a long-tailed black rat in her crackers! It had chewed through two plastic bags to get there. Now Ruth is not your ordinary person. Did she scream and jump onto the bed? Of course not. She picked up the rat by the bag, crackers and all and put it on the balcony. In the morning the rat was gone. I had slept through the whole thing. But now I am wondering, if a rat rattling plastic awakens Ruth, how can she sleep through my snoring? I'd better have a chat with her.
This was to be our only day in Hanoi, having lost the planned layover day there when we'd had to spend an extra day in Nanning waiting for our Vietnam visas. This was also the day we'd be going by train to Hue.
We wouldn't be leaving the hotel for the railway station until after dinner though which left the whole day free to explore Hanoi. But first there was breakfast, then repacking to prepare a small bag with only the basic necessities for the three days of travel until we'd see our luggage. Then I checked out and put my big bag in the stack to be loaded onto a truck later. My three-day bag, Camelback and helmet went into another stack to be retrieved in the evening. I would carry them onto the train.
Then I rode the 10:00 free hotel shuttle to downtown Hanoi. All of the passengers were Odyssey riders and we all wanted an ATM machine. There was already a line at the machine when we arrived. I wondered whether it would run out of money before my turn but it didn't. We are struggling a bit to come to grips with the Vietnamese dong, because the exchange rate is about 14,000 dong to the dollar. All those zeroes confuse us. But people were rejoicing at the novelty of becoming instant millionaires. The postcard hawkers were driving us nuts with their wheedling and begging. They weren't allowed to set foot on bank property but the second we crossed the street they were on us like vultures. The starting price for a set of low quality cards was 80,000 dong! It sounded like a fortune. Later in the day I found that the same cards could be had for as little as 5,000 dong.
We walked around a small lake, Ho Hoan Kiem, or Lake of the Restored Sword that is in the center of the old town. A lovely wide promenade has been made around the lake. It is shaded by big trees and there are flowers and benches where one can take a rest. A monument to a tortoise that once saved the country, Tortoise Tower, sits in the middle of the small lake. Legend has it that in the 15th century King Le Thai was given a magic sword by a tortoise that lived in the lake. He used the sword to drive the Chinese from the country but later the tortoise snatched the sword and disappeared into the lake.
Too soon we had to leave the tranquility of the lake to walk on the crowded and hectic shopping streets. There were so many motorcycles! There were bicycles too, people on foot, bicycle taxis, and cars. It was harrowing just to get across a street. I was thankful we wouldn't be cycling in Hanoi. The colorful shops were filled to overflowing and spilled into the area that once may have been a sidewalk. The shops were arranged so that along a street every shop would be selling the same merchandise. We walked along a street where shop after shop sold sewing notions like buttons, thread and zippers which fascinated Willma because she enjoys sewing. Another street was all toyshops and yet another was all articles related to religion like statues of Buddha and sticks of incense.
Willma and Beth were interested in silk garments and looked at everything. Willma found just the grey silk she'd been wanting for years and ordered a pair of slacks made that we would return to pick up at 4:00. She also shopped for gifts and found a store of embroidered linens that she favored. I think we returned there three times so that she could buy more. Ed, her husband, had a big cloth bag and he was her packhorse. He was a wonder for a man. Not at all interested in the shopping, he nevertheless waited with infinite patience. I wasn't shopping either and time would have dragged for me but there was so much happening around me that I was well entertained. Beth tried on many many blouses and finally chose two. I looked for a souvenir hatpin.
We took a break for lunch at a tiny cafe barely ten feet wide but there were tables and chairs inside and the menu had English subtitles. That meal was the highlight of the day! What a delicious change from Chinese food. I ordered Pho Chua Ngot or Sweet and Sour Noodles with Everything on Top, and Banh Goi or Pancake of Hanoi. Crispy, spicy, crunchy, hints of ginger and mint and coriander, it was a taste sensation. I decided right then and there, that Vietnamese food is my new favorite.
We walked to the Hoa Lo Prison, better known to us as the Hanoi Hilton. This was the place where downed American pilots were kept and treated well according to Vietnamese accounts, during the Vietnam War, which they call the American War. It was interesting to see the photos and the propaganda they had prepared to show the humane treatment of the American soldiers. The prison was old, having been built by the French in 1896 and used by them to incarcerate, torture and execute by guillotine Vietnamese patriots and resistance fighters. After the North was liberated in 1954 the Vietnamese state used it as a prison. It was truly a place of horrors. Most of the prison is gone now, a bank has been built on the space it occupied, but more than enough is left to tell the ugly story of the brutality within its walls. It is being preserved as a monument to the valor and sacrifices of the Vietnamese who fought to win freedom from the French.
It was late in the afternoon by this time so rather than walk back to get Willma's slacks we rode in bicycle-powered cabs. We hired two for the four of us and while the seat in the cab may be wide enough for two Vietnamese people who are small by comparison, it was a tight fit for us. Still we squeezed in and enjoyed our ride through the city, constantly marveling at all the activity around us and expecting a collision at any moment. Maybe there is something to all that beeping and honking. In addition to all the wheeled vehicles using the roads there were those who were on foot. These people were usually carrying loads. There were many women with a pole across one shoulder and baskets of fruit or vegetables hanging at each end. Other women were walking clothing stores with clothing on hangars swinging from each end of the pole. Their load looked so heavy and how could they ever put it down to rest? The clothing would get dirty in the street. Other women walked with giant loads balanced on their heads, something we never saw in China. On the fish and meat street one vendor was selling the snouts of pigs. There they were all in a line on a tray.
Our drivers waited while Willma picked up her new pants and then they took us to the Hoh Chi Minh Museum and Mausoleum. The Museum was closed because it was Monday, but it would have been anyway since we reached it so late in the afternoon. It is an impressive building. Just a short walk away is the Mausoleum where Hoh Chi Minh's body is usually on display, but apparently it has been shipped to Russia for its annual pick-me-up. Poor Hoh Chi Minh. All this fuss when his request was to be cremated.
Then we walked back to the hotel a distance of only 2 or 3 km. but it seemed a long way. I wanted to hurry a bit, but there were many distractions, traffic congestion and more shopping so it took awhile. When we arrived at the hotel we weren't too late to eat, but I was worn out and grungy, especially my feet having worn sandals all day. I wanted a shower but we had checked out of our rooms so that was not a possibility. I at least hoped to bathe my gritty feet but the sinks in the lobby restroom were too high to put my feet in and there were no paper towels for a sponge bath. Eventually I scrubbed them with some Wet Wipes and felt somewhat better.
After dinner we waited for the busses and finally were told to board them for the ride to the railway station. The notice on the white board was disconcerting and made everyone restless. It warned that only some of the seats on the train would be soft seats, the rest would be hard or unpadded. Then they made a gesture that was new to the Odyssey, TK&A claimed the worst seats, the hard seats for themselves and the volunteer staff. No one objected to that! But no one wanted to be on the hard seats either. I am sure we were each wondering what strategy we might use to put ourselves into position to have a chance for the soft seats.
At the railroad station there was nothing to do but stand and wait. About 9:30 p.m. Karen-Ann appeared and asked the staff and anyone else who wanted to sit on the hard seats to follow her. But we all followed and she led us to the correct train on Platform 4. It bore a red banner that said, 'Welcome to Odyssey 2000'. After some discussion it was sorted out which cars were ours and then of course we all wanted to be in a car that had soft seats. I succeeded but such seats! Only the seat portion had padding and a thin layer it was, the backrest was of wicker in a wooden frame with a padded headrest. I managed though to make myself somewhat comfortable by putting my fleece behind the small of my back to keep the frame of the seat from jabbing me, and by sitting on my pillow, lightly inflated. I was afraid it would pop from my weight but it didn't.
All the fuss over soft seats versus hard seats was because this was not just a train ride, but also an overnight train-riding marathon. We would be on the train for 17 hours! We would have to sleep in our seats and have breakfast and lunch in our seats before finally arriving in Hue at 2:00 p.m.
It was a bit of an ordeal. Many people, perhaps as many as a hundred, expected it to be so bad that they had found alternate transportation. A few bought tickets for the sleeper car. Most bought airline tickets. They planned to stay in Hanoi and would meet us again a few days later when all the train riding was over. But most of us were on the train, and for us it was an exercise in patience and endurance. The train was noisy and the track rough but there were revolving fans overhead that kept the air moving and kept us comfortable even though it was a warm day. There was a WC only a car length away. Never mind that there was no paper, water or soap. There were bars under the seats that could serve as footrests and there was a tray on the back of the seat that could be let down when one needed a table. The rows of seats were too close though so that taller people had their knees against the seat in front of them and that person could not recline his seat to get more comfortable for the long night. It was a very long night but most of us slept some and that helped to pass the time. The window beside me would not close completely. The cold night air blowing on me chilled one arm and shoulder making it hard to sleep. I had brought my fleece along for just such a purpose but I needed it to cushion my back.
The train crew served breakfast. First they came through offering coffee for which we had to pay. Never mind, I was glad to pay! That was followed a carton of sweetened milk and a steamed bun filled with chopped meat and a boiled quail's egg. Inge, who was sitting next to me, squeezed her egg out of the filling and gave it to me. She doesn't eat eggs or at least not quail eggs. Nothing about the breakfast was good and I was reconsidering my opinion of Vietnamese food as my new favorite. A great deal more fuss was made over serving the lunch, which I found even less appealing than the breakfast. First they brought us each a blue plastic tray with little foil-covered containers of food. The biggest one held plain, cold, unseasoned white rice. Another held a dark liquid with a chunk of meat in it, another the leaves of a dark green vegetable. In addition to this they handed each of us a china saucer with a chicken leg and french fries on it. Cooked yesterday! Ick! I tried the green vegetable, the rice and the chicken. One taste of each was enough. But no worries! Karen-Ann was taking good care of us all. She had brought on board an endless supply of beer, Coke, and water which she had distributed frequently ever since the trip began, and now for breakfast and lunch she supplied us with baked buns, cheese and butter. Of course we all had brought on snack food of our own but it was a problem to get to it if one had a window seat as I did. I could not get out of my seat unless my neighbor got up and moved into the aisle to stand and wait while I reached for my bag on the shelf overhead.
When the train trip finally ended in Hue we had been on board more than 17 hours, that plus the day shopping in Hanoi meant more than 24 hours without a chance to wash or clean our teeth or lie down. We were a tired, gritty, grimy group. My worst problem though was my feet that had swollen to what felt like the bursting point. I could not wait to get a shower and put my feet up! But most of us agreed that the train trip had not been as bad as we had expected it to be. It was less awful than the same amount of time on a plane, perhaps because we had a little more space and we could open the windows.
We boarded busses for the very short drive to the hotel, then another wait, and finally room assignments were made. Ruth was my roommate again; on the way to the room I asked her about my snoring keeping her awake. She said I had snored only one night! She took a shower and I put my feet up. Then I took a shower and put my feet up until dinnertime. After dinner I put my feet up again until time to go on the 'boat trip on the Perfume River with a traditional royal music show'. The entertainers were dressed in traditional clothing and played unfamiliar instruments. They sang too, which sounded somewhat nasal, similar to Chinese singing. It was a very different musical experience for us but I enjoyed it. There was an intermission during which each of us were given a paper lantern containing a burning candle. We were each to make a wish and set our lantern afloat in the Perfume River. It was a pretty spectacle with so many lanterns floating in a wavy line down the river.
I was ever so grateful to get to my bed. Vietnamese beds are not at all like Chinese beds, they are soft and comfy!
Goodbye! Alice
DAYS 306 to 307
Hue to Nha Trang
November 1-2, 2000
We had the morning free in Hue for sightseeing that was already arranged for us. The busses took us to visit the Thien Mu Pagoda, which overlooks the Perfume River and the Imperial Citadel.
Hue is the former capital city of Vietnam and is also known as the land of Buddhism. For hundreds of years the dynastic family, the Nguyen's, were devotees of Buddhism so it was promoted and prospered as the main religion of Hue. Today according to our guide about 40 % of the people of Hue are Buddhists. Monks still live and work at the pagoda we visited. They grow their own food in a vegetable garden and make sticks of incense that is purchased by people who come to the pagoda to pray.
The Imperial City has been devastated by war and severe weather but what remains is now a World Cultural Heritage Site and therefore some funds have become available for restoration and repair of the buildings that remain. Three walls encircled the city. The Citadel, the outermost wall, remains in place and is an impressive fortification with a 21-meter thick wall. That is a lot of wall! A huge Vietnamese flag which is red with a big yellow star in the center flies from the massive main entrance. The second wall, known as the outer wall, enclosed the Imperial City. It is only one meter thick. The innermost wall enclosed the Forbidden Purple City. Plenty of buildings remain to give one the feeling for the former grandeur of the city with it's many palaces, temples and courts. There is a model showing what the city once was before so much was destroyed. It would seem to have rivaled the Forbidden City in Beijing. The Chinese influence on the architecture and decoration is very apparent with the dragons on the tile roofs and red and gold the predominant colors of the interiors.
We had to be ready to board busses at noon for the short trip to the train station. So we waited for that and once at the train station we waited again. It was lunchtime and I was hungry but had to make do with cookies and a sweet similar to peanut brittle. We haven't seen juice in boxes or cans but I did buy a couple of boxes of a mixture of orange drink and yogurt. It was refreshing but too sweet. I think the Vietnamese like sweetness. Milk comes presweetened from the dairy and coffee is served already sweetened.
The train boarding was a little less intense than before since we now knew what to expect. Several of us wanting to sit together succeeded in claiming adjacent seats and busied ourselves getting settled. Again I was fortunate to be in a car with padded seats. There was enough space on this car between the rows of seats so that the long-legged people didn't have their knees against the back of the seat in front of them and when someone reclined a seat to sleep the person behind still had a bit of breathing space. Otherwise it was pretty grim. The car was very old and rusting away in places. It was smelly and dirty. The rails were rough and in some sections of the journey the train made so much noise that conversation was impossible and I thought that if that continued for the whole journey we'd all suffer hearing loss. Still our guides had told us these new trains were a huge improvement over the ones they replaced. At least now the engines are reliable.
There was a great deal of excitement in our car when we reached the section of track that paralleled the South China Sea. Everyone wanted to be at the windows on that side to see and to take photos. The sun was setting and the clouds were golden.
The windows of the car could be slid up to open them. The lower half of each window was covered with a stout screen of a one-inch mesh to protect the glass from rocks thrown at it we were told. In addition to the screen there was a metal shade with small holes that could be pulled down to completely cover the glass. One couldn't really see through the dirty and scratched glass and there is only a narrow rectangle between the open window and the immovable mesh screen for peering at the scenery or taking photos. To take a photo one had to turn her head sideways to get through the narrow opening, then hang out there with camera in hand hoping to get the photo taken and be back inside the car before being clobbered by a light pole or a passing train. We had all the windows open so that we could see the scenery and for the fresher air. At one point in the journey we found ourselves panicked by a cloud of tiny flies which had suddenly blown in through the open windows. Everyone jumped to close windows or failing that the metal shades. We were relieved to find that the flies didn't bite and just wanted to buzz around the lights on the ceiling.
Karen-Ann had brought enormous Styrofoam boxes of iced Coke, beer and water on board. She made at least a half dozen trips up and down the length of the train distributing cold drinks to all of us. Once she came through with wonderful big apples for everyone. We appreciated her TLC and marveled at her energy.
Dinner was served very late. I was able to get a vegetarian meal that was much preferable to the other. I had steamed cabbage and noodles. Nancy was too hungry to wait for dinner so she got off the train at one of the longer stops and bought a bowl of noodles from a woman there. She paid only 6,000 dong, less than fifty cents, for the steaming noodles. Nancy was worried that the train might leave without her if she stood there to eat the noodles, so the woman told her to take the noodles, the bowl and the chopsticks onto the train. We found that amazing.
It was a long night but I slept some of it and just relaxed the rest. My inflatable pillow was a lifesaver this time. The chair back was so uncomfortable that I used the pillow to cushion my back rather than sitting on it as I had on our first train journey. Other people were prepared too having learned from the first trip. They had bought pillows just for the journey, no doubt to be abandoned later for a lack of space to carry them. Traveling by train in Vietnam is something you need to experience to appreciate. Few western tourists would ever ride the trains because airfares between cities are reasonable and the flights are great timesavers.
Our train arrived in Nha Trang, our destination, on time at 5:30 a.m. We had been on board for fifteen hours. Waiting busses took us to the hotel where breakfast was ready early so we ate while Pat and Brit-Simone sorted out the room assignments. Then we unloaded the bikes and bags. It took a couple of hours to get the bikes unloaded because they had been securely tied to prevent damage. A shelf of bamboo had been tied in place for the second layer of bikes. Even with all that care a good number were seriously damaged but not mine. Many of us stood in line for a turn with the hose to give our bikes a much-needed wash. The mechanics, Merlin and Jason, worked for four hours in the afternoon to make repairs. I stood in line for two hours to get new rear brakes.
Traditional music and dancing were on stage during dinner so that made it a festive occasion. I still haven't had any food as delicious as that wonderful dish I had in Hanoi, Sweet and Sour Noodles with Everything On Top.
Tomorrow is a riding day at last. We've been in Vietnam for five days but I feel like I haven't seen anything yet. I need to be on my bicycle to really see and know the people and the country.
Goodbye, Alice
---
Today's Music
---
Vietnam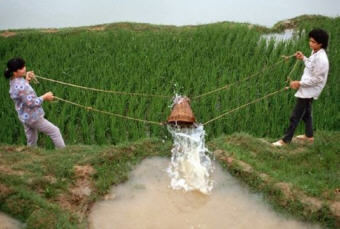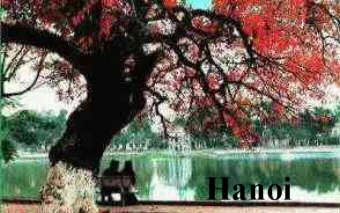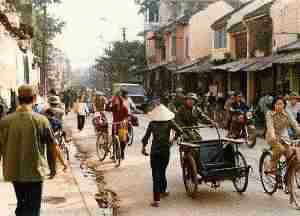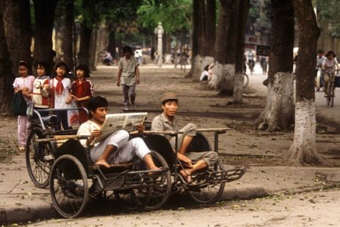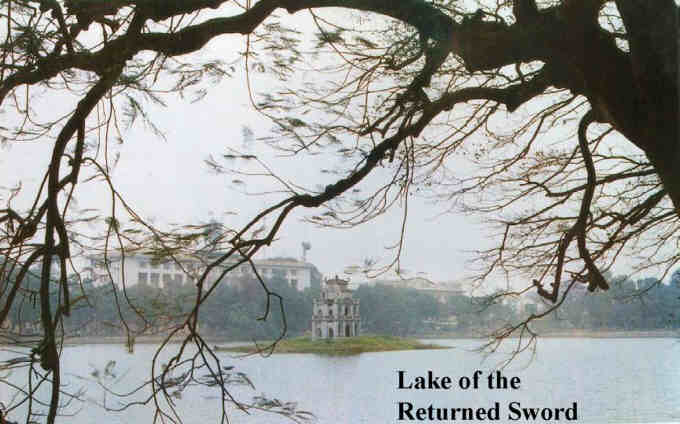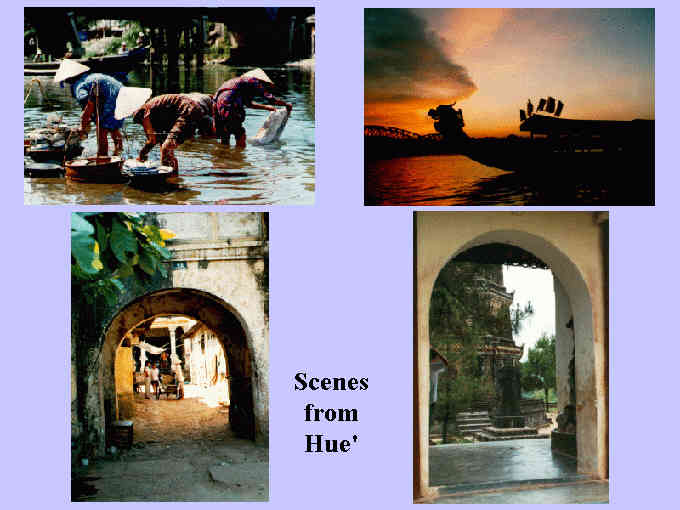 ---
Odyssey Riders and Staff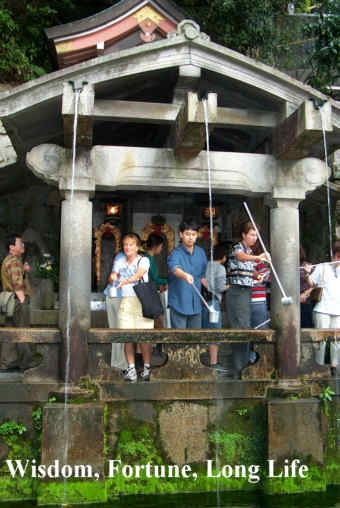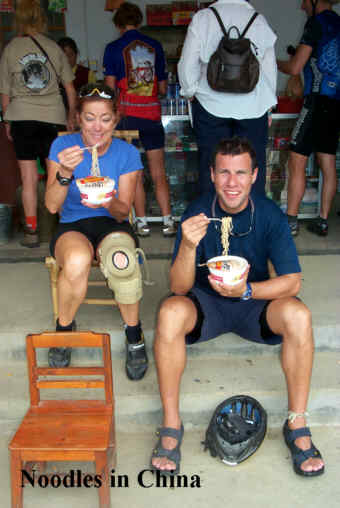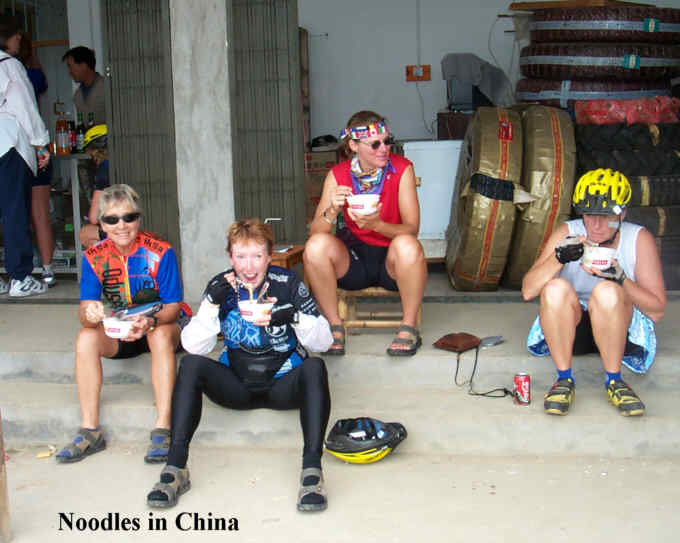 ---
Previous Page (Page 87) Next Page (Page 89)