Page 89
Vietnam

---
DAY 308
Nha Trang to Da Lat
November 3, 2000
At last we would ride our bikes! Joan and I got an early start and rode steadily, propelled by a magnificent tailwind. It was to be a short ride anyway but the tailwind made it even shorter.
Places of historic interest because of the Vietnam War were noted on the DRG but I saw no evidence that the American military ever had been there. As we cycled out of Nha Trang we passed a yellow building that formerly had been the headquarters of the U.S. Army, the site of the old U. S. Air Force Base which is now the Nha Trang Airport, the former U. S. Navy Base used now by the Vietnamese Navy, and the site of the old U. S. Special Forces Base. At 50 km. we reached the Cam Ranh Bay area, the previous site of U. S. and Vietnamese military bases and the old Air Force Helicopter base.
These days the entire area appears to be devoted to agriculture, mainly rice. The rice fields are larger and much more extensive than those we saw in China. People were at work in the fields and water buffalo were pulling the plows just as in China.
We passed a funeral procession. The casket was in the back of a truck under a canopy. Several people sat beside it. One beat a slow somber rhythm on a drum. Another had a large bag of fake paper money which he dropped one bill at a time onto the street. A car of mourners preceded the truck and another followed.
We stayed on our bikes until we reached Checkpoint at 65 km. and then stopped only long enough to check-in. We were hungry and headed for the Ngoc Suong Restaurant described on the DRG as being famous for its good food and cozy atmosphere. It was only 5 km. further down the road and we found ourselves ordering lunch, rice and fried vegetables, at 10:30 a.m.! Oh well! We were hungry. The tea was especially nice with a hint of licorice. Other riders were having lunch there as well.
Most of the highway on our route was an excellent new road with a wide shoulder which helped to make the ride easier and more enjoyable. Motorcycles are popular here as are bicycles, in fact it looks to me like there are more bicycles in use here than in China. Even the children ride bicycles which are almost always adult size. The younger, smaller children have to sit on the top tube instead of the seat to be able to reach the pedals. They can barely see over the handlebars. Hundreds of bicycles are parked in lots next to schools. Oxen are used in a double yoke to pull wagons heavily laden with sand, gravel or soil. Bicycles are piled high with goods going to market including baskets, produce, and animals. Scores of ducks can be carried on a single bicycle. They are alive and dangle in great clusters from the handlebars and rear rack, heads craned up, quacking as they go. Pigs are carried on bicycles too. Somehow a full-grown pig can be made to crawl into a basket only slightly more rotund than himself, and only just long enough.
There were no cars on the road, but plenty of busses and big trucks all with the annoying, startling and deafening habit of blasting their horns almost continually. Few farmers had motorized transport but instead used oxen to pull heavy loads. Ponies were used for lighter loads and quicker transportation. In general there were far more livestock, herds were sent out to graze on roadsides or in harvested fields under the supervision of children. We did not see herds of cattle in China. An individual farmer there might have had one, two or perhaps three including a young calf.
Vietnam has a high literacy rate, 90% I think we were told, and in cities and villages every child seemed to be dressed in a uniform and enroute to or from school. In the countryside though there seemed to be many children not in school, like the ones watching the cattle. Judging from their dirty and disheveled appearance I would doubt that they would have been in school that day.
Our ride ended at 115 km. which was fine with me as it was a hot day and that was enough of heat and grit and noise for one day. That was in Phan Rang but Phan Rang was not our destination. We needed to get to Da Lat which was about 120 km. and two mountain passes away. TK&A had arranged for busses for us and trucks for our bikes. I regretted having to put my bike on the truck to get beat up again, but there was no choice for me. Some of the strongest and best riders did ride or try to ride the entire distance. Those that finished agreed it was the longest, hardest ride of any Odyssey ride this year. The mountain passes were steep, unrelenting, and long. It was hot and sunny, making dehydration a risk. Those who finished included Trueheart, Ted Belanger, Bill G., Dan O., Racer Bob and the tandem couple, Art and Lynn. There may have been others that I didn't see. Some who could have finished but ran out of daylight, it was pitch dark at 6 p.m., would include at least two legendary women, Bobbi and Ruth. There are no doubt others I should have listed here, but I haven't heard how they fared. Coming in before dark was really a fantastic achievement. I rode the last 120 km. or so in a bus and that took 3 hours. When we arrived at the hotel at 4:00 Trueheart was already here. He is amazing.
Hotel staff greeted us as we entered, giving each of us a red rose, a cold drink, and a warm wet washcloth. That was a first! And so welcome. We are crusty with dried salt and grimy from dust and smoke at the end of a ride. If anything the air pollution is worse here than China. Here nearly every woman wears a mask or a kerchief over her mouth and nose and some of the children do as well. As do I.
Goodbye, Alice
DAY 309
Da Lat Layover Day
November 4, 2000
I knew if I tried to make a list of everyone who had completed the grueling 245 km. ride to Da Lat my list would be incomplete and it was. Natalie also rode the entire distance. Everyone who attempted that ride had stories to tell. It is one ride they'll never forget.
We went out of our way to get to Da Lat for a layover day. Most of us were bussed here and to leave we will backtrack, riding our bicycles back down the mountains to Phan Rang where we started the bus ride, the first back-tracking on the Odyssey. Why did we make this special effort to get here? Da Lat, the city of eternal spring, is one of the favorite destinations in Vietnam for the Vietnamese and especially for honeymooners. Because of the altitude the weather is cooler here year around than in the lowlands. The mountain scenery is beautiful because of the waterfalls and forests. Early in the century the French colonials 'discovered' Da Lat and used it as a retreat from the heat. They even built a miniature Eiffel Tower. Da Lat is now sustained by tourism and agriculture. Vegetables, flowers, coffee and tea are raised here and sold all over southern Vietnam.
I went sightseeing with Joan S., Joan I., and Inge. Our first destination was the Lam Ty Ni Pagoda which has only one monk and he was the object of our visit. It was a strange experience. Vien Thuc has been at the pagoda for 35 years and he has been busy. He built the elaborate front gate, and he built gardens in several styles on the pagoda's property. He has given up gardening now though and they have gone to weeds. He is now preoccupied with his art and poetry. I think he fancies himself another Van Gogh whose self-portraits he has copied. Mr. Thuc spends his days now doing hundreds and thousands of paintings of himself, most dashed off in a minute or two on newsprint paper with a brush and black ink. He also writes poetry or at least verses that he feels express a special revelation he has had. His art and poetry fill room after room. He sells his work to silly American tourists for exorbitant amounts compared to the cost of the time and materials involved. He is a character for sure.
Our other destination was the so-called Crazy House, the Hang Nga Guesthouse and Art Gallery. It was designed and built by a Vietnamese woman, Hang Nga, who has indulged her every fantasy. It is not beautiful or grotesque, but something in-between. It is unique, strange and playful. I think a suite there may be the favorite honeymoon destination for many young Vietnamese. It was fun to visit once, but it is more oddity than art in my opinion.
The best part of our day was our chance encounter with a couple of high school boys who could speak English. They were walking home from school when we asked them for directions to the Crazy House. We stopped by Khahh's mother's shop for tea and cookies where we enjoyed trying to have a conversation with the two boys. They asked questions about the high schools and universities in the states. We asked them about their goals. Khahh wants to be a business man and his friend Cluiong wants to go to the university. Khahh hopes some day to own a car. That is a very high ambition here. We have seen very few cars.
The contrast in Da Lat between the haves and have-nots is extreme. There are beautiful homes and hotels, but in the same area are the shacks of the poor. Many of these poor people are on the streets trying to sell something and a few are begging. Most of the people are working very hard to make a living. The loads that they carry on the pole across one shoulder would stop us in our tracks. They put their load down somewhere and wait to sell their goods. With so many people selling the same thing, bananas for example, I don't see how any one of them can sell enough to make a living. Other people are trying to sell things they have had to buy to resell. For example some women have 3 or 4 small bottles or jars of fuel for the countless scooters and motorcycles. They put these bottles on the ground or on a tiny table and then just sit and wait to be sought out by someone who needs fuel. Other women carry an entire kitchen on the pole including stove, bowls, and stools for the customers, dishpans for washing up, meat, noodles, vegetables, oil, and water. They can set up and have a meal ready in minutes.
One guide told us that in Vietnam everyone wants to be a shopkeeper. Those who live in a good spot have their shop at home. It may just be a table out front with a few things on it but it is a shop. New homes are built with a shop on the bottom floor facing the street and with the living quarters on the second floor. It amazes me that they can make a living this way because there are so many little shops and all are selling basically the same things. Perhaps it is what one can do to eke out an existence if one is uneducated or does not own a farm.
Our layover day in Da Lat ended with a large group meeting about the financial situation facing the Odyssey and what the various options are. Nothing has changed since the last meeting except that TK&A has become better organized and prepared to present information. They are trying hard to answer everyone's questions and to work with people to meet individual needs. The bottom line is that any rider who wants to finish the Odyssey as it was originally planned has to pay $3000 more. TK&A has promised that there will be no additional charges. There will be a party in Singapore to celebrate the 11 months we will have had together by that time. For many people that will be the last Odyssey event. The premature ending is not sad or disastrous for everyone. Some have had enough of traveling and can't wait to get home, and others are thrilled that now they will be home in time for Christmas.
Goodbye, Alice
DAY 310
Da Lat to Phan Thiet
November 5, 2000
I was pleasantly surprised to see Joan at breakfast. She had felt suddenly ill in the afternoon while we were having tea with the Vietnamese boys and had not come down for dinner. But there she was at breakfast, bright as a button and ready to go. The Vietnamese breakfast has some similarities to the Chinese breakfast with a noodle soup and a hot gruel made of rice and water. The noodle soup is ready to eat except for the water. Noodles, chopped chives and a slice of roast pork are in the noodle bowl. Add hot water and it is ready. But in our hotels in Vietnam there has also been some western food available. French bread, butter, and jam are always there as are eggs which may be fried, scrambled or omelets. We have always been offered coffee at breakfast in Vietnam which many of us appreciate. But there has been no fruit, yogurt, or cold cereal. I have been eating lots of bread and jam.
Riding out of Da Lat was confusing for some and they got lost. But not Joan and I. The DRG said,' BEAR LEFT to end up going along far side of lake at "dove on the world" rotary. LEFT along lakeside.' The tricky bit there was the words 'far side of the lake'. Riding out of town meant going up but the climbing wasn't hard and we were treated to some good views of Da Lat. We had some climbing for the first 15 or 20 km. but after that the descent began. It was hard work! Our speed had to be controlled because of the rough condition of the road and because we never knew what would be happening in the road just around the next curve. There could be an approaching truck or bus, a broken-down vehicle parked in the road where it had died, cattle or goats or ducks. We had some 30 or 40 km. of steep grade, tight switchbacks and rough road. But we also had some great views. We stopped several times to rest our aching hands and arms and let the rims of our wheels cool. I was very grateful for my new rear brakes but found my front brakes to be totally ineffective. Jason, our mechanic, was at Checkpoint and he put in new brake pads for the front wheel. But Checkpoint was at the end of the descent so I didn't get to give them a good workout.
During the first part of the ride, on the mountain, we passed fields of coffee trees and tea bushes. I didn't see anyone picking the coffee, but the beans were spread on mats to dry in the sun. It appears that they dry the coffee twice, first the berries that are red and green but turn dark in the sun, then the beans which are light green. Many women were working with corn, first taking the kernels off the cobs and then spreading the kernels into a single layer to dry in the sun. Down off the mountain, rice was the major crop but there was also sugarcane and fields of a plant resembling a cactus. Rice could be seeing drying anywhere there was a flat spot. For some people the only suitable place available is the shoulder of the highway. The rice is spread along the highway and left to dry. Someone will return to stir it, and at the end of the day it will be swept up and scooped into baskets or bags and taken home for safekeeping. But while it is there on the highway it is unguarded and gets no respect from the traffic. We steer around the rice, but the Vietnamese just pedal right through it. Farming, gardening and food preservation are the major preoccupations of the people we see as we cycle through the countryside.
Our ride was short, 108 km., but it seemed long and was all I wanted of the heat, humidity, diesel smoke, and dirt. We rode only to Phan Rang where there was a truck waiting for our bikes and an air-conditioned bus waiting for us. I could not wait to escape into that bus! But not everyone did that. Some people including Ruth kept riding for another 60 km. or so and were picked up there. Still others, incredibly, rode the entire distance of 265 km. to our destination, Phan Thiet. I was there when Natalie, Jim Higbee, and Bill Bliss rode in and I know there were others as well. Trueheart of course had been there for hours and could only sit and wait for the gear truck to arrive. To ride 265 km. in those conditions was a very, very long way and required a superhuman effort.
It is interesting to be here among the Vietnamese people who have all been kind and good to us. But their lives are so hard and their comforts so few, I have to wonder how they can keep their spirits up and keep plugging away day after day. There is no escape for them into a clean and air-conditioned bus. I couldn't do it. I find that I am looking forward to New Zealand.
Goodbye, Alice
DAY 311
Phan Thiet Layover Day
November 6, 2000
We are getting so spoiled in Vietnam with short rides and every other day a layover day! We stayed in two hotels across the street from the beach. Ruth and I were together and we had a great room with comfortable beds, air-conditioning, television with CNN, and a bathroom where everything worked. People who were assigned to the other hotel did not fare so well. Some didn't have air-conditioning or even a fan. Others had only cold water.
The beach was nice with coconut palm trees and a sprinkling of seashells on the sand but the waves did not beckon because the water was filled with sand and dirt. No one was in the water but the Vietnamese were there relaxing in the shade and listening to music.
First thing in the morning we unloaded bikes. Mine had a broken fender and Ruth needed a new bottom bracket. Merlyn, the mechanic, was to work for an hour at 9:00. We were the first in line so Ruth got her bottom bracket replaced and I got my fender fixed. But by then the hour had passed so whether the people in line behind us were helped I don't know. Meanwhile Gudrun and Joan had arrived from the other hotel. They were going to walk to the town which was nearby and waited for me so I could go too. The best part of that outing was crossing a bridge and looking down at the dozens and dozens of fishing boats at anchor there. Some people were busy with nets, mending and putting them away. A couple of women loaded their baskets with fish, hung their baskets from their shoulder poles and set off to sell the fish. Several people sat before a pile of net and crabs. They had to separate the crabs from the net - that can't be easy!
The fishing boats look similar I guess to fishing boats anywhere. They aren't big, maybe 30 or 40 feet long, and are bright blue with red trim. They use big nets to catch the fish and crabs. I saw only small fish, herring or sardine sized. To go to and from the shore to the fishing boats, they used round basket boats. They are made of reeds or palm fronds and are perfectly round, shaped like half a sphere, although slightly flattened on the bottom. Gudrun said she had tried to paddle one once but could only go in circles.
The walk through the town was just another look at how these people are struggling to make a living. Very young boys work as mechanics in garages and very old and tiny women carry enormous loads on their shoulder poles. Life here appears to be very hard for most people. Their homes are very small and basic, some have only mats for walls, others are mud brick and others are wooden. Every once in awhile a magnificent new home rises up out of the others, beautiful with balconies and arched windows and a decorative pastel paint job.
I have had to change my mind about Vietnamese food being my new favorite since I haven't had any single thing that was good to eat since the first day in Hanoi when I enjoyed the Sweet and Sour Noodles with Everything on Top. Maybe I should start eating on the street instead of in the hotels. The hotels here have had particularly bad food and at least part of the problem is the water which has the flavor and odor of mud. Thus the noodles and the coffee taste muddy. Ick. And I was hoping that the Vietnamese would not eat dogs but they do. I have seen the dog sellers with half-grown puppies in cages on their bikes, slowing cycling through town, all the while calling out the same phrase over and over. What does he say? Get your tender puppy here? There are dogs that are obviously pets and those are probably never eaten. If I could have my way everyone would be a vegetarian.
Goodbye, Alice
---
Today's Music
---
Vietnam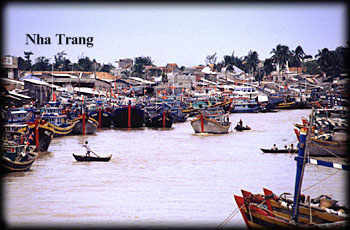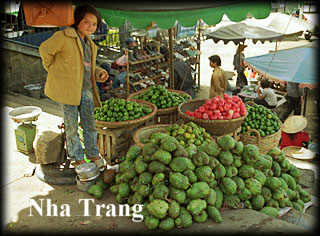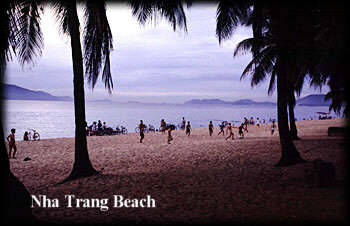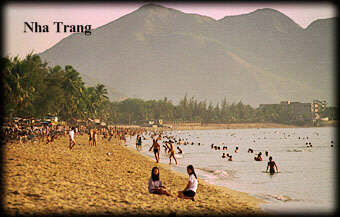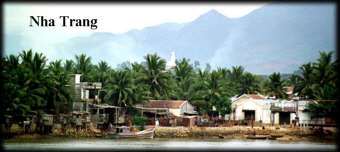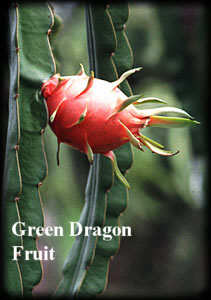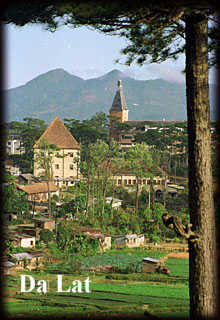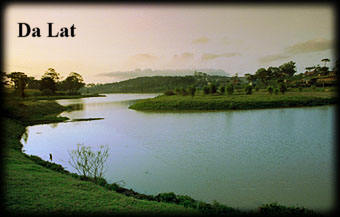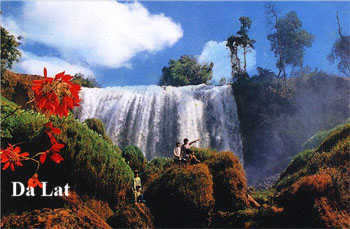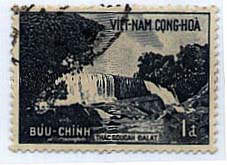 ---
Odyssey Riders and Staff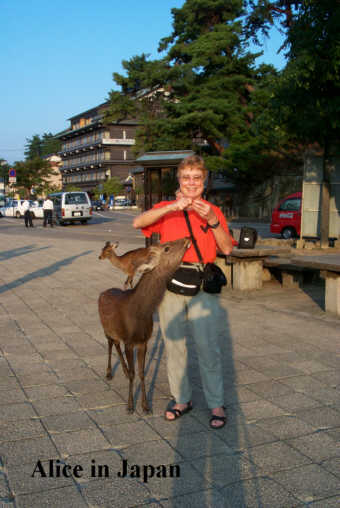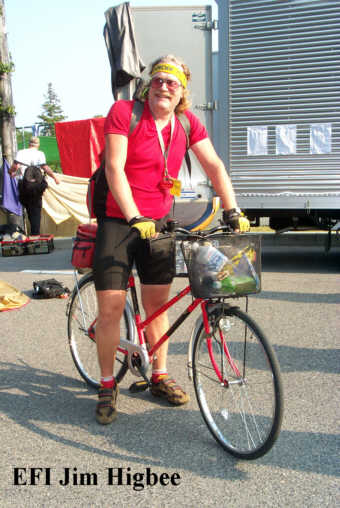 ---
Previous Page (Page 88) Next Page (Page 90)