Page 105
Hawaii

California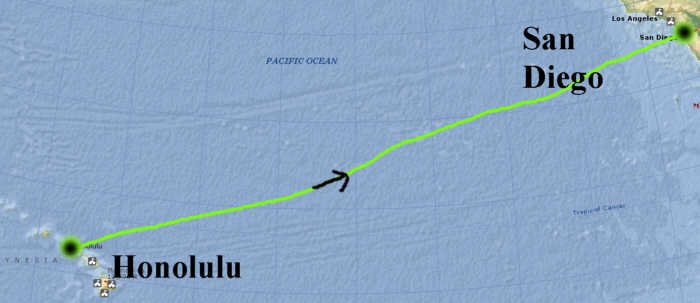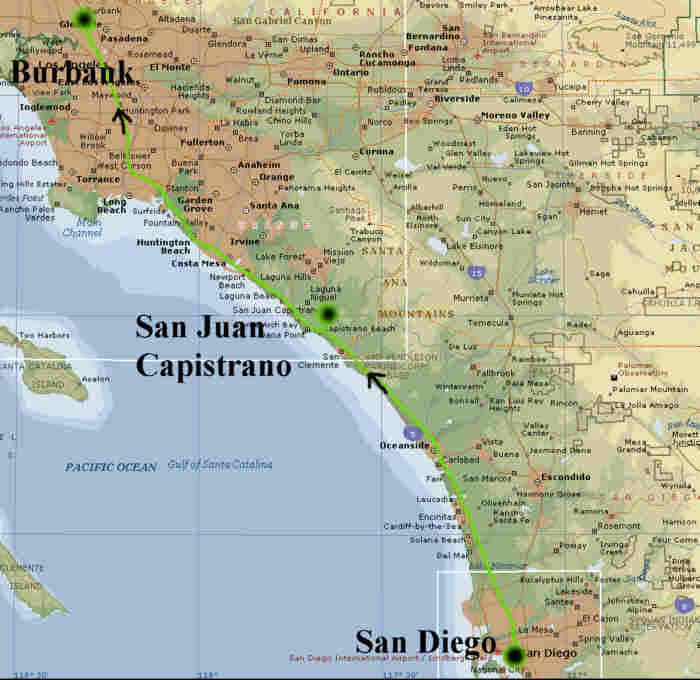 ---
DAY 364
Honolulu to Los Angeles to San Diego, California
December 29, 2000
There were not enough seats on the early morning flight for all of us and I was one of those who had to fly in the afternoon on the 1:50 flight. So I had another leisurely morning. This time I puttered in my hotel room sorting and repacking my bags and then I fastened a couple more souvenir pins to my hat. Every time I want to add one it seems I have to move several others to make space. At 10:00 we loaded our bags and at 11:00 we took the shuttle van to the airport. There all the standard things happened except that I had to eat my big and luscious Braeburn apple right then and there or it would be confiscated. Then I went shopping, of course! With that successfully accomplished at last, I went to the gate to wait. The flight was delayed and delayed, finally we were told we would board in a super fast manner, all those with seats A through E were to go through Door A, and the others including Inge, who had the seat beside me, and myself, through Door B and that way we would save 20 minutes it was explained. Fine. Good effort. But what happened next? We sat there and we sat there. Every few minutes we were told it wouldn't be long, but it was getting that way. Finally the decision was made to fly without working ovens in the rear galley. The food service would be slower but all the dinners could be heated in the forward ovens and distributed, as they were ready. Can you believe it! The flight was delayed an hour and a half because a couple of ovens didn't work! Of course there were passengers worried about making connecting flights. I wasn't that happy either because that would make our eventual arrival at San Diego where we were to sleep even later. And we were losing two more hours as well because Pacific Time is two hours later than Hawaii Time. Inge said, 'We won't even get to bed. We'll just have to go straight to our bikes and start pedaling.'
Well it wasn't that bad but close. Our plane landed around ten but time passed while we waited first for our bags and then for the bus. Finally loaded and underway, most of us tried to take a nap but three people talked which kept me awake as did the cold. Brr! This isn't Hawaii! We arrived at the motel about 1:30 a.m., collected our bags and keys and found our rooms. Mine was the very last one on the top floor. It was strange to tiptoe into that dark room in the middle of the night, not even knowing who my roommates were. But Dorothy was up at that moment and said, 'Welcome' before going back to bed. That sounded very nice in my state of mind. I was tired, sleepy, cold and hungry! I could only guess who the third person was in the far bed. My bed was the rollaway but it looked wonderful to me. I put my bags down and climbed into bed, clothes and all, too cold and tired to care about even brushing my teeth. I could have had four hours of sleep but didn't because I had to warm up first.
Goodbye, Alice
DAY 365
San Diego to San Juan Capistrano
December 30, 2000
Even though the rollaway was comfortable, I slept poorly. I was cold and a headache had come on as I laid there trying to fall asleep, so I didn't mind getting up even though I'd barely gone to bed. Denise was the mystery roommate in the third bed and she is a very early riser. We tried to be quiet but before long poor Dorothy was awake too. A couple of headache tablets and two cups of coffee later my head felt better.
It was barely daylight and way too cold to be standing outside eating a cold breakfast but that is what happened next. The motel staff had put a table beside the tiny pool which was steaming in the cold morning air, and laid out cereal, milk and yogurt, sweet rolls and muffins, bananas and apples, coffee and orange juice. It was enough but we were got chilled eating it. I hadn't expected sunny California to be so cold.
Joan and I got our bikes ready and started on our way. It was to be an easy, short day of only 60 miles so we weren't worried about rushing to get going. I was soon wishing we had delayed our departure a couple of hours, until the sun could warm the air, for my fingers ached from the cold. It had been months since we had ridden in such cold air. But when the sun did get up it was a lovely warm day, very comfortable for cycling.
It was easy to get out of San Diego, I suppose we were on the northern end of it, and there was a climb right away which helped to warm us. After 15 miles we joined the Pacific Coast Highway and could often catch glimpses of surfers playing on the waves. Checkpoint was at the Coast Highway Cafe. Cheryl, the midday checkpoint volunteer, said that everyone was raving about the cinnamon rolls served in the cafe. How could we miss an opportunity like that? I ordered a pecan sticky bun and Joan an enormous cinnamon roll. They were both wonderful and too quickly all gone.
We had to ride on Highway I-5 for about 11 miles but the shoulder was very wide so the fast traffic was not a worry. I didn't learn why we took the I-5 rather than ride through Camp Pendleton on the much quieter roads there as we had done just a year ago on Day Two of the Odyssey. We also rode on bike paths for many miles. That was a peaceful interlude from traffic and I enjoyed bird watching. There were pelicans, cormorants, herons, egrets and ducks.
We reached our destination, the Best Western Capistrano Inn, so early that some of the rooms weren't ready including mine. But Joan's room, to be shared with Inge, was ready and she immediately offered it to me, telling me to go take a nap. What a gorgeous thing to do! And that is just what I did. Inge was there and promised to wake me in time for dinner so I was able to relax and sleep for a couple of hours. Dinner was a variety of delicious Mexican dishes which I loved and then Inge and I went straight to bed. It was barely 7 p.m. but we both had been on the late flight from Honolulu and were sleep deprived. I felt a few twinges of guilt for not making an effort to see the Mission of San Juan Capistrano but nevertheless had no trouble falling asleep.
Goodbye, Alice
DAY 366
San Juan Capistrano to Burbank
December 31, 2000
The impossible, unthinkable was happening, the very last ride of the Odyssey. Bummers! A few riders who had left in Singapore joined us for the last day or two of riding in California and it was good to see them again. I had thought that flying into LA where we needed to be for the Tournament of Roses Parade and New Year's party, only to be bussed to San Diego in the middle of the night so that we could turn around and spend the next two days cycling back to LA, a pretty dumb idea. And I said as much to my friends. But now that the last day had arrived it seemed fitting that we should be cycling, cycling until the very last hour before the celebration party, and I was glad that we were doing it.
We had a grand breakfast to start the day. It was at Denny's which was next door to the motel where we had stayed, and it was a set meal so all that we had to do was sit and wait to be served. Something which I have grown to like very much! The wait proved too long for a few riders who were impatient to be on their way and they left, expecting to find some faster food along the way. But what a breakfast we had! A tall glass of real, fresh orange juice, coffee, and a plate heaped with scrambled eggs, hotcakes and bacon. It was more than many of us could eat even with our prodigious appetites. We ate and ran for we had an 85 mile day and it would be dark by 5:00. Besides that we needed time to get ready for the party where we would celebrate the end of Odyssey and the beginning of a new year.
When we reached Huntington Beach I began looking for my sister Lucia, and her husband Todd, who does this web page. I knew that they were staying in the Huntington Beach Resort Hotel and I thought they just might be waiting somewhere there along the route to watch some of the Odyssey riders cycle past. I didn't see them but I did see their hotel so I stopped to try to find them and I did! They were at breakfast and we had a joyful reunion. We could have talked for hours I think but their breakfasts were getting cold and we still had 65 miles to go so after taking a few photos Joan and I got back on our bikes and cycled toward Burbank.
The rest of the ride was uneventful and not difficult cycling, but near the end there were many changes of direction on the DRG. It seemed we had to make a turn every one or two tenths of a mile. We were lucky though. We came upon Bill Bliss who is reputed to never get lost and we stuck to him for the rest of the ride to the Burbank Hilton. He led us straight there without a hitch. It was only 4:20; we had about 40 minutes of daylight to spare. A group of family members and friends had gathered at the entrance to the hotel and cheered for each arriving rider, a happy ending for our last ride. Joan was looking for her daughter, Susan, who was coming along with her friend Jackie, for the celebration dinner. There they were! They had arrived at the same moment as we did.
It was all hustle and bustle at the Hilton. We had to load our bikes onto a truck to be carted to the staging area for the Rose Parade, get our room assignments, get our finisher's shirts, and get our luggage. Families were arriving and everyone was excited.
I was very happy to find that I had a room to myself, such a luxury after a year of togetherness. I set about getting ready which included all the usual stuff, plus I had to iron my new red dress. The Hilton makes that easy to accomplish, as each room is furnished with an iron and ironing board. That done I puttered about doing things until I was late going to the party. There I found that Lucia and Todd had already arrived and had been visiting with riders they recognized while waiting for me. Bummers! I should have been there early or at least on time. I was embarrassed. Of course I wanted them to meet everyone and we did our best, but didn't quite accomplish it.
Dinner was served, followed by a program. Tim gave a short address and expressed gratitude for the efforts made by his staff, the EFI'ers and the riders of 20,000 miles were recognized, and Karen Ann offered her appreciation for everyone who had worked so hard to make Odyssey 2000 a reality. And then it was all over but the dancing. We did not stay for that. Lucia and Todd had to drive to Huntington and I had to get up early for the parade. It was very special to have Lucia and Todd with me and to meet all my friends. I was grateful that they could be there. How fortunate for me that the Huskies were to play in the Rose Bowl the next day!
Goodbye, Alice
The Tournament of Roses Parade
January 1, 2001
Breakfast was at 4 a.m. on New Year's Day. What kind of a way is that to start a new millennium! I had no appetite so I skipped breakfast but I did stash a bottle of orange juice in my bag to have later in the morning.
At 5:15 we boarded school busses for the ride to the staging area. Once there we collected our bikes as they were unloaded from the truck and then waited. This time we were prepared for the cold weather. Everyone had dressed in several layers of clothing, the better to withstand the cold during the two and a half hour wait for the parade to begin. We soon realized that the temperature was much warmer than it had been the year before but even so we were not overdressed and in fact I was quite chilled by the time the parade began.
About 6:45 a.m. motorcycle police arrived to escort us to the holding area at the start of the parade route. On the first hill disaster struck! Danny's chain broke and he was without the tools and extra link to fix it. We cycled on without him while he returned to the bike truck to see whether he could get another bike or repair the chain. He was able to use another bike and managed to cycle to us with just moments to spare before the start of the parade.
At the holding area we were told to arrange ourselves in rows of six, a better number than the seven in a row we'd had last year which had been a bit too close for comfort. Besides, with only six in a row it made our column longer, perhaps making it look like there were more of us than the diehard 57 who had continued since Singapore. And there were more of us. There were those 57 riders minus 2 who were in the hospital and several who had already left for home or were not riding, plus a number of riders who had left in Singapore but returned to join us for the parade, plus all the volunteer staff who were asked to join us. They wore finisher's shirts and enough bikes were borrowed for them all. So we lined up and waited. Still standing in line until the last moment! The sun was up, offering enough light for my camera to work well, so I went up and down the column of riders, trying to be sure to photograph everyone. I hope that I succeeded.
Finally it was nearly parade time. People who were wearing extra clothes for warmth on top of the parade clothing had to remove it and stuff it into their jersey pockets. We were not allowed to have our bike bags or any extra gear, not even our stuffed animals which had ridden so faithfully around the world with us, or our squeaking animal horns (mine is a camel) and ringing bike bells, things which would have made us much more interesting to see. Instead we had to be like peas in a pod.
Just as last year the motorcycle police, resplendent in their uniforms and riding motorcycles decorated with roses, made us start the parade early. Clearly in their eyes, and almost certainly in those of the parade director, we were not really a part of the parade. So once again we rode past the TV cameras before they were turned on, once again we were not on TV, but this time no one had really expected it and I for one, had not suggested that anyone watch for us on their televisions at home.
But in spite of being ignored by the television people, riding in the parade was almost fun and that was because of the people who cheered as we rode past. Many of them had been there all night, having camped on the sidewalks in order to reserve viewing space for themselves, and they were happy to see some action at last. Some of the riders' families and friends were there, cheering loudly and making us feel we'd done something significant. We waved and smiled, and smiled and waved, calling out, 'Happy New Year!' at least a million times, once for every person in the crowd.
Our parade ended in a school parking lot. From there everyone went their own way, all their Odyssey riding and activities finished, forever. There were hugs and tears and promises to meet again. Some cycled back to the hotel, most put their bikes onto the truck and were shuttled to the hotel. Joan and I were in that group. Many people were leaving for home that day and many goodbyes and best wishes had to be said. It was an emotional and sad time for some.
I wasn't leaving so I did my second favorite thing, I took a nap! After that came my first favorite thing, food! I went to lunch with Joan and her daughter and friend but then I had to say goodbye to Joan, my cheerful and witty riding companion. We are sure to meet again though for she is a good friend and this is a small world.
Goodbye, Alice
---
Today's Music
---
California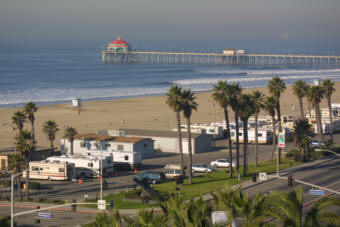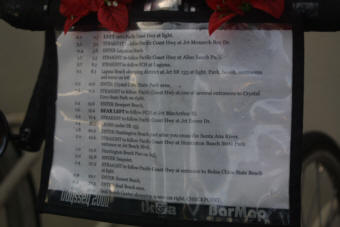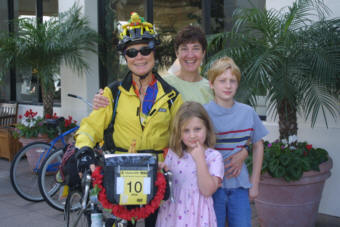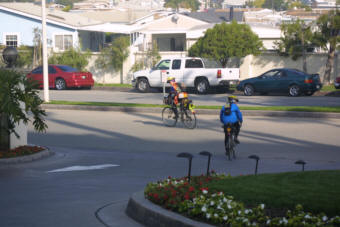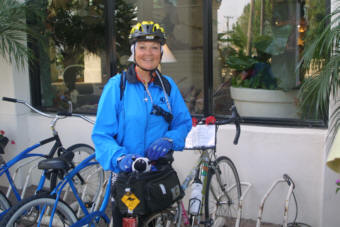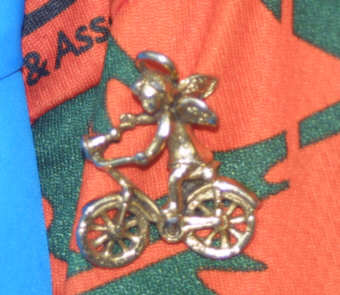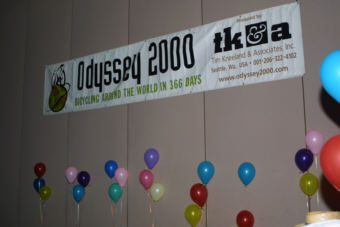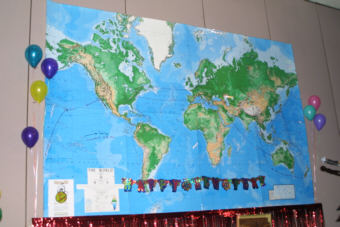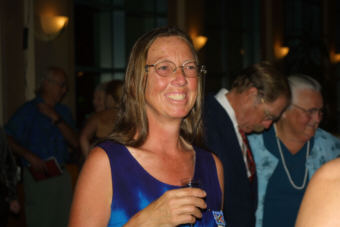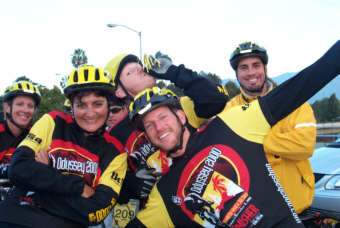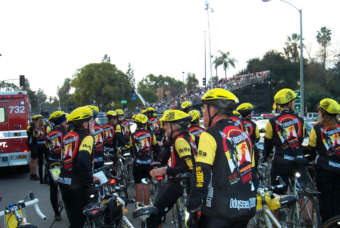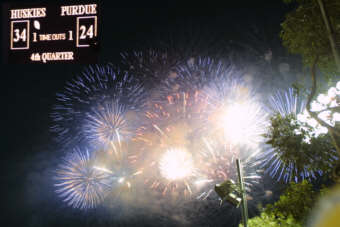 ---
Odyssey Riders and Staff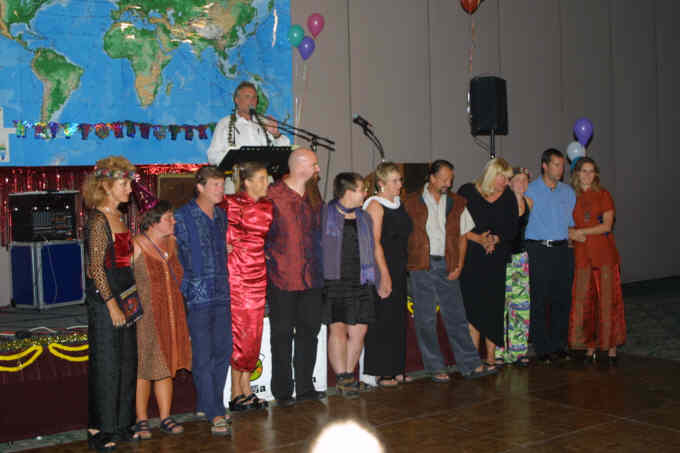 Odyssey Staff and Management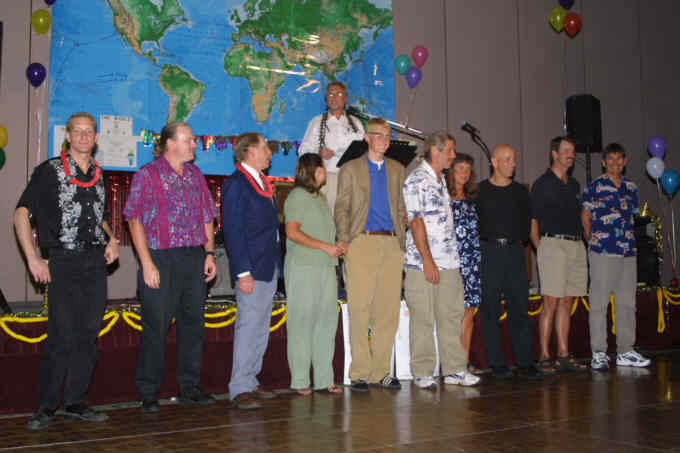 20,000 Milers (I think)
---
This completes the Year for Odyssey 2000. Thank you for all your kind words this year and I hope everyone has enjoyed the Odyssey 2000 virtual tour as much as I have. Have a great 2001.
Todd Looney
---
Previous Page (Page 104) Next Page (Page 106)