Page 104
Hawaii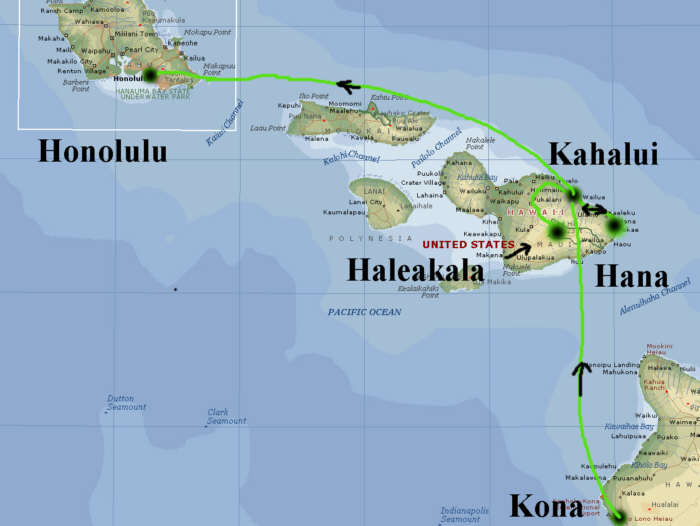 ---
DAY 361
Kona, Hawaii to Maui
December 26, 2000
We left Kona on Dec. 26 to fly to the island of Maui. There were two flights and I was on the earlier flight that landed at the Kahului Airport before noon. We had quite a wait for the luggage but it did arrive and that's the main thing. Then those who wanted to cycle to the day's destination retrieved their bicycles and got them ready to ride. Before I could leave town I needed to eat lunch, as there wouldn't be another opportunity for many miles. I had a delicious tuna sub at Paradise Subs on the way out of Kahului and then I was on my way, with about 30 miles to ride to the Ke'anae YMCA Camp. The highway paralleled the coast for several miles and the views of the ocean; the waves and the beaches were spectacular. I stopped at the Ho'okipa Viewpoint and could hardly tear myself away it was so gorgeous. Where there was land suitable for agriculture the major crop appeared to be sugarcane. I wondered how raising sugarcane on Maui can be economically feasible when it wasn't on Hawaii. Someone said they saw fields of pineapple plants but I didn't. Taro is grown in flooded fields.
10 or 15 miles from Kahului, Highway 36 became Highway 360. This was the infamous Hana Highway, narrow, winding and sometimes steep, with 58 one-way bridges and a speed limit varying between 10 and 15 mph. T-shirts are available that proclaim, 'I survived the Hana Highway'. Even though it has to be driven slowly because of its narrowness, curves, and one-way bridges it is one of the most popular things to do on Maui. It is fun on a bicycle but can be harrowing in a car. Very recently the Hana Highway has been proclaimed a National Heritage Trail.
When I arrived at the Ke'anae YMCA I couldn't believe my eyes. It has a spectacular setting, high on a hill overlooking the ocean, with nearly a 180-degree view of the Pacific Ocean and its foamy white waves breaking on the black lava rocks. There are palm trees of course, and big trees with huge orange blossoms and all sorts of other trees and vines; it is like a jungle. The favorite place to be is the balcony of the dining room, where one can relax and enjoy the awesome view and the roar of the waves.
I was among the first to arrive so I selected a lower bunk, moved my bags in, showered and changed. The bunk beds were so close together that it was impossible to walk between them without banging my head on the protruding guardrails of the upper bunks. Others were having the same experience. Ouch!
Dinner was spaghetti, garlic bread, salad, and brownies with ice cream. Afterwards everyone in my dorm went straight to bed. It was only 7 p.m. but those who would be attempting the climb of Mt. Haleakala would have to make a very early start. That would not include me and I was out of sorts about that. I wanted to try it but wasn't sure that I could finish in time. Tim had told us not to try it unless we were pretty sure we could do it. It wasn't the ascent that I couldn't do. It was cycling to the ascent and then the ascent as well. It would be a long, hard ride, largely uphill on the Hana Highway from where we were at the YMCA Camp to the bottom of the mountain where the ascent would begin. No alternative plans were offered, like giving us a lift from camp to the bottom of the mountain that would have saved hours of daylight and lots of energy.
What I could have done but didn't think of doing, was stay overnight in Kahului, or better yet go even closer to the bottom of the mountain, to Makawao or Olinda as several riders did I learned later. Instead I just accepted my fate and decided to make the best of it by doing something with Joan who had no desire to ride up the mountain. She was looking into going snorkeling or taking a tour that included a van ride up the mountain and a bicycle ride down.
Aloha, Alice
DAY 362
Maui Exploration or Haleakala Climb
December 27, 2000
Those who were riding were up even earlier than usual so that most everyone was ready to go at daylight. At least two riders with lights on their bikes left at 5 a.m. getting at least an hour's head start. Until that day no one had ever set out before daylight. As it turned out, nearly half of us, or 24 riders attempted the climb.
But meanwhile, back at the YMCA Camp the rest of us were checking our options. They were few. We could not go snorkeling or do any organized tours because we were too far away to be picked up and there was no transportation available to us other than our bicycles. So we were stuck. It was either hang around camp all day or go for a bike ride. Joan and I chose the bike ride. We decided we would cycle the 20 miles to Hana and then maybe the 12 more to the Seven Pools for a nice round trip of about 64 miles.
The cycling was hard because of the climbing but fun because of all the curves and the beautiful views. Before we reached Hana we came across the Kahanu Garden, one of the five National Tropical Botanical Gardens. One of the unique features of the garden is the 'ulu' or breadfruit tree collection. There are over 120 varieties, the largest collection in the world. The early Hawaiians used every part of the breadfruit tree. The fruit was eaten, the wood was used to make canoes, the inner bark to make kapa cloth, and the sap as glue and caulk for the seams of the canoes. Medicines were made from several parts of the tree including the leaf buds.
Another attraction was the Canoe Garden, so called because it features plants that the ancient Polynesians brought with them in their canoes when they migrated to Hawaii 2000 years ago.
These plants provided not only food but also everything the people needed in their daily lives. There were plaques identifying the various plants and trees and describing their uses. A couple of them were said to be eaten only during famines. I thought that must mean that they aren't delicious and I wondered why the Polynesians wasted precious cargo space on them. And what could cause a famine in a tropical climate, I wondered? Plant diseases and pests? Maybe the famine plants were so nasty that not even the insects ate them!
The Coconut Grove is a collection of different varieties of coconut from all over the Pacific region. The coconut is a source of sustenance for some people on remote islands, providing the only drinking water they have. There are uses for every part of a coconut palm tree which probably explains why it is called the Tree of Life in many parts of the Pacific.
Having seen the botanical garden we continued on our way to Hana where we had lunch and visited the harbor area. Then we cycled back to the YMCA camp, thinking it was too late to go to the Seven Pools and they didn't look like much on a postcard we saw anyway.
At the camp we discovered that Trueheart had already returned from the Mt. Haleakala climb, and in fact had been in camp for several hours. He is amazing. His average had to be some 18 to 20 mph! He was thrilled with the ride. You would have to see those hills to appreciate what a feat that was. And what did True do to pass the time that afternoon? He went for a bike ride! Racer Bob was in next, arriving about 3 hours after True. It was exciting to see the riders come in one by one and to cheer them. But darkness came too soon for most, preventing them from riding into camp. Everyone I think made it to the summit, a few had to take the sag down the mountain and to camp because it was too late to cycle. Others were picked up still 10 or 15 miles from camp because of darkness, they had run out of time. Some suffered from altitude sickness and/or asthma. It was a major accomplishment to do that ride.
Aloha! Alice
DAY 363
Kahului, Maui to Honolulu, Oahu
December 28, 2000
No one was riding a bike this morning. We'd had to load them onto a truck last evening to be taken to the airport where they would be packed on pallets for the flight to Honolulu. That was a new development. The original plan had been that we would cycle to the Kahului airport. Some of us didn't mind one way or another, but Racer Bob who needed miles to make his self-imposed goal of 20,000 miles, was very disappointed.
Then there is Charlie. Charlie loves to ride a bicycle as much as anyone you will ever see. He rode the miles for Odyssey and then he rode some more. He rode on the layover days and whenever possible. In fact the only shoes he had on the trip were his cycling shoes. When he wasn't riding his bike he was cleaning it. So what did he do? He sent his bike home from Honolulu by UPS! Why, I asked, wondering how he could stand to be without his bike for the last week of Odyssey and miss the awesome Mt. Haleakala climb to boot. His answer was astonishing. He was six miles short of 20,000 miles, so he did it to make a point, his point being that the number of miles is not important to him. That is unusual for a dedicated cyclist, others on the trip have worked hard to achieve that nice round figure.
We had a leisurely morning at the YMCA Camp; with no ride to do we could relax over breakfast and have a second and even a third cup of coffee. We left camp about ten and since our flight wasn't until four, we were treated to a stop at a little tourist town, Pa'ia, which is in sugar plantation country and in fact one of the two sugar mills on Maui is located there. But I didn't see the mill, like everyone else I went shopping. I bought a postcard and a raspberry scone that I saved for later.
At the airport we had an easy time of it because the decision was made to check our luggage en masse. Someone else would unload the gear truck and take care of it for us. For the first time in a year we didn't have to struggle with a bike and luggage as we made our way to the check-in line. That was very nice! Then another good thing happened. When I checked in I was offered a seat on a flight leaving in a few minutes. I would not have to wait for the 4:00 flight! I jumped at the chance because I needed to go shopping and Honolulu would be a better place than Maui. Can you believe it! After all the opportunities I had had, at this point I suddenly felt that I really needed to take something from Hawaii to my three grandkids. (I don't bring gifts every time I make a trip because I make too many trips. But this time was different because I had promised them a trip to Hawaii to meet me and then when Odyssey began to collapse and we didn't know what would happen we postponed the trip.)
In the air for only 20 minutes we had landed in Honolulu before we knew it. I took the hotel's shuttle to our hotel, the Pacific Marina Inn, where we had stayed before and stashed my carry-ons there. Then I went shopping - again - but this time with a purpose. Of course now that I was seriously shopping I couldn't find what I had decided I wanted but it was a good trip anyway. I took the city bus to the Aloha Tower Marketplace and it was worth the trip just to see that complex. It is right alongside the harbor so that when a cruise ship docks, a gangplank can be laid from the deck of the shop to the second floor of the shopping mall. It was awesome to see that! A real Hawaiian thing to do I thought. The way the normal tourists experience Hawaii. Oh well!
Back at the Inn, Joan speculated that someone had forgotten to arrange for dinner for the group, because we had KFC chicken and Pizza Hut pizza. There were literally dozens of pizzas. No way could we eat even half although I did my best.
The luggage that we hadn't had to fuss with at the airport was slow to reappear; we finally saw it again about 8:30 p.m., past our bedtime really, and very late for folks like Joan who were determined to do their washing in one of the hotel's two machines. I said to her, 'A whole year and we haven't learned yet that when we really need to do our laundry we must carry it with us whether we're going by bike or plane.' Joan would have to be up very early in the morning for a 5:00 breakfast and a ride to the airport but nevertheless she did that laundry. Lucky me, she threw mine in, too!
Aloha! Alice
---
Today's Music
---
Hawaii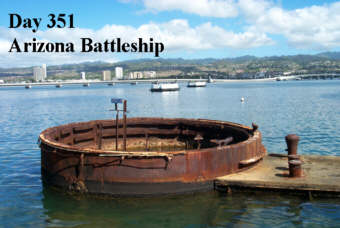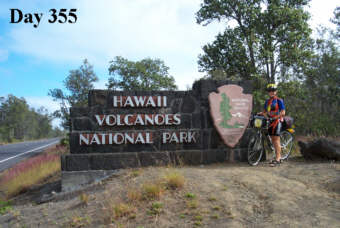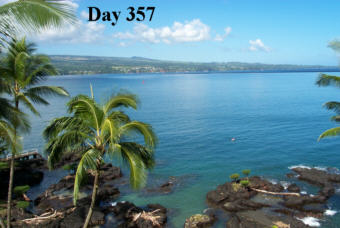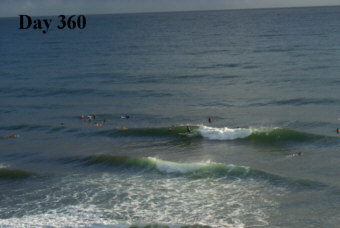 ---
Odyssey Riders and Staff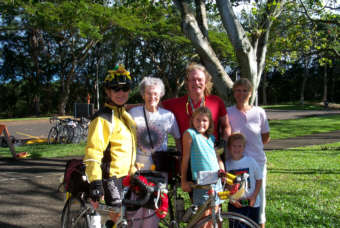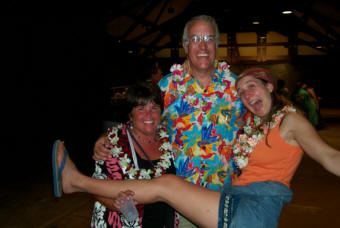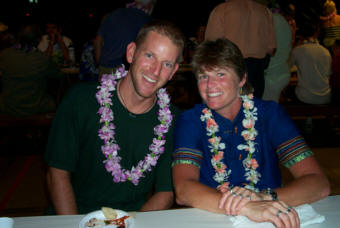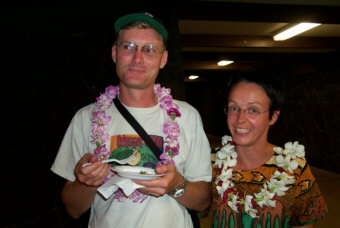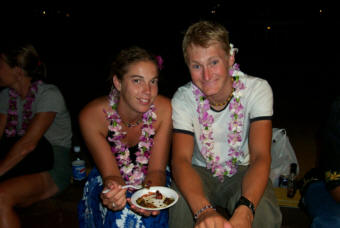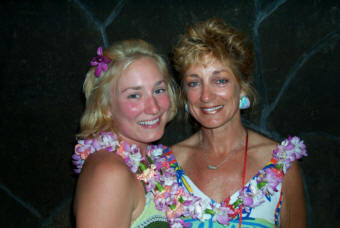 ---
Previous Page (Page 103) Next Page (Page 105)