Page 103
Hawaii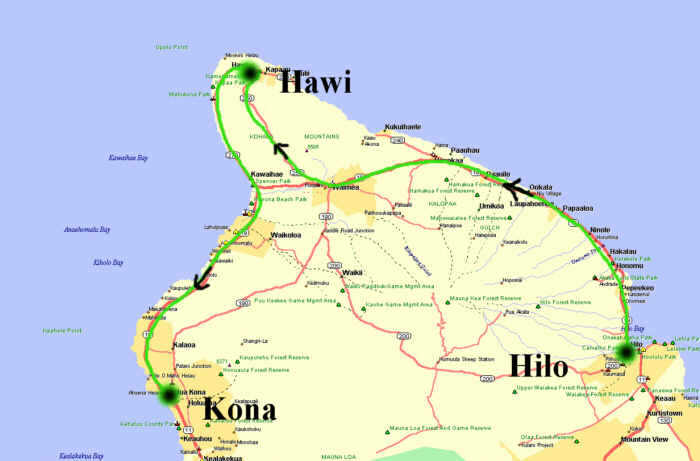 ---
DAY 356
Hilo Layover Day
December 21, 2000
It was pouring rain! A deluge. I announced that I wasn't hungry enough to walk a mile for breakfast in the pouring rain. I had bread and peanut butter in my bike bag and instant coffee in my suitcase and that would do for breakfast. Joan decided to join me. We sat on the balcony just out of the rain to eat and enjoy the view and fresh air. Sharon donated a big, juicy orange that turned our breakfast into a feast.
I spent the morning in the hotel room working on e-mail as did Joan. Meanwhile the rain stopped, the clouds blew away and the day became bright and beautiful. By noon we'd had enough of work. We wanted to see something of Hilo.
We walked along the harbor and through a beautiful Japanese style garden, the Lili'uokalani Gardens, a gift from Queen Lili'uokalani to the Japanese citizens of Hilo in appreciation for their hard work and contributions to the development of the area. We also saw the Suisan Fish Market but were too late to watch the auction of freshly caught fish that occurs every morning at 7:30. So we went shopping! But not for long. We were going canoeing.
The wonderful people of the Keaukaha Canoe Club who were catering our meals had invited us to come early in the afternoon for canoe rides. They have long outrigger canoes; the single ones require a crew of six, the doubles a crew of 12. The canoes are made of fiberglass and are very heavy. We were told that racing canoes must weigh at least 400 pounds. They have a beautiful koa wood canoe that is their prize possession that weighs 401 pounds, right on! No more are being made because the koa trees are scarce. Their koa canoe is rated the best in Hawaii and is sometimes rented by other clubs for races.
I was surprised to learn that we would be the crew and what a clumsy bunch we were at least on land! It required all of us and more to carry a canoe from the beach to the water. We were barefoot and it really hurt to walk over the plant material, sticks, stones and whatever else had washed onto the black sand beach. But everyone helped and soon we had both the double canoe and the single outrigger in the water. I had thought we would just sit and be paddled out a little way and back, but instead we did the paddling and were on the water for two hours. We had a lesson in how to paddle and when to change sides and then we were underway. It was really fun! Every once in a while our host would tell us to stop paddling and we'd drift while he told us how the first Polynesians came to Hawaii in canoes similar to the one we were in, about canoe racing, and all about Hawaii. We paddled across the harbor to where a cruise ship, the Patriot, was moored. We paddled until we were beside the ship and then directly under the bow. The ship looked enormous from that vantage point. Just minutes later the ship left the harbor so we felt very lucky to have had that experience. It rained and there was a beautiful double rainbow. By the time we returned to the beach dinner was almost ready. After all that paddling we had good appetites. There was sticky rice for dinner that is fun to eat because it doesn't fall off the fork, baked ham and chicken. But the macadamia nut brownies were the big hit. Delicious!
Aloha! Alice
DAY 357
Hilo to Hawi
December 22, 2000
We left Hilo by a road used by surfers to reach the beach so we had some great views of the beach and the people already there surfing early in the morning. There were dozens of surfers who had paddled out and were just floating on the waves, apparently waiting for a bigger, more exciting wave. Some though were standing on their boards riding the waves. This was the first time I had ever really watched surfing and I was surprised by the technique. They started out heading for the beach but then turned the board and went away from the beach on the wave. I had thought they would be washed ashore with each wave but that wasn't happening. It didn't look all that fun and exciting to me but I think the waves were too small to give much of a ride.
We were 8 miles out of Hilo and had almost reached the Hawaii Tropical Botanical Garden Nature Preserve when the deluge began. Hilo prides itself on being the foremost orchid-raising city in the states and I can only conclude that orchids love rain. We stopped there under shelter to put on raincoats and then were on our way again.
We cycled on a quiet road that was strewn with bright orange blossoms that had fallen off the trees, and grass grew in the cracks and moss on the pavement, surely the prettiest piece of blacktop we have seen all year. We passed waterfalls and rode on little bridges over busy, rocky brooks, all ever so carefully because the wet road was slippery.
The cultivated land we cycled past was used for papaya orchards, birds of paradise gardens and coffee. Sugar cane used to be the main agricultural crop but Hawaii could no longer compete in the market so sugarcane is no longer an important crop. People are finding other uses for the land like raising coffee and papayas. Pineapple must be grown somewhere but I haven't seen it.
Checkpoint was 42 miles out of Hilo, at Tex's Drive Inn. I ordered a Hawaiian Burger and what a yummy thing that was! There were two slices of grilled pineapple inside the bun along with all the usual vegetables and condiments.
Joan was slower that day but found me at Tex's. Over coffee she told me her inspired idea. We'd already been doing a lot of climbing, but she knew from reading the DRG that what lay ahead would be worse. She would ask Pierre to give her and her bike a lift to the crest and then ride the rest of the way to Hawi. To make a long story short, in the end that is what we both did, something that would never have happened in the old days, before Singapore. By sagging we missed the climb to 3564 feet, plus a road in the most awful condition. One would hope that roads so neglected didn't exist in the states but there it was. It was the kind that batters a cyclist, making the going slow and tiring. But the scenery was magnificent. We'd been in the rainforest but now we were in the high desert, prickly pear cacti everywhere. This was Parker Ranch country; an enormous spread covering 225,000 acres. Of course there were hundreds of cattle and plenty of horses as well.
When Pierre stopped at the crest and we got down, the wind tore at us and Joan began to worry that this was not a good idea after all. We could have stayed in the van and been driven to camp but we didn't. We bundled up though in our coats because the wind and the altitude combined made it cold. We knew it would be even colder once we were cycling. And it was. My ears were uncovered and began to ache. I wished I had brought my purple hat but it hadn't occurred to me that I could get cold in Hawaii. But the descent was short, about 15 miles, and reasonably fast so my ears made it. The wind was blowing such a gale that it pushed us sideways and slowed our progress. Joan was creeping so I left her behind and soon passed Sharon and Inge and then Chuck, and I forget who all. Later I learned that they were afraid of being blown over and thought creeping along would help.
Camp was at Kamehameha Park near Kapa'au Town. There is an amazing athletic complex there, especially considering that the region appears to be very sparsely populated. There's a pool large enough for lap swimming, and an enormous gymnasium complete with shower and locker rooms. But almost no people!
Jim Higbee's family, including his mother, was in camp, celebrating his achievement of 20,000 cycling miles during the Odyssey this year. That is a lot of miles. I can say that now with great certainty. Everyone was treated to champagne and macadamia nut chocolates. We took photos and enjoyed a good time.
I had just started to pitch my tent when the word came around that we could sleep indoors on the gym floor. All we had to do was wait a couple of hours until the gym was free and then move in. That is much simpler than pitching a tent and also there is no wet tent to deal with the next day, so of course I went for it. It saves time too, leaving time to play! Joan, Inge, Sharon and I went for a walk into tiny Kapa'au Town, which is a string of little tourist shops plus a cafe or two. But an attraction there is the statue of King Kamehameha that was once thought lost, but was found offshore of the Falkland Islands and brought back to Hawaii. I don't know why Kapa'au was chosen to display it. A little history; by 1795 King Kamehameha had conquered all the islands except Kauai which submitted 15 years later. He reigned until 1819 when he died. Perhaps he was a good king for a large hotel in Kona is named after him.
Aloha! Alice
DAY 358
Hawi to Kona
December 23, 2000
The people from Tex's Restaurant were to serve breakfast at Kamehameha Park where we had spent the night but unfortunately they didn't arrive until after they should have been serving. They unloaded the food but couldn't find matches to start the gas-fired stove and the wok. None of us had matches but Karen Ann finally found some in the kitchen. The cooks were feeling flustered and we were no help but only stood and watched, increasing their distress I am sure. Unfortunately we're an impatient lot and always feel compelled to eat as early as possible and run. That is too bad too because by the time they finally got it all together it was quite a spread! Sadly almost everyone had already left by then. A few of us had lingered, eating our breakfast in 'courses' as Joan put it. First came the cold cereal, then sliced bread, bagels and cream cheese. This was followed by sausage links, orange juice, and scrambled eggs. Finally someone opened the can of strawberry jam, and the canned peaches and pineapple. By the time we'd finished the eggs, buckwheat pancakes and syrup appeared so we ate those as well! Last to be ready was the coffee, gallons and gallons for just a dozen people. We had eaten a four or five course breakfast and thought we would never be hungry again.
The route we were riding was the one used by the athletes in the Ironman competition held in Kona every spring but we had to ride only the second half. The competitors ride from Kona to Hawi, then turn around and ride back to Kona for a total distance of 112 miles. They do this of course after swimming for 2.4 miles in the Kona harbor. Then they jump out of that salt water, leap onto their bikes, and whiz to Hawi and back, 112 miles, before ditching the bikes to run 26.2 miles. Whew!
We were cycling only half of the Ironman route and found it hard work. We had started in a crosswind but that changed to a headwind when Joan and I were about half way. There was one long hill after another with the wind blowing in our faces. But most disagreeable was the glass. I am sorry Hawaii, but your roads are the worst, the world's worst for broken glass! The state has built wonderful shoulders on that highway, SR 19, just for the use of the cyclists in the Ironman competition and other events held in Kona, but what about all that glass! It's a disgrace. I heard my tires crunch through glass that I failed to avoid several times, and of course you know what happened to Joan. Yup! Another flat. She pumped it and then changed the tube at Checkpoint but did not have the Tuffy to protect it with her. I think she will finish the Odyssey without having that tire liner in place.
We stopped at the Waikoloa Resort to visit the 1,000 year old petroglyph fields there. The drawings are carved into the ancient lava. I think that the meanings of some of the symbols are not entirely understood. We speculated that the rows of little holes might have been used to play an ancient game, maybe something similar to the Arab mancala game. Another, perhaps even more spectacular petroglyph field, the Puako Petroglyphs, is also found along highway SR 19 but I didn't know of it at the time. That's good! I'll have something new to see next time I am in Kona!
Dinner was a very special event. The kind folks from the Keaukaha Canoe Club in Hilo had followed us to Kona and treated us to a luau at a nearby park. Colorful and fragrant leis were draped about our necks when we arrived and we were treated to Hawaiian wines and pupus. Pupu is the Hawaiian word for hors d'oeuvres but I didn't try them and just as well. The dinner was truly a feast. The star of the meal was the succulent roasted pig that had been baked in a pit in the ground. There were also sautéed vegetables, sticky rice, a very unusual salad of fresh vegetables and bits of smoked salmon that must be a Hawaiian specialty, a fresh tomato and onion salsa, and creamed spinach containing chunks of steamed squid. The special spinach dish was very unusual but perfect with the pork. Everything was wonderful and the dessert was one of our favorites, macadamia nut brownies.
There was an entertaining program afterwards prepared by Al Konishi from the canoe club who wanted to give us advice for reentering normal life. It was quite hilarious. Then we sang Happy Birthday to Bill Bliss who was there with his family, everyone having come to Kona to be with him for the holiday.
We were encouraged to take the tropical flowers that had been used to decorate the room. There were orchids, bird of paradises, anthuriums, wild ginger blossoms, heliconias, proteas and others. I made a beautiful bouquet for the hotel room I share with Anita and Ruth.
Aloha, Alice
DAYS 359-360
Kona Layover Days
December 24-25, 2000
Hale Kalikimaka! Merry Christmas!
We spent all of December 24 and 25 in Kona. These were lovely, relaxing days. We had a gift exchange party after dinner on Christmas Eve that was fun. We played the game where the one whose turn it is can take a wrapped gift or someone else's gift. I brought home a dancing hula girl clock. It is outrageous but fun.
Christmas Day was different for everyone. Inge and Joan had margheritas by the pool, Ruth went to a movie, I worked on web pages and called some of my family. Such a treat!
Dinner was a sumptuous feast and a Hawaiian band played for a party just outside my balcony. A free concert! We're having fun!
Aloha, Alice
---
Today's Music
---
Hawaii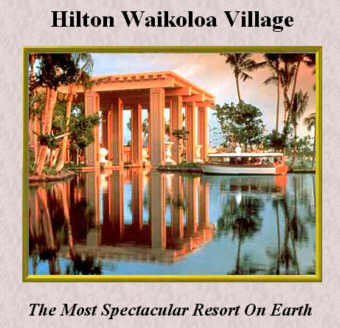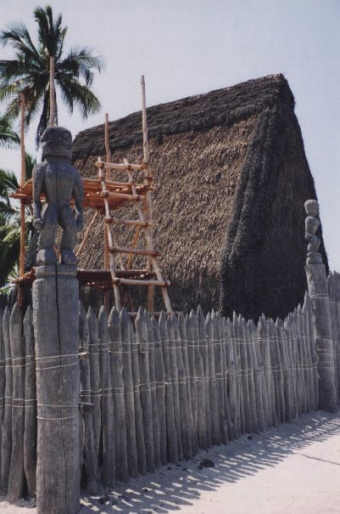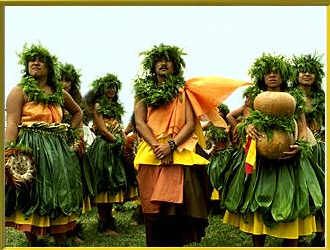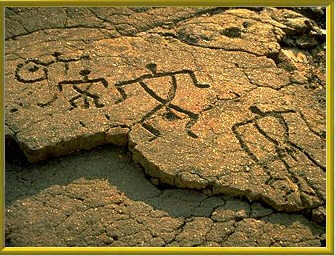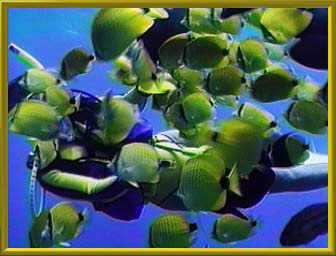 ---
New Zealand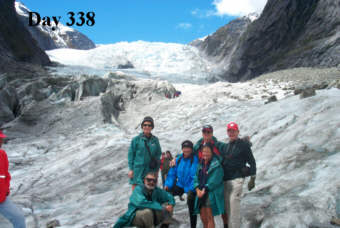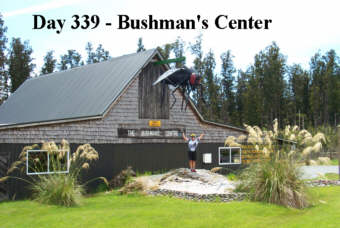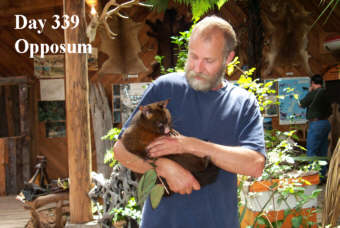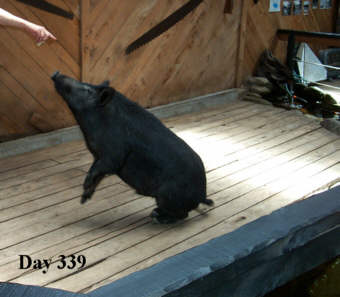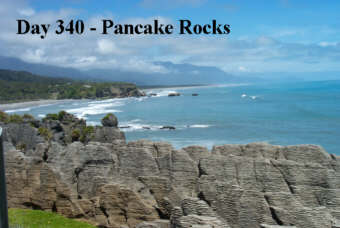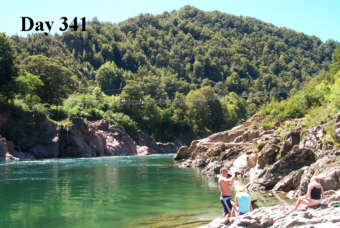 ---
Odyssey Riders and Staff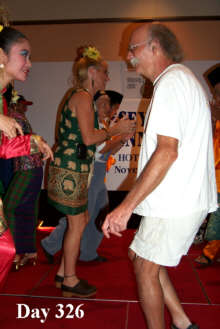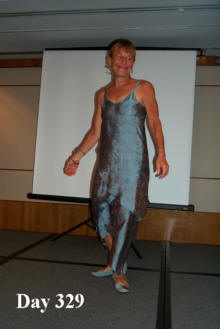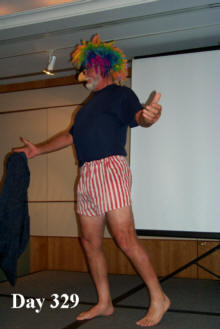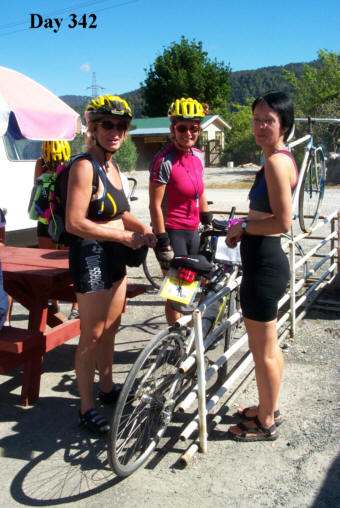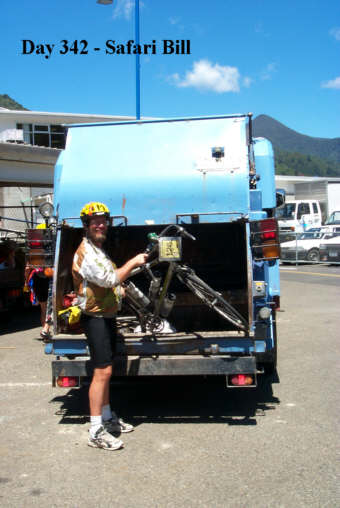 ---
Previous Page (Page 102) Next Page (Page 104)