Page 102
Hawaii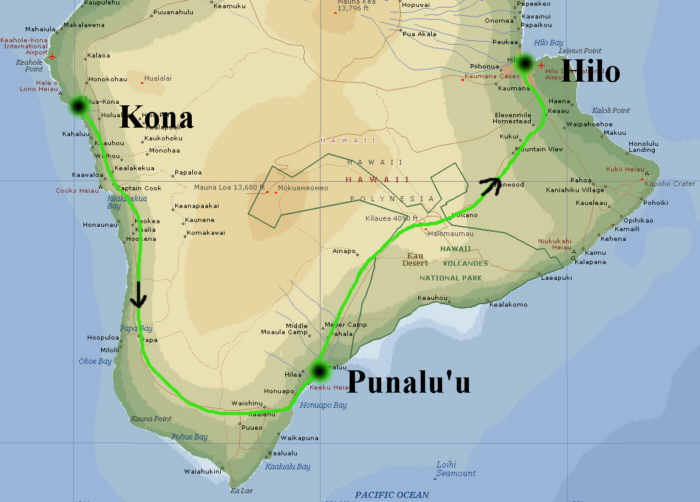 ---
DAY 354
Kona to Punalu'u Black Sand Beach Park
December 19, 2000
The Kona Beach Resort is a great place to stay and the food is delicious. We hated to leave but we could look forward to returning for 3 nights after our ride around the Big Island.
There are 132 Hawaiian islands but only one is actually named Hawaii, the biggest one, which is often called the Big Island, perhaps to avoid confusion. The Big Island is both the biggest and the youngest of all the islands. It is so big that it is twice as big as all the other islands combined. Wouldn't you know that Odyssey would choose to ride around the biggest island!
Almost everyone who flies to Honolulu will say the are going to 'Hawaii' while in fact they are going to Oahu, one of the Hawaiian Islands. On this trip we will visit three of the Hawaiian Islands, Oahu, Hawaii, and Maui. There are several other islands that are inhabited but less often visited by tourists, especially on a first visit to 'Hawaii'. These would include Kauai, which I would like to see, Molokai and Lanai. But that will have to wait for another trip.
The daylight hours are short in Hawaii, shorter than what we had had in New Zealand by hours. It isn't light enough to ride until 7:00 a.m. and pitch dark by 6:00 p.m. So when Joan discovered that her bike had a flat tire after breakfast she was a bit distressed. But I wasn't quite ready yet anyway so the flat delayed our start only a bit. It was her rear tire again and she fixed it but she still didn't put in the Tuffy tire liner! She did put a piece of Tyvek inside the tire where it is gashed to help protect the tube.
The ride was only 64 miles but it was a lot of uphill and although we never got higher than 1900 feet we had to keep doing it over and over. It was an up and down day. Sometimes we had ocean views but the air wasn't as clear as we wanted it to be, I think it was smoke from the lava that is flowing into the ocean somewhere ahead of us. That's what I was told at least. Unfortunately the lava flow is not spectacular at the moment and not worth the cost of a plane or helicopter ride to go see it. One can not get close enough on land to see the flowing lava, but only the smoke.
The hilly parts of the Big Island are used for growing coffee and macadamia nuts. We rode past acres of each and stopped to examine a macadamia nut which had fallen from the tree. It was very hard to open and tasted bitter. Some of the coffee berries are red and ready to pick but most are green. The trees are so tall that to pick the beans on the upper branches would require a ladder. I guess I thought coffee berries grew on short trees or bushes.
Much of what we cycled past were old lava flows that have not recovered, but are a craggy black wasteland. The first one we saw was from a 1950 eruption of Mauna Loa Volcano. Small sword ferns and one specie of tree were scattered over that barren, black, cracked mass of rock. It seems a miracle that anything could grow. The second lava flow we rode through was older, from 1907, yet the vegetation was far sparser.
Our destination was the Punalu'u Black Sand Beach Park, where the sand is black because it is finely ground lava which has accumulated over the eons, but there is plenty of lava that is still in large chunks. The beach is black, the water is beautiful shades of green, blue, and white where the waves hit the rock-hard lava that extends into the ocean, and the palm trees are a waving, glistening green. It is a gorgeous spot. The tents are only a stone throw from the beach so the campers enjoyed a wave music lullaby But not us. We are so lazy! What we started in New Zealand has made us so! Joan and I rented a gorgeous condominium adjacent to the camping grounds and took in three others; Anita, Dorothy and Lillian, which made the cost to each of us reasonable. We had a kitchen, a washer and dryer in the bathroom, a Murphy bed in the living room, and a master bedroom. Posh! We didn't set out to rent such a grand place, but a leak was discovered in the unit reserved for us before we had even arrived, so we were upgraded to the larger, better unit.
We had an excellent dinner in an open building near the beach, prepared for us by Patrick Edie, a 'local seasoned caterer'. He does understand seasoning, everything was good. He added fresh cilantro and basil to the salad, and the black bean chili to put on top of the baked potaoes was spicy enough to be interesting.
A funny thing happened after dinner. Dan O. had come into camp so late that he had missed the opportunity to shower in one of the condos rented for the purpose by TK&A. By the time he had arrived the staff who were to sleep in them had locked the doors and gone to dinner. But Dan O. had finished dinner and wanted to shower right then, not later. So we offered him the use of our bathroom which he accepted. Shortly after he had bathed and gone, Dorothy went into the bathroom to pick up her dirty riding clothes that she had left on the floor after her shower. She wanted to wash them to wear in the morning. But the clothes weren't there! We looked in the washer and the dryer and here and there among our things, and finally had to conclude that Dan O. had inadvertently picked up her clothes as well as his own. Her shorts, jersey and bra must be among Dan O's things. Poor Dorothy! She was annoyed and upset but we thought it was funny and couldn't help but laugh for which she scolded us. Finally she walked in the pitch dark with only a tiny flashlight to the camping area to look for Dan O. She found him in his tent and surprised him, too I am sure! He hadn't discovered it yet, but he did have Dorothy's clothes!
Aloha! Alice
DAY 355
Punalu'u Beach Park to Hilo
December 20, 2000
At breakfast I heard about the turtles. There had been turtles on the beach near the campsite and I had missed them! Joan and I went to the beach then to look for them but they were gone. A sign there said that the turtles come onto the beach to bask in the sun, an unusual behavior apparently for sea turtles that has started recently. There are two species that frequent the bay, the green sea turtle and the hawksbill turtle. They feed on limu that grows in the shallow waters, and when the time is right, lay their eggs in the black sand of the beach. The ancient Hawaiians believed that a mystical turtle, Kauila, protected their children. She would change into a woman and play with the children on the beach, keeping them from harm.
Both species of turtles are endangered, the green sea turtles were hunted for their meat and the hawksbill for their shells; 'tortoiseshell' was used to make combs and jewelry. The numbers of turtles have increased since being protected but they are a very long way from being out of danger. There is a website called Turtle Trax that I will check out when I get a chance, www.seaturtle.org . In the meantime I have a toy green sea turtle attached to my helmet to help spread the word.
But we couldn't dilly dally about watching for turtles. We had mountains to climb. We were cycling to Volcanoes National Park and then down the other side of the mountain to Hilo. Climbing takes time and a one point Joan remarked that at her speed it would take her 10 hours to reach the summit! I left her then and rode alone because she said she would sag and meet me at the Visitor's Center. But after 18 miles the road flattened a little and the riding was easier and faster. Still it was an energy burner, when we compared notes later we found that we had both stopped to eat twice. I couldn't believe that I was hungry only 10 miles from camp because of course I'd just had breakfast. Ten miles more and I had to eat again!
Miles before the top it started to rain, a misty, fine rain that I decided to ignore. But that picked up and by the time I reached the Visitor's Center I was wet and cold. I had only had time to watch a short film when Joan arrived. She had cycled the whole way and was soaked and cold. We sat in sodden little lumps and saw a film about the Volcanoes National Park and then I asked them to replay the same one I had seen, a short and spectacular update on the most recent lava flows in the East Rift Zone of Mt. Kilauea so that Joan could see it. She was suitably impressed but we couldn't linger longer at the Visitor's Center. We needed food and warmth. We found both at the nearby Volcano House, a hotel with gift shop and restaurant.
The Volcano House sits at the edge of an enormous crater called the Kilauea Caldera. We went directly to the fast service snack bar and selected chili on rice, oatmeal cookies and coffee. We were warmer then but not dry so we went shopping. Being all wet is as good an excuse as any! I bought the green sea turtle and tied it on my helmet.
We wistfully eyed the two rocking chairs in front of the fireplace but they were occupied by Karen Ann and Bruce. There was an enormous, beautifully decorated tree too and it all looked so cozy and inviting but we needed to get going for there were miles to cycle and things to see. We had intended to cycle the Crater Rim Drive, an 11 mile circuit around the caldera and other craters, but the bad weather put us off. We could not even see into the Caldera when standing on its very rim at the Volcano House. We wouldn't see anything but mist and rain if we cycled the Crater Rim Drive. What a shame, especially for Joan. I had seen it all in clear weather a few years ago so I knew what she was missing.
So we put on our raincoats and cycled back to the highway and toward Hilo. It was raining and I was still damp under my raincoat but I pedaled hard and kept warm. We'd had a 26 mile climb to reach the summit at 4024 feet, and now we had a 26 mile descent to Hilo. It wasn't steep but fun and fast. Just 5 miles before Hilo, we took a 6 mile sidetrip to the Mauna Loa Macadamia Nut factory, rated excellent on the DRG but it was hardly that. Don't go there! The best part of the visit was cycling to the factory and back through miles and miles of macadamia trees whose flowers have a lovely fragrance.
Checkpoint was at the Girls and Boys Club of Hilo where we were being allowed to pitch our tents on a nearby grassy area. There was a secure place for storing our bikes, but warm showers were a hike away at a Fitness Center. Pansies that we are, we had no intention of camping, and had called from our condominium in Punalu'u to make a reservation for the two nights in Hilo. I knew exactly what the camping and showering situation would be having come to Hawaii with TK&A several years ago. I also knew that it rains 200 inches a year in Hilo which is great for the rainforest but not for campers. It was late, nearly dinner time, so Joan and I hurried to lock our bikes and find our bags. We shared a taxi with Susan and Hewes and went to our hotel, the Naniloa Resort Hotel. We were feeling a bit guilty of course about being wimps but were too tired and hungry to really care. When we entered our room we forgot about all that. The view was smashing, it alone worth the $25 a night we each had to pay. Palm trees, black volcanic rocks, blue water, and green lawns in the foreground, green hills across the way, all topped with a blue sky and puffy white clouds. Our roommates, Sharon and Inge had already gone to dinner. By the time we had showered and changed it just seemed too late to walk the mile or so to dinner at the Canoe Club. Dinner would be all but over and maybe there would be no food left. So we settled for dinner at Uncle Billy's, a restaurant and hotel next door. There we got to see hula dancing at last and we met Odyssey riders, Cheryl and Gary, who have been traveling independently since Singapore. They have their bikes with them and ride when they want to. Gary was riding down from the summit yesterday, going at 30 mph, when a car coming up the road turned left in front of him. He swerved, hitting the car but not the road. He has bruises but no broken bones and no road rash. The car is dented and his rear wheel is broken. But is he lucky or what! Amazing! Another rider, Shirl, was knocked off her bike, sideswiped by a car on the terrible, horrible, no good, very bad day in New Zealand, but she suffered a broken collarbone, road rash, and a deep gash on one finger. She is so tough though and was determined to ride from the summit to Hilo. We couldn't talk her into giving her collarbone a little more time to heal. But maybe the rain changed her mind.
It was raining on the mountain so we hadn't been able to see a thing, but it was clear in Hilo where we expected it to rain. Maybe that topsy-turvy arrangement would hold for our layover day in Hilo.
Aloha! Alice
---
Today's Music
---
Hawaii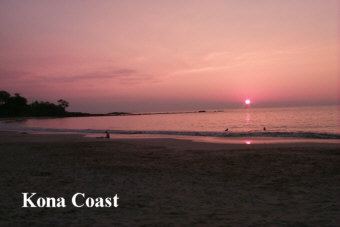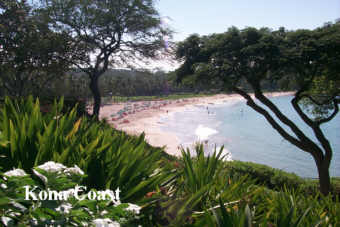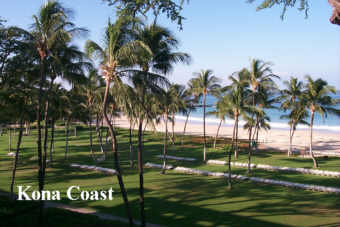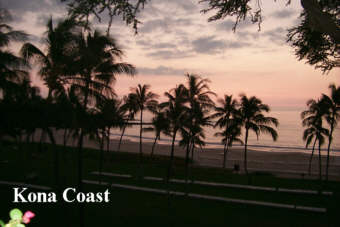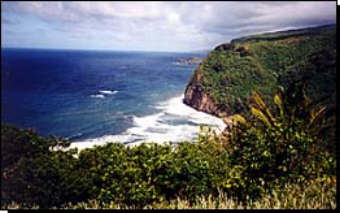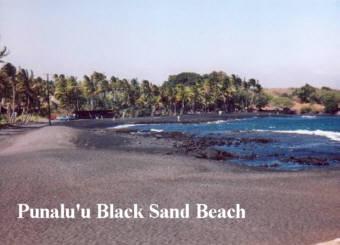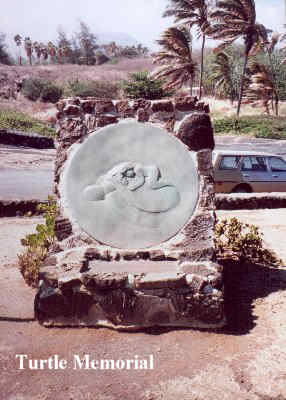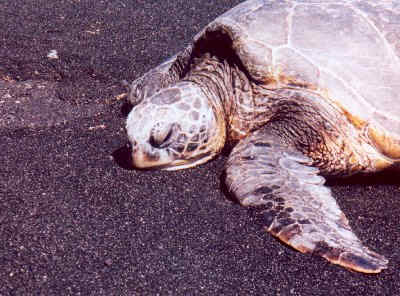 ---
Malaysia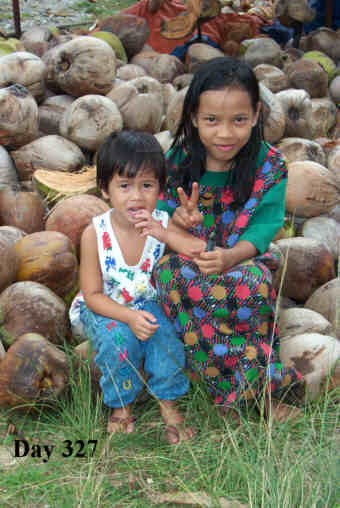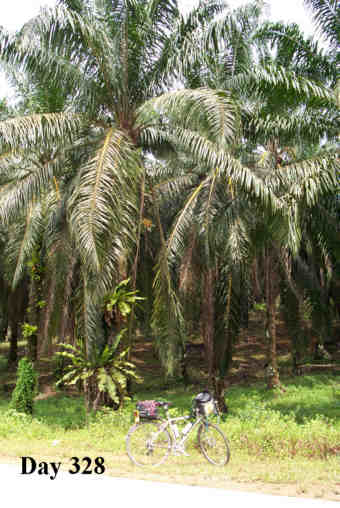 ---
Odyssey Riders and Staff
Singapore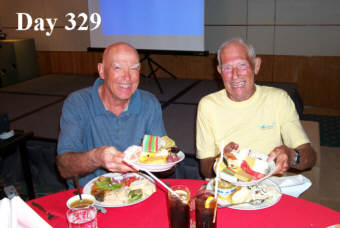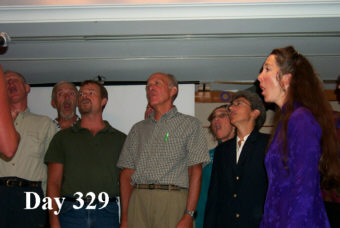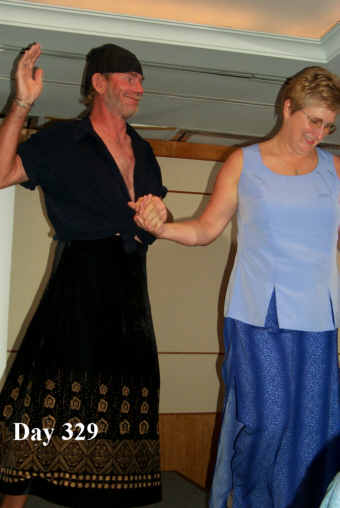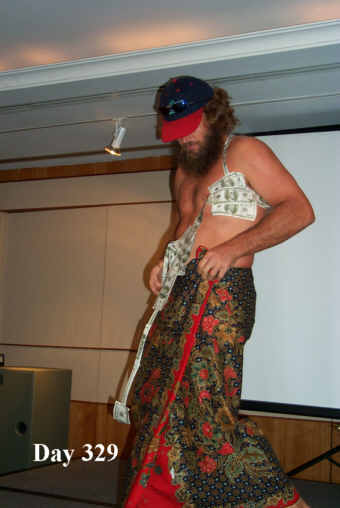 ---
Previous Page (Page 101) Next Page (Page 103)