Page 25
Greece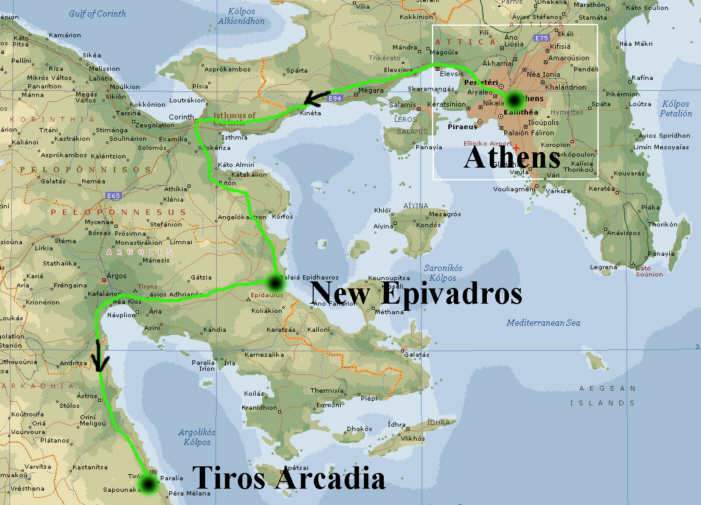 ---
DAY 76
Cape Town, South Africa to Athens, Greece
We had to leave beautiful Cape Town behind today and head for Europe to begin the next stage of our journey. I spent most of the day sorting and repacking and doing laundry. What a waste of a gorgeous sunny day! We were at the airport for hours and hours but we remained optimistic about getting all of our bicycles and gear on the plane because this was another charter flight with Mr.Itani, the sheik from Qatar. The long process began at the cargo part of the airport and meant waiting patiently in lines. We have lost some riders over the months but there are 231 riders left and 231 riders make a long line. Some we hadnít seen for a month or more because they have been Ďoff routeí following their own agendas. People passed the time greeting long lost friends and exchanging stories.
After getting to the airport by pedaling or by car, bus, or van we each had to prepare our bikes for the flight by turning the handlebars, removing the pedals, water bottles, and pump, and by letting some of the air out of the tires. The next step was to stand in line to eventually hand the bike over to cargo personnel who put them on pallets, 16 or 17 to a pallet, and when the pallet was filled the bikes were secured with straps. Next we took our bags and other stuff out of our lockers. Everything that had been loose in the lockers or that we had removed from the bikes had to be stuffed inside the duffel bags. My two bags bulged but held it all. Then we stood in a third line to get a boarding pass. Finally we got on a bus to go to the International Terminal.
The International Terminal was a surprise and a disappointment. It is much too small to serve such a large city so that the facilities are overwhelmed and once again we stood in lines. At our projected boarding time I finally got to the head of the food line. That was 8:15 p.m. At our projected flight time an hour later we were still waiting in the departure lounge. At last our flight was announced and we lined up and waited. After some time we were told that there would be a delay but that we would be boarding soon. We are getting very good at waiting. While outside in the cargo area several people played catch with a Nerf football and others with a baseball. People chatted, showed others their photos, read, and worked on pocket mail. No one played catch in the departure lounge, but Dan strummed his ukulele and others chatted, shared photographs and read. Some looked at their new purchases, others took naps. All the usual things. One lovely young couple on this trip, Kathleen and Scott Hooker, wowed us with their brand new hats in the colors of the South African flag. Kathleenís hat was the long stocking cap sort while Scottís was a The Cat in the Hat.
At long last we did board the plane. On board was Captain Itani, the sheik from Qatar who owns the plane and the Air Gulf Falcon charter service. He went through the plane greeting people and shaking hands. He is a very congenial fellow. Only two hours behind schedule the doors were closed and we were ready to fly. We moved a bit, and then stopped. The doors were opened again and we wondered what was delaying us. Eventually we were told that the air conditioning needed repairs, which we could have guessed from our discomfort while waiting. Finally the doors were closed again. The pilot took a very long run at it to take off but eventually we were airborne. We had been at the airport for eight hours, it was after midnight.
Goodbye, Alice
DAY 77
Athens, Greece
Our flight was ordinary except perhaps for two things. The sheikís plane has much more leg room than any commercial plane Iíve flown recently, United for example, but far worse food. But we landed safely, canít ask for more than that I guess, and we disembarked to wait again. Getting through immigration was a snap. Getting our luggage required quite a wait but the up side is that because it was a chartered flight one knows for sure that oneís bags will eventually come tumbling out of the chute. Mine did and they werenít even last.
With luggage on a cart we walked through customs and into Athens. Whoa! Not quite yet. It wasnít that easy. We had to get rid of the bags and collect our bikes. Our gear-locker trucks are locked in customs and unavailable for today at least. I hope TK&A wonít have to pay a ransom to get them out. A small truck was hired to cart the baggage to the hotel and we lined up to load our bags. I just managed to get mine on the first truck load which meant all I had to do now was collect my bike. The bikes were being delivered by a small flatbed truck which could bring only 25 at a time. Each roundtrip was taking 30 minutes. Lucky people got their bikes in the first or second load and were soon on their way to the hotel. The rest of us waited and waited. It was cold and windy and then it began to rain. My bike finally came on the last load. I had been at the airport waiting for 5 hours. Letís see. In Cape Town I waited at the airport for 8 hours, it was a 9 hour flight, I waited 5 hours in Athens, 8 + 9 + 5 = 22 hours! Aha! That explains it. Day 77, March 17, was to be a layover day here in Athens so that people could go see the Parthenon and other sights but we spent it in airports. I am lucky because I have already seen the Parthenon and more in Athens so I donít mind bicycling out of the city tomorrow. Lots of people are planning to stay behind a day and they should. Everyone needs to climb the Acropolis and marvel at the Parthenon.
Our hotel is the Astir Palace. It is very nice with spacious rooms and a beautiful location on the water. I think we all wish we could stay a day or two. Tomorrow we cycle 144 km. to New Epidavros. There is time left now only for dinner and a good nightís sleep.
Goodbye, Alice
DAY 78
Athens to New Epidavros
This was a long day, 144 km. and because breakfast was served late we had a late start but we made it anyway. We were advised to ride in groups out of Athens because the DRG was so complicated with turns and Greek names. Allison led our group of 5 riders and if she was confused she would stop and then we all would stop and confer. That way we made all the right decisions and did not get lost. Riding in Athens was almost pleasant because the drivers were courteous to cyclists and careful. The problem was that the exhaust fumes were so thick I could hardly breathe and even felt nauseous. But eventually we were on quieter roads and the air cleared. We enjoyed beautiful scenery along the coast and rode past orange and lemon groves. Those trees are loaded with fruit that look ready to pick while other fruit trees are just beginning to blossom.
Several hours into the ride and well out of Athens there was an accident right in front of me at an intersection on the highway. A car hit an old man on a motor scooter and sent him flying head over heels through the air. He looked like a rag doll doing a cartwheel. I didnít see him land as the car was in the way. I stopped and found the man lying on his back on a lot of junk just above the ditch. He was conscious and breathing but bleeding. Most of the bleeding appeared to be internal and I didnít know what to do about that. I tried to comfort him but unfortunately I couldnít understand what he was trying to say and I couldnít say anything to him in Greek either. The driver and passenger were running about hysterically crying out for help. A man came then and I asked him about phoning for an ambulance. He had done that he said. He must have seen the accident from afar and phoned for help before he came to the scene as I was the first one there. It occurred to me then that the people I had been riding with would have heard the accident (they were just ahead going around a curve when it happened) and would have stopped especially because they could see that Bill and I were no longer following them. One of them was a doctor, so because I was sure that they must be stopped just around the corner waiting for Bill and me to catch up, I jumped on my bike and raced to reach them thinking the doctor would come back with me to help the old man. But they werenít there! They werenít around the next curve either. I pedaled as fast as I could go but I could not see them ahead. Finally I gave it up as I was now so far from the accident even if I did find the doctor she would then have to race all that way back and hopefully the ambulance would be there before then. I found my group at the checkpoint and yes they had heard the screeching tires but counted themselves and since all 3 of them were there they just continued riding. I was really angry about that and told them so. The victim could have been Bill or me. They said that because the DRG was no longer complicated they thought we could make it on our own. They just didnít get it! They said they hear screeching tires all the time. They canít stop every time. One of them did say that the screeches this time were definitely much worse than ordinary and she thought there had been an accident but since the 3 of them were accounted for they just kept going. I said what about Bill and me? After hearing the accident and then we didnít show up behind them didnít they just wonder whether we were okay? Wow!
A bunch of us had a fine lunch in a Greek restaurant; the friendly owner took us back to the kitchen to show off the food that was prepared. It all looked delicious so we decided to share and ordered two plates of just about everything there. It was fabulous! We licked the platters clean, mopping up the good sauces with fresh crunchy- crust French bread. That feast cost us each 1000 drachmas, or less than $3.
After lunch Bill and I rode the rest of the way together. His odometer was broken so he needed a companion. There was a 19 km. climb, it was raining and cold, way cold on the descent when it finally came. I arrived at camp half frozen, shaking with the shivering, and hurried to pitch my tent. I considered giving the shower a miss but the water was warm so I went for it. Trouble was that the tile floor and the air were very cold so I was colder than ever when finished and dressed. Then we walked to dinner and afterwards found a warm fire where I stayed until thoroughly warmed. I crawled into my sleeping bag clothes and all.
Goodbye, Alice
DAY 79
New Epidavros to Tiros Arcadia
This was a beautiful, stress free, uneventful day I am happy to say. The ride was along the coast and the scenery was very beautiful. Though hilly the road was in good to excellent condition. The grades are often 10% but that is not too hard to do. It is much colder here than South Africa, 50 degrees instead of 80, so we all are bundling in all the clothes we have. But it didnít rain and by noon the clouds had moved on and the sun offered a pale warmth.
We had had a skimpy breakfast, one boiled egg and bread, so we were looking for a bakery by midmorning. Did we find it! Yum! We had cream cakes with strawberries on top and hot chocolate. But a couple of hours later we were hungry again. It was Sunday and few places were open but we found a restaurant on the beach. The food was good but it took forever to get it, unlike yesterday when we went into the kitchen where the food was fully prepared and ready to serve. I had eggplant with a tomato sauce and also a Greek salad. Several people ordered calamari; others had lamb chops and pork chops.
This part of Greece is very rocky and very hilly. There are orange groves and olive trees by the thousand, which seem to thrive in even the rockiest of soils. There are flocks of longhaired sheep and flocks of goats. A shepherd takes these animals to spend the day grazing on the steep rocky hillsides. They wear bells which ring gently with a lovely wooden flute sound. I have seen only one herd of cows which were with a shepherd to graze alongside the road. These cows and sheep were very dirty so apparently they donít have a nice place to rest at night.
We do though. It is rocky but we are on the beach, camping among the orange and olive trees. A lamb is bleating and birds are singing. Itís suppertime and I am ready!
Goodbye, Alice
---
Greece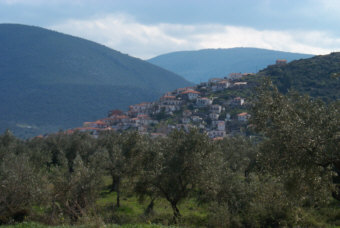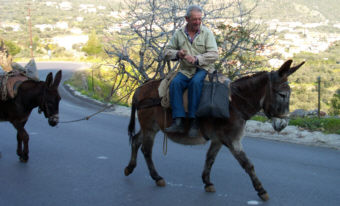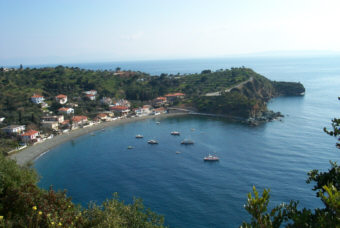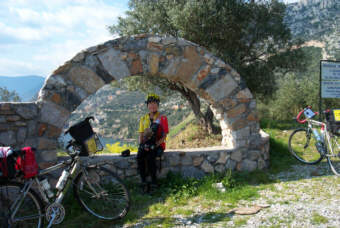 ---
Previous Page (Page 24) Next Page (Page 26)