Page 26
Greece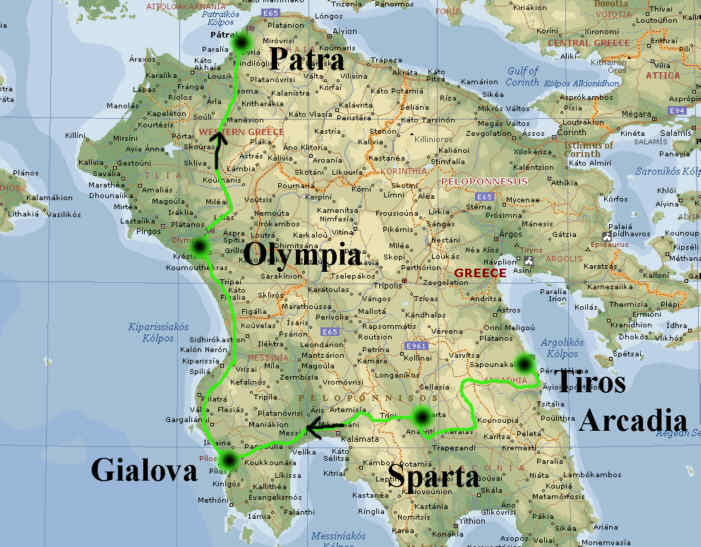 ---
DAY 80
Tiros Arcadia to Sparti
This was a glorious beautiful spring day, perfect for a bike ride. We had stayed at a campground on the beach pitching our tents among the orange trees. The shower water was cold for the second consecutive night, and the dew on my tent was frozen in the morning. We were very cold, wearing layers of clothes and climbing into sleeping bags fully dressed for the second night in a row. It had taken hours for dinner to be served; I had purposely arrived late having worked on e-mail in my tent first but dinner had been late getting started, and then was served to order one plate at a time so I had a very long wait in the freezing cold. Once we had our plates of food we had to sit outdoors to eat. The choices were gone by the time I was served but I enjoyed the chicken and rice, then hurried to brush my teeth so I could snuggle into my sleeping bag. But that was the night before Day 80.
In the morning of Day 80 we were served hash browns and scrambled eggs along with the obligatory loaf of bread. What a treat those crispy fried hash browns were! The loaf of bread appears at every meal, it is similar in shape to the bun used to make a sub, but it is French bread and bigger than a sub bun. It has toasted sesame seeds on the crunchy crust so it is altogether yummy. (No relation to a hockey puck whatsoever!)
The first 23 km. of the ride were spectacular, it was a warm, sunny spring day, and I found myself stopping time after time to take pictures until I resigned myself to the probability of sagging at Checkpoint which was at 52 km., the summit of the Big Climb. Lots of us I think were dreading the climb, but there are riders among us who love to climb. The ride was up, up, and up some more, it was a 28 km. climb, one switchback after another with never a downhill for a break, but it was do-able and I was very happy to find that I could do it! Many of us took a little side trip to the Elonis Monastery which was beautiful and perched impossibly high on a cliff, it must have been built by eagles.
Finally I reached Checkpoint at the summit, in the town square of Kosmas, at 1200 meters. A very big church sits on one side of the town square and a coffee house on another side. It was very cold up there so I took a warming break in the coffee house enjoying a cup of hot chocolate and two honey soaked chocolate gingerbread cookies. Other riders were already there doing the same thing. There was a jewelery display case and I felt compelled to buy a blue-eye good luck charm to sew onto my Odyssey cap. Maybe it was because Trueheart had fallen on the descent. Trueheart is the best of the best and if he fell what hope had I?
It was time to go, I could procrastinate no longer, so I put on all the clothes I had: arm warmers, leg warmers, fleece pullover, 'ears', a plastic bag in my helmet, rain pants and rain coat, and glove liners under my bike gloves hoping to keep from freezing on the descent. There was no sun up there, the day had turned downright gloomy and cold.
Luckily there was a little climbing to begin so I could get warm before going down but I rode past poor Elbert who is 79 years old and walking his bike up a hill. I knew he had to be freezing cold before even beginning the descent which turned out to be an extremely cold experience, so much so that I worried about him all the way down. In spite of all my precautions I got very cold and shivery and my fingers ached unbearably. I think Elbert may have had to stop and wait for a sag. I saw him later that evening so I knew he was fine. He has a lot of pluck and gets out there everyday to do the best he can. He and Trueheart are our heroes.
It's too bad when a descent has to be endured instead of enjoyed but that is what happened. I was very glad to reach the bottom, warmer air and the opportunity to pedal and get warm. It was getting late in the afternoon when I bicycled into Sparti and the weather was not fine. But I could see the enormous snow covered mountains on the west side and marveled that it wasn't even colder with the mountains so near. The drivers of Sparti appeared to have little regard for cyclists but I survived their disdain and found my way to the campsite without making a single wrong turn.
Dinner was already being served so I quickly pitched my tent and joined the line. Again we ate outdoors, again it was very cold, and this time I skipped the shower, going straight to bed as soon as possible. The TK&A showers had been set up which meant hot water, but they had put up only half of them, two for the men and two for the women. The line was too long.
I was pleased with the day. I had taken some good pictures and survived the climb and descent.
Goodbye, Alice
DAY 81
Sparti to Gialova (Pylos)
There was really nothing very special about our campground and I had come in so late I didn't get to see anything of Sparti except the huge snow covered mountains. I didn't even take a picture of them because I was in a rush to reach camp in the evening and it was gloomy and dark when I made my early morning start.
Day 81 was relatively short at 117 km. but there was to be another climb. I climb slowly so I needed the early start. The climb was 20 km. and the summit was at 1370 meters. Just like yesterday's climb it was one switchback after another, all uphill. It was cold at the start and it only grew colder as I climbed. Not even the hard work of climbing could keep me warm and soon my toes and fingers ached from the cold. The views were obscured by low clouds so there wasn't anything to distract me from the uphill grind. Before I could reach the summit it started to snow. There were patches of old snow alongside the road but the road itself had been clear and dry. It was fun to be there in the falling snow except that I was cold and worried that the descent would be slippery with snow. Finally I made the summit, parked and locked my bike and fled indoors to the warmth and comfort of the summit restaurant. Many riders were there already, some warming themselves before the fire, most enjoying hot chocolate and baklava which is exactly what I did.
Then it was back into the cold where I put on my fleece pullover and rain pants in addition to all the warm clothes I was already wearing. One rider was out there in the cold singing snow songs and welcoming arriving riders to the 'ski resort'. It was still snowing and now visibility was reduced by heavy fog to only a few feet. The road was steep, curving, wet and slippery. No one was looking forward to the descent. But we had to get down so I set off, braking cautiously and trying to peer through the fog to see the curves and potholes. Soon I was shivering from the cold and my aching fingers were so painful I was forced to stop. I thought I would do some jumping jacks or run in place to get warm before continuing down the hill. Two other riders and a van were also stopped a little further down the hill. They called to me asking if I wanted a ride. I actually thought about it before saying yes, because it had been so hard getting to the summit I didn't want to give up with the hard part done. But the reality of the situation was that the road was dangerous and it passed through my mind whether the reward of finishing was worth the risk of a fall and an injury that could spoil my trip. So I did the prudent and comfortable thing and said yes. The van was the W.U.S. van, the Women's Undercover Sag. I had heard about it. A group of riders have rented it and take turns driving, giving themselves a break as needed from cycling every day. They have even had a W.U.S. poster printed which is taped to the outside of the van and they've had tee shirts made for themselves as well. They explained that they could give me a ride only to Checkpoint but that was fine as Checkpoint was after the descent. It would be warmer there. The three of us slowly warmed with the help of the heater and before long we came across another freezing rider who had fallen and needed a lift.
At Checkpoint I ate my bread and peanut butter lunch and set out again. I still had more than 50 km. to go and it was bitterly cold. There was more climbing too. It was a very hard ride. It began to rain and the rain increased until it was pelting down stinging my face and making it hard to see. Sheets of water were running down the road. It was totally miserable. Finally though I reached our destination, the Navarino Beach Campground. The campground was right on the beach but no one had an interest in that. One look around was all I needed to see that the ground was flooded by the heavy rain. It would be a wet and miserable place to pitch a tent. The gear trucks had not arrived, we later learned that they had crawled to that summit, barely powerful enough to do it. The volunteer at check-in told me that everyone had gone down the road to the restaurant where we would be having dinner to wait for the gear trucks and to get warm. I went directly there and the first thing I heard was that everyone was getting rooms for the night. I thought that a great idea. One rider told me where he had a room and suggested that there might still be rooms available. I made haste to get there, and sure enough, I could have a room! Room 6. I was delighted. There was no heat but there would be hot water for a warm shower, the first in days. It was strictly a summer hotel that had opened for that one night to accomodate us. When I occupied my room later I saw that there was no provision for heating the rooms. This hotel, Hotel Zoe, was on the beach of the Mediterranean Sea, and no heat is necessary in the summer. By the way, my suggestion is that any bike touring of Greece should not be planned for March. It's true that you beat the high season, but it is just too cold and wet to be out all day.
After arranging for the room I cycled back to the restaurant where I warmed myself before the fire and draped my wet clothes on a radiator to dry. I was there for 2 or 3 hours, working on e-mail, having tea, then wine and french fries. Hand cut, good old fashioned french fries. Everyone was ordering them and I couldn't resist the treat either.
As more riders arrived we heard more tales of the terror of the descent. Trueheart had fallen again, and lots of lesser mortals as well. The count was ten before even half the riders were in. One rider who had fallen was taken to hospital; we learned later that he has a broken femur and is being flown back to the U.S. for surgery. He won't be on a bike for months. I felt sorry for all the riders who had tried and fallen, but vindicated for taking the W.U.S. wagon down the mountain pass.
Dinner was served and was very good, it amazed us that they could put together such a magnificent meal for so many with so little notice. It was early afternoon when the first riders there overheard TK&A negotiating with the restaurant to prepare dinner for us. Where did they get all that food! This was just a tiny village.
Dinner over it was time to go into the pouring rain and to the hotel. My clothes were dry and I was warm at last. The gear trucks had arrived by then so I rode to the campground and found my bags. I put just the things I needed into a plastic bag and cycled through the rain and flooded streets to the hotel. It was pitch dark but I had blinking lights on front and back so I was sure I could be seen.
The hotel smelled of moth balls and it was as cold indoors as out, the marble floors were ice cold, but the shower water was warm. I hurried to get under the covers, very grateful to be dry and warm. The storm continued through the night, I could hear the pelting rain and wondered whether those who had had to camp were keeping dry.
Goodbye, Alice
DAY 82
Gialova to Olympia
French fries for breakfast! The same good cooks who had prepared our dinner the night before also did the breakfast. It was a labor intensive breakfast but they kept ahead of the demand. One woman was slicing the fresh potatoes into sticks while another deep fried them. Two young men were squeezing hundreds of oranges by hand to make fresh juice for us. We also had hard boiled eggs, french bread and corn flakes. The coffee served at every meal in Greece is Nescafe, but it is possible to get filtered coffee, Greek coffee, or cappuchino at a cafe.
The gear locker trucks had arrived, freed from Customs where they may have been vandalized. Somewhere enroute to Greece someone took the big aluminum platforms that were the steps. The steps were necessary to reach the lockers on the top rows. TK&A made a last minute decision that we would begin to use the lockers immediately anyway so for most of us that meant repacking so that our bags would fit into the locker. Some people had already loaded their bags on the gear truck that we had been using since Athens while we waited for the locker trucks to get through customs and arrive. Those folks had to search through the stacks of bags to find their own and take them off the truck. A ladder was found for the people who couldn't reach their lockers. I repacked, removing bags of items that I would have to push way to the very back of the locker. I had to make my bags skinny enough to fit into the 17 by 17 inch locker. That job finally done I was ready to go.
It was still freezing cold but at least the blue sky and sunrise promised a better day. I stopped right away at a mini market to buy bread. I told the lady the loaf was too big for me, did she have a smaller one. She showed me a half dozen loaves that were all the same, all too big and so she solved the problem. She cut a loaf in half, wrapped each half separately, and gave them both to me!
Most of the scenery that day was olive groves, there are millions of olive trees in Greece. Some of the farmers keep the earth under the trees plowed, some leave it natural with the result that beautiful wildflowers, red, yellow, white, and blue flourish there. Some plant rows of crops between the rows of olive trees. There were vineyards on the route too but there are no leaves yet, just stubby bare vines. There were acres and acres of long arched mini hothouses covering rows and rows of small green plants and a good thing it was too or they may have suffered frost damage. Later in the day as I neared Olympia, the olive groves gave way to forests of coniferous trees.
We camped at the Camping Diana Campground which was within walking distance of Olympia, but again the showers were ice cold. Dinner that evening was at the Taverna Ambrosia Restaurant and it was outstanding. We had moussaka and souflaki and other Greek dishes for the first time during our week in Greece. It was a feast!
Goodbye, Alice
DAY 83
Olympia to Patra, then to Bari, Italy
I wish I knew whether the Greek people really eat boiled eggs and French bread for breakfast because that is what we have had every day. I like boiled eggs so I am okay with that, actually it makes sense because they are easy to cook and can be served warm or cold. Today we were also given more of the magnificent big juicy local oranges, picked fresh from the trees with green leaves still attached. If you get the right kind they are huge, juicy, seedless, and delicious. What a treat! There are others that taste good but are hard to peel, perhaps they are meant for juice, and there are tangerines too. Oranges are everywhere. There are groves of orange trees and every house has orange and lemon trees in the yard. When harvested they are piled high onto trucks, too high I guess because we see them all along the roadside where they have fallen off the trucks. Roadside vendors are selling big mesh bags of oranges along the highways. It may too wet and cold in March to enjoy cycling but it's the perfect time to enjoy the oranges.
This is our last day in Greece, with only a week here the time has gone too fast. There were too many hills to climb but there were beautiful mountains too, if only the weather had been drier and warmer we would have had a great time. People are jokingly talking about the 'El Kneeland Effect' because cold wet weather has followed us almost everywhere we've gone. (Tim Kneeland of TK&A is the organizer of this event.)
We are heading for Italy and we hope, warmer weather. This is a riding day, 136 km., but I am on the train. My legs could not do another long day and for sure not by 4:00, the deadline for arrival at the ferry. Aboard this train are about 30 other riders, more went on an earlier train, lots went by bus and by taxi. Everyone is complaining that they are too tired, the recent days have been too demanding to be able to keep up the pace.
Taking the train gives my legs a day of rest and since I didn't have to be at the station until 9 a.m., a chance to cycle a few hundred meters to the archaeological site of ancient Olympia, where the Olympics began in prehistoric times. In the 8th century B.C. the games were reorganized and from then on held every 4 years. The ruins cover many acres and although work is going on there not many buildings are labeled. I didn't have time to work it out from the map and I didn't get to go to the museum either where there are fine sculptures and bronze works of miniature art. Many riders traveled to Olympia yesterday by taxi or bus so they would have the time to enjoy the ancient site. I should have done that too. Even in Athens no time was built into our itinerary to allow sightseeing. Those who wanted to see the Parthenon and museum had to go by bus or taxi to that day's destination. Only about 60 riders including me who had seen the Parthenon on previous trips to Athens rode bikes that day.
It's not expensive to ride the train. My ticket was 900 drachmas for me and 300 more for my bike, less than $4 in all. It's 136 km. from Olympia to Patra by bicycle at least and will take 4.5 hours by train including an hour wait when we had to disembark to change trains.
When we reach Patra at 2:00 we'll cycle to the ferry terminal. I didn't realize our arrival would be so late and brought all my dirty clothes along hoping to find a laundromat, but with only 2 hours that is not feasible.
The ferry to Bari is The Fast Ferry which has bars, restaurants, cabins with beds, reclining seats, slot machines, disco, a duty free store, etc. We will be given cabins with beds, 4 of us to a cabin. Tim Kneeland described this ferry ride as our 'first Odyssey cruise'.
Goodbye, Alice
---
Greece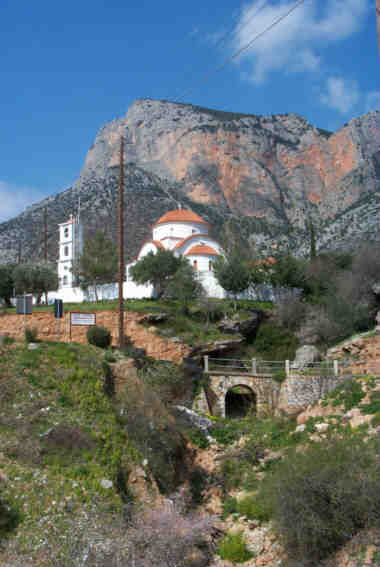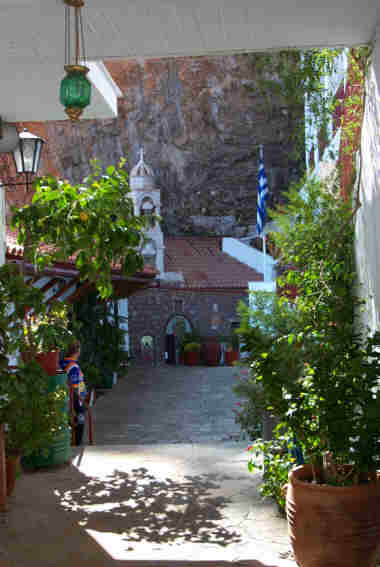 ---

South Africa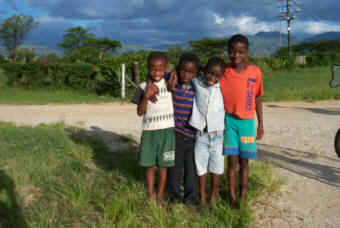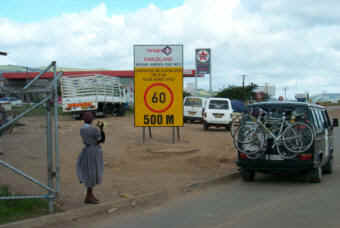 ---
Previous Page (Page 25) Next Page (Page 27)