Page 72
Luxembourg

Belgium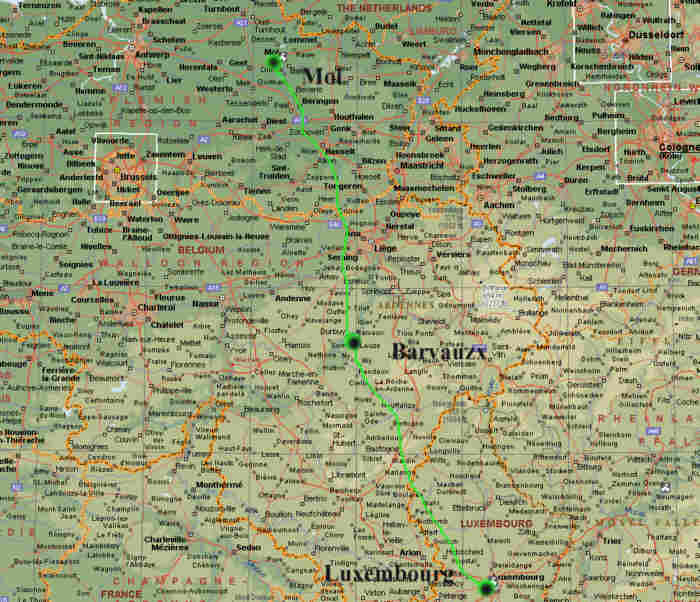 ---
DAY 248
Luxembourg Layover Day
September 4, 2000
It was super to be in the Novotel Hotel for two nights, giving us a chance to rest, reorganize and wash clothes, the most important thing. My roommates, Joan and Cathy B., and I decided to wash our clothes by hand because laundromats were scarce. We strung two long lines across the room and used all the hangers from the closet. Eventually we found a space for every item and transformed the appearance of the room. I had to walk through a maze of wet laundry to reach my bed at the far side of the room, but eventually everything did dry. Some poor hapless souls spent hours waiting a turn in the only functioning laundromat in Luxembourg. Too bad laundromats in Europe haven't caught on like Big Macs have. It is a constant struggle to stay clean and dry on this trip.
I spent most of the layover day in the hotel room working on back web pages although I didn't get to any personal e-mails. Many people write to me but they never get a response. I appreciate receiving the e-mails and apologize for not replying, I am just too slow at typing for the time I have available.
Late in the afternoon Joan and I took the bus to the city center. We walked across the Adolph Bridge and marveled at the deep gorge it spanned and the old fortifications or 'casements' still in place. We noticed all the banks and a casino or two and wandered down pedestrian only shopping streets where every shop seemed to be having a sidewalk sale. It was nearly dinner time so we resisted the Belgian waffles and hotdogs that everyone else seemed to be eating, settling instead for a cup of coffee. We ran into other 'yellow heads' of course and stopped to chat with one group who had done the walking tour and said it was just 'okay'. From all we heard from others I guess I didn't miss much by staying in the hotel room all day. Susan and Hewes though made a trip by train to Diekirch to visit the National Museum of Military History which was primarily dedicated to the Battle of the Bulge in Luxembourg in the winter 1944/45. They thought it was a superior museum and I was sorry I didn't see it.
The best thing about our stay in Luxembourg was the scrumptious food served us at our hotel, the Novotel. It was really superior, we had fish both nights, white fish baked with a buttery crumb crust the first night and salmon poached in a white sauce the second night. There were also chicken and beef entrees, salad, hot veggies, potatoes, rice, rolls and delicious desserts, plenty for everyone. Even better than the dinners were the breakfasts, there was fruit salad and another bowl of fruit that was all berries: blueberries, huckleberries, and raspberries. It was lovely. There were bowls of mixed nuts with raisins and more bowls of dried tropical fruits and nuts. There were three choices of cereals, plain yogurt and yogurt with fruit, eggs, potatoes, bacon, cheese, lunch meats, sweet rolls, chocolate filled croissants and whole grain buns. Yum yum.
Goodbye, Alice
DAY 249
Luxembourg to Barvaux, Belgium
September 5, 2000
My alarm went off bright and early but I wasn't feeling a bit bright, so I reset it for a little later and went back to sleep, resigned to sagging for the day. Of course I could have gone out there and slugged away at it but when I am so tired it is not fun. If I had been leaving Joan in the lurch to ride alone then I would have ridden, but Gudrun had returned while we were in Luxembourg and I knew she was planning to ride with us. Normally she wouldn't but she had been gone for 3 weeks so she felt she wouldn't be able to ride at the faster pace of her usual riding companions.
After breakfast I sat in the hotel lobby and waited for my sag ride. Finally at 9:30 Dave Hubbard who was also waiting and I left the hotel with Mike of South Africa and his wife and baby. They have a touring business in South Africa which is where TK&A first used their services. Recently they were asked to come to help in Europe. Mike has been going ahead to pave the way for us since August. I was lucky to be assigned to his car because he drove straight to the "end of day", our campground for the night. I fell asleep in the car almost immediately and slept the whole way, so I missed the scenery but sure felt better for the nap.
The campground, Camping Pre des Moutons, was way out somewhere beside a small, fast flowing river which is popular with kayakers and kayaks were available to rent. The facilities were minimal but the people were friendly, thanks to a recent hard rain the grass was soggy and the driveway muddy, but the sun was shining. True was there already, first to arrive as he always is. He just sits and waits patiently for the TK&A trucks to arrive. He helps set up the showers and sinks and he helps open the gear locker trucks. When we are using U-Haul type vans instead of our gear locker trucks, he unloads all the tons of baggage. He does all this without being asked, without complaining, and perhaps without thanks or acknowledgement.
As soon as the gear trucks were opened I set up my tent in a good spot which was as close as possible to the facilities but they were still far away, especially if it were to be raining when I had to go out during the night. Then I worked on e-mail for awhile, chatted with arriving riders and took a nap. When I awoke it was dinner time. There weren't many riders in camp that evening, some folks had taken a train to Amsterdam, a group of 40 had gone to Brugge, and tickets to the USA are so reasonable at the moment that some have flown home for a week, planning to return in time for our flight to Australia. People are tired, they have seen enough of Europe and are looking forward to a change of continents.
Joan and Gudrun finished the ride and at a reasonable time too but it was a hard ride, very hilly, just one hill after another. Everyone remarked on the hills, especially the first one which caught people unaware because it was out of sight around a corner. Since they hadn't seen it coming everyone was in too high a gear for the 14% grade. A 14% grade is really very steep, not a doable hill for some people. Those with altimeters measured the climbs and said they totaled 6,000 feet for the day. That is hard work.
Goodbye, Alice
DAY 250
Barvaux to Mol
September 6, 2000
At the first ring of the alarm I was awake and realized that I felt better and ready to ride. I made the trek to the WC, washed my face, cleaned my teeth and returned to my tent to do the exercises that stretch my back. Then I dressed in my cycling clothes, stuffed my sleeping bag into its sack and rolled my air mattress. I was ready to emerge again and take down my tent. But at that moment I heard the patter of rain on my tent. I listened for a few seconds as the rain became a downpour and decided to wait inside for it to stop. Perhaps fifteen minutes later I got the break I needed. I scrambled to get my tent down as quickly as possible. I had everything stowed in the locker just before the rain began again.
During breakfast the downpour continued and we discussed our options. The train sounded good so a dozen or so of us cycled to the Barvaux train station where we found other riders ahead of us with the same plan. We waited nearly an hour for the train, all crowded into a little bus stop type shelter as this was a minor station with no office or building. Fortunately the conductor was a kind fellow and when the bike compartment filled he let us stack the rest of the bikes in another car. It took awhile and we delayed the train for sure, but he didn't get cross. Then we were off. I bought Belgian francs from Phil but still didn't have enough to pay my fare. Maryke though had plenty of francs so she bought tickets for six of us but Gudrun, who had enough francs, bought her own. In addition to Gudrun, Maryke and me, Cheryl, Ramona, C.J. and Joan were in my group.
We had to change trains twice. The first train took us from Barvaux to Hasselt, the second train went to Mol. We locked our bikes at the Hasselt train station and walked into the town to do everyone's errands. We needed copies of our passports and passport photos for Chinese and Vietnamese visas. I needed a Belgium souvenir pin for my cap.
Then we had lunch in the cafe adjoining the train station. I had no francs left after paying for copies of my passport, passport photos and the souvenir pin, so I could buy only apple juice but that was fine because I had a cheese sandwich saved from breakfast. On the train I learned from chatting with the other riders that the staff has been spying on us at breakfast and making lists of people who take a breakfast sandwich. Bummers! They charge $20 if we bring a guest to dinner, which is too high I think. I am wondering what they charge for a breakfast sandwich.
In Hasselt we met a few other 'yellow heads', Valerie, Pat Lew, Cathy B., LeighAnn and Erik S., who had taken a later train from Barvaux. They left with us on the 2:12 train for Mol. Fortunately for the last five to arrive, this train just happened to have a big luggage car where every bike fit.
After detraining in Mol we asked directions and cycled the 10 or 11 km. to our campground, Camping Zilvermee. It is in a pine forest on a lake, has awesome shower and laundry facilities and is enormous with space for thousands of campers. It would have been a beautiful campsite but for the rain. We rushed to put our tents up during a break in the rain, then cycled to the showers because they were so far away. We needed a key to make them operate and with the key we could get 7 minutes of warm water, more than twice as much than in most campgrounds. Then I searched for a phone compatible with pocketmail but didn't find one.
Dinner was in a nice facility but a long walk away in the rain. The great food made getting wet and cold to get there worth it. Dessert was a big hit and there were choices, fruit salad, rice pudding, or ice cream served like a banana split but without the bananas. I had a combination of two, the fruit salad which had fresh strawberries in it topped with strawberry and vanilla ice cream.
Goodbye, Alice
---
Today's Music
---
Belgium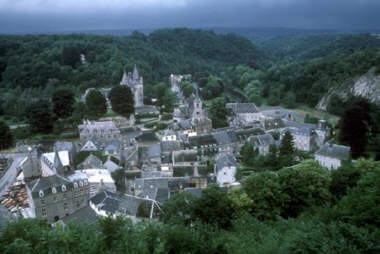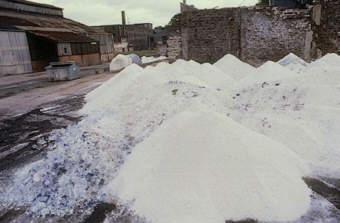 Nestled in the Woods
Picturesque Durbuy, which gained city status in the 14th century, perches on the banks of the Ourthe River at the edge of the Ardennes region in southeast Belgium. Here, the cliffs of Sy mark the shift from a farming region to a region of deciduous (and some conifer) forests.
Making Crystal in Belgium
The city of Val Saint-Lambert is in eastern Belgium's French-speaking Walloon Region, just southwest of Ličge on the Meuse River. Once a coal-mining and steel center, Val Saint-Lambert now produces fine crystal and glassware. The city is surrounded by valleys carved from limestone, a source of raw materials for cement- and glass-making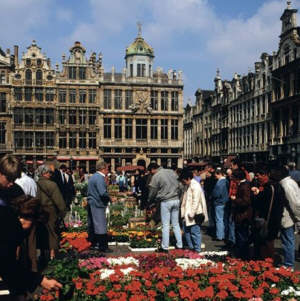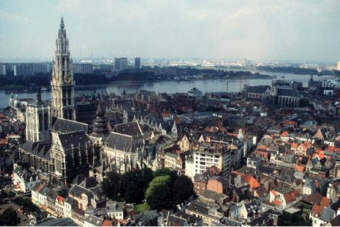 Flower Market in Brussels
Shoppers flock to the colorful flower market on the Grand Place in the heart of Brussels. The Hôtel de Ville (Town Hall), which dominates the area with its elaborate Gothic facade, is the only structure on the square that survived the bombardment of the city by Louis XIV, king of France.
Antwerp's Cathedral of Notre Dame
The Gothic-style Cathedral of Notre Dame rises above the city of Antwerp in north central Belgium. Construction began on the country's largest cathedral in 1352 and was not completed for 200 years. Notre Dame houses many artistic treasures, most notably masterpieces by the 17th-century Flemish painter Peter Paul Rubens. Belgium's second largest city and a major European port, Antwerp lies on the banks of the Schelde River.
---
Austria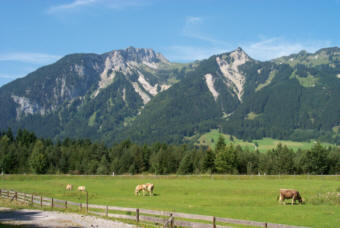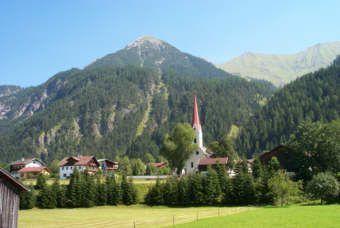 Oberammergau, Germany to Braz, Austria (Day 233, Page 67)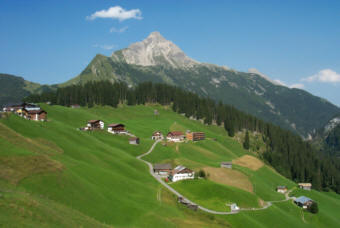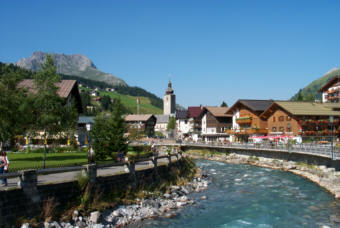 ---
Odyssey Riders and Staff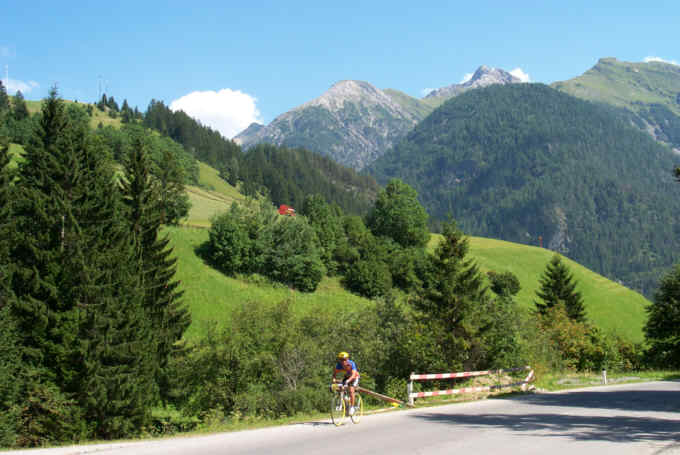 Anthony - Odyssey Rider
---
Previous Page (Page 71) Next Page (Page 73)