Page 71
Germany

Luxembourg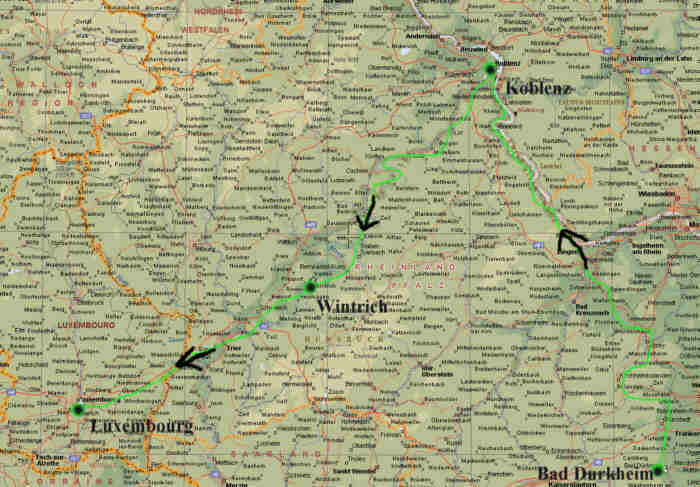 ---
DAY 245
Bad Durkheim to Koblenz
September 1, 2000
This was September 1, Elbert's eightieth birthday. We sang the birthday song to him at breakfast. His locker had been decorated with balloons which he tied to his bicycle before beginning the day's ride. We all admire Elbert for his courage to attempt this trip which is difficult for even the youngest among us. He is always cheerful and smiling. He keeps trying and never complains no matter how tough things are and he rides every single day. He is an inspiration to us all.
It was a foggy foggy morning and I finally had to call, 'Stopping' to Joan so that I could adjust my helmet. I had taken my 'dewed' sunglasses off so that I could see better but then found that my helmet fell down over my eyes. After every little bump I had to push it back into place. I hadn't realized that I had been depending on my sunglasses to keep my helmet in place.
The morning or first 75 km. was all hills and vineyards. Even the steepest slopes were planted with grape vines. I have been wondering how the vines at the top of a slope can be watered without erosion and wasted water. It was slow-going up and over all those hills. We were glad to see the land begin to flatten and with the flatter land other crops appeared including asparagus, potatoes and fruit orchards. The morning was repetitious and dull actually, especially because it took forever to get through it at our speed. We were looking forward to the second half of the ride which would be along the Rhine River and flat.
Eventually we reached Checkpoint which was in a tiny park right alongside the Rhine River. It was a fine place for a picnic and that is exactly what we did. We were not quite finished when it started to rain. There was no shelter so we packed our things and cycled along the Rhine toward Koblenz, our destination. The rain worsened and I stopped to put on my rain pants and boots while Joan went ahead searching for a bathroom. When I reached her she pointed to a small building on the edge of the river in a park-like setting that she thought would have a toilet. Then we saw other 'yellow heads' (we all wear yellow helmets) standing about so we asked them which way to the bathrooms. They said they had no idea which amazed me because we are all always looking for bathrooms and what else could they being doing there? They explained that this was a ferry landing and they were waiting for the next ferry to Koblenz which would depart in 15 minutes. It took us all of two seconds to realize what a great idea that was; it was raining hard and we still had more than 50 km. to go. I went to get the tickets for both of us and found to my delight that on Friday tickets for seniors are half price! Once in a very great while it pays (or saves) to be older. We boarded the ferry there in Bacharach and enjoyed the 3 hour cruise down the Rhine to Koblenz. It continued to rain hard for the entire cruise but there was a canvas canopy on the upper deck that gave some protection and allowed us to stay topside to see all the castles. Most people were seated at tables in the dining rooms but the castles couldn't be seen from there. Besides castles we saw vineyards and villages, barges that seemed as long as football fields carrying heaps of coal, and other ferries. It was a great way to move down the Rhine and we thought what a pity that it wasn't mentioned as an option on the DRG (daily route guide).
The ferry docked very near our campground and we cycled there in just minutes. We had to pitch our tents in soggy muddy grass but at least the rain had stopped for the moment. My tent was soaked through and through from the night before but I had a dry foil emergency blanket to lay on the wet floor so I was fine.
Elbert's dinner/birthday party was well underway by the time I went to join the fun. Luckily it was under cover, big white canopies protected us from most of the rain. Some riders had decorated with crepe paper streamers and balloons so it was colorful and festive. Kay O. had planned the party for Elbert and had found a special treat for his dinner: a Big Mac and fries! We were all encouraged to give Elbert chocolate as a gift and Joan Irwin had had the great idea of collecting a dollar from each of us to buy Elbert a new tent, which thrilled him. His tent had had it, the zipper no longer functioned so Elbert had been pinning the door shut with clothespins which left great gaps for cold air, rain and mosquitoes. Elbert is the only one who parks his bike inside his tent and sleeps with it every night.
It was a cold, wet night so I went to bed as soon as I could, but it was so noisy I couldn't sleep. A train went by every little while; Alan C. had seen it coming, he had apparently timed the trains because he had told me when I first arrived in camp that evening that a train came by every 16 minutes. To me it seemed much more frequent. Worse than the trains though was the outdoor concert right next door blasting an awful noise some call music mixed with a lot of screaming and whistling. It was not a restful night.
Goodbye, Alice
Koblenz to Wintrich
September 2, 2000
Link to Photos
We awoke to a dismal day and had to pack tents that were soaked. Breakfast had been set for 15 minutes later than it had been all summer because the sun was rising later and TK&A wanted to delay the start of the first riders until it was well and truly daylight. I think it is a pity that the riders who are all adults can't be trusted to decide whether it is daylight or not. But if TK&A wanted to control departure time they could simply set the DRG's out 15 minutes later. The long line for breakfast means that everyone but the first few are automatically delayed anyway, so why not get breakfast underway at the regular time. By delaying the departure time, they are also delaying the arrival time and that can be critical for slow riders on long days. Oh well. No one asked me my opinion and there is no use offering it. But to make things even worse, on this morning breakfast did not arrive at the campground for another 15 minutes after the newly adjusted time. We were getting restless by then. This seems such a minor matter when I stop to think about it, but to many riders, already stressed to the max by the situation they are in, something like this comes close to being the last straw. Never mind. When breakfast did arrive it was good and Joan and I eventually left, but our departure time was an hour later than usual and we had nearly 100 miles to ride.
Our campground in Koblenz, the Rhein Mosel Camping Platz, was so beautifully situated (except for noisy trains and concerts) that you wouldn't believe such real estate could be spared for such a purpose. It is situated on both the Rhine and the Moselle Rivers, just where the Moselle flows into the Rhine. Across the Rhine from the campground is the old fortress of Ehrenbreitstein which while huge was not spectacular in the rain, but just at sunset the sun broke through the clouds for the first time that day and beamed on the fortress, setting it aglow. Also caught in the sunlight for a few moments was a monumental statue of a horse and rider, the Reiterdenkmal, which is situated on the Deutsches Eck (German Corner) a point of land between the two rivers. I have been unable to find out who the rider is, perhaps a Roman or another conquering hero from Koblenz's past.
We got lost on the way out of town but it added only four extra kilometers to our day, thank goodness. At 1.8 km. the DRG said, 'BEAR LEFT towards Hwy 416 towards Trier. CAUTION, looks like a freeway entrance but it's OK.' It did look like a freeway entrance but since the DRG said it was okay I went ahead anyway, (I was leading so it was my fault.) My mistake was that I went right rather than left and did indeed get on the freeway. We solved the problem by getting off at the next exit and easily found our way back to try again.
We had been riding along the Rhine River the day before, wondering at the many grapes the Germans raise, and now we were riding along the Moselle River absolutely stunned by the endless vineyards. Grape vines are planted anywhere there is enough soil, on the very steepest slopes and in any little pocket of soil here and there. On the Rhine River the vineyards were on only one side of the river, but on the Moselle, they were on both sides. There were no other crops, just grapes. To tell the truth, that was boring. Now there are many varieties of grapes but to me there were only two, purple or green. On the Rhine there had been castles but along the Moselle we saw only a ruin or two. And it was raining! The day was not much fun.
But then we came to Bernkastel-Kues. where they were having a wine festival. We knew something was happening because cars were parked for a mile alongside the road leading to the town. When we reached the main street we found it blocked to traffic and thronged with celebrators who were at that time huddled under umbrellas and any overhang they could find. What changed the day from dull to fun and even funny was the rain. Buckets of rain! It fell in gobs! It rained so hard it was funny, maybe funnier to me than Joan because I was warm and dry in my superb rain gear while Joan was wet and cold.
We sheltered under the roof of a wine tasting booth. Joan took advantage of that opportunity to buy a bottle of wine and I took a few pictures. I usually don't take my camera out in the rain and this was a downpour but the booths were so colorful I couldn't resist. I dried the camera before packing it away and it still worked later. Finally we dared not tarry any longer for it was getting late and we'd run out of daylight to finish the ride. We walked the length of the street past all the booths and the band that couldn't play and all the stranded people who couldn't leave because of the deluge. That's the closest I've ever come to attending a wine festival and it looked like great fun. There were many wonderful looking foods to try as well as endless varieties of wine to taste.
We had only 10 km. left to get to Wintrich where we were to camp on the Mittelmosel Sportanlage (sports field). Joan was hoping fervently for indoor camping and her wish was granted. The village had opened the community center for us, thank goodness. Our soggy tents could be left in the locker for another day. We rummaged through our lockers for air mattresses and sleeping bags, pajamas and toothbrushes and then trudged up the hill to stake a claim to a space on the floor for the night. Since we had missed the first dinner and had 30 minutes to wait for the second seating, we had time to lock our bikes and hang our wet rain clothes and other paraphernalia on hooks to dry.
The dinner was splendid, another winner. Every meal in Germany has been wonderful. I had been wondering what brought about this change. Was more of the budget being allocated for meals? Were the Germans more expert at making something out of little? Then I learned that TK&A had hired a 'front man', Michael. Michael, who had helped us in South Africa, was now back and traveling ahead to meet all the vendors and smooth the way. What a difference he has made!
Goodbye, Alice
DAY 247
Wintrich, Germany to Luxembourg, Luxembourg
September 3, 2000
It felt peculiar, uncomfortable even, to tarry over breakfast, even having a third cup of coffee when normally we'd swallow our food whole and run for our bikes. But we were waiting for a tour the town's mayor, Dirk Kessler, had offered of his sparkling wine cellar. The tour was set for 9:00, two hours later than we usually start to cycle. It was a bit unnerving to dawdle so when we should have been dashing about, but Joan and I had decided that this was a special opportunity, too good to miss. We knew that by staying for the tour we were making it highly unlikely that we could finish the day's ride.
Dirk's home and cellar were just around the corner from the restaurant. His English was good and he carefully explained the champagne making process. Of course only the champagne made in Champagne can be called by that name, so his product is called sparkling wine. He mentioned that California champagne producers are incorrectly using that name and apparently there are legal actions being taken to convince them to stop.
Dirk's sparkling wines are handmade, every bottle personally made by Dirk himself. His total production for the year of 36,000 bottles is what the big producers turn out in a single day. He wasn't born into the industry and consequently has no vineyards, but he worked his way up by going to school and working in the industry for experience. Now he has his own cellar. Each fall he visits the vineyards to select the grapes he wants and has the farmers make them into wine. When the wine is delivered to him he turns it into sparkling wine, one bottle at a time. It is a fascinating process and a scientific one too. His final product has a pressure, measured in 'bars', whatever they are, twice that of mass produced sparkling wines. That is desirable because the more bubbles in champagne the better. At the end of the tour he served us each a glass of his wine which bubbled and bubbled and bubbled. He said you can pour it for a large party 15 minutes ahead of time and it will still be bubbling when served to the guests. Not only did it bubble beautifully but it tasted delicious too. Many of the riders bought a bottle or two. I didn't but when I do I will look for the handmade variety. He gave us a hint about champagne glasses. They are tall and slender and at the bottom there is a bubble or bead in the glass that causes the bubbles to rise in streams, like from an air filter in a fish tank.
It was 10:30 when we finally started to ride, still alongside the Moselle River. There were vineyards on both sides but now I looked at them with a new appreciation. The slopes are so steep it is hard to believe that humans can even walk up them and work to cultivate the vines and harvest the grapes but obviously they do. I asked whether every person in every village helps to harvest or how could they manage to pick so many grapes at once and learned that workers from Poland come to help.
There are steep staircases that can be climbed to reach the highest vineyards and in many fields there is a monorail system. The single rail goes straight up the slope and curves to go across. The car that the workers sit in is completely open and there's not even a seatbelt. It has to be as terrifying as any roller coaster ride in the world.
At about 75 km. we left the river behind and headed for the hills. It was entertaining to see corn fields and forests again! I'd had enough of vineyards. Before long we came across the sag van driven by Jeff who told us we were the last riders. We gratefully accepted his offer of a ride, and eventually sagged all the way to Luxembourg. It was a good day to be in a van because the route was very hilly.
Our destination was the Novotel Hotel in Luxembourg, a far grander place than we usually get to stay. It was 3:30 but our rooms weren't ready yet so we busied ourselves for the next two hours while we waited drying our tents and writing e-mail.
Luxembourg was a Mail Stop and I had mail!
Goodbye, Alice
---
Today's Music
---
Luxembourg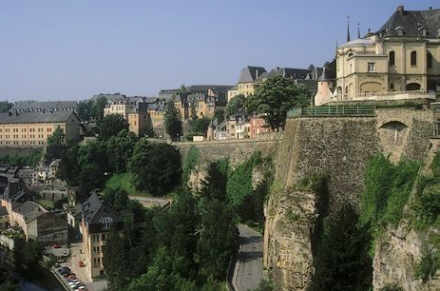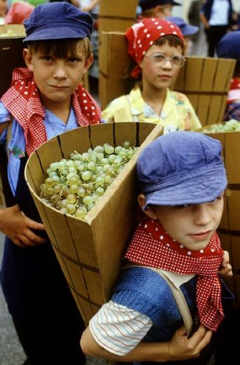 Although Luxembourg is a small city and the capital of a tiny country, it plays an increasingly important role in Europe. There are many international banks based in the city. It is Europe's third largest banking center, ranking behind only London and Paris. Offices of the European Union also are based in Luxembourg. Because of the sound economic policies of its government, the tiny duchy of Luxembourg has successfully carved out a lucrative niche in international banking and financial services. Too small to create a self-sustaining internal market, Luxembourg promotes a liberal corporate tax policy, which encourages holding companies to set up shop. It is the headquarters of the European Union's European Investment Bank, the European Parliament, and the Court of Justice.
Home of Fine Wines (Right)
The town of Grevenmacher, nestled in Luxembourg's fertile Moselle valley, is known for its annual wine festival. Held on the Thursday after Easter, the event attracts wine connoisseurs from throughout the world. Local winemakers take special pride in their champagnes.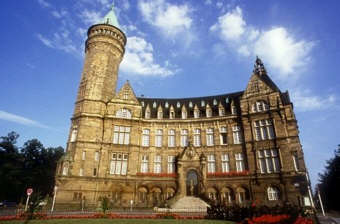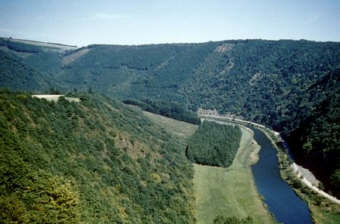 Carefully Planned Farming in Luxembourg
The Sauer flows between mountains in the Ardennes region of northwest Luxembourg, where forests share the slopes and valleys with cropland. In this small western European nation, Luxembourg farmers plan carefully to get the maximum yield from every acre of productive land.
---
Germany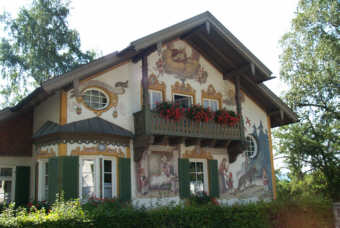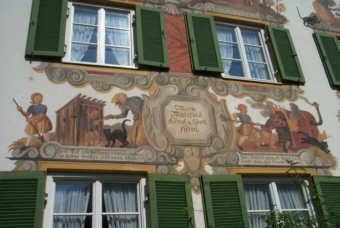 Above - Hansel and Gretel House (Day 232-233, Page 67)
Below - Grounds of Linderhof Castle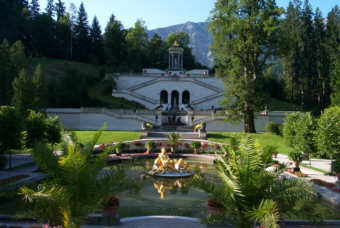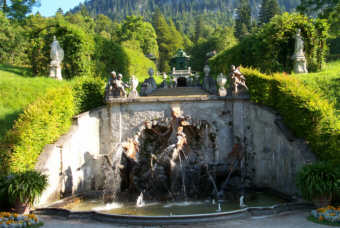 ---
Odyssey Riders and Staff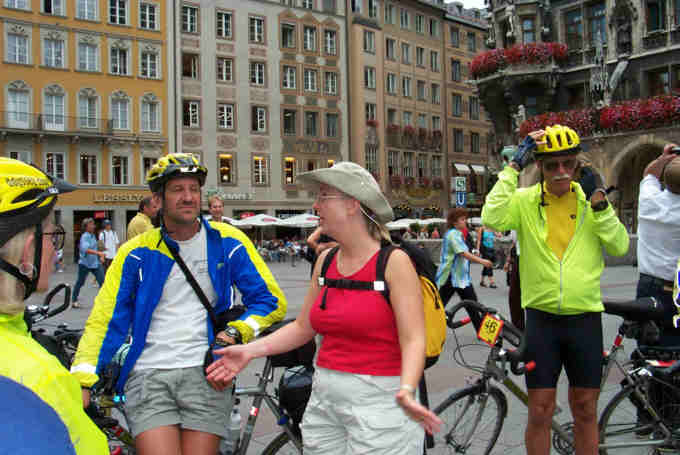 Riders in Munich
---
Previous Page (Page 70) Next Page (Page 72)