Page 70
Switzerland

Germany

France

Germany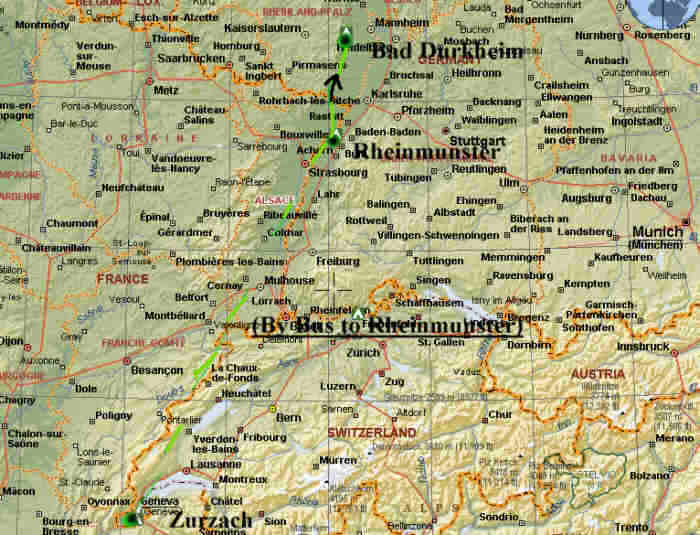 ---
DAY 242-243
Layover Day in Zurzach and Bus to Rheinmunster
Again TK&A modified the original itinerary, creating a layover day in Zurzach and eliminating 225 km. of cycling! Yeah! And we had a second day of rest while on the bus to Rheinmunster! To get the two days of rest we gave up only one overnight in Steinach that I didnít mind because I didnít know what was there that Iíd be missing. We also lost two days of cycling but with so many cycling days who needs them?
Apparently lots of folks do. Only 96 people put their bikes on the truck and rode the bus. Many of the other riders cycled the 225 km. Some did it in two days as originally planned, and a few rode all 225 km. in one day. They spent the bonus layover day in Zurzach, then cycled the second day while the rest of us went by bus. Unbelievable! There were other riders who went part way by train, then cycled the rest of the way. The great motivator for cycling these two days apparently was to see the Black Forest. Iíve been there, done that so I was happy to take the bus.
The thing to do in Zurzach, Bad Zurzach, was go to the thermal baths and sit in the hot water. There are three large pools for swimming and powerful Jacuzzi pools with a current so strong that according to Rod, it could Ďblow your shorts offí. There are many facilities including a wellness center, a restaurant and a shop. All this has developed only since 1955 when hot water at 40 degrees centigrade first gushed to the surface. As Joan said, Ďthe town is crawling with senior citizens who have come to take the watersí.
The other really cool thing to do was to float down the Rhine River, a wide, fast flowing river with clean looking green water. Some riders did that and were picked up miles down the river by Warner, our host at the campground.
I would have enjoyed both of those activities but didnít do either because I had work to do. I had clothes to wash, web pages to write and shopping to do. I washed the clothes first thing, by hand, and beat the rush. It was a sunny day and everything dried so that was a success. I fought off a nap and managed to complete the writing for the web page to date. That is a rare event and really felt good. When Joan and I walked along the Rhine River and into town for lunch I found several items on my shopping list. So even though I didnít get to play it was a satisfying day.
One item on my shopping list was a waterproofing spray for my leaking tent fly. The only one I could find was for Gortex fabric but I thought it might work. Just in case and to be sure, I bought two cans. I sprayed one area of the tentís fly as a test but saw the next morning that it had still leaked. The water goes through the fly and drips onto the tent where it collects in puddles. Maybe the fly fabric has broken down because it has mildewed. Whatever the explanation I am not happy about it. And that was only dew. What will happen during the next rainstorm? My tent is a North Face Nebula and while it has good features like two doors and one is big, waterproofness is not one of them. The footprint or ground cloth also lets water into the tent and my air mattress got wet while in Zurzach. North Face has a lifetime guarantee that probably helps explain why the tents are so expensive, but that does little good for someone in my situation who is using the tent everyday and canít send it back in exchange for a new one. A number of people were so fed up with their leaky tents by the time we visited Washington D.C. that they went to a REI store there and exchanged their tents for new ones. Now I wish I had done that but the fly of my tent did not leak until recently. I think it has just now reached the end of its life span, perhaps due to mildew. The people with Sierra tents have had water problems too. I am going to check with the owners of Bibler and Moss tents to see how they are faring.
What I saw of the Black Forest from the bus was very beautiful but very green, not at all black. It looked much like any coniferous forest except that I saw no huge old growth trees that one might hope for in a special forest but then maybe there are none left in Europe. I will try to find out why it is called a black forest. At last, enroute on the bus, I had that nap Iíve needed for days so perhaps I slept through the black part of the forest. Our bus was awesome, a Mercedes Benz, the aisle seats could slide toward the center of the aisle to create elbow room for the two passengers sitting side by side. Vunderbar!
The Freizeitcenter Oberrhein campground in Rheinmunster was the biggest, most deluxe we have ever seen. There were 99 toilets! At last a place big enough for us! There were even four telephones.
Goodbye, Alice
DAY 244
Rheinmunster to Durkheim
A second coat of Gore-Tex waterproofing spray did the trick. My tent didnít leak in the area I had sprayed. Beads of water stood on the tentís surface just like they did when it was new. I have now emptied both cans of spray on the tentís fly but I need a third to finish. Someone counted and said that there are about 50 days of camping left. I wonder how many cans of spray I will require. I wonder whether I will be able to buy it in Asia.
We started the morning cycling in Germany, then crossed the border into France where we rode for 40 km., and then crossed back into Germany for the rest of the day. We could discern little difference when we crossed the border, German street names still prevailed and many homes and buildings were built in the half-timbered German style. The first 50 km. were flat and we enjoyed whizzing along. Then the hills began and with them the work, the next 70 km. were hilly, very hilly.
We had to ignore the tempting bakeries while in France because we had no French francs, but as soon as we crossed the border back into Germany at 55 km. we stopped for coffee and cake. The coffee was in a little china pot and there was enough for almost three cups. I had been sleepy all morning but that coffee gave me the boost I needed.
Then we cycled on the Deutsche Weinstrasse for the rest of the day. The DRG states that this wine country route is famous. I hadnít heard of it that I can remember but that doesnít mean it isnít famous for I know very little about wine. Grapes like hills though and that is for sure. We rode through vineyards for hours and all of that terrain was hilly. The route took us through one village after another, the villages separated by only a couple of kilometers. Most every village was charming and enticed us to stop to see more. The buildings are painted in pretty shades of the same color, pink was a favorite for homes especially but there were also blue and yellow homes and buildings and other colors too. There were cobblestone streets and cobblestone squares, fountains and churches and grape arbors over the streets. Every window sill boasted a flower box and flowers bloomed in every town square and garden. People had put home produce they wanted to sell on a table or in baskets near the street. The buyer was trusted to deposit the correct number of marks to pay for his purchase in a can or box placed there for that purpose. One could buy pumpkins and gourds, flowers and grapes, cucumbers and apples, and honey. But of course the big attraction were the wineries, there were several in each village, and each had a display near the street of the wines available. One could probably go inside for wine tasting but we did not because we were riding our bikes.
We camped in the Knaus Campground in Bad Durkheim. Bad Durkheim, by the way, has the largest wine festival in the world every September. The campground is huge and includes a lake, a shop and a restaurant, and very appropriately a wine tasting bar. Best of all though is a lane of large grape arbors, 27 in all, each supporting a different variety of grape identified by a plaque. The lane of arbors extends for a half a mile or so right through the campground. People enjoy strolling the length of it, sampling each variety of grape as they go. After dinner I joined Goria and Ted Belanger who were walking along ĎArbor Laneí and Ted was doing exactly that. I was content to hear his opinion of each variety, being too stuffed after our delicious dinner to be tempted by grapes.
Goodbye, Alice
---
Today's Music
---
Germany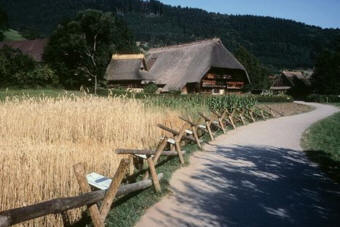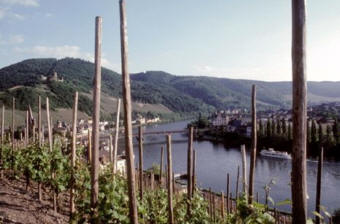 Black Forest, Wine Country (Above)
Berlin Wall, Checkpoint Charlie (Below, Text Page 63)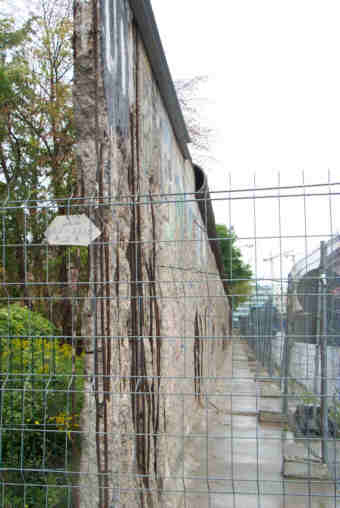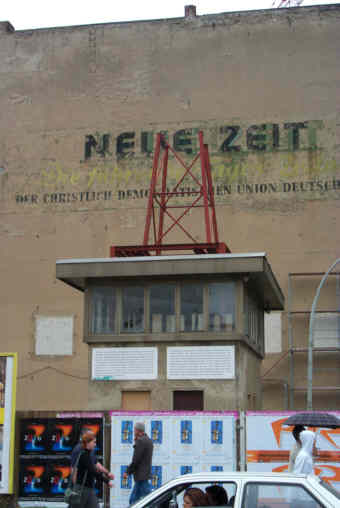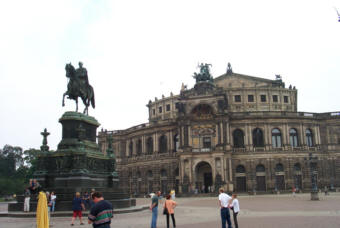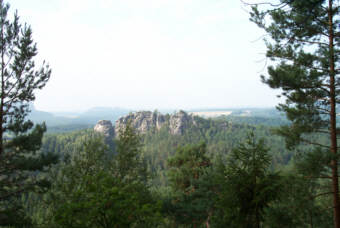 Dresden Opera House, En route to Czech Republic (Above, Text Page 64)
Some Shop Scenes (Below)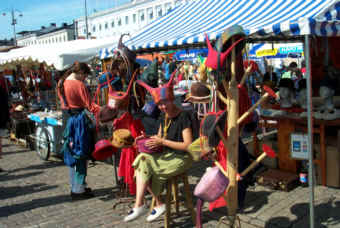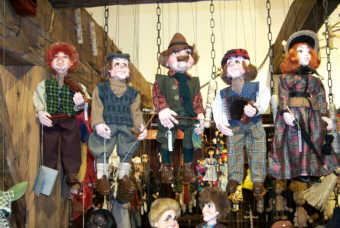 ---
Odyssey Riders and Staff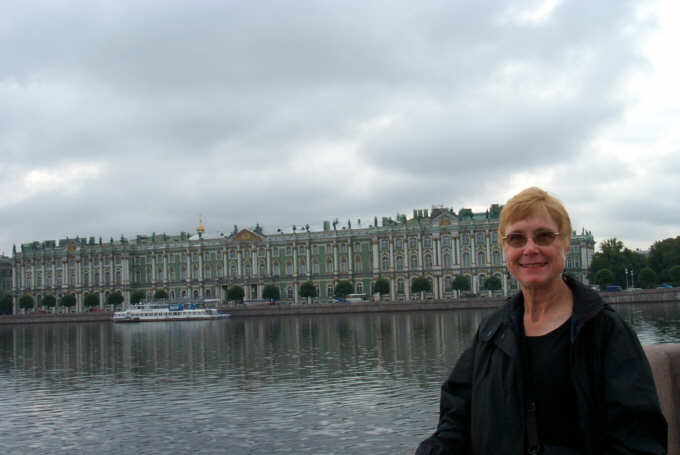 Alice
---
Previous Page (Page 69) Next Page (Page 71)