Page 69
Switzerland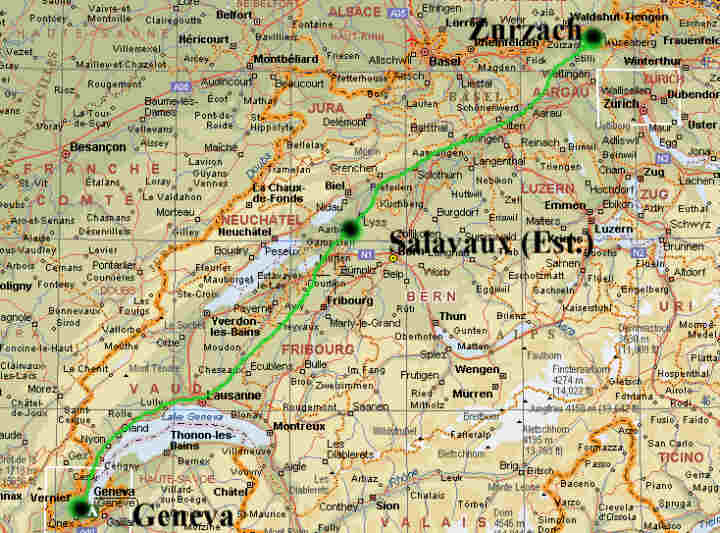 ---
DAY 240
Geneva to Salavaux
I hadn't heard a thing but when I came out of the bomb shelter it was obvious that it had rained and the dark grey sky promised more to come. People who had stayed in rooms at the University said there had been a great thunderstorm.
Breakfast was a treat. The cooks at that University are a cut above most. There was muesli that had been soaked in cream and milk overnight with chopped apples added in the morning and there was fresh fruit salad loaded with blueberries, strawberries, fresh pineapple and several other fruits. Of course there were also the standard European breakfast choices: croissants, sliced bread, cheese and luncheon meats. At breakfast there is always butter and jam for the bread, but at dinner butter is never served with bread.
It was raining when we were ready to leave so we speculated on how long it would last and decided to put on rain clothes. One would not normally go for a bike ride in the rain so some people headed for the train station. We knew the streets would be slippery but it was Sunday and that meant less traffic. So even though it was wet it was not a bad ride out of Geneva. I hadn't taken any pictures of Geneva on the sunny day we arrived and now it was raining. I didn't get a single picture except inside the bomb shelter.
There was a triathlon in Geneva so we had to circumnavigate the road blocks on our route and we thought about the Odyssey riders who were staying behind to compete. They were Rod and Mendy, Jim Trout and Dave Hubbard. I think they showed great courage to compete when they hadn't had a chance to train for either the swimming or running. They all finished and Rod placed near the front of his age group. Both Rod and Dave took a spill on their bikes because of the wet streets but both got up and kept riding. After the race Dave and Jim cycled the entire day's route to camp.
We saw other athletic contests during the day. There was a steep downhill rollerblade race. Traffic was blocked and a crowd had gathered. The contestants had to slalom down the hill dodging bales of straw. One tried to 'snow plow' to slow his descent, another dragged one skate behind. Any falls must have been spectacular but the contestants wore BMX type protective padding so hopefully no one was hurt. Later we cycled past race walkers during a race on a country road and that did look painful. It looks like it would be easier just to run. I think race walking is probably kinder to the knees and more slimming than running. The whole torso is involved and in motion. I can't imagine why else anyone would do it.
Lausanne, from what I could see while cycling through, is a pretty city. It is on Lake Geneva, there are some beautiful old buildings that reminded me of those in Paris and there were beautiful flower gardens in all the public areas. We cycled past the Office of the President of the International Olympic Committee and the Olympic Museum that I would have loved to visit but I assumed that because it was Sunday it would be closed. Wrong! Some riders did stop and came to camp in the evening raving about the exhibits. Lausanne looks worth a return visit.
We were in agricultural country most of the day cycling past cornfields and pastures and dairy cattle. There were many villages on our route. From a distance we could see smoke rising and then two fire engines zoomed past us with sirens wailing. When we reached the source of the smoke we saw that the fire was in a village. A large house was burning and firemen were spraying streams of water into the house but there was not enough pressure to reach the second story where the fire raged. Riders who stayed at the scene and watched said three houses were lost. It was a small village, perhaps only 12 or 15 houses in all. The farmhouses in this area of Switzerland are large and appear to be huge because they adjoin the barn and are under the same roof. The roofs are immense. I wondered whether the people boast about the square feet of roof they have in the same way Americans talk about the square feet in their homes.
It was a 140 km. day but we arrived at the Camping TCS Le Chablais with just enough time to get our tents pitched and get showered before dinner. Since it was Sunday and a good time to find people at home in the states I stood in line a long time for the phone. Then I went to dinner at a restaurant just a short walk down the road. I was relieved to see that they were still serving and delighted to find that the food was really delicious. There was a large crisp salad with a honey-mustard dressing, veal stroganoff with bowtie pasta, and for dessert ice cream that was cut, flavored, and dusted with chocolate powder to look and taste like tiramisu. It was a lovely meal. By this time it was late and I had to walk back down the road to my tent in the dark. I did the stretching exercises for my back and was soon settled for the night.
Goodbye, Alice
Salavaux to Zurzach
The morning was cold, so cold that I put on my arm and leg warmers before leaving my tent. It hadn't been that cold for a long time. For the first couple of hours we rode in a thick mist that was different than fog, it didn't reduce visibility as much as fog but it coated the lenses of my glasses making it difficult to see. If I wanted to read street signs I had to pull the glasses down on my nose. Eventually the mist disappeared and we rode in mostly sunny weather all day. There were some clouds but we welcomed their shade and that of the forests on our route. We saw evidence of logging and a loaded logging truck on the road. The logging operations appear to be on a very small scale compared to the way it is done in the states. The logs are cut short and are stacked on the trucks crosswise rather than lengthwise.
At 28 km. we rode into a charming village, Bargen Aarberg. This is the perfect little village, peaceful and quiet, every shop in business but none especially for tourists, flowers everywhere and a covered bridge to boot. It was like walking into a fairy tale and a surprise for us because the DRG didn't hint at its uniqueness. Generally the pretty little villages are also tourist traps with every other shop selling postcards and souvenirs. We had coffee, sitting at a table outside so that we could enjoy the scene and fresh air. Smoking is still permitted everywhere indoors in most of Europe. That is hard to take when we've become so used to fresh air.
We also passed a couple of nuclear power plants but most of the day was spent in beautiful rural areas. The land was very hilly but the farmers persisted and used even the steepest hillsides. The main crops were grapes, and corn but there were others I couldn't identify. At the top of a hill the reward was a vast panorama of green and gold fields interspersed with darker green forests. The views were beautiful but so vast that I didn't even try to take a picture. The villages were picturesque with their huge homes set right against the road and bedecked with flowers. The architecture has been different in this part of Switzerland. The houses have unique and beautiful, even graceful eaves. They are built of wood and are curved; Joan tells me that this part of the house is called facia. I wish I could describe it but I can't.
I loved the beautiful homes but not the smelly countryside. Whew! It is nearly suffocating. It smells so horrendous when cycling past a field where a farmer is spraying a liquid manure mixture that I can't bear to breathe but yet I have to because I can't hold my breath long enough. I wonder how the people living there can survive. I feel sorry for the cows and sheep and dogs and everyone trapped there in that smell.
At 110 km. we came to what the DRG described as a 'serious 3.9 km. climb'. Joan said that since it was only 4 km. she could do it even if she had to walk the steepest part. And she did! I got to the top ahead of her; believe it or not, on long climbs she is even slower than I am. There's hardly anyone else I ever can pass on a hill. That day though David and Lisa were riding their tandem up the hill at the same time I was there and I passed them too. Other riders were stopped at the top to reflect on the climb and to eat something. I was suddenly ravenously hungry. I found an apple and gorp in my bag and was still eating when Joan reached the summit. She said she would start down alone so she began the descent while I finished my pig-out. She likes to descend carefully and slowly and especially then because she didn't have much braking power left. I like a little more speed so I soon whizzed past her and waited at the bottom. It was a long, curvy, glorious descent, worth all the work we had had to do to get it. When Joan joined me we continued on our way, confident that with the climbing behind us we could finish the 100-mile day. Little did we know that another climb awaited us. When we came to that hill Joan said she couldn't do it without eating and since I had already eaten she suggested I go on my way. I thought I would probably wait for her again but the descent was so tempting I just kept going. Anyway I thought that she would probably choose not to do the descent when she saw it because she had so little braking power left. As it turned out I was right. Half an hour later she waved to me out the window of a sag van. I was relieved because I was feeling guilty for leaving her out there alone even though I was sure she wouldn't risk that downhill. I enjoyed the rest of the ride, feeling stronger than I have in ages. I even passed Bill Bliss, one of our phenomenal riders who has ridden every mile and then some.
When I reached camp Joan was there and had saved a space for my tent - which I sure appreciated. We were camping in the Campingplatz Oberfeld, which appears to be a caravan park for senior citizens. These kind folks had brought their chairs and sat waiting at the caravan park entrance to applaud and cheer as each rider rode into camp. The men then assumed the role of hosts and one of them took each new arrival on a tour to point out the available tent sites. It's been awhile since we've been so warmly welcomed.
It had been a long ride and I was feeling pleased with myself that I had managed to ride all 165 km. and still not be the last into camp. But then I learned that one of our volunteers, Paula, who never gets to ride a bike and has not been training, had ridden that day and also completed the whole ride. I found that to be amazing.
Dinner was served in a huge tent and followed by entertainment that was really wonderful. First a group of a dozen men and three women all dressed in folk costumes sang in the Swiss yodeling style. Actually the women did all the yodeling and the men sang the words. We had no idea what they were saying but we were enthralled and they were thrilled with our enthusiastic response. Then three men played those very long, 12 or 15 feet long, Swiss alpine horns. The horns have no buttons to push; playing one must be similar to playing a trumpet. The melodies were simple and slow, but beautiful. I wondered for what occasions they were played in the past. After the horns another man played very loud and lively dancing music on an electric accordion. After the dessert was served all the musicians performed again. It was a wonderful evening.
Goodbye, Alice
---
Today's Music
Do Re Mi - Sound of Music
---
Switzerland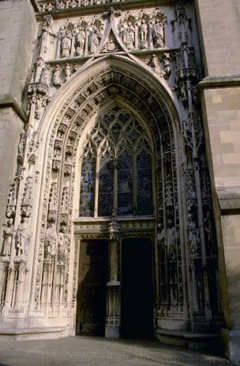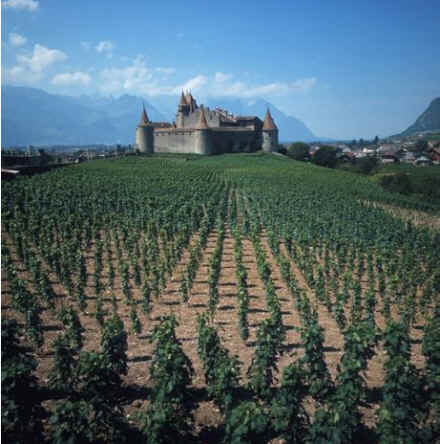 Lausanne's Cathedral
The Altstadt, or old town, of Lausanne is dominated by the 12th- and 13th-century Gothic cathedral. Remarkable sculptures decorate the main entrance of the church, as well as the 13th-century Aposteltor (Apostles' Gate). Many of these sculptures are replicas—the original sculptures are located underneath what is known as the rose window. The window was completed by Pierre d'Arras in the 13th century and is renowned for its beautiful glass paintings.
Vineyards of Aigle
Productive vineyards surround the Castle of Aigle near the Swiss town of Aigle, located south of the eastern tip of Lake Geneva. Wine has been produced in Switzerland since the 1st century BC, as the mild climate of the Lake Geneva region is ideal for growing quality grapes. Vineyards are also cultivated in the warmer areas along the Rhône River and in Switzerland's sunny, southern canton of Ticino. The town of Vevey on the northeastern shore of Lake Geneva, a major wine market, hosts a festival every 25 years to celebrate the fruit of the vine.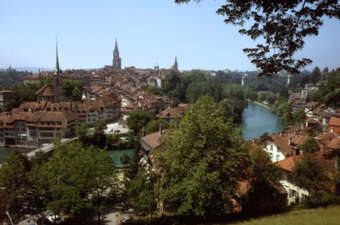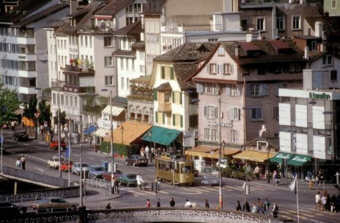 Bern, Capital of Switzerland
The Aare River winds through the capital city of Bern in west central Switzerland. Founded in 1191, Bern is reputed to be one of the most charming and picturesque cities in Switzerland, with its distinctive fountains, medieval towers, covered walkways, and stately architecture. It is the nation's most flower-filled city, with fragrant displays of color highlighting the spring and summer seasons. Because the symbol of Bern is a bear, the city features a pit in which live bears are exhibited.
Along the Limmat River in Zürich
Located in northern Switzerland, Zürich lies at the north end of Zürichsee, where it joins the Limmat River. A blend of old and new, the city graces a lovely valley surrounded by wooded hills. It is Switzerland's largest city, the capital of Zürich Canton, and the nation's principal center of trade, industry, and finance. The renowned discretion and security of the city's banks attract depositors from around the world.
---
St. Petersburg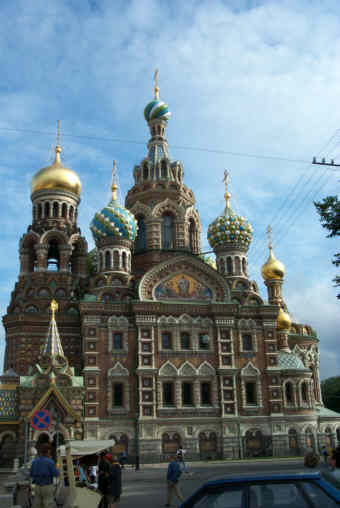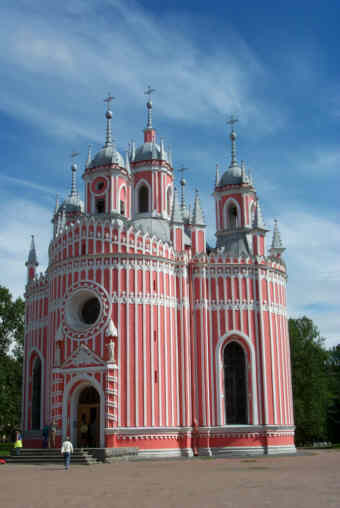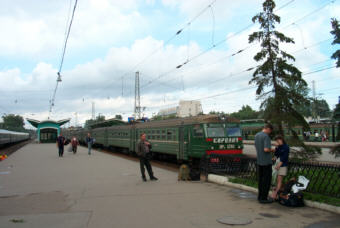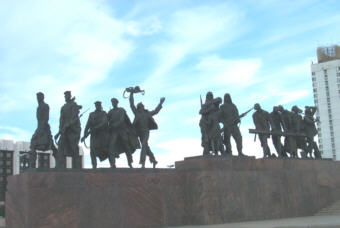 ---

Odyssey Riders and Staff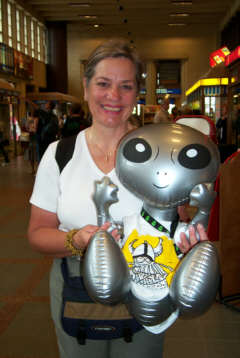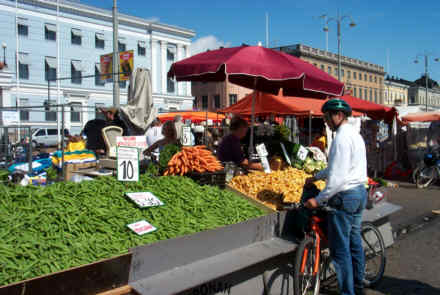 ---
Previous Page (Page 68) Next Page (Page 70)