Page 77
Australia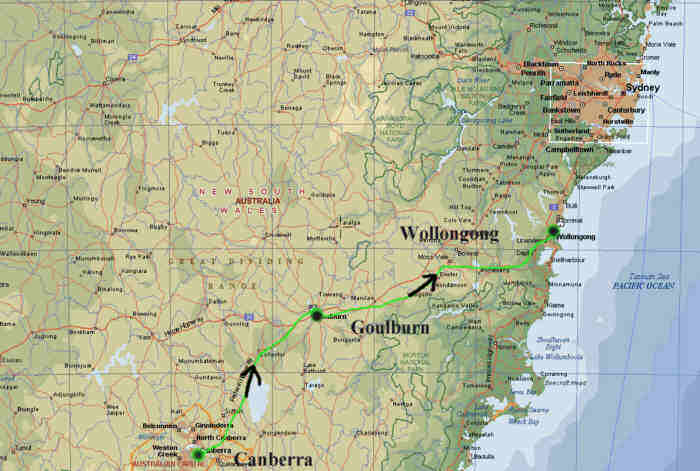 ---
DAY 263
Canberra to Goulburn
September 19, 2000
Our first day of riding in Australia began with a rush to get ready because no one in the room had set an alarm and we overslept! It was very cold so most of us dressed in our warmest cycling clothes. Joan insisted on lending me a jacket so I was well layered and warm enough. Hazel, a friend in New Zealand, had just sent me a lambskin saddlecover and this cold morning was the perfect time to try it. What a cozy difference it made!
I hated to leave the Canberra Carotel because I had loved seeing the flocks of exotic (to me) birds. There were dozens of loudly squawking Sulphur-crested Cockatoos which are big white parrots with yellow crests. There were pink and grey Galas, smaller parrots than the cockatoos, and not so shy. They are rose pink on their breasts and pale pink on their heads and have grey backs and wings. Smaller still but brighter and even more beautiful were the Rainbow Lorikeets and the Crimson Rosella parrots which flew about in flocks and chattered constantly. I have read that there are 55 varieties of parrots in Australia.
And I hated to leave without seeing the kangaroos that graze near the motel early every morning and late every evening. Kangaroos jump over fences and eat the grass meant for cattle which the ranchers do not appreciate. If only I had set my alarm I would have been up in time to go look for them.
Our route took us right through the center of Canberra so we had another look at the new and modern Parliament House which is built into a hill and has a sloping grass roof, the scores of flagpoles flying the Australian flag on the immense lawn in front, and the man-made lake and with its Old Faithful-like fountain.
It was a doable 115 km. day even though the terrain was hilly and the wind very strong. I kept hoping that just around the next curve in the road the wind would become a tailwind but that didnít happen. Cycling into that wind was work, like trying to run in knee deep water, but it was our first day and I was so excited to be riding in Australia that I didnít care. I constantly scanned the pasture lands on either side for kangaroos but without luck. Eucalyptus trees grow like weeds and I wondered if there might be koalas in them but couldnít look for them while cycling. Some big eucalyptus trees had blown over, lying on their sides with roots exposed.
Checkpoint was at Bungendore Village where a bakery offered free coffee so no rider missed that opportunity! I had a blueberry muffin which was so good I went back for a second one. Then I found the post office and mailed the mask and other things I had forgotten to take to town with me in Canberra. Lunch was a midafternoon roadside picnic of peanut butter and crackers.
Somewhere along the way in the afternoon we passed an establishment called the Loaded Dog. From the illustrations on the walls I am guessing that there must be a story in that. In the pictures the dog is running from one terrified person to another with a burning stick of dynamite in its mouth.
The short mileage but hard day ended at the Goulburn Racecourse and Showground. There were no horses and no races but there was plenty of grass (for our tents!) to go around and hot water in the shower. It was a drafty shower because the walls did not reach the ceiling but enjoyable nevertheless.
Dinner was a cold three kilometer walk away at the Australian Soldiersí Club in Goulburn. I was too tired and stiff from over-worked and under-stretched muscles to enjoy the walk and hoped to find a restaurant on the way but didnít. The dinner wasnít great, not worth the walk and I left immediately to return to the campground and my bed. It was a cold night, reminiscent of the nights in Baja, and I had to put on more clothes in the night to keep warm.
I had a look at the sky hoping to see the Southern Cross but didnít find it. The sky looks very different in Australia.
Gíday! Alice
DAY 264
Goulburn to Wollongong
September 20, 2000
At breakfast different plots were hatching. Some wanted to shorten the ride and studied the maps for shortcuts, while others planned to extend the ride to include a beautiful area that would otherwise be missed. That was Kangaroo Valley and although it sounded like just the kind of place I would like to see, I knew I couldnít do the extra kilometers. The ride already was 170 kilometers, throw in the inevitable hills (we arenít in Holland now!) and the strong wind and the day was already too hard. Then someone suggested a plan which was perfect for me; take the train to Checkpoint and ride the second half of the day. What a great idea! We cycled to the train station where we learned that we couldnít go by train, but we could go by bus and one was coming shortly. More riders appeared until there were a bunch of us: Beth, Jane Mc Lane, Joan I., Gudrun, Russ, Dick, Kiwi Ron, and myself. Our bikes exactly filled the hold of the bus so riders who came after us had to wait an hour for the next bus. That bus ride was a treat! The driver was not a local man, we learned from him that thousands of busses and drivers from every corner of Australia have been hired to help in this part of the country with the extra transportation demands caused by the Olympics. In his case he was driving a route that was formerly covered by train service, apparently the trains have been diverted to Sydney, so that he stopped at train stations rather than bus stops to load and unload passengers.
Thanks to the driver who called our attention to them, we saw a herd of kangaroos grazing in a field. He told us that the cattlemen hate the kangaroos because they eat the pasture, that a female kangaroo is always pregnant, and that about a million are culled each year in an effort to keep the numbers reasonable. The kangaroo life cycle is a wonder. The newborn baby or joey which is only bean-size when born and very immature, climbs into the pouch, and attaches itself to a teat where it stays put for at least 6 months. Another baby isnít born until the previous baby leaves the pouch. At that time the mother produces two different kinds of milk because the older baby will continue to nurse for months and has different nutritional requirements. If there is a drought the mother can delay the birth of the next baby until conditions improve.
Our ride that afternoon was wonderful, we werenít too tired to enjoy it and we knew we could do the rest easily with time to spare so that we could Ďstop and smell the rosesí. I decided then that I need to look for other opportunities to shorten the longer days. It was fun to be doing an easy ride. Beth said that she already knows that she will ride only half of the remaining miles. She has made up her mind to take care of herself she said so that she doesnít go home at the end of the year all worn out. But then there are plenty of other people who just canít get enough, who have amazing strength and endurance, and who recuperate quickly. These people ride every mile and are looking for more to do. Some run every day. Some compete in contests. A large group of riders flew to Berlin recently to compete in a marathon, and every single one of them finished, some with amazingly good times. A few of those folks had never run before and no one had trained. They are just super athletes. Over the months weíve had people compete in iron man contests and bicycle races. I canít remember ever having had such energy. I am impressed.
We stopped at the Cheese Factory that wasnít a factory at all, but a shop and restaurant. We tasted several cheeses and bought a bit of what we liked. I also bought an egg-sized ball of dried fig that had been rolled in chocolate powder. It looked like a giant chocolate truffle. It is a little strange but I will eventually eat it all.
Later we stopped for lunch at a pie shop described on the DRG as having Ďgreat Aussie tuckerí. The Australian shortorder or takeaway food is pie. Not sweet pies, but savory pies, what we might call potpies in America. They are made in miniature pie tins, have a lovely flaky double crust and any number of fillings. I chose curried chicken. I ate mine with knife and fork, but I noticed that the Aussies just tilt the pie out of the pan and bite off a piece. Another favorite is that same flaky pastry rolled and baked with a sausage or other filling. But not all the pies are savory. For dessert I ordered a wild berry pie with cream. Oh yum! There were two rounds of that flaky crust again and sandwiched inbetween were the cooked berry filling and a inch thick layer of whipped cream. Heavenly.
There was an 8 km. descent down the Macquarie Pass that was exhausting for me. We havenít had a road like that since Costa Rica. It was very steep (I was glad to be going down and not up) and the hairpin curves were the tightest Iíve ever seen. The road was rough and narrow part of the time too and there was lots of traffic. It was not a Ďwhee!í descent but a hang-on-for-dear life and will-my-hands-and-brakes-hold-out sort of descent. I was so worn out that I had to stop at the bottom to rest. But we had glimpses of magnificent scenery. The word Ďescarpmentí came to mind as I made my way down. There were towering cliffs of rock on one side and a valley far far below. The air became warmer as we descended.
On this day we rode out of spring and into summer. I hadnít realized that that would happen. Gone were the flowering trees and daffodils, we were in summer now and the flora had changed. There were still eucalyptus trees but also palm trees. Nasturtiums bloomed in gardens and clumps of birds of paradise in bloom were common. The summer flowers were pretty but I was sorry to have left spring behind so quickly.
While on the bus we had passed True on his bicycle, but it wasnít long after we were on our bikes that he passed us. Soon many riders were passing us, so that when we got to camp many had arrived before us even with the head start we had had from the bus. But we were happy to have arrived at what was early for us and didnít have to worry about finding a good tent site because we had rooms while in Wollongong at the University of Wollongong, Campus East. We would have 5 nights in a bed in the same place, which is probably a record for us. To make room for us some of the college students vacated their rooms, moving out all of their possessions, which had to be quite a job. They are single person rooms, but in order to have beds for everyone TK&A had an extra mattress put in each room. My roommate, Shirl, is a creative person and she soon set about moving the furniture to make a very workable arrangement with space enough for both of us.
Our tents were soaked with dew from the night before so we had to dry them for storage until the next camping night 5 nights later. My bags were wet and muddy when unloaded from the truck (which made me angry) so I cleaned them and occupied myself with other tasks until dinnertime at 7:30. Dinner was good and a big hit because dessert was serve-yourself-all-you-want-ice cream.
Gíday! Alice
DAY 265
Layover Day in Wollongong
September 21, 2000
This was the first of 5 days in this venue near Sydney or at least as close as we could get. Universities have been good places to stay on our trip, better than hostels, and that held true for this one. Shirl had rearranged the furniture to make room for the extra mattress on the floor. Our room Ďworkedí and there was plenty of space for both of our stuff and us. In the pod there were 5 bedrooms, a kitchenette, and a complete bathroom. There was an entrance door to the pod so that it became a separate entity from the rest of the dorm. The girls had TV sets in their rooms and there was a phone in the kitchenette so they were all set. If a student wanted to watch TV on a large screen there was a special room for that purpose in a nearby recreation building. The TV screen was huge and the room was filled with long, wide sofas for reclining in comfort. I watched the Olympics there for a few minutes. It was a popular place with the riders.
My mission for the day was to get tickets for the Olympics. But first there was breakfast and what a meal! The choices included pancakes, eggs, bacon, hash browns, broiled tomatoes, baked beans, spaghetti, stir fried rice, a choice of cereals and flavored yogurts, fresh honeydew, cantaloupe and watermelon, canned fruit, orange juice, milk, coffee, tea, and cappuccino. Awesome.
Then I walked to the Fairy Meadows train station and rode to Wollongong where there was an Olympic ticket outlet. The train ride took four minutes, the walk to the ticket outlet 15 or 20, but the wait in line was three and a half hours! That could be a record breaker even for an Odyssey line! I couldnít get two of my choices, basketball and volleyball, but I could get two others, mountain biking and athletics. I was happy.
It was lunchtime and of course we were hungry right on schedule. Joan, Gudrun, Beth and I went together to a creperie just across the street and enjoyed our lunch at an outdoor table. Beth and I had a delicious pumpkin soup, which was thick and creamy, tasting of pumpkin and butter, with shredded cheese and chopped chives sprinkled on the top. It was terrific. Gudrun and Joan went for the gold, ordering crepes that were as big as the plate and sinfully delicious. They were not the paper thin type, but had body, more like delicate pancakes. Gudrunís was two layers high with cream cheese and whipped cream in the middle, black cherries and sauce on the top and vanilla ice cream on the side. To die for. (I know because she shared what she couldnít eat.) Joan didnít share but hers was similar except it was an apple crepe. The coffee was good too and it was a generous sized cup, unlike the too small, half-filled cups that are the norm in Europe.
I shopped on my way through town to the train station, buying a phone card and the kind of tarp Iíve been looking for everywhere to put on the ground under my tent. I had started the Odyssey armed with an AT&T card and a prepaid phone card that as it turned out, wouldnít work outside the U.S. The AT&T card usually did work and was a great convenience but terrifically expensive, my first two bills were each about $450! That was outrageous so I inquired around and learned about prepaid phone cards called chip cards that have been available in every country. They were so economical that I used them as much as possible, resorting to AT&T only when I hadnít bought a chip card yet or didnít have access to a chip card phone. But on this day I learned about another type of prepaid card that is even less expensive. In Australia it is called a PhoneAway card. It is available at the post office and can be used not only in Australia but 50 other countries as well! The only drawback it seems to have is an expiration date. Beth has been using this type of card in every country. If only I had known.
I spent the rest of the day in the dorm room sorting and repacking and writing e-mail. Our bikes and luggage had to be ready to be loaded onto trucks the next day. Since I was planning to go to Sydney for the day and wouldnít return in time for the 6 p.m. loading my good-hearted roommate, Shirl, offered to load my things for me. I owe her one.
GíDay! Alice
DAY 266
Wollongong Layover Day, Taronga Zoo
September 22, 2000
With my luggage and bike ready to be loaded on trucks and Shirl willing to do it for me, I was free to run away and play for the day. At the top of my to-do list for Sydney was a trip to the zoo to see the koalas. I wanted to do it early in our stay rather than later before it could be squeezed out due to lack of time, and I wanted to go alone so that I could linger as I pleased. But in the end I didnít go alone, Bobbi Fisher wanted to go too so we went together. She was a good zoo companion, as absorbed by the animals as I was. Bobbi is made of steel I think. She has enormous endurance on the bike, enjoying 200-mile marathons, and surviving accidents that might do in another rider. Early in the trip she had a head-on collision with a car, sailing into and breaking the windshield, but escaping with only bruises. Recently she rear-ended a truck that bent the fork on her bike but again she was only bruised. Now on this day in Sydney and the zoo I found that her legendary endurance extended to sightseeing too.
A certain amount of endurance was required just to get to Sydney. One rider who rode his bike to the Olympic Village recorded the distance to be 85 km. from the University in Wollongong where we were staying. I didnít ask how long it took, but his trip may have been faster than ours. To start our journey, we walked to the Fairy Meadow train station and boarded the 8:45 a.m. train. It stopped in Thirroul ten minutes later where we needed to transfer to another train. But that train was delayed so we were instructed to board busses that were ready and waiting to take us to Sutherland. There we boarded a train for Red Fern where we transferred to one for Town Hall and then transferred to another for Circular Quay. At last we were at Sydney Harbor and looking for the ferry to the zoo. We had been traveling for nearly 3 hours! We found the correct ferry terminal, bought our tickets and boarded. The journey across the harbor was thrilling. There is nothing like a harbor to make a city beautiful, and throw in an opera house with Ďsailsí and it becomes gorgeous. The opera house Ďmakesí Sydney, without it the city would be rather ordinary although the bridge is nice in a heavy sort of way. I have seen some other bridges, light and airy bridges, that would better compliment the opera house. France had one, as did Holland. I wish Sydney could have one similar to those.
Once across the harbor we disembarked and joined the line for the cable car ride up the hill to the Taronga Zoo. I told Bobbi my priorities for the zoo were to see the koalas and other Australian animals before any of the more usual zoo animals. She agreed. It didnít seem like a large zoo but we were there about six hours and finally left not because we had seen everything, but because I was exhausted. It was a great day.
Not only did we see koalas, we had close encounters with koalas! For A$2 ($2 Australian = about $1 U.S.) we were permitted to enter the enclosure, one or two people at a time, to observe the koalas as closely as we wanted without touching them. (Apparently human cold germs and other germs can make them sick.) The two koalas sat on a branch at eye level and simply ignored us, sitting quietly and eating fresh eucalyptus leaves which they pulled off branches provided to them. Bobbi took pictures of me and I took pictures of her and then we felt we had to leave because so many people were waiting in line. Iíll tell you what a koala looks like. It looks exactly like a stuffed toy koala! It was a thrilling experience for me. Although I didnít get to hold one I would guess that they are about the same size and weight as a big chubby housecat. I have read that they are awake only about five hours a day and in that time consume a kilo of leaves. Having watched them eat, I can also say that they love their food, chewing each leaf with their eyes closed, oblivious to all else. In another enclosure we watched a mother and her eight-month-old baby eating eucalyptus leaves, their only food. (Koala babies stay with their mothers at least until weaned at 12 months of age.) The baby was not as interested in feeding as the mother. It wanted to do a little exploring but went too far out on a limb and lost its footing. It hung on though and with considerable effort finally managed to pull itself up to the bigger branch where it had been. It immediately climbed onto its motherís back for some much needed reassurance. Meanwhile the mother had been eating one leaf after another with her eyes closed, unaware of her babyís plight.
We saw many other wonderful Australian animals, many of which are found nowhere else, having evolved over the millions of the years on the island that is Australia, separated by oceans from other land masses. We saw the three animals that are the mascots of the Olympics, the kookaburra, the platypus, and the echidna.
The echidna is a precious little animal looking so cute and walking so peculiarly with a rolling sort of motion that one wants to pick it up for a cuddle, but of course that would be a mistake because it is covered with sharp spines. It is a spiny anteater, and the ones we watched were busy every moment scouring the dirt and rocks for a stray ant. This totally cute little mammal has some strange attributes, the strangest of which is that it lays eggs! She lays a soft-shelled egg into a temporary pouch that develops during the breeding season. How she can get the egg into the pouch without piercing it I have to wonder! Once the egg is there it is incubated for ten days when the egg hatches. The baby sucks milk and stays in the pouch until it has spines that must be uncomfortable for the mother because she then takes the baby out and hides it in a burrow.
Strange but true, the platypus is related to the echidna. The platypus and echidna are alike in that they are both egg-laying mammals, the only two egg-laying mammals in the world and both are found only in Australia. The platypus is also adorable, perhaps explaining why it was chosen to be an Olympic mascot. I was surprised to see how small they were, for some reason I had expected them to be beaver-size, but instead they are less than half that size and are long, flat, and streamlined, not resembling a beaver at all in body shape. I have read that they weigh a little less than 2 kilos but they looked smaller than that to me. They live near water of course, and during the night swim this way and that, busily exploring every crevice for prey. The ones I watched seemed to be scraping algae loose from submerged logs with their leather-like bills. While diving for food the platypus keeps its eyes, ears and nostrils closed, tracking its prey with its bill, which are detected by the tiny electrical impulses they unwittingly emit. The platypus stores food in its cheeks, waiting to eat it after it comes to the surface. During the day it rests in its burrow.
The kookaburra is the third Olympic mascot that I saw at the zoo. Kookaburras are loved because of their call which sounds like a laugh. There were kookaburras in a cage but it was two wild ones sitting on a branch of a tree just before my eyes that gave me my best opportunity for a close look. They are big, but because of their unusual shape with a head too big for the body and a massive bill, I canít think of a similar bird for comparison. They are bigger than robins but smaller than crows but nothing like either one. They are of the Kingfisher family. When I heard the kookaburraís call I didnít need anyone to identify it, for the loud call does indeed sound like a laugh and soon had me laughing too. The kookaburra of course isnít really laughing, but marking its territory. Iíve read that it often lives for 20 years or more, mates for life, and lives in groups comprised of several generations. That is amazing!
I was at the zoo for six hours and saw many more wonderful Australian birds, animals, reptiles, and amphibians, but Iím not going to say a word about them. I will say that the Taronga Zoo is well worth a visit.
After leaving the Zoo we took the ferry back to Sydney and wandered about a bit watching all the people and entertainers. It was like a giant party. There were huge screen TVs playing the Olympics, musical groups, a high wire trapeze act, mimes and other buskers, and street vendors selling souvenir pins. Bobbi was trying to find the perfect pin. We found it but it was A$20, too much! We asked a friendly vendor to suggest a good restaurant and eventually made our way to the Chinese restaurant he suggested in the area known as The Rocks. It was a good dinner; the best dish was the crispy fried strips of beef and carrots. Making our way back to the harbor after dinner, it was dark and we found ourselves in a magic fairyland. The trees framing the streets were resplendent with tiny white lights, the cruise ship, Crystal Harmony, huge, white and beautiful was all alight, and just across the water the stunningly beautiful opera house, captured our attention with its constantly changing colors. The Sydney Harbor Bridge was transformed in the darkness, the huge lighted numerals, 2000, suspended from the bridge had transformed it. Its silhouette was beautiful against the night sky. I liked the bridge better then.
The return journey required about 3 hours; we didnít reach the dorm until nearly midnight. I was so tired I knew I wouldnít enjoy going into Sydney in the morning to watch the Womenís Mountain Bike Racing so I gave my ticket to Bobbi. Having too much fun in Sydney!
GíDay! Alice
---
Today's Music
---
Australia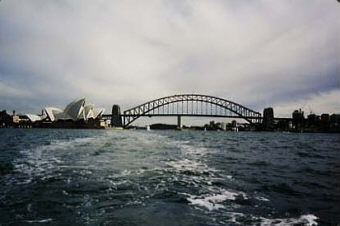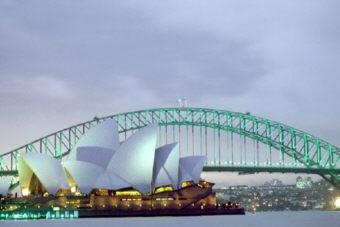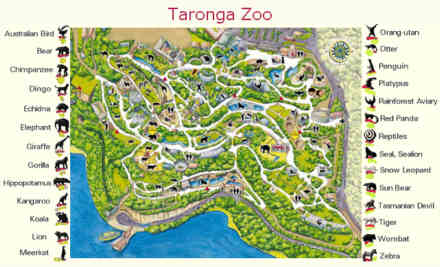 ---
Switzerland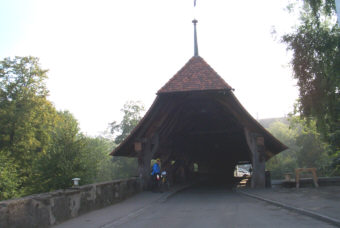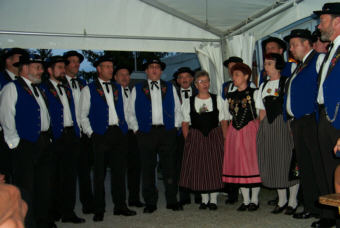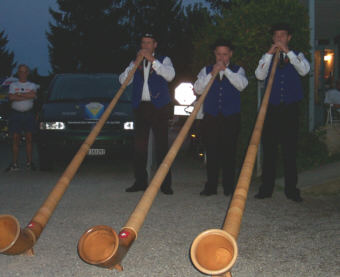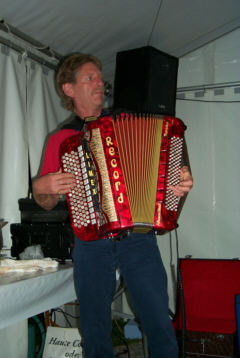 Zurzach, Switzerland (Day 241, Page 69)
---

Odyssey Riders and Staff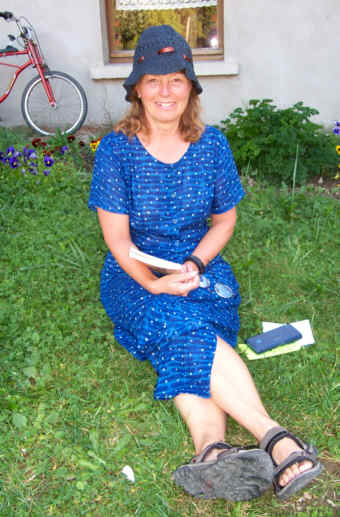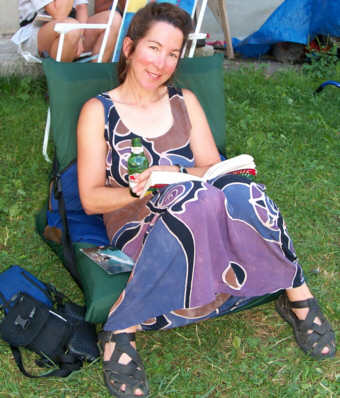 ---
Previous Page (Page 76) Next Page (Page 78)