Page 76
Australia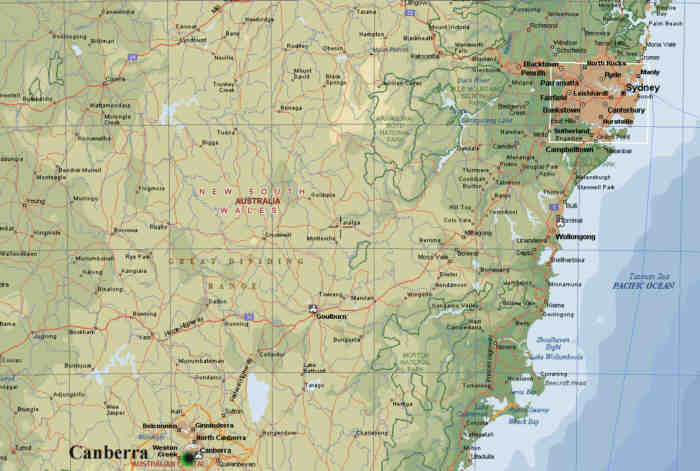 ---
DAYS 260 - 262
Cologne, Germany to Canberra, Australia
September 16-18, 2000
Our checkout from the Cologne hostel had been extended until 6 p.m. but the busses to the airport weren't loading until 8:45. People found different activities to help pass the time, pocketmail and reading were popular. Our bus driver didn't know which terminal we wanted and neither did we. He delivered us to Terminal Two where we disembarked and stood about wondering where the gear trucks were and where we should be. Eventually Karen-Ann appeared and told us we should be at Terminal One. That was a hike and when we reached it we found the gear trucks there and all the people from the Etap Hotel whose driver must have had better information than the drivers from the hostel. Our task was to completely empty our lockers because the gear trucks would be shipped back to the U.S. For the rest of the trip our stuff would be stacked in U-Haul type trucks. No one wanted to see the lockers go. It's true it was a struggle to get everything squeezed in every morning, but at least it was one's own space, clean, dry and accessible. Another convenience was that we could leave things in it that we didn't want or need.
The time allocated for emptying the lockers and repacking ready for the flight was already gone by the time we reached the gear trucks so we really rushed to get the job done. 200 people unpacking and repacking in a frenzy is quite a sight. I think I was close to the last one to finish. I had wanted to take pictures of the commotion but felt I had to rush to do the packing. After the big rush came the big wait. It took a couple of hours to get everyone through the ticket lines so I could have taken my pictures and still had plenty of time to repack.
Then came the big flight. We were told the flight would be 22 hours, but fortunately that included a refueling stop in Colombo, Sri Lanka after about 9 hours. We had an hour or so to walk about in the terminal there and shop for Sri Lanka souvenirs. The second half of the flight was longer but tolerable because of the break we had had when we stopped for fuel. Most people tried to sleep as much as possible but there were several mediocre movies to watch and we were served five mediocre meals. I tried to work on web page reports and sleep. As usual my feet swelled to the size of blimps. Just before landing the crew came through the cabins twice, first to open all the overhead compartments and next to thoroughly spray with a 'harmless' insecticide. They made awful faces while at it and at their suggestion we hid under our blankets.
When at last we landed we were held on the plane for hours. For whatever reason we had had to land at the Canberra military airport rather than the international airport. All of the luggage and all of the bikes had to be unloaded and everything sniffed by trained dogs before anyone could leave the plane. Meanwhile some people from immigration had come on the plane to explain procedures and to inspect any food that we had with us. Cookies, crackers and nuts were permitted, but sunflower seeds, banana chips, and any meat including jerky was confiscated. Ken Anderson ate all the banana chips out of my trail mix so that I wouldn't have it confiscated.
Finally they started letting people off the plane, but only 40 at a time. It was my good luck to be in the second set of 40 but still we had been on the ground about three hours by that time. The sniffer dog passed down the line of us and ignored me but I did have to stand in the red line. I had bought a wooden mask in Sri Lanka which had to be inspected for insects. It passed! Whew! I was in Australia, free and clear and thrilled to be here.
It had been below freezing when we landed at 6:30 a.m. but by the time I got outdoors it was warm and sunny. To my astonishment and great delight there were trees loaded with pink blossoms! It was spring! In the course of 24 hours we had moved from fall to spring, my favorite season. I ran about suggesting to everyone that they notice the blossoming trees but they were preoccupied with their bikes.
I found my bike and prepared it for the ride to the motel. Someone had let all the air out of the tires so I pumped them, put the pedals on and turned the handlebars. Poor Joan had a flat tire and a slit tube. She was in a dither trying to get a new tire and tube and get them on her wheel. Finally we set off to ride the 20 km. to the motel and found ourselves in a whale of a headwind but it was very exciting to be cycling in Australia. We had to remember to stay on the left side of the road. There were dead kangaroos along the way and I heard strange and wonderful birds calling. I finally realized that the very big white birds which were also very noisy were cockatoos. Wow! They were as common as house sparrows.
At the Carotel Motel I was assigned to a room for 16, but it was quite a pleasant place, mostly I think because of the big kitchen where we could sit around a large table to work and watch the Olympics on television, there was a kettle for making tea and coffee, and a sink with hot and cold water where we could wash our clothes. I was there early enough to get a bottom bunk! I hurried to get my luggage and then went to lunch. The afternoon was spent repacking my stuff and taking a nap.
At dinner all the conversation was about the people who had had trouble getting through customs. One rider was caught with marijuana and two others at least were stopped as suspects. The sniffer dog caught the rider with the marijuana and how he could do anything so stupid I do not understand. True, we had just been in Amsterdam where the drug is illegal but tolerated, but that is no excuse. Apparently he had two different packages of it. He was fined and has to go to court in two weeks. He was also kicked off the trip which he knew would happen. That was clearly stated in the contract that we signed. Unbelievable! One of the other two riders was immediately cleared when a second and a third test showed that his Ibuprofen wasn't cocaine after all, but it was a terrifying experience for him. The third person's medicines have been sent to a lab for analysis which will surely clear her too, but unfortunately she has to make an appearance in court on the very day we fly to Japan.!
The best thing about dinner was the three pieces of cake they served each of us, banana, strawberry and chocolate. Some people sat after dinner watching the Olympics but I returned to the cabin to wash clothes in the sink so they'd be ready to hang outside first thing in the morning.
The second day in Australia was a layover day thank goodness, for I was still tired from the flight. I hung my clothes on the line in the freezing wind even before breakfast. Immediately afterwards I left for Canberra with Joan and Gudrun, leaving in such a rush to catch the bus and that I forgot to take the Sri Lankan mask that I wanted to mail and even my credit card.
In Canberra we toured the Parliament House and shopped for books and souvenirs. Canberra, the capital city of Australia, is a planned city and quite young. The architecture is modern and the capital buildings are spread over a vast area. The Parliament building is on a hill where we had a wonderful view of the city, the lake, and the surrounding hills and mountains.
Being in Australia is the most exciting thing that has happened to me in a long time. Having fun! Wish you were here!
Goodbye, Alice
---
Today's Music
Advance Australia Fair was composed by "Amicus", Scotsman Peter Dodds McCormick (1834-1916). The first public perfomance was given in Sydney on November 30th (St Andrew's Day), 1878
---
Australia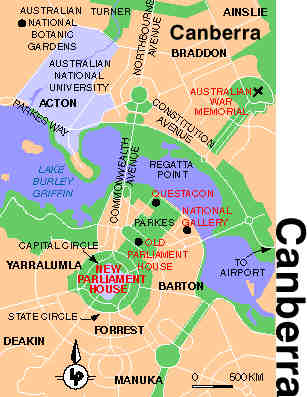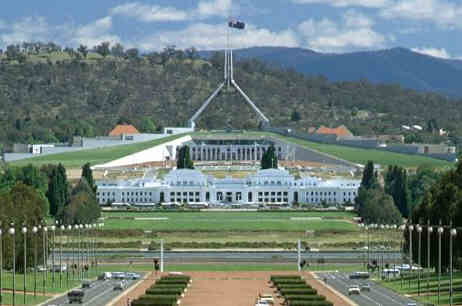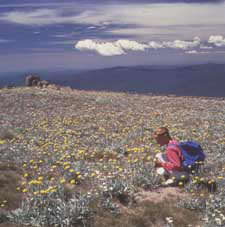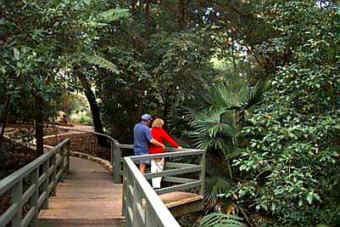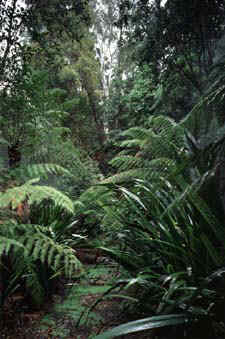 Canberra
Canberra is a fascinating 20th-century creation that has struggled to establish itself as the focus of Australia's national history, pride and identity. Canberra has long been perceived as the 'fat cat' of Australian cities, a town of politicians and bureaucrats living off the hard work of their countryfolk. Step outside the Parliamentary Triangle and you'll soon find it isn't true - most of the politicians go home every weekend, and a great many of the bureaucrats have lost their jobs in recent public service cutbacks. Canberra has grown from a Federation baby into an adult city with all the problems and delights that being a grown-up brings.
Many Australians knock Canberra for being a city without soul, but anyone who's bothered to spend a bit of time here is bound to have a soft spot for the place. Carefully planned, Canberra's suburbs are separated by swathes of native bushland, while its main tourist attractions - the National Gallery, Parliament House and other inhabitants of the Parliamentary Triangle - are set around a pleasant artificial lake encircled by bike tracks. If you're enamoured of the bush and lungfuls of fresh air, but don't want to be too far from a decent latté, you'll be in heaven in the national capital. Canberra is also a great base for visiting the nearby delights of the Snowy Mountains and the New South Wales south coast.
Parliament House, Canberra
Canberra's broad avenue called Anzac Parade leads to Australia's former Parliament House, a colonial-style structure now used for various exhibitions. The current Parliament House opened its doors in 1988, replacing the decades-old "temporary" facility. The new, modern building lies within a series of circle drives and avenues behind the original Parliament House.
---
Switzerland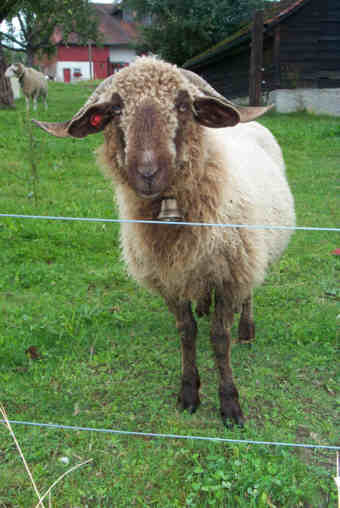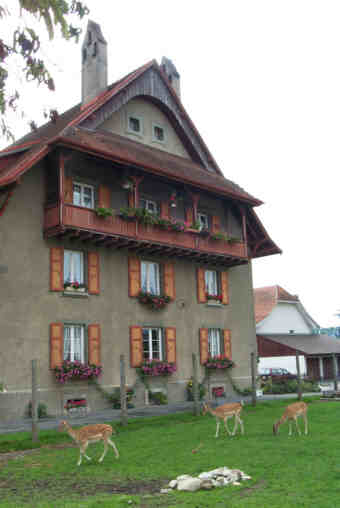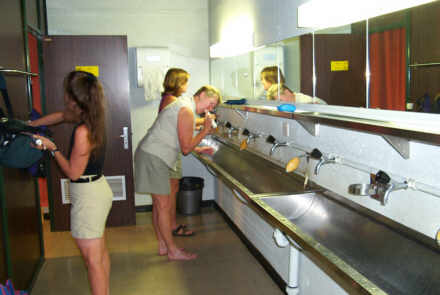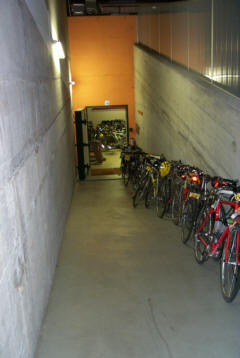 Geneva Bombshelter (Day 239, Page 68)
---

Odyssey Riders and Staff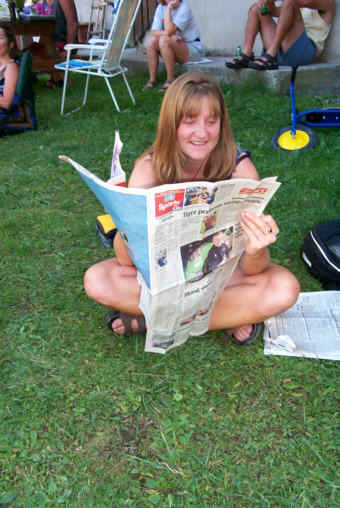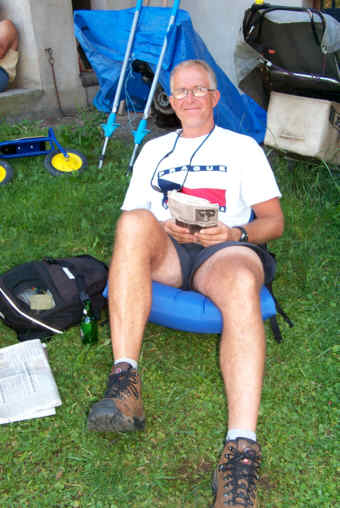 ---
Previous Page (Page 75) Next Page (Page 77)