Page 68
Switzerland

France

Switzerland

---
Flims to Raron via Andermatt
The ride over the Alps was originally scheduled to be a two-day ride. Then the itinerary was changed and although I don't know why I am guessing that TK&A had decided that too many of us would not be capable of making it all the way over the two passes and the result could be a sagging nightmare. The new plan was to spend two nights in Flims creating a bonus layover day there, then take everyone over the first pass by bus to Andermatt. There the bikes would be unloaded and we would ride over the second pass and keep pedaling to Raron where we would camp for the night. That seemed a good idea to me, but for some reason that plan was scrapped for another one. This plan was that a chartered train would move all riders and bikes over both passes. The only cycling would be from the Flims campsite to the first train station in Ilanz (10 km.) and at the end of the train journey from the Brig train station to the campground at Raron (16 km.). Locals told us how beautiful the scenery would be and I thought a train ride over the passes was a wonderful option compared to pedaling. Most people felt that way too or so I thought.
I was really surprised to learn that people were making plans of their own. In the end there were three different variations. If I had learned of the easiest one before it was too late I probably would have opted for it. That plan involved buying train tickets for yourself and your bike on a different train than TK&A's to Andermatt. Then you would ride the rest of the way to camp, about 103 km. I am not sure why those riders doing that had to buy tickets and take a different train. Maybe it was because someone didn't want the TK&A train delayed long enough in Andermatt to unload the bikes.
A harder variation was to ride the passes as originally planned in two days. The people doing that would use the Flims layover day to ride to Andermatt where they would camp, then ride over the second pass to Raron the second day while the rest of us went by train. Link to Photos
The hardest variation was to remain in Flims for the layover day, then while the rest of us were heading for the train station, these riders would do a double which is to do two days ride in one day, riding over both passes in one day.
I don't know whether TK&A were surprised and/or disappointed at these developments. What they said was that you should not try to ride it unless you were sure you could do it, as the ride would be unsupported. Later they amended that to offering support on the Andermatt to Raron portion, which still left at least half of the ride unsupported. I am not skilled at bike repair so I need support, and when I heard who was cycling they were all faster and stronger which meant I would be riding alone. Not a good idea.
I am going to make a list here of who rode just because I think these riders are awesome. I hope the lists are complete but they are not official and someone may be missing. I will not list the people who rode the train to Andermatt and then cycled just because I don't know who they were.
The riders that I know of who did the ride in two days include: Bill Wiggins, 'Wild' Bill Huseman, Susie Weaver, Jim Higbee, 'Young' Dave Hubbard, Bill Bliss, Alfred Enns, Mark and Sandy Bovee on a tandem, Susan and Hewes Agnew on a tandem, Bill Garret, Ken Harper, Jim Van Laningham., Susan Cady, Barb Schwartz and Helen Hammer.
Those who did the double, two days ride including two mountain passes in one day include: Bob Warfield, Anthony Schreiner, Danny Marshall, Bobbi Fisher, Kay Ogden, 'Big' Rod Crase, Cammy Clark, Denise Gilbert, Barbara Raitz, Margherita Kalman, Ruth Watson, Mark Palombo, Dan Oshop, Ted Belanger, Phil Lew, Gilbert (zzh bear) Fichard, Walty Niederberger, Gary Minor, 'Racer' Bob Beede, 'Dr.' Gary Reisfield, 'J.T.' John Talucci and 'Trueheart' True Brown who finished first.
The people who completed these rides are remarkable riders of great skill and stamina and are fast or very fast. They love to ride, it is relatively easy for them, and they would choose to ride rather than take a train any old day. Every rider that I talked to said it was a wonderful ride, some even said the best ride of their lives, in part because of the incredible scenery. There were thousands and thousands of feet of climbing but the grades were reasonable, at least for them.
Meanwhile back on the train, we had a wonderful time during the four-hour journey. The scenery was incredibly beautiful and we were clambering over each other to get yet another great photo. We had brought snacks to eat, some people played games like cards and scrabble. I tried to do e-mail but the scenery was too good to miss, so I just sat and enjoyed. The disappointment of the train ride was that once the train left Andermatt it went into a tunnel and didn't come out again until the bottom of the mountain so that we missed seeing the whole second pass. That's when I really regretted not riding the second part from Andermatt.
Goodbye, Alice
DAY 237
Raron, Switzerland to Abondance, France
This day began with one of the worst breakfasts of the trip. The Campground Lepre had been satisfactory, even a fun place to be, largely because the owners were wonderful to us. The Hotel Bergheim that served us dinner and breakfast was just across the street which was absolutely the only thing to recommend it. We were miles out of town so that hotel was the obvious choice. But it was a sleasy hotel and the food was carelessly prepared and insufficient. The morning was very cold but we had to eat in the parking lot.
I hadn't dressed warmly enough for this unexpectedly cold morning so I was glad when the sun came up and the day became fine and warm. We rode through wine country, even the steepest hillsides had been terraced and planted with grapevines. There were both green and purple grapes hanging in dense clusters on the vines. The grapes were small, much smaller than table grapes. We wondered whether they would grow larger as they ripened. None were being harvested.
When we reached Ardon we were only 50 km. from breakfast, but we were already hungry for lunch. Other riders were stopped in Ardon, sitting on shop steps to have lunch. We stopped too. The attraction there was a bakery and we hadn't had our daily pastry yet. In the bakery the apricot tart caught my eye as apricots are a specialty of the region and my mouth had been watering for them. I bought a slice, the slices were huge so I thought I would save some for later, but it was so good I ate the entire thing. There were 16 apricot halves on my slice!
The ride was hilly and the DRG warned of a steep 13.3 km. climb beginning at 86 km. If a hill is mentioned on the DRG it is a significant hill, if it is described as steep it is awful. That morning when we started to ride Joan had said she knew she couldn't ride it all but she could do it by riding part of it and walking the steepest bits. We knew that at our pace and with rest stops it would take us at least 3 hours to reach the top. We decided to wait to see how we felt when we got closer before deciding how to get up that steep hill. In the afternoon we were joined along the way by Shirl who had no interest in riding the hill and was advocating a bus or train ride to the top. We decided to cycle to Monthey, the last town before the climb, and inquire about alternative transportation there. When we arrived we found Pierre there with a sag van but he said he would not be leaving for two or three hours. (He always says that though, he is always very discouraging about an opportunity to sag.) When we inquired at the bus and train stations we discovered that there was a combination train and bus we could do but it would not be faster than waiting and going with Pierre. We walked back to tell Pierre that we would wait for him. In the meantime opportunely for us, Jeff had arrived with another sag van. He had room for all three of us and was going to camp. It was a heaven-sent opportunity but as usual I felt like a lazy bum for taking the easy out. However when I saw the hill - well. It was the worst hill since Costa Rica. I could not have cycled it without stopping many times. Hard long climbs make my back ache and when it becomes intolerable I have to stop until the pain eases. That is not fun. The van ride saved me that misery, but the scenery on the way up that climb was incredible and I regretted the opportunity lost for taking beautiful photos. I think I will quit taking the easy out. In camp that night the riders who did the climb said the hill was much worse than the two passes through the Alps.
So we breezed across the Swiss border, then the French border and a short nap later we were in Abondance looking for the campground. The original destination had been Chatel, but for reasons unknown to me, it was changed to Abondance, adding about 10 km. to the ride.
I pitched my tent, showered and changed clothes and had so much energy to spare that I actually wandered around camp taking pictures of riders resting. Then I sat on my campstool in the shade of a tree to write for the web page, keeping an eye on the cook who had set up his kitchen in a vacant field. He was at work concocting our dinner in what someone said was the world's biggest skillet. It was a specially built thing with its own heat source and a lid that could be wound up and down with a crank. The lid was far too large to pick up so when it wasn't needed it was left high above the skillet like an umbrella. The wooden sign read 'Tartiflette Geante'. When I inquired I learned that that was the regional specialty and clearly this chef specialized in preparing it for large crowds. Later I discovered that the dish is so famous that postcards describing the recipe are available. There are only a few ingredients: bacon, onions, potatoes, brie and salt. The chopped bacon and onions are sauteed, sliced potatoes are added and finally the brie, lots of brie. Ideally the whole thing is then browned in the oven to give it a nice color, but can be served right out of the skillet as ours was. This dish is always served with a fresh green salad and wine. We had the salad but not the wine. It was a good meal. There were little blueberry tarts (only one each please) for dessert.
Goodbye, Alice
Abondance, France to Geneva, Switzerland
It was another cold start but this time I had dressed warmly so was better prepared. I had had to search to find my arm and leg warmers it had been so long since I last needed them. The mornings are beginning to feel like fall is just around the corner. The route was downhill most of the way so I was doubly glad I had found the warmers. It wasn't long before I was too warm though and off came the extra layer.
We rode downhill for miles past vineyards and apple and pear orchards finally leveling out at the huge lake we had seen from far above. It was called Lac Leman but that must be the French name for it as it is the same lake that I have always known as Lake Geneva. We had been riding toward places with interesting names like Evian and Champagnes but never reached them. However we did come upon the charming medieval village of Yvoire. The castle walls and gates still standing were built at the beginning of the 14th century. The houses look equally old. Most of them have been turned into shops and restaurants. The town is very picturesque perched beside the lake with cascades of bright flowers everywhere. There isn't much to do aside from water sports except eat and spend money. I bought something there to send to my mother in sympathy of her broken arm. My dog did it. Yikes! Maya is rambunctious and single-minded. She saw a squirrel and bolted to give chase yanking my mother right off her feet. Maybe I will have to hobble her for walks on the leash. I've tried everything else.
We were anxious to reach the village of Chens sur Lehman, France because we'd been invited to a party there at the birthplace of one rider, Gilbert Fichard. The party was in honor of his mother's ninetieth birthday and to be held at her home and winery which we would pass on our route. By the time we reached there the party was nearly over but we had some of the delicious wine and congratulated Mrs. Fichard who had been standing outdoors in the heat for hours to greet her Odyssey guests.
We had stopped so many times that the ride was beginning to feel long but soon we stopped again to take a photo of large floral ducks beside the lake. There Joan chatted with a local couple and was thrilled to put to use her French language skills. I was impressed. By then I was hungry and we hadn't had our morning coffee so even though it was already the middle of the afternoon we stopped at a lakeside cafe for coffee and pastry. We found the pastries to be swarming with yellow jackets and flies. Put off by that we had ice cream with our coffee instead of pastry.
Finally we were in the city of Geneva which is bicycle friendly with well marked bike lanes and made our way to our lodgings for the next two nights, Shelter Bunker #42. It was rumored that the Bosnian refugees were being moved out to make room for us, but in actual fact they were housed in a different bunker somewhere else in town, or so I was told. We had wondered what the bunkers would be like. Some riders took one look, then fled to the Cite University across the street where they took rooms for the 2 nights. But the bunkers weren't all that bad. The entrance was a steeply sloping ramp so that one got underground in a hurry, and the door was a massive steel and cement thing. But once inside it was comfortable enough. The walls in the sleeping rooms were painted shades of yellow and peach which are happy, peaceful colors although the ceiling was black. Hall walls and bathroom walls were a dark brown plastic made to resemble wood. The bunker was well ventilated but I wondered what it would be like without electricity. We each had a bunk, there were dozens of bunks in a room, but each 16 bunks or 32 people were partially set off from the rest of the room by walls just the length of a bunk bed. That created a corrider running the length of the room and made the room seem less vast. Standing in the center of this space were very efficient one piece units with a high shelf and hooks and benches, a very handy thing indeed. When loaded with stuff it created the illusion of a wall and made the room seem a little cosier. The head end of the beds could be raised similar to a hospital bed so that one could sit in bed and read if there were enough light which there wasn't. The bathroom facilities were designed to handle a crowd. The sinks were troughs with faucets at intervals above and the bar soap was suspended in air on metal rods so that it stayed in place, didn't get mushy and lasted a long time. A super idea. Each toilet had a door, but the showers were the gang type and the water was cold. Aside from the noise in the night from inconsiderate people, the showers were the worst part.
Meals were served cafeteria style at the Cite University across the street and they were exceptional, at last we found someone who cooked with good nutrition in mind. If feeling peckish one could get food there during the day. I had a Movenpick chocolate chips ice cream cone when I was too hungry to last the remaining 30 minutes until dinner would be served.
Goodbye, Alice
Geneva Layover Day
Most people went sightseeing but I stayed behind and enjoyed sitting in my hospital style bed for hours while I worked on back web pages. My aching back appreciated the rest and quit hurting at last. One rider who is a chiropracter showed me what exercises I should be doing to loosen my back and ease the pain. I have become very stiff and muscle bound on this trip and in spite of all my resolutions still don't do an adequate amount of stretching. He also told me not to lift and twist while picking up heavy bags which I do twice a day while loading and unloading my locker. I really must follow the doctor's orders if I want to be free of pain.
What I would have enjoyed doing in Geneva if I had felt better was a bike ride around the city, the lake and the parks, but I chose to rest my back instead. I learned from Denise who had spent the day hiking with a Swiss friend that the French Swiss call the lake Lac Leman while the German Swiss call it Lake Geneva but I don't know why.
It's been rumored for weeks that we didn't have hotel reservations in Amsterdam and that has proven to be true. We were to have stayed there for 6 days in beds (rather than tents) but since lodgings couldn't be found we'll be in and out of hotels and campgrounds somewhere outside of Amsterdam.
I spent my layover day in an underground bomb shelter, going above ground only for meals and ice cream in the middle of the afternoon. If not exciting at least it was a novel day.
Goodbye, Alice
---
Today's Music
My Favorite Things - Sound of Music
---
Switzerland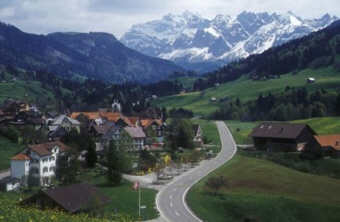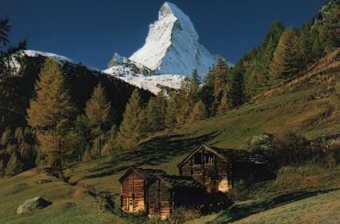 Swiss Alps, Matterhorn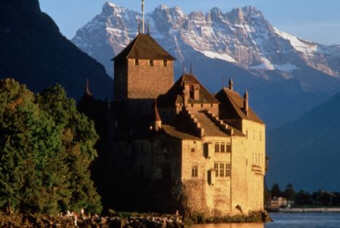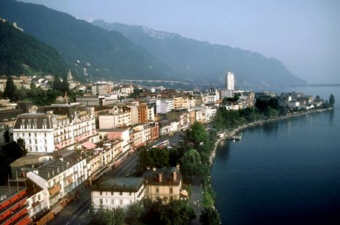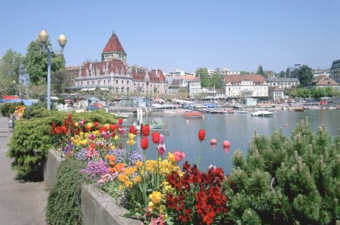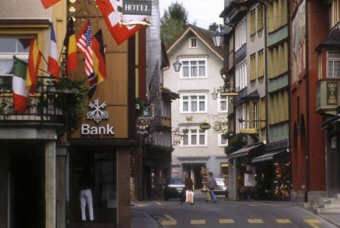 Lake Geneva
---

Odyssey Riders and Staff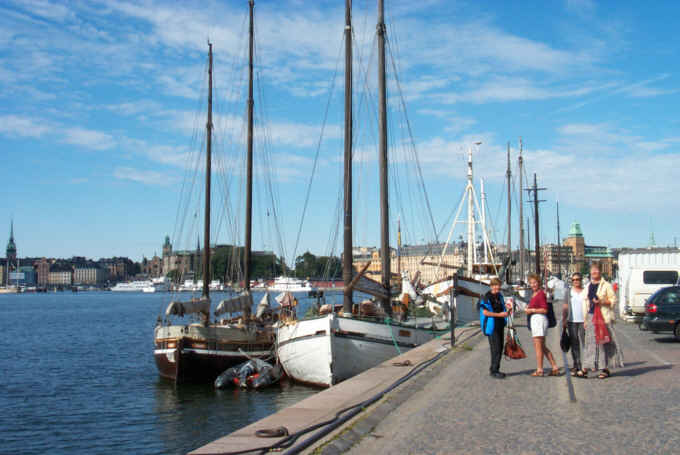 Stockholm
---
Previous Page (Page 67) Next Page (Page 69)